The market for NFT games is growing dramatically and revenue is expected to increase at an annual growth rate of 27.26% resulting in a projected total amount of US$8,412m by 2027. In addition to increasing revenue, NFT and Metaverse are gaining acceptance in various industries for specific applications employing digital assets. They are not only a fantastic means of self-expression and a brilliant source of income for the target audience, but these digital assets are also gaining immense popularity across a wide range of industries. Therefore, there is great potential for prospective entrepreneurs to capitalize on the new age trend with NFTs.
Many people and companies began to contemplate bringing their ideas into this market. Everyone can see the immense popularity since every industry is embracing NFT and doing so in the best way possible. The NFT market is not just about lovely artwork, it also entails games such as trading cards. The blockchain technology that underpins the entire sector guarantees the security of user data and non-fungible tokens.
Therefore, a thorough understanding of blockchain and other key technologies for this industry is required by anyone who wants to discontinue NFTs.

Not every game developer possesses the required skills to create NFTs from a technical or creative standpoint. In addition, there are ongoing trends and changes in the NFT market(Source) that must be monitored if one wants to be successful. Fortunately, entering the NFT industry in the modern world doesn't need you to start from zero. Many developers and NFT game development companies are available to take your NFT development project to the next level.
However, since this NFT industry is still in its early stages of growth, it may be challenging to comprehend what a developer should know and how to ensure that you choose the best alternative for your NFT development task. This article discusses the cutting-edge technical skills that your future NFT Game Developers need to possess.
This blog will cover the things you should know before you hire an NFT developer as well as how to begin your search.
Types of NFT Game Developers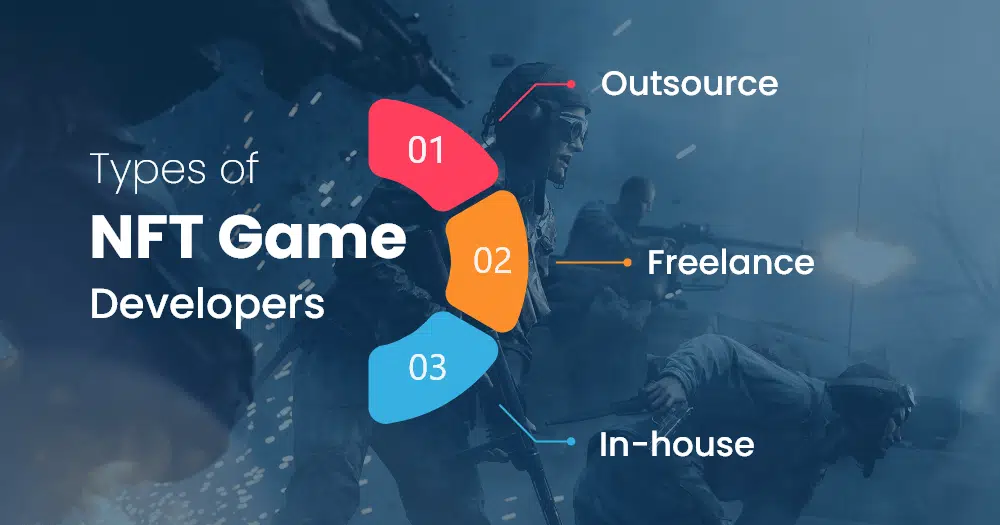 Even though many businesses claim to offer the best NFT game development services, only a few of them actually have the necessary knowledge in this field. NFT game developers are available in three varieties: in-house, freelance, and outsourcing. Let's learn more about them and find out which choice best suits you:
1. Outsource
The most common approach for developing NFT-based games is outsourcing. In today's NFT projects, it is the most widely used model. The NFT development process can be outsourced to a company, allowing you to concentrate on other important matters of the company while yet receiving the finest quality services, leading you to achieve success.
This approach is great for individuals who are unfamiliar with the NFT business and don't want to waste time looking for NFT game developers, designers, and estimating prices because outsourcing enables you to just present your ideas and then relax. But, it is a time-consuming method.
Let's understand the advantages and disadvantages of NFT development outsourcing.
Pros of Outsource
Outsourcing lowers the price of creating an NFT-based game.
You learn a great deal about the NFT gaming market from it.
It offers you fantastic options for communication.
It gives you additional strength and frees up time for work.
You have a greater chance of receiving a product of good calibre.
The operational control is accurate.
Cons of Outsource
For some gaming ventures, outsourcing could be pricey.
With outsourcing, the project takes a long time to complete.
Finding a trustworthy company that you can rely on could be challenging.
2. Freelance
For complex projects, the process of working with a freelance NFT game developer is extremely hard. The majority of companies in the US rely on freelancing. Due to the higher reliance on freelancing in the US, where they are more expensive, US industries recruit the majority of their freelance developers from Europe. Engineers from Europe cost less than those from the US.
When it comes to the blockchain sector, reports indicate that the US attracts the best NFT and blockchain game experts with the necessary skills. Additionally, it is important to keep in mind that a freelance NFT developer frequently work on multiple projects, which means they won't be as committed to your product as outsourcing businesses.
Let's go through the benefits and drawbacks of hiring a freelancer for NFT production.
Pros of Freelance
It costs less to hire an NFT game developer on a freelance basis than to outsource.
For small projects, it works better.
Cons of Freelance
Working with a freelancer could result in a communication breakdown.
The development of complicated gaming NFT projects might take longer.
The final product might not be of high quality.
Since their working hours vary, it is impossible to constantly supervise them.
3. In-house
It will be beneficial if you want to build an in-house team. Even if you are the owner of the development company and wish to produce a specific NFT game project, you can detect a sizable talent gap in your team. This happens because engineers must constantly enhance their skills to deliver high-quality goods in a market that moves quickly.
Let's go over the advantages and disadvantages of making an in-house team to produce NFTs.
Pros of In-house
You will have control over the process.
It will lead to better communication.
As the development process advances, the team will witness unified growth.
An in-house team leads to cost reduction.
Cons of In-house
It takes time to put together a team.
It will be your responsibility to lead the project alone.
Hire NFT Game Developers
Request A Free Quote
1200+ Projects Delivered 12+ Industry Experience 450+ Clients Worldwide 200+ Certified & Expert Programmers
Skills Required to Develop NFT Games
The way we use assets is being revolutionized by blockchain technology. These NFTs are produced using blockchain technology, making it possible for anybody in the virtual world to exchange them on an open market.
Now that you have the skills to create top NFT games the best model for your project, what qualities should you seek in a developer and how do you hire an NFT developer? Check it out below:
Fundamental Knowledge

You should have a fundamental in depth knowledge of how blockchains operate and how they may be applied to build distinctive experiences. You should also be familiar with the fundamentals of game design and have coding experience with a game engine like Unity or Unreal engine. Moreover, you should have strong programming skills in JavaScript and/or C++.

Ethereum (ETH)

One of the most often used blockchains to develop NFTs is Ethereum. Gaming developers should be familiar with and utilize the extensive NFT collection of technical docs that it includes when creating decentralized applications or smart contracts. The EIP-2309 standards, which enable NFT minting and permit engineers to mint an unlimited amount of NFTs per transaction, should also be known to gaming engineers.

Solana (SOL)

Cardano and Ethereum now face stiff competition from Solana. This is because it is a programmable blockchain that is significantly faster. The platform can execute 65,000 transactions per second, making it a particularly desirable blockchain due to its rapid execution. The minting tool provided by Solana allows a developer who makes NFT to focus on their work rather than creating a new smart contract. There are many other projects on this blockchain, including Web3, Defi, and NFTs.

Knowledge of Cryptography

The cryptography that will be used to generate and validate digital signatures is something that your NFT game developers need to have deep knowledge about. It goes beyond the fundamentals of cryptography.

The paperwork that will guarantee the protection of every Non Fungible Token transaction must be simple for your gaming engineers to work with. This involves being aware of hashing operations, zero-knowledge proofs, ring signatures, encrypted storage, and private key encryption.

Launch your Own NFT Game

Request A Free Quote

1200+ Projects Delivered 12+ Industry Experience 450+ Clients Worldwide 200+ Certified & Expert Programmers

Contracts and Scripts

A program that has been installed on Flow and is in charge of starting the NFT's logic is referred to as a contract. All blockchain engineers must have a solid understanding of how contracts operate and how to use them.

Scripts function as programs that read the status of the blockchain when employing Cadence. Engineers will not have to register or pay gas fees in order to use scripts, therefore they must be fully aware of how they operate.

Web Development

As browsers account for a sizable portion of Ethereum's decentralized app (dApp) web traffic, highly competent NFT game developers need to be proficient in HTML, JavaScript, and CSS to quickly translate required functionalities into an NFT.

Knowledge about ERC-721 Tokens

Make sure the ERC-721 standard and the numerous use cases for token development are understood before you hire NFT game developers. They must be familiar with creating and implementing ERC-721 in their project because the majority of NFTs on Ethereum are constructed using this standard.

Solidity

Every seasoned blockchain engineer should be familiar with Solidity's development methodology and have prior experience working with it. Knowing how to use the Truffle tool for developer workflow is also essential.

FLOW

A PoS-based blockchain specifically created for minting NFTs and developing cryptocurrency-based software or games is represented by Flow. It is presently utilized in place of Ethereum for the creation of non-fungible tokens. All blockchain engineers should be familiar with Cadence, a new programming language that smart contracts on Flow use.

Rust

Specialists may build apps and libraries on top of Rust, an intermediate programming language. The in-depth knowledge of data structures, object-oriented programming, package management, testing frameworks, and other structures is therefore required for any blockchain developer to build mobile apps.

Familiarity with 3D Graphics

Moreover, your chosen developer should be familiar with modeling programs like Blender or Maya if you wish to produce 3D graphics for your game.
Where Can You Find NFT Game Developers?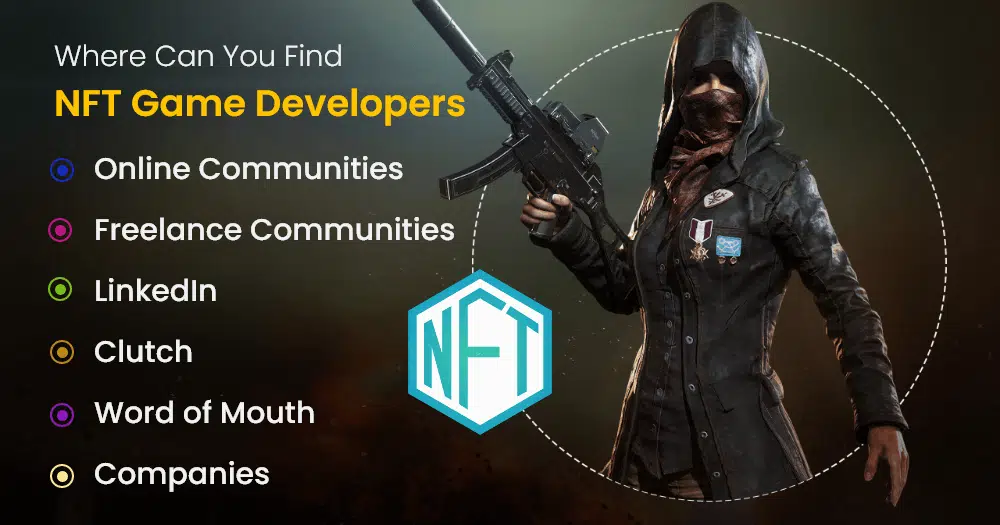 Online Communities

You can publish your job and gain access to the profiles of other community members in online forums. Their job profiles have details about their projects and skills. However, these profiles might not appear to be verified and seem to provide incomplete information.

Freelance Communities

Moreover, you can access the profiles of hundreds of freelance NFT creators with years of experience and competence in developing NFTs through online freelance networks. These platforms might be ideal for working with lone freelancers, but they are less suited for hiring a group of gaming engineers.

LinkedIn

Anyone wanting to find developers should use LinkedIn. Use keywords like "NFT," "blockchain," or a combination of them in the search to only receive options that are pertinent to you. You may find freelancers, outsourcing firms, and people looking to join internal teams here. Trusted development companies ensure that you can quickly access their social media experiences or go right to the website to see how everything functions.

Clutch

Anyone looking for tech professionals should check out Clutch. It enables businesses to employ a wide range of specialists in most fields, including development, design, marketing, business services, and other IT services, much like Upwork does.

If you need to engage an outsourcing company, this is a great alternative because companies can advertise their services on their own profiles. You can quickly examine the company's ranking based on customer reviews and the specific features that customers like and dislike about the company's services.

Word of Mouth

For those who regularly connect with other tech professionals, this will be ideal. Experience has shown that there is a good opportunity to find a pertinent and reliable development firm through networking. You can ask any of your friends or partners for advice, or you can sign up for a social media site like Linkedin and make a post asking your followers for advice.

Companies

For offshore engineers, more sophisticated sourcing possibilities are offered by Non Fungible Token engineers such as TheNineHertz. The thorough process guarantees that the listed NFT engineers are the best in their fields of specialization.
How to Hire NFT Game Developers?(Things to Consider)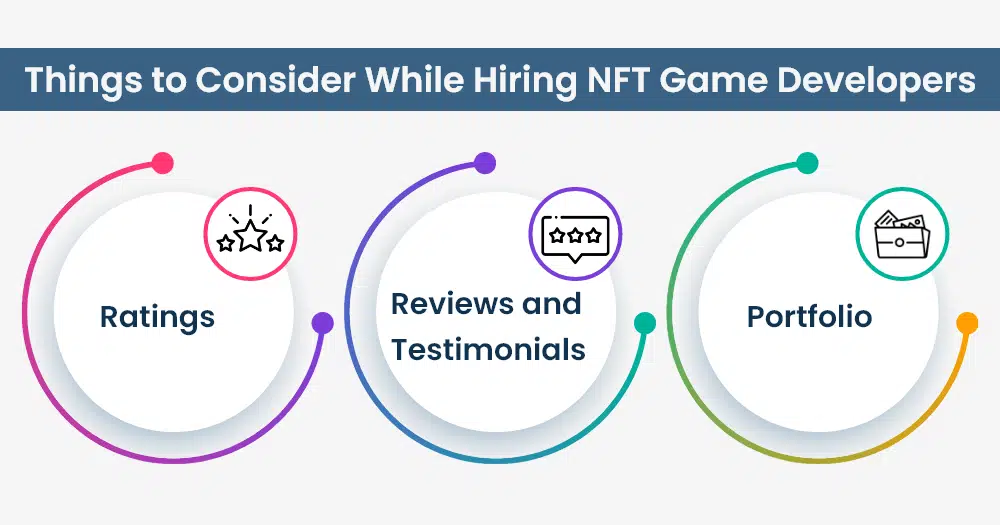 Ratings

Ratings are an important factor that will show you how a company interacts with other customers, broken down by factors like cost, quality, quickness, and more. For instance, Clutch makes it simple to look up reviews, ratings, and customer comments for a certain business. Make sure the ranking is not solely dependent on one review, as reputable businesses typically have over 10 Clutch reviews.

Reviews and Testimonials

Client reviews might speak more about a business than the business itself. You will also be able to verify that this is accurate because platforms only allow users to write verified reviews. Check the benefits and cons of the things the client emphasizes. On the business's website or social media, you may also read reviews.

Portfolio

Case studies posted on a company's website will demonstrate the precise methods used to address difficulties raised by customers. Excellent case studies can confirm whether the business has the necessary industry knowledge and appropriate experience. If case studies are unavailable, you may inquire about them.

You must concentrate on the development process, its duration, the tech stack, and other factors important to you.
Questions You Should Ask an NFT Game Developer
You now understand how to hire NFT game developers. Let's learn how to identify a perfect prospect for game development with interview questions:
What background do you have in NFT development?
Have you ever minted NFTs before?
What is your tech stack?
Which blockchain do you believe will provide you with the most comfort?
If data has been written in a block, may it be changed afterward?
What models are employed in the NFT gaming industry to generate revenue?
Can you provide references for your previous projects?
How can you decrease game lag?
Try to comprehend what problems the engineers can solve and how. Make sure the experts are free to discuss their prior accomplishments and methods. Discover the latest technologies that experts use and are familiar with. Prior to hiring, you should make a list of the languages and subject matter expertise that the ideal candidate should possess.
Moreover, a trustworthy expert will be able to openly discuss his prior work and present examples of it. However, these projects are often anonymous, so the person won't be able to present anything if the product is still in the development stage. Check to see if his prior ventures are still active in advance.
How Can TheNineHertz Help You?
TheNineHertz offers top-notch NFT development services using the most recent NFT technologies and your specific requirements. We are professionals in both NFT and blockchain.
Our highly experienced team of expert gaming developers is well-versed in all the tools and blockchain technology utilized in contemporary NFT projects. Even games similar to Pokemon Go and Axie Infinity are within our grasp. We can be your one-stop shop for all your gaming requirements!
Conclusion
NFT gaming is booming. Now, every company and every individual wants to profit in some way from this enormous surge. We talked about how to choose your gaming developers and how to ensure that they will develop NFTs that are valuable and engaging. Without highly qualified specialists, it can get difficult to be successful in the NFT gaming arena. So, you must look for the best gaming developers.
FAQs
How do I Hire an NFT Game Developer?

To hire NFT game developers for creating games, you must confirm that they have relevant experience and a thorough understanding of the gaming industry. In addition to the questions listed above, you can get in touch with past employers, request work samples, and assign a test task.

Where can I Find NFT Gaming Developers?

The best places to look for NFT-based gaming developers are Clutch, Linkedin, Upwork, other social media, and word-of-mouth.

How Much does it Cost to Make NFT Games?

The cost of NFT game development is typically between $100K and $500K. But since it depends on several additional aspects, like the tools and technologies employed, the intricacy of the game, and more, this can only be a rough estimate.

How Much does an NFT Developer Charge?

According to ZipRecruiter, the national average salary for an NFT developer is $101,644. In the United States, the typical hourly pay for an NFT Developer is $36.06 to $62.02.