When booking an appointment at your favorite beauty salon, have you experienced inconvenience and annoyance?
It can be frustrating not to get the time you want or to wait for long periods at a salon service. Furthermore, many customers do not take advantage of the offers and deals offered by other salons and waste time in a crowded salon. Providing the best customer service requires on-demand beauty service app development solutions.
In a Forbes report, 28% of beauty experts, such as stylists, hairdressers, cosmetologists, and makeup artists, prefer to work as freelancers. According to the survey, beauty salons and spas are predicted to reach $190 billion by 2024. Accordingly, the statistics demonstrate that the benefits of such an application are much greater than the costs. Your choice of On demand app developers for beauty services will significantly impact the outcome.
Top 5 Beauty Service Apps in 2023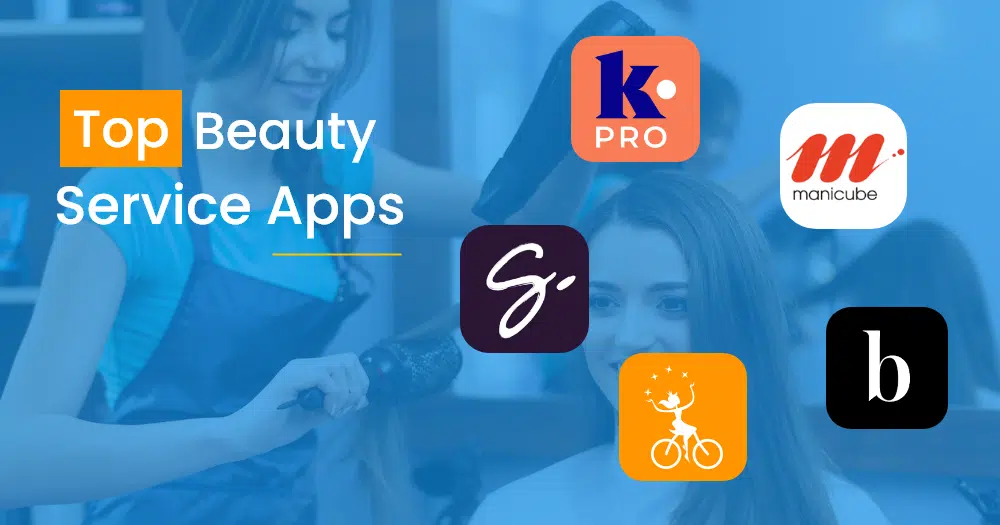 Below are the top 5 apps for beauty services. You can check my other guide on the top 50 apps that are trending in 2023.
| App name | Date of launching | Country of origin |
| --- | --- | --- |
| Blow | 2013 | UK |
| GlamSquad | 2014 | U.S.A |
| Missbeez | 2015 | Israel |
| Manicube | 2015 | U.S.A |
| LeCiseau | 2016 | France  |
Want to Launch Your Own App?
Convert Your App idea into Reality
What are On-Demand Beauty Services App's Features?
One thing to keep in mind about beauty and wellness products is that a few companies always dominate this niche, and they all have something in common, namely, the must-have set of features. In this article, we will examine the features that all successful apps share. Beauty & wellness service apps usually come in three versions: Users, Beauty Experts, and Admins.
| | | | |
| --- | --- | --- | --- |
| PANEL FOR USERS | PANEL OF BEAUTY SALON OWNERS | PANEL OF INDIVIDUAL BEAUTY EXPERTS | PANEL OF SUPER ADMINS |
| Sign up/log in via social media | Use your email address to register | Sign up with your social media or email address | Manage stylists, beauty salons, and beauticians |
| Choose from a variety of beauty services | Requests from users | Bookings can be viewed and confirmed | CMS management |
| Choose a beauty salon or stylist | Management of catalogs | Managing calendars and availability | Generation of reports |
| Professional beauticians can be hired | Provide services and manage them | Requests from users may be accepted, rejected, or rescheduled | Payroll management |
| schedule an appointment | Users can schedule stylists | Prices and services listed | Package management for subscriptions |
| System for integrated payments | Check out the reviews and ratings | Payments can be accepted | Monetization of salon apps |
| Beauticians and other services can be rated and reviewed | Accept or decline a request from a user | Catalog management | Channel management |
What are the required Features of On-Demand Beauty Service Apps?
1. Signup/Login via Social
This functionality makes it easy for users to sign up and log in to apps without having to fill out long forms.
2. Service Rating & Review
This is another useful feature that allows app users to leave their ratings and reviews, which benefits the app since the target audience can determine what value the app holds through the reviews of other users.
Lunch Your Own Branded Beauty App
Request A Free Quote
1200+ Projects Delivered 12+ Industry Experience 450+ Clients Worldwide 200+ Certified & Expert Programmers
3. Push notifications
essential for keeping users engaged with your app, and for this purpose, push notifications are effective. As well as informing the salon app users of updates, they also remind users of upcoming appointments or new beauty videos.
4. In-App Chat With The Provider
Users can instantly contact the service provider in case of any questions and receive more efficient service.
5. Number Masking for In-App Calls
There are times when users are reluctant to share their phone numbers with beauty service providers for safety and privacy reasons. It is therefore beneficial to have the number masking feature available for in-app calls.
6. In-app navigation
Users often have a hard time finding their way to a beauty salon, or beauty service providers are unable to locate customers' homes to provide beauty services. It can be helpful to have an in-app navigation system that helps users find their way to the right place at such times.
7. SMS Authentication
This is quite a handy feature for a salon app like this, where users are authenticated by accessing another secure platform rather than by supplying a password.
8. Upload Video Portfolio
Users will be able to upload their video portfolio via the beauty services app, allowing the service providers to better assist them.
Hire Certified Mobile App Developers
Request A Free Quote
1200+ Projects Delivered 12+ Industry Experience 450+ Clients Worldwide 200+ Certified & Expert Programmers
9. Customer Relationship Management (CRM)
A CRM system manages the app users, their activities in the app, and the services they purchase to provide them with the type of service they prefer.
10. Content Management System
It is critical that your on-demand beauty service app has an efficient Content Management System (CMS) since it ensures that new content is posted regularly, keeping your app users engaged by providing quality content. Your app makes them want to keep using it.
11. Real-time Dashboards & Analytics
For the service to continue to be useful, it is crucial to monitor the real-time activity of the users. By understanding the users' activities in the app, the admin can offer relevant app content and services to them.
12. Multiple Mobile Wallet Integration
It is easier for app users to make online payments when multiple payment gateways and options are integrated. Depending on their preferences, they can choose whichever method suits them best.
13. Marketing & Promotion Tools
The success of every app depends on an effective marketing and promotion strategy, for which marketing and promotion tools can be very helpful.
Business Models for Beauty Services Applications
1. The dedicated/self-owned model
Beauty brands or established salons create dedicated apps to expand their business locally. These apps allow service providers to advertise their services to potential clients and enhance their online presence. Bookings are routed directly to the spa or salon owned by the app owner. The company will then arrange for a professional to extend the service at the customer's home.
2. App for aggregating beauty services
In an aggregator app, businesses such as beauty salons, makeup artists, hairdressers, and independent beauticians are united under one roof. For beauty salon app development, you must partner with local spas and beauty salons. On each transaction, a commission/fee is charged to generate revenue in the on-demand beauty application.
On-demand Beauty Service App Development Tech Stack
on-demand beauty mobile app development companies must have a strong technology platform in order to be successful. You can now focus on integrating the tech stack for your app once you have the set of useful features in place. We have listed the tech stack required to develop an app for beauty services.
| | |
| --- | --- |
| Function | Technology |
| Gateways for payments | Stripe |
| Analyze apps in real-time | Hadoop. BigData, Spark, Apache, IBM, Cisco |
| Management of data | Datastax |
| Notifications via Push | Apple push notifications, Firebase cloud messaging |
| Databases | MongoDB, Cassandra, Hbase |
| A cloud-based environment | Google and AWS |
| App-based chat | QuickBlox Chat |
| Phone, SMS, or voice verification | Twilio, Nexmo, Sinch |
On-demand Beauty Services App Development Cost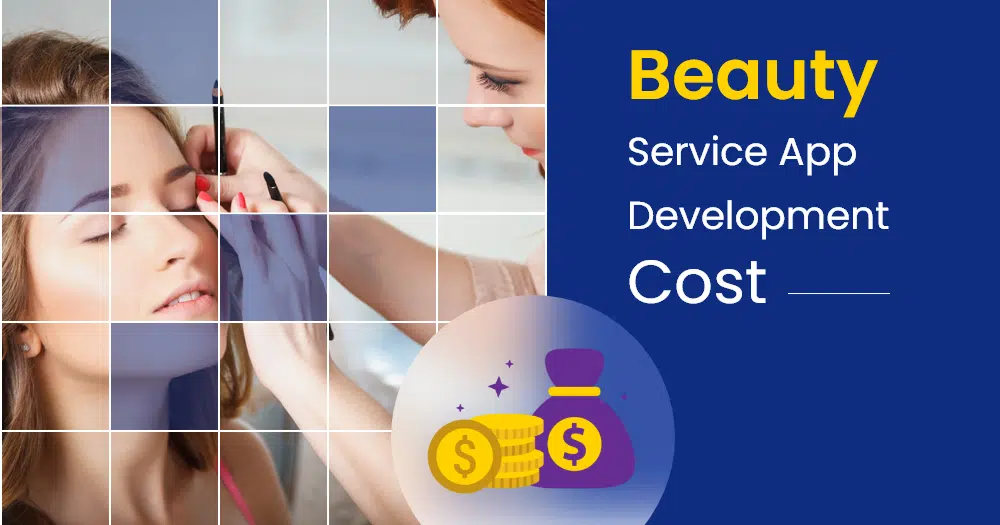 In order to estimate the beauty service app development cost, several factors must be taken into account.
App complexity, features, platforms, back-end operations, third-party integrations, etc., are examples explained as follows. You might be interested to read a detailed guide on app development costs worldwide.
1. The Operating Platform
In order to develop an on-demand beauty service app, it is necessary to determine whether the platform is single or multiple, such as Android and iOS. Since single platform applications are made for specific mobile users, they are cost-effective and easy to develop. Multiplatform mobile apps tend to be more expensive, however.
Additionally, a multi-platform beauty service app will be compatible with all mobile operating systems and can reach a wider audience. As a result, you are able to determine how much beauty service app development costs are based on your decision regarding your choice of the operating platform.
2. Screen Volume & Design Complexity
The screen volume of your beauty service app refers to how many features it has. Therefore, as your app offers more features, more screens are required. As a result, you will have to spend more time and money developing the app according to your preferences.
A unique design for your on-demand beauty services app will also boost development costs if you want to attract maximum customers. Before finalizing the development of an online beauty service app, create a rough model of the features and design. Based on the estimated working hours and app design, the app development cost can differ:
| | | |
| --- | --- | --- |
| Type oF the App's design  | Costs on Average | Hours of Work Estimated |
| Simple design + basic features | Amounts between $10,000 and $12,000 | A total of over 1400 hours |
| Streaming functionality + real-time features + advanced design | A range of $15,000 to $18,000 | More than 1600 hours |
| Modern & technological design + multiple features | Over $20,00 | More than 1800 hours |
3. Pricing Models
When outsourcing app development, there are two pricing models available: hourly and fixed. There is no doubt that the fixed pricing is cost-effective, but you should be aware that the outsourced beauty services app development company may charge you more for extra features and mock testing. Additionally, you will be able to receive app modifications whenever required if you choose the hourly pricing model. The cost of developing an app for beauty services can range from $50 to $250 per hour. It is possible, however, to vary the fixed rates between $10,000 to $20,000 based on your needs.
4. Maintenance & App Updating Costs by Third-Party
App development and launch are not the only costs associated with on-demand beauty services. In a report, maintenance costs contribute 20% to app development's direct costs. As part of this process, users are notified of new features, additional features are added, viruses are fixed, and so on.
Moreover, your beauty app must be updated regularly in order to ensure a smooth user experience for your customers. We integrate new technology into the app, add new elements, change the theme, and provide customers with on-demand beauty services and app development efficient solutions. If you want long-term profits, updating an app is undoubtedly expensive, but it is also relevant. A company that can serve the purpose of the third party at an affordable cost is needed for on-demand beauty service app development in San Diego, USA.
5. Make sure your budget is in order
It is best to invest in an on-demand facility application in the beauty and wellness industry if you want to build a steady income stream. It is expected that this industry will grow over the next few years and gain more and more revenue. Feature-packed and aesthetically designed on-demand beauty service apps will attract more and more users in the beauty salon market and bring you these high returns. To avoid overshooting the budget and enjoy a higher return on investment, it is necessary to keep an eye on the costs of an on-demand beauty app development.
Lunch Your Own Branded Beauty Service App
Request A Free Quote
1200+ Projects Delivered 12+ Industry Experience 450+ Clients Worldwide 200+ Certified & Expert Programmers
What kind of team structure is required When Creating a beauty service mobile app?
Beauty Service on-demand beauty service mobile app development requires a team of skilled professionals, including:
1. Project Developer
In this role, the app developer ensures that the app development goes smoothly and communicates with the app owner and the remainder of the development team. App owners and developers are linked by a Project Developer.
2. Android/iOS Developers
A few iOS and Android app developers can be hired depending on the platform for which the app is being developed.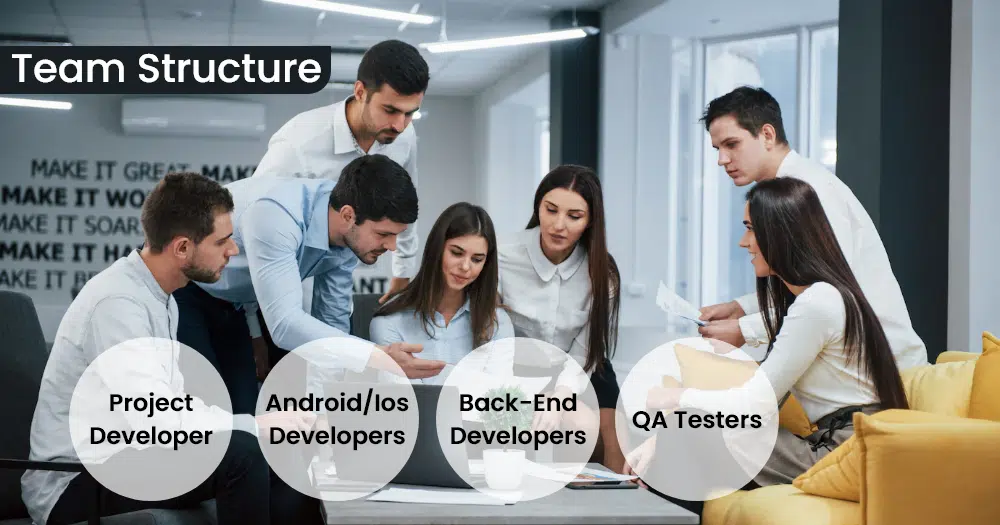 3. Back-end Developers
In the development of an app, back-end technology is crucial. Developing this technology is the responsibility of the backend developers.
4. QA Testers
In order to ensure that there are no errors or bugs in the app, a team of Quality Analysts is required. Any errors or bugs found by the testers are immediately reported to the developers, and once they are corrected, the app is ready for launch.
How to Make Money With Your On-Demand Beauty Apps?
on-demand beauty applications can be monetized in quite a few different ways.
Yet there are a few that would be a perfect fit for your business model. You can find them here –
1. Commission
GlamSquad monetizes its applications by taking a percentage of the income earned by beauty experts.
Your business can benefit from this process as well if you follow it.
2. Sponsorship
If you want to earn money, you can advertise one or more of your associated partners inside the application under your sponsorship program in exchange for a payment.
3. Advertising
A time-tested monetization approach is to show in-app advertisements and charge the advertised app a fee for clicking on them.
By now, you know not just how much money you will have to pay to get your dream beauty app developed, but also how fast you can earn back the money you invested.
Partnering with a company that can help turn your idea into a working on-demand beauty service application is the only thing left to do here.
You're just one scroll away from finding your perfect agency. We offer on-demand beauty service app development services. Please fill out the contact us form below to contact us.
Wrapping Up: Beauty App Development
Thus, on-demand service apps play a crucial role in making people's lives easier.
Smartphone apps that provide on-demand services allow users to get a variety of services in just a few clicks.
Are you interested in developing an app for on-demand services? Your app idea will become a wonderful reality with our help.
Providing best-in-class IT-related services to our clients around the globe, The NineHertz is the leading web app and mobile application development t company.
If you are interested in getting your app created, please do not hesitate to contact us.
FAQ's on On Demand Salon Booking App
1. What is the cost of developing an on-demand service application?
A mobile app that is available on-demand is a complex project with different roles for different users. App development costs are affected by this factor. The development of an on-demand service app might take 8 months and cost $70K per platform, according to our previous estimates.
2. How do on-demand beauty services work?
With an on-demand beauty app, you can pamper your customers with best-in-class services. For instance, they may get a haircut, makeup, and other grooming procedures at home or at a convenient location. Customers expect more from businesses because of the internet.
3. What makes on-demand apps so popular?
Apps like these are popular among consumers because they make choosing services easy and flexible. Many companies are now considering investing in this niche due to its associated benefits. In the upcoming years, such apps will be huge successes in the on-demand industry.