The digital era has touched all the fields. Today, there is no field where people are required to work without using a computer one way or the other. One of the fields that digitization has made its way into is stock trading. In this guide we will explore stock trading app development like Robinhood, Acorns, eToro & E-Trade.
As an activity, stock trading involves things like the sale and purchase of shares of a particular company. While a decade ago brokers used to carry out trade through websites, today, they use a stock trading app on their smartphones. These types of applications help in making the process of stock trading easier for users.
In March 2021, the stock trading mobile app Wealthsimple reported a rise in users by 54%, where most of them belong to the age bracket of 34 and below. Another stock exchange mobile app Robinhood supposedly saw the highest number of deposits in the first three months of the year. Further, we will explore how to create an on-demand stock trading app and how much does it cost?
Top Stock Trading Apps in 2023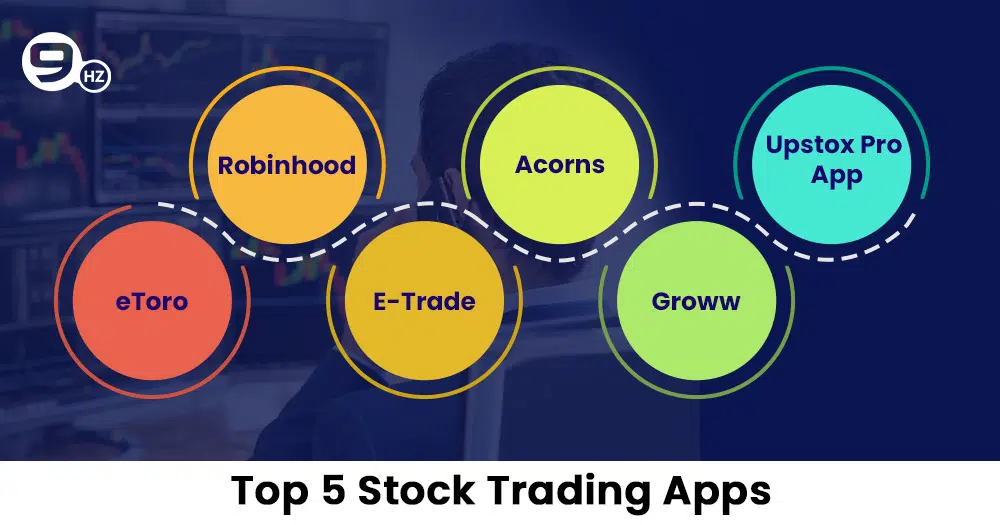 Digitization has entered all walks of life, including finances. After the rise of trading websites, the next step in online trading platforms is smartphone apps. While people generally use their phones for contact or entertainment purposes, the device can also be useful for trading too. With the help of these stock trading mobile apps, people purchase or sell stocks and shares. Listed below are some of the popular share market investment apps available on Google Play or iOS. You might be interested to know the list of best investment apps for beginners.
| App Alternatives | Founded Year | Revenue |
| --- | --- | --- |
| Robinhood | 2013 | $365 million |
| Acorns | 2012 | $3 billion |
| Upstox Pro App | 2016 | $2.1 billion |
| eToro | 2007 | $2.5 billion |
| E-Trade | 1982 | $3 billion |
| Groww | 2016 | $1 billion |
Established in April 2013, the share market investment app is known for innovative facilities such as commission-free trading of cryptocurrency transactions, stocks and exchange-traded funds. Boasting approximately 31 million users in 2021, Robinhood's revenue is dependent on things like margin lending, sharing order information with high-frequency traders, and also the interest from the users' cash balances.
2. Acorns
Based in California, Acorns is a stock exchange mobile app that comes with features such as robo-investing and micro-investing. If Fortune's Impact 20 list for 2020 is to be believed, the app boasts of nearly 8.2 million users and is approximately worth $3 billion.
3. Upstox Pro App
Established in 2016, Upstox Pro App promises its users facilities such as quick trading (both the sale and purchase) of stocks, notifications on the price of favorite stocks, and charts that would help users to make good financial decisions. Amongst the major reasons to use this app is that prominent luminaries like Ratan Tata have vouched for it.
Want to Create Your Own Stock Trading App?
Request A Free Quote
4. eToro
Founded in 2007, eToro is a multi-asset brokerage firm with offices registered in locations such as Australia, the United Kingdom, Cyprus and the United States. As of 2020, the stock trading mobile app was worth $2.5 billion.
5. ETrade
Dating back to the 1980s, ETrade, also referred to as E*Trade is known for a wide range of services such as cash management services, margin lending, student loan benefit administration and employee stock ownership plans. A Morgan Stanley subsidiary, the share market investment app serves as a platform for trading a wide range of things like mutual funds, exchange-traded funds, fixed-income investments, mutual funds, common stocks, fixed-income investments, futures contracts and preferred stocks.
6. Groww
Launched in the market in 2016, Groww is a stock exchange mobile app that was founded in Bengaluru, a city in the state of Karnataka in India. The app promises a wide range of features like learning resources, self-directed trading, charts for users that help identify market trends, and options to invest in a wide range of things like F&Os, US and domestic stocks, fixed deposits, and gold.
Stock Trading App Development Process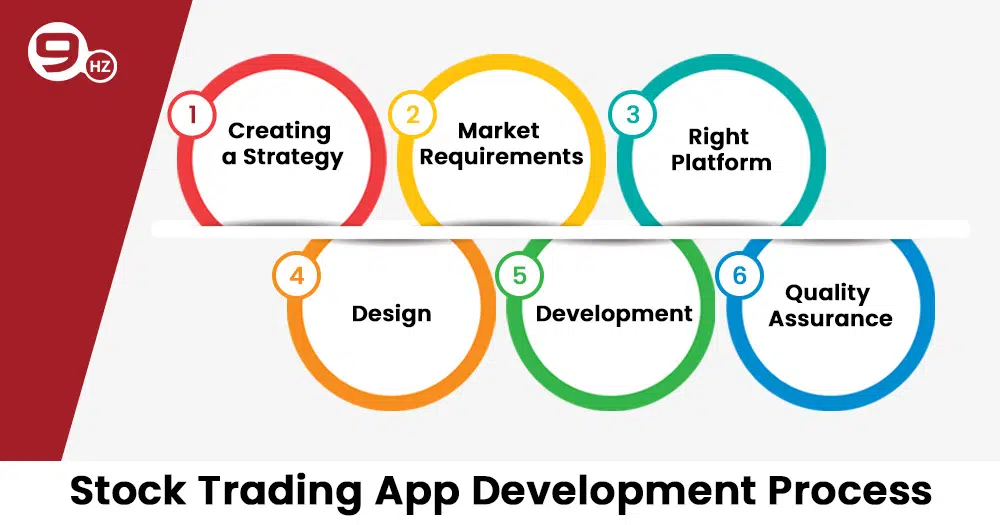 Share market investment apps are the natural successor to the share market investment websites. These apps can be used on smartphones. These things make it easy for the current generation of investors to trade in the market. The steps below are guidelines for stock trading app developers to succeed in their venture:
Step 1: Creating a Strategy for the App
The E-trading app development industry is one of the sectors that withstood the wrath of the pandemic. Despite the slowdown, there has been a growing demand for smartphone applications that enable trading. People generally use these applications to purchase stocks and shares and also keep track of the market conditions. Here's how stock market software developers can create a successful share market investment app:
A) Identify the market requirements
Amongst the very first steps involves studying the trading application market and determining the features of their application, which would help in making the app stand out in the market. This is possible by researching the market. The research should be based on factors such as interests, age, average income, location, and gender. Identifying buyers will also help to determine the revenue model i.e. whether the application will have in-app advertisements or users will have to subscribe for the services.
B) Choose the right platform
Amongst the most important steps in stock trading app development is choosing the right platforms for the app. While creating a stock exchange mobile app, stock market software developers have to choose if the application is functioning with both computers and smartphones. Developers should ensure that the application should work both on phones and computers.
Hire Certified App Developers
Request A Free Quote
C) Follow the compliances if needed
In this stage, stock market software developers follow compliance regulations to effectively protect the information of the users. To create a share market investment app, developers can follow the following tips:
Implementing protections of all kinds i.e. technical, administrative, and physical, which would ensure the confidentiality of the user's information
If the developers are using a service provider, i.e. a data storage vendors and hosting networks, they must ensure that the latter follow the guidelines
Amongst the important guidelines is that a stock trading mobile application development company should collect only the information that is needed
A Secure and permanent deletion of data when it isn't needed
If the app uses push notifications, make it such that the messages don't have sensitive information.
Step 2: Design the social network App's workflow
A) Sketching
It is one of the earliest stages of the designing process. The one reason to use Sketch is that it is one of the most preferred applications. With its help, stock trading app developers design components such as the UI (User Interface) and the icon design. Apart from designing the physical look of the stock exchange mobile app through sketch, the developers also create and save:
The navigation bar
The smart layout
Symbols
B) Wireframing
The wireframe of an app is known for offering a clear glimpse of things like the design, including the navigation system. This makes wireframing very important. This stage serves as a solid foundation for the app. As the process moves further, developers can refine the application's core functionalities.
C) Prototyping
The prototype stage is an important step where the bare-bones version of the app is presented to the investors. A unique prototype designed by stock market software developers might help the app to stand out in the eyes of mobile app investors, who are already searching for something different as they frequently met with a plethora of pitches for phone apps. Moreover, this process also gives the testers and the stock market software developers a glimpse into the stock trading mobile app's design and UI. Apart from that, a prototype also makes the app more physically real for investors.
D) Design App Skins
In this stage, the stock trading app developers design the individual screens dubbed "skins" for the app. In this process, the designing team create both the user interface (UI) and the User experience (UX) screens. The end products are a high-resolution format of the prototype, which will be developed with the help of wireframe tools.
Step 3: Development & Quality Assurance for iOS and Android
Once the skins of the stock exchange mobile app are fully designed, it goes through another round of testing. Quality assurance helps the stock trading app developers in identifying defects like crashes, bugs, and missing features.
A) Front end development
Front-end development focuses on the client side of mobile application development. A front-end developer is responsible for features such as the look and ultimately the design of the app. A front developer is engaged in functions such as ensuring a seamless user experience, designing, analyzing code, and debugging applications.
B) Back end development
The back-end development revolves around the server side of development. Here, i.e. stock exchange app developers monitor the functioning of the app. Back-end developers of an app focus on the inaccessible (for the clients) components of the app, such as the servers and databases.
C) Quality check and testing
The QA (Quality Assurance) test ensures that the share market investment app is of the highest possible quality. This process assists stock market software developers in identifying and resolving defects such as missing features, bugs, and crashes. There are two types of QA testing namely manual testing and automated testing.
Manual Testing: Under manual testing, a developer has to check the functioning of an app without using any automated tool. On the other hand, under
Automated Testing: In automated testing, a developer has to check the functioning of an app with the help of an automation tool.
Types of Stock Trading Apps
Stock trading mobile apps can be classified into two main groups. They are:
1. Traditional-Oriented
Regarded as a highly preferred type of stock trading application, the traditional type of stock exchange applications deals in assets such as stocks, ETFs (Exchange-Traded Funds), precious metals, currencies, and many more. The main reason behind its popularity is that the participants in the market prefer to deal in assets they can understand. Here is my other guide on how to develop a cryptocurrency exchange app.
2. Cryptocurrency-Oriented
Under this type, users can deal specifically with cryptocurrencies. Participants can carry out transactions with the help of cryptocurrencies such as Litecoin, Ethereum, and Bitcoin. Moreover, under this type, there are two options while cryptocurrency exchange. They are:
(A) Centralised
Under this option, the exchange is carried out with assistance from the brokers
(B) Decentralised
Working according to the p2p cryptocurrency exchange model, decentralized exchanges can be carried out without any interference from a third party.
Features to Create a Stock Trading App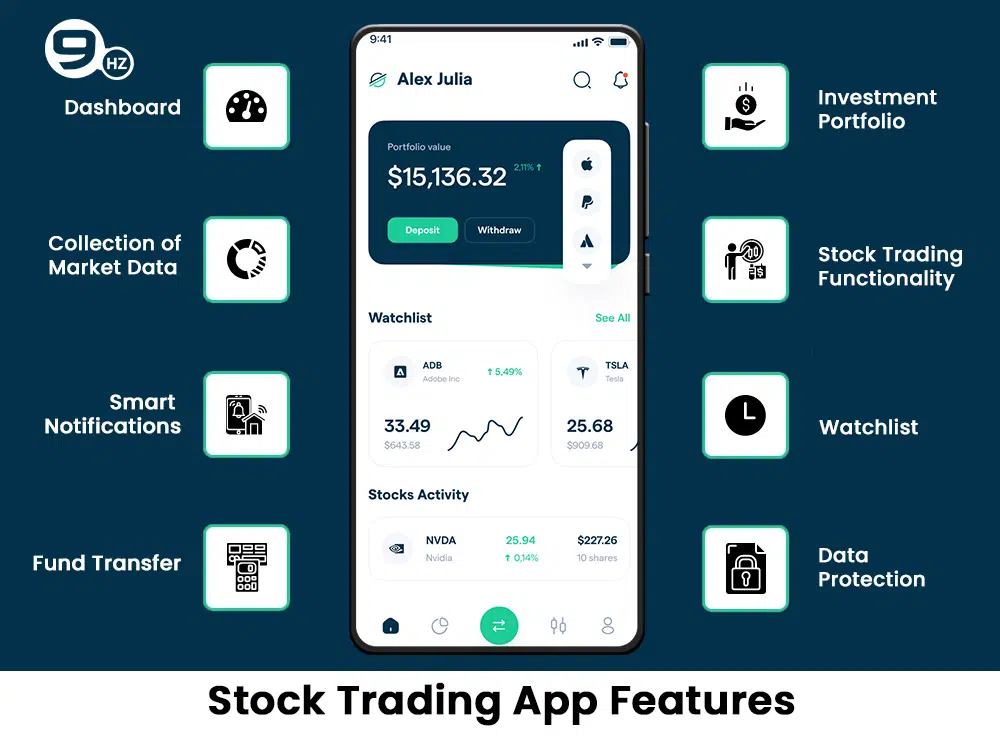 Stock trading applications come with various exciting characteristics. Some of the numerous exciting features are things such as sending alerts, offering free shares to a user for bringing someone to the platform, and trading without commission charges. Thanks to such lucrative features offered by these apps, it has given a boost to the demand for stock exchange mobile app development. In the past few years, there has been a great rise in the hiring of stock market software developers.
General Features for eTrading App Development
Commission-Free Trading: Share market investment apps today lure traders by offering features such as commission-free trading. Under this feature, the source of income behind broker-dealer comes from the interest of the client funds that wasn't invested.
Offering free shares: Another way that a stock trading mobile app rewards its users is by offering them free shares for bringing in their friends and other acquaintances to the app.
Sending Useful Alerts: One of the most important features of a share market investment app is regularly sending alerts regarding the situation in the stock market. Through these notifications, users will know what shares to buy and which ones to sell.
Admin Features for Stock Trading App Development
Registration form: Right upon opening a share market investment app, users can find the button labelled login/sign-in. If the user is new, there will be another button labeled.
sign-up/register: The one thing that mobile app developers need to keep in mind is that they need to keep the user interface simple for the user. Moreover, this page will also contain not only the terms and conditions for using the stock trading mobile app but also the assurance that the users' data will be encrypted.
User Panel Features for Share Market Investment App
Personal Profile: The profile interface contains everything. All the information from the user's name to language preferences and photographs can be found here.
Graphs: Also referred to as the trading functionality, it is one share market investment app's important features related to the users. This page has real-time information about the market in the form of graphs and charts. It helps users to identify the areas that can help them grow financially.
Reports: Analytic reports help users to keep track of their progress in a stock exchange mobile app. Some share market investment apps are also known for regularly updating their users with automatically generated reports.
Payment Options: One of the important features in Stock Trading and Investment App Development is payment options. Users need this option for the purchase and sale of shares and stocks. One of the important things that stock exchange app developers need to keep in mind is that they need to consider a payment gateway that protects users' transactions and personal data.
Advanced Features for Stock Trading and Investment App
Push-notifications upon the sudden changes in the stock market.
Regular update of the share market investment app's newsfeed so that users can keep up with what's happening in the stock market.
A search engine so that users can access the information or even search for the company they want to buy the stocks and shares for.
It should have tools that help in the filtering and sorting of information.
Stock Trading App Development Cost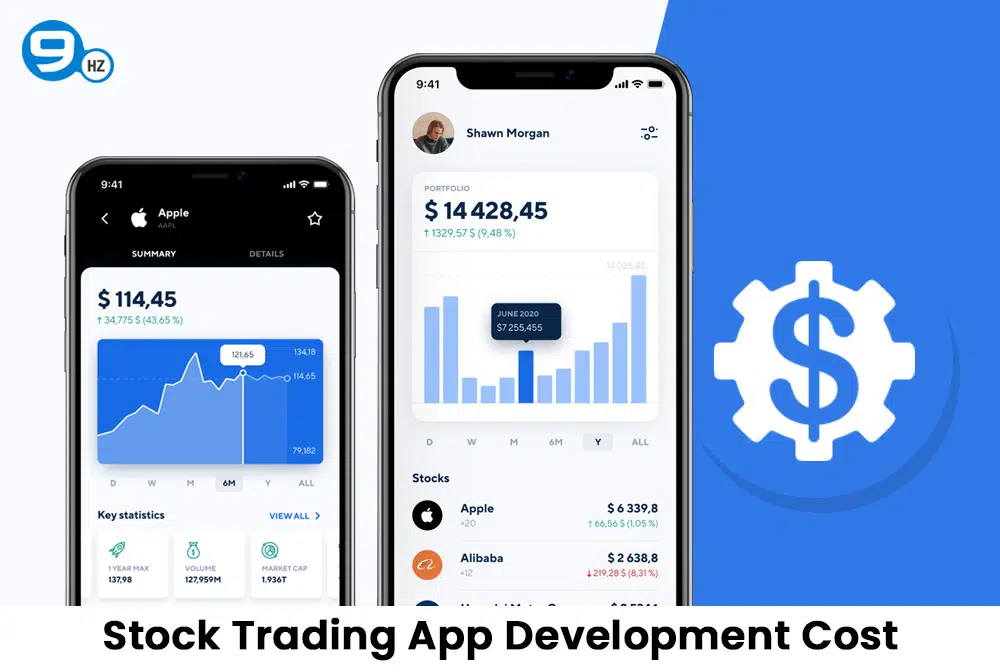 Before venturing into the stock trading app development industry, it is important to ascertain how much does it cost to create a stock trading mobile app. While there are a lot of ways other kinds of smartphone applications can win over users, for a stock trading mobile app there is only one way to attract people. That is by making the share market investment app easy to use. Stock trading apps developers have to ensure that the UI and the UX designs are simple enough to use so that people will come back to the app to manage their finances.
Stock Trading App Development Cost in USA
According to a report published in August 2021, the United States of America has one of the largest users of share market investment apps. Here's how much stock trading apps development costs in the United States: $30,000 to $60,000.
How Much Does it Cost to Make Stock Trading App in India?
Apart from their stable jobs, the majority of Indians today are also regularly investing in the market to grow financially. Here's how much it costs to create a share market investment app in India: $10000 – $30000
eTrading App Development Cost in the UK
According to a survey, the United Kingdom has the fourth-largest consumers of stock exchange mobile apps. Here's how much the creation of a trading app costs in the UK: $20000 – $50000
Share Market Investment App Development Cost in Australia
Here's how much an organization has to spend to create a stock trading mobile app in Australia: $25000 – $50000
eTrading App Development Cost in UAE
The United Arab Emirates, like the rest of the world, has a considerable amount of trading application users. Here's how much the creation of a share market investment app costs in the UAE: $15000 – $40000
Want to Launch Your Own App?
Request A Free Quote
Tech Stack for Stock Trading App Development
Available in both android and iOS platforms, Robinhood is a popular stock trading mobile app that is amongst the highly downloaded apps. Located in Menlo Park, California, the app that came into being in 2015 is known for offering popular facilities such as commission-free trading. Yes, in using this app, users can trade stocks without paying any charges to stockbrokers. Listed below are the steps the share market investment app went through before its release on iOS and Android:
Table format with the logo of technology
Designing the logo is one of the first steps. While a logo alone does not determine the success of an app, the insignia does make an impression. For instance, Robinhood can be identified by its symbol, which is a feather.
Front-end
The Front end development process revolves around the client side of development. A front-end developer for an app is responsible for the look and ultimately, the design of the app. Some of the languages in front-end development are CSS, jQuery, JavaScript, and HTML.
Backend
Revolving around the server side of development, the stock market software developers are focused on monitoring the functioning of the app. Backend developers have to work with languages like .NET, Python, Java, PHP, and Ruby on Rails.
Database
The database is an important component of a smartphone application. Regardless of the platform, they are available on, whether iOS or Android, the database is the core of an app. Whether it is to upgrade the functionality or to create a new app, the existence of a proper database is of critical importance. Some of the well-regarded mobile app databases are:
PostgreSQL
MongoDB
Memcached
Cassandra
MariaDB
SQLite
Redis
InfluxDB
Riak DB
Other Tools
Listed below are several other apps that you can install on the phone:
Stash – Also referred to as Stash Financial, Inc., Stash is functional on both smartphones and the web platform. The FinTech Company based in New York is known for letting its users invest in small amounts in stages. Boasting more than 5 million users, Stash was worth $2 billion in 2020.
Stocktwits – Founded in 2008, Stocktwits was established as a platform where entrepreneurs, traders and investors interact and share ideas. Boasting approximately 5 million users, Stocktwits offers its customers a chance to communicate with ticker streams easily. It is possible by using @ symbol and after that typing the username. The content found in Stocktwits is also shareable on other sites such as CNN Money and Yahoo Finance. Apart from that users can also content on other social networking sites such as LinkedIn, Facebook and Twitter.
How to Monetize Stock Trading Apps?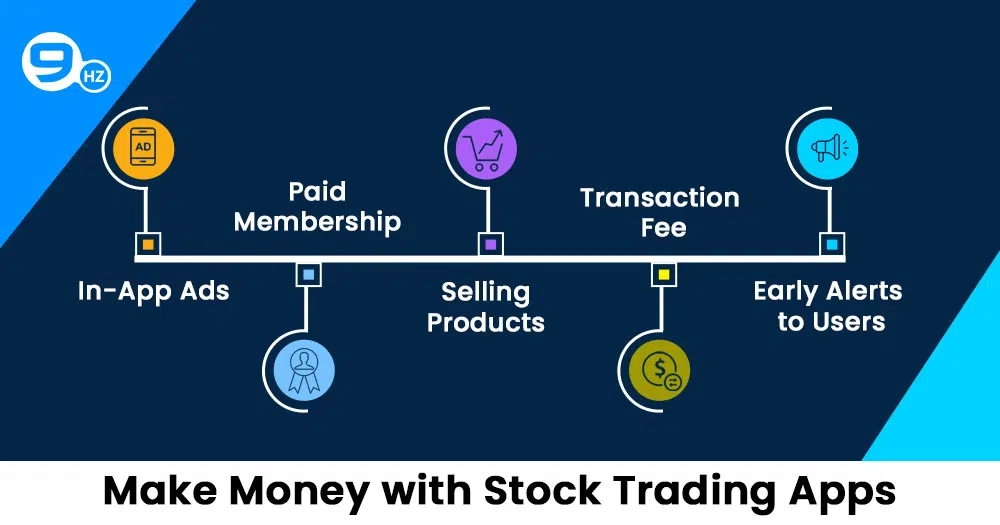 The best way to describe a monetization model is that it serves as a blueprint to make money. With the help of a monetisation model, the stock trading apps developers can earn revenue with the help of the mobile application. A stock trading mobile app can earn revenue through the following ways:
In-App Ads
Amongst the most popular examples of in-app advertisements are the ads that are seen at the bottom of the app's UI (user interface). So, under this method stock exchange app developers can display advertisements of insurance companies.
Paid Membership
Under the provisions of this model, users after the download can only enjoy certain basic features. But, later, users can access some special features only after purchasing the premium membership. It is one of the most effective ways to earn revenue quickly. Moreover, after the payment, users can also participate in the stock market.
Selling Products
Sometimes share market investment apps can also choose to sell products to earn revenue. The products sold on the app include things like mutual funds, insurances and many more.
Transaction Fee
The transactions carried out by the users through the app will be chargeable. Thus, upon any transaction, the stock trading apps developers will decide upon a particular amount as a transaction fee.
Early Alerts to Users
With early alerts, stock exchange mobile apps can retain their users. Apart from being an effective way of communication, push notifications are an effective way to earn revenue. So, if a user has paid for the service, they will receive early notifications about the market before the other app users.
FAQ's
Q. 1 What are the rules of trading?
Here are some of the rules to succeed in this field:
Have a trading plan
Look at trading as a business
Always protect the trading capital
Leverage the technology effectively
Take only affordable risks
Q. 2 Is it safe to use share market investment apps?
Yes. The encrypted firewalls in the apps are designed with the users' safety in mind.
Q. 3 How to earn money from stocks?
There are three ways. Namely:
Collecting dividends
Short-selling
Selling stocks for a profit