We all know that women play an important role in laying the foundation of a strong and progressive society. Nowadays, women are everywhere, be it sports, business, or home. Therefore, we as a responsible society, should ensure that they get a safe environment in which they can flourish.
Technology has an important contribution in women safety app development. In today's society where everyone has a smartphone with cheap internet, it becomes necessary that with all of this, we need to create an app and a system by which we can play an important role in developing women's safety and well-being.
The Women Safety App is a concrete way to take a significant step forward in this sensitive and demanding domain. Women's safety applications have the potential to play a very important role in women's empowerment. They provide women a platform where they can share their thoughts and ideas, learn from each other, and showcase their skills and talents to be a better version of themselves.
Need Help with Women Safety App Development?
Convert Your App idea into Reality
Few Market Stats Analysis
With the rise in the cases of women molestation and mishaps in the last five years, we have seen steady growth in the women safety app development market. According to several reports, over 700 million women have been victims of sexual and physical abuse. As a result, there's an unquestionable demand for safety applications to help women feel safe and secure.
Technologies like 5G and AI have played a crucial role in deploying safety solutions by using SMS, GPS warning alarms, and likewise to inform relatives and friends at the time of need. Predictions say that there will be 20% growth in upcoming years in the market of safety apps for women.
The safety solution for women consists of a wide range of features like sending automated alarms and sounds to relatives when someone is trying to molest the women and a lot more. This type of app is extremely valuable for women and that's the reason businesses also want to capitalize on this market as they see potential in this sector.
What is a Women's Safety App?
Women safety app can be referred to as a safety kit for women that is loaded with advanced features and functionalities so that god forbid if any situation comes that gives a sense of threat or intimidation, can offer the most vital solution. So as the name suggests, the ultimate job of a women safety app development is to enhance safety for women.
Many unfortunate incidents in the past have led to the creation of women's safety apps on a larger spectrum and now you see a wide range of such apps offering services at affordable prices. A lot of these apps have a feature where someone close to you like your friend or a family member will get notified in case of trouble.
Moreover, some of these apps have the functionality to record the incident to be presented before the court as evidence. Other apps perform a wide range of tasks such as navigating the safest path, informing about nearby medical facilities, identifying crime hotspot areas, tracking options, and much more.
How to Build a Women Safety App?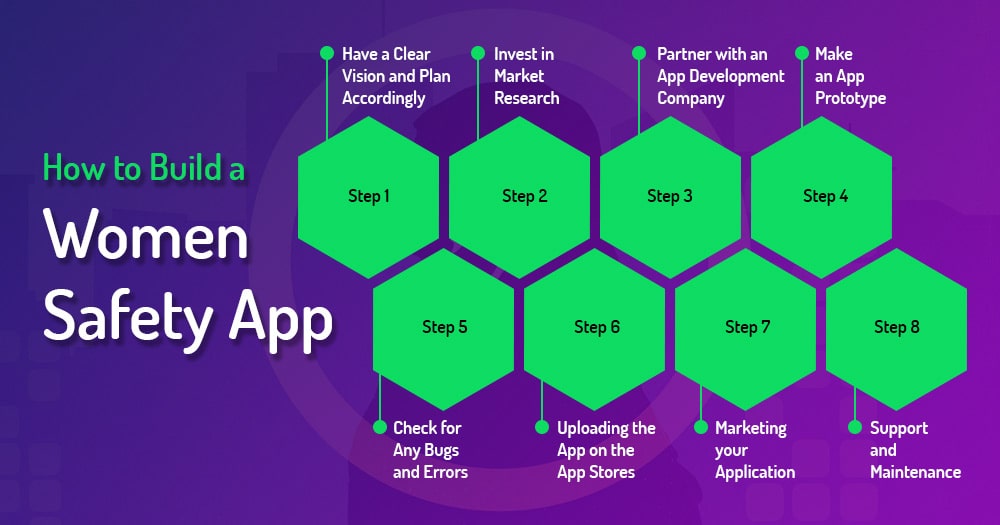 Looking at the current scenario, there is an unquestionable need for women safety app development in the market. So developing a similar app will help you in two ways – first you can contribute to society's well-being and second, you can make an android app and earn a good source of income if your product becomes popular. However, not everybody has hands-on experience in developing mobile apps you can also connect to mobile app development companies, and you can follow these steps to kick-start your project.
Step 1 – Have a Clear Vision and Plan Accordingly
Your project will reach nowhere if you don't have a concrete plan and a clear plan comes only if your vision is clear. You should be absolutely sure in terms of your target audience – whether your app will target only women or it will ensure personal safety regardless of gender. Behind the development process, there should be a clear vision so that you take decisions in the correct direction. Also choose the operating system or the platform you want to develop your app for (whether it is iOS, Android, or Both).
Step 2 – Invest in Market Research
An in-depth market research is the key to success for any business. You must know every nitty-gritty about the industry you are planning to enter. This involves studying your competitors, their practices, the products that exist in the market, and what better can you offer so that there can be a shift from the existing commodities to your newly launched product. Make a list and see what better features you can add to your app so that it stands out in the market. Learn in terms of the competitive advantages that you can use. All these practices come under research and the more research the better the outcomes.
Step 3 – Partner with an App Development Company
Most of you are not from a tech background so developing an app by yourself is out of the question. That's where the role of an experienced mobile app development services provider comes into the picture. Get in touch with a reliable and experienced app development agency to share your idea and transform it into reality. A good app development company will make your journey way too easy so that you can focus on other crucial things like infrastructure and product marketing and all the tech part is taken care of by your app development partner. Communicate all your requirements with the vision you hold to them and see the magic.
Step 4 – Make an App Prototype
The raw structure of your app is generally called a prototype. In a fancy sense, you can see a movie trailer and imagine what the actual movie will look like, likewise, a prototype gives you a rough idea of what your final app will look like. It can be prepared quickly and necessary changes can be made so that the final user interface is exactly like what we thought in the first place. Make sure that the prototype meets your expectations and in case of any changes, it can be done easily as the project has just started and there is enough time.
Step 5 – Check for Any Bugs and Errors
Once the application is fully developed, it's time to pass it through the different stages of quality check to ensure sustainability and robustness. This phase is called testing and quality assurance and this helps in finding bugs so that they can be fixed immediately to make the app work seamlessly. The testing stage helps in enhancing the user experience as the fewer the bugs are the better the user experience is.
Step 6 – Uploading the App on the App Stores
Congratulations after all the efforts and hard work, your app is finally ready. This is the time when you want your app to be launched over the respective platforms to make it available for everyone. There are two popular platforms where you can upload your app, Google Play Store and Apple App Store. Decide which channel is suitable for your product keeping in mind your target audience. Deploying your app on both platforms will stretch your budget significantly so make the decision righteously.
Step 7 – Marketing your Application
Marketing is the backbone of any project. Even great products fail with poor marketing, so merely inventing something valuable is not enough unless you are able to tell people and make them aware of your product. Formulate a constructive marketing strategy and pitch your product to your target audience as there are millions of applications in the Google Play Store and Apple App Store and people have very little attention span. If you know nothing about marketing feel free to avail digital marketing services from a reputed company like The NineHertz and see the magic.
Step 8 – Support and Maintenance
So now as your app is developed and successfully deployed you think that the job is done, guess what, welcome to the real world as here it's nothing like that at all. App development doesn't end the story, in fact, this is just the beginning. Users' needs, preferences, and behavioral patterns keep evolving with time. What is relevant today might not be tomorrow. If you want to survive in the market then you need to adapt to changes with time and make improvements where necessary within your women safety app.
Take regular feedback from your app users, see what challenges they face while using your app and fix those issues quickly. A good app development company can help you out in such a situation so choose an agency that offers optimum post-development support too.
Hire Mobile App Developers from The NineHertz
Convert Your App idea into Reality
Top Features for Women Safety App Development
A feature-rich developing women's safety app fulfills the purpose righteously. More features will lead to more benefits and will attract more customers in the end. Some of the main top-notch features that make this app worth downloading are as follows:
| Name of Feature | Feature Description |
| --- | --- |
| Location Sharing | The app should have a location sharing feature so that the user can share his current status to his closed ones |
| SoS Alert | The app should contain the feature where the user can send an SoS alert in case of any discrepancy noticed |
| GPS Tracking | The GPS tracking feature within the women safety application helps in communicating the location history to guardians |
| Low Battery consumption | It is extremely important that the app works perfectly in the case of low battery as a matter of safety concern |
| Data Management | The application must manipulate the data of its users (both offline and online) in terms of location history, common stay time, etc. to offer the best results |
| Location ETA | The location ETA feature helps to track and monitor the time of arrival of the concerned woman in a particular place |
| Voice Activation | There are situations when the user is not able to press the buttons or activate any SoS. Therefore, in such a scenario he should be able to send an emergency message through just a voice command. |
| Offline Mode | A mishap can occur anywhere regardless of the internet availability. Therefore the application should be able to function properly even without the internet. |
| Real-Time Update | The women safety app may offer a number of updates such as user's departure time, live location, travel route, arrival time and stops |
| Self-defense Training | There are many safety apps in the market that provide self-defense training where women get training regarding some of the fundamental self-defense methods. The training primarily is provided via video tutorials. |
| Pre-recorded fake calls | These are the fake calls where the conversation is in-built or pre-recorded. Such a feature is extremely helpful for those women who immediately want to step out of an uncomfortable situation. |
| Family Safety Support | This function helps in creating a room for your family members and loved ones where everyone can share their past locations, chat with one another, share sites and send SoS messages. |
| Fake SMS Feature | Similar to the fake call feature, here you get a fake SMS instead so that you can have a reason to get out of an uncomfortable situation. |
| Live Streaming | This feature makes use of the sensors and detects any incidence of violence. It then records the incident both in the audio and video formats and saves it away from your device. This is extremely useful when it comes to taking action against the culprit even if the device is lost or destroyed. |
| Automatic Recording | In case the video is unimportant or irrelevant, there is a feature to record the audio when someone uses offensive language |
| 24×7 Support | Needless to say that whatever the situation or time is, the app must function round the clock to ensure that the safety of the user is taken care of. |
Cost to Develop a Women's Safety App
So far, you have got a decent idea regarding developing women's safety app and personal safety apps in general. The article talked about almost everything, be it the features, functionalities, development process, tech stack, and whatnot. Now it's time to throw some light on its cost factor.
The cost involved in women safety app development will depend on all these factors. If you are looking for a definite answer in terms of cost then it is extremely difficult to predict one as the cost is directly proportional to the overall needs and requirements of the business.
Here are the major factors that play a crucial role in deciding the app development pricing structure:
Types of features you wish to add
Number of features you plan to integrate
The hiring team and its location
Operating system or the app development platform (i.e. iOS or Android)
The exact timeline to finish the project
Technology stack to be used in the app development process
Changes and modifications at different project stages and life cycle
All and all, predicting one single figure is quite tricky, but on average a women's safety app development cost anywhere between $15,000 to $50,000.
Top 5 Women Safety Applications
Table showing the top 5 women safety applications
| App Name | No of Downloads | Ratings | Platforms |
| --- | --- | --- | --- |
| 1.    Life360 | 50 million+ | 4.4 | iOS, Android |
| 2.    bSafe | 1 million+ | 4.5 | iOS, Android |
| 3.    Noonlight | 1 million+ | 4.6 | iOS, Android |
| 4.    Shake2Safety | 100,000+ | 3.4 | Android |
| 5.    Safetipin | 500,000+ | 4.2 | iOS, Android |
1. Life360
Life360 is among the most popular apps in the women's safety or personal safety category. This free-to-install app lets you share your location and the user can also review her 2 days of the location history. Life360 can also work as a family safety app that enables users to share their live location and send distress alerts. Moreover, it has some additional features like car crash detection where you can inform emergency services instantly if there's a car accident.
2. bSafe
bSafe is a personal safety app where users are allowed to create a personal network of friends, family members, and trusted contacts so that they can seek help from them when there is some sort of emergency. This app can be used in terms of making quick SoS calls, location tracking, capturing and broadcasting emergency footage, etc.
3. Noonlight: Feel Protected
The app is among the top downloaded apps of all time. This app is loaded with some amazing safety options. What you need to do is to just press a button and keep it holding when you are in a dangerous situation. Once you are safe, release the button and enter the safety pin code. Your current location will be sent to your nearest police station and help will be arriving soon.
4. Shake2Safety
Shake2Safety is a great app when it comes to personal safety. It is one of the most advanced apps in this category. There are times when the situation is so intense that the person is not able to actually open the app or send the message manually. This app comes as a savior in such a situation as you need to just shake your phone and this app will instantly send your location, audio recording, messages, etc. to your selected contacts.
5. Safetipin
The last app on our list is Safetipin which is another great app when it comes to women's safety. Safetipin assists users in evaluating the areas of safety based on safety scores. These safety scores are based on multiple factors like past records, the density of the population, demographics, etc. The locations with high scores can be identified and any future mishap can be avoided based on the data.
Types of Women's Safety Apps

Here are the various types of women's safety applications:
1. Emergency SoS Apps
Emergency SoS female safety applications help women to send distress signals or alerts quickly to emergency contacts including friends, authorities, and family members. Such type applications are loaded with important features like GPS tracking, Panic buttons, and automated emergency calling. Here are the top two examples of apps belonging to this category.
| App Name | Downloads | Ratings | Available Platforms |
| --- | --- | --- | --- |
| bSafe | 1 million plus | 4.3 | iOS and Android |
| Life360 | 50 million plus | 4.5 | iOS and Android |
2. Safety Network Apps
As the name suggests, safety network apps aim at creating a safety network for women by connecting them with their friends and family members. With safety network apps, women can quickly communicate and share safety related information and in case of emergencies alert the authorities. Here are the top two examples of safety network applications:
| App Name | Downloads | Ratings | Available Platforms |
| --- | --- | --- | --- |
| SafeTrek | 1 million plus | 4.3 | Android and iOS |
| Life360 | 50 million plus | 4.5 | Android and iOS |
3. Location Tracking Apps
Women can share their live location to their trusted contacts in real time with the help of location tracking applications. GPS tracking can easily monitor their whereabouts to instantly offer help. Some of these apps also come with geolocation capabilities. This particular feature helps in sending alerts when a person leaves or enters a particular location or area. Some of the examples concerning this category are as follows:
| App Name | Downloads | Ratings | Available Platforms |
| --- | --- | --- | --- |
| Find My Device | 1 million plus | 4.5 | Android |
| Find my iPhone | 500 million plus | 4.6 | iOS |
4. Fake Call or Distress Signal Apps
Fake call or distress signal apps allow women to create simulated calls or text messages to create the impression that they are busy or have an emergency. This comes under women security app development and it can work in cases where women feel unsafe or need an excuse to get out of that situation immediately. Here are the top two examples of Fake Call & Distress Signal Apps:
| App Name | Downloads | Ratings | Available Platforms |
| --- | --- | --- | --- |
| PanicGuard | 100,000+ | 4.0 | Android, iOS |
| iFake Text | 1 million+ | 4.2 | Android, iOS |
5. Self-Defense Training Apps
Self-defense training apps act as a great medium for women to learn self-defense with the help of self-defense tutorials, techniques and tips so that they feel more confident and stronger. The curriculum may include step-by-step guides, training tutorials, and practice routines. Here are two best examples of Self-defense apps for women:
| App Name | Downloads | Ratings | Available Platforms |
| --- | --- | --- | --- |
| MyDefense | 50,000 plus | 4.5 | Android, iOS |
| Krav Maga | 100,000 plus | 4.7 | Android, iOS |
6. Safety Resources Apps
Safety resources apps offer a wide range of resources to women in the form of helpline numbers, self-defense workshops, nearby safe zones locations, and counseling services. This particular type of app can act as a comprehensive guide when it comes to getting some sort of support and assistance. Here are the top two pics under this genre:
| App Name | Downloads | Ratings | Available Platforms |
| --- | --- | --- | --- |
| American Red Cross | 10 million plus | 4.7 | Android, iOS |
| Life360 | 50 million plus | 4.5 | Android, iOS |
7. Personal Safety Alarm Apps
With personal safety alarm apps, your smartphone can be converted into a personal safety alarm in a way that it starts emitting long loud sounds or sirens to gather attention in situations of danger. A user can activate the feature by simply shaking the phone, pressing specific buttons, or using voice commands. Here are the top two examples of apps belonging to this category:
| App Name | Downloads | Ratings | Available Platforms |
| --- | --- | --- | --- |
| Noonlight | 5 million plus | 4.4 | iOS, Android |
| SafeTrek | 1 million plus | 4.3 | iOS, Android |
How Do Women's Safety Apps Work?
The workflow of a women's safety app is quite simple and easy. It works in a manner that even a layman can understand. So you don't need to be a techie to have a hold on it. The interface works automatically by providing you with easy access to all the features you expect from the application. Let's learn step by step to get some clarity.
The first and foremost step of a women's safety app or any app whatsoever is signing up. Almost every application asks you to sign up before you use the app. This process is quite easy and takes very little time. After you have entered your details with your email a verification code is generated over your email that has to be used to complete the login process.
After signing up you get your unique username which you can enter along with your password to log in. After logging in, you get to see the home page. The home page consists of several panels where you can update your avatar or profile. You can also perform several other things like selecting emergency contacts, sharing your story, knowing about the app, or accessing the tips mentioned within the app.
As soon as you set up your profile along with your contacts, you'll see some options on your home page such as call, alarm, panic mode, recording, contact to hospital or police, anxiety, etc. Activating any single or multiple options is in your hands as the app provides you full accessibility at your fingertips.
How to Use AI in Women's Safety Applications
Looking around we can see that AI is the new normal. Artificial Intelligence has already started impacting our lives and there is still a lot in the bucket in the upcoming future. No wonder AI is here to stay and time will only make it more prominent and stronger than before. So why not use it in a constructive way and get benefited?
We can integrate AI into safety apps to extract their highest potential. A women safety app enriched with AI and ML can help to overcome the shortcomings of traditional safety mechanisms and provide more sturdy, accurate, and quick responses. Following below are different ways AI can be penetrated into a women's safety mobile application:
| AI Feature | Type of functionality it offers |
| --- | --- |
| Facial Recognition | Helps in cross checking the individual's identity via facial recognition feature. It helps in enhancing user's security to a great extent |
| Speech recognition with voice commands | This AI feature enables the user to establish quick communication with the app without using hands so that results can be seen promptly |
| Emergency alerts | It analyzes the behavioral patterns of the user and decides for an potential threat near the user to notify his relatives and friends |
| Real time tracking and navigation | This AI feature makes use of the geolocation for real time tracking assisting in situations of any emergency |
| Self Defense Trainings | With the help of AI, the individual gets self-defense guidance. It helps in building confidence in the person to tackle any adverse situation |
| AI Chatbots | AI powered Chatbots provide quick help and establish networks automatically to connect to the authorities if needed. |
| Anomaly Detection | AI is equipped in detecting anomalies in day to day routines to trigger responses automatically |
| Data Privacy and Security | AI helps to increase data privacy by detecting any unauthorized access attempts |
Integrating AI into Women's Safety Apps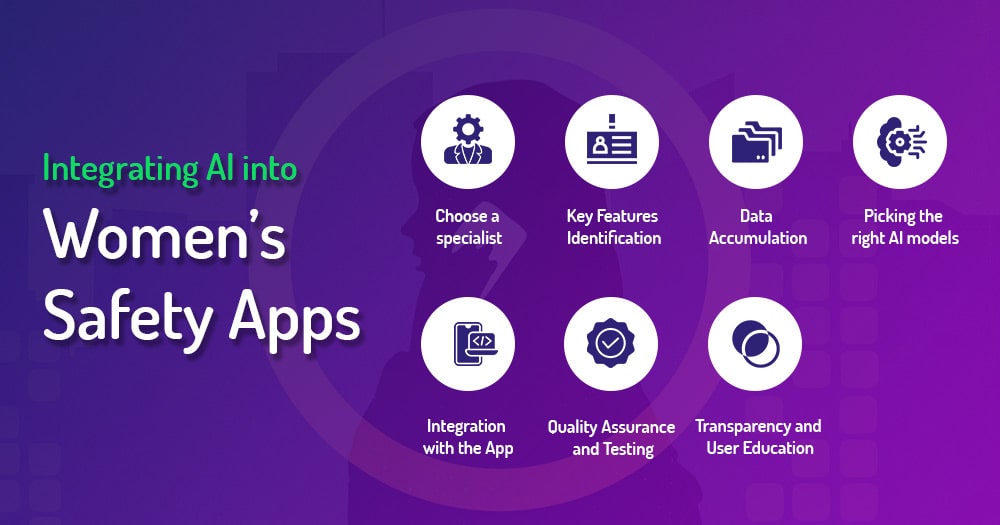 This section will throw light on how as a business you can integrate AI into a women's safety application. This process requires proper planning and execution in the right direction. Following are the key steps that are required in this process:
Choose a specialist: This involves taking services from field experts like data analysts, software developers, and AI specialists. These specialists are well-versed in crafting scalable, intuitive, and seamless IT solutions.
Key Features Identification: Determine and identify key features and functionalities that you want to integrate into your app and communicate all of them along with the vision you hold to your development team.
Data Accumulation: Gather as many high-quality pin-point data as possible. This data is extremely useful when it comes to providing training to AI models.
Picking the right AI models: This step involves selecting the appropriate AI models and providing them with training. Further, you validate those models with the help of the gathered data.
Integration with the App: Under this step, you perform the integration process that involves incorporating the trained AI models into the women's safety application, either embedded or through an Application Programming Interface (API).
Quality Assurance and Testing: Make regular improvements through testing and quality assurance methods. First of all, take some time out and collect all of your user's feedback and make improvements accordingly.
Transparency and User Education: Integrating AI is useless until your users are comfortable with it. You need to make sure that your user base understands the core AI methods and functionalities to use them easily when needed. Training via video tutorials can play a crucial role in this.
Why Choose 'The NineHertz' as an App Development Partner?
When it comes to technology, the contribution of The NineHertz is unparalleled. Any business that wants to make a mark in the industry would want to partner with a software development company that provides value with affordability. The Ninehertz is a company that offers the best digital solutions at a competitive price.
We at The NineHertz have been providing custom app and web development services for decades with maximum customer satisfaction rates. In the tenure of more than 15 years, we have served more than 1000 clients from all the major parts of the world including the USA, UK, France, Singapore, UAE, Australia, and India.
No wonder app development is a tricky job and should be done with perfection. This is because huge amounts of resources are being invested along with the company whose reputation is also at stake. Therefore, one simply cannot afford even a single loophole as it might lead to making all the efforts go in vain.
Hence, the development partner should be well experienced to handle this tedious job. The NineHertz have decades of experience and their development team is well equipped with all the latest tools and technologies. So as a business, if you want to put your best foot forward then now you know where to go. Just give us a call for a free consultation and get your dream project started.
Conclusion: Women Safety Application
In the end, we can say that over the decades, technology has played a vital part in our day-to-day lives. Be it shopping, traveling, eating, or studying, everything has a strong technological impact that can't be ignored. Unfortunately, none of them really helped women in terms of safety and security until now when we have women's security apps transforming women's lives and making this world a better place to live for them. These apps are widely used among women all around the world.
Such apps are enriched with innovative features and functionalities and ensure that women are not more than a tap away from their friends and family members. This initiative was a game changer and soon became extremely popular among women globally. As a result, many businesses jumped in and took the initiative to build women-centric apps and gained a lot of traction. These businesses made millions of money and the women on the other hand got a product that was much needed, so it was a win-win.
Therefore, as a business, if you are planning to launch your own women safety app and make money then this is the right time. Women in general have good purchasing power and they never hesitate to buy something that gives them some real value. So if your product is good then rest assured that it will be a huge success in this highly underrated yet lucrative market. You can get in touch with us as we have the expertise and experience to help you out in this area.
FAQ's: Women Safety App Development
Q.1 What is the Purpose of the Women Safety App?
The ultimate purpose of a women safety app is to ensure women's safety. Its job is to identify and contract resources to help the person in getting out of potentially dangerous situations. In case of any potential danger or threat, these apps help in providing assistance and reducing risk by allowing the person to send location to his or her contacts.
Q.2 What are Some of the Top Android Personal Safety Apps?
The list of the top personal safety apps includes the following:
Hollaback
First Aid
Watch Over Me
React Mobile
Silent Beacon
Kitestring
Q.3 What is the Role of Digital Tools to Enhance Women's Safety?
A women's safety app is an example of a digital tool that ensures that women are always connected to their friends, family members, and emergency services. You just need to tap a couple of times and your selected contacts will be notified about your current status and location.
Q.4 How Would a Women Safety Application Give Users Locations in Case of Internet Unavailability?
The current location can be sent via message. However, the receiver will only be able to track the current location which means if the user moves to some other point then it is of no use.
Q.5 What is the Government's Role in Providing Women Safety?
The government bodies have time to time launched a number of initiatives across states for monitoring and tracking the timely resolution of crimes against women. Govt. has also developed some innovative emergency response systems for assisting law enforcement bodies in rescuing women in distress. Lastly, the authorities have also issued some helpline numbers where anyone can call to seek help and these numbers are active 24×7.
Q.6 What is the Need for IoT in Women's safety?
Tracking and other safety practices become very efficient with the help of the Internet of Things. So when it comes to tasks like catching the latest location, sending messages, and receiving fake calls, the process becomes very easy and accessible.