Outsystems Vs Mendix | The increasing demand for applications and modernizations in recent years has pushed businesses to encourage their development teams to work faster and explore better application delivery methods. It all started with shifting the approach to be more of Agile development. However, it has now evolved to reduce the amount of code used for faster execution. Or the low code way.
While it might not be the most recent market innovation, low code development platforms have only recently made their way to brands and organizations on a large scale. Moreover, this approach will only grow in the coming years.
Gartner predicts that low code application development platforms will account for more than 65 percent of all app development projects by 2024, while Forrester predicts that the low code market will be worth $21 billion by 2022.
This means that many businesses will try to work around the development style and platforms. If you're reading this, you might be one of those first-timers who want to make a better decision when selecting the best platform for your business.
Although there are numerous top low code platforms available based on various business needs, Mendix and OutSystems are two of the most popular low-code development platforms. Mendix vs OutSystems: Let's compare the two low-code platforms against each other and see who comes out on top.
What is Outsystems? Overview and Features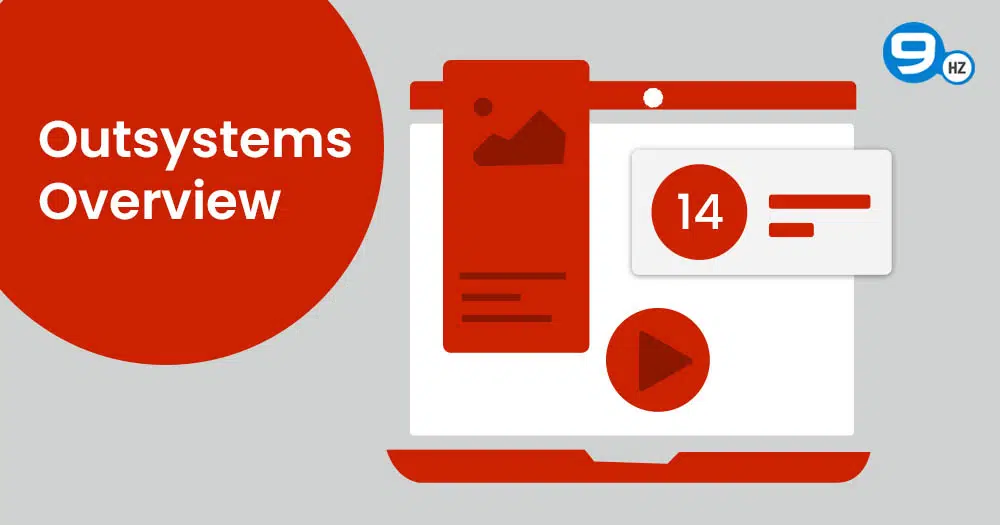 OutSystems is the most popular and widely used modernized low code platform, with AI automation, visualization tools, integration assistance, cloud architecture, and a quick drag and drop process.
Using a model-driven development environment enables Outsystems developers to create robust and scalable enterprise-grade applications. Using the pre-built templates, you can create exceptional customer experiences with modern applications. Or you can hire developers from OutSystems development company. As a result, your applications are secure, resilient, manageable, and easy to scale.
Outsystems low code platform is a complete package of:
Accelerated development with visual, model-driven, AI-assisted tools
The use of artificial intelligence improves the entire application lifecycle.
State-of-the-art architecture and cloud-native runtime
Seamless Integrations and Collaborative Development
What is Mendix? Overview and Features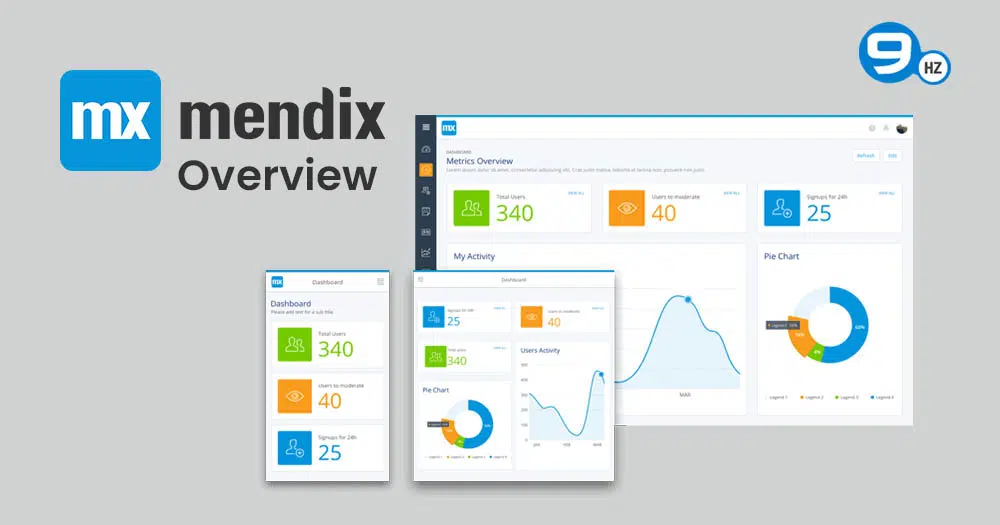 Mendix is a popular low-code application development platform designed for agility, control, and collaboration. It enables end-to-end app creation, from app idea to deployment and operation, while providing flexible and user-friendly development tools for building applications.
Enterprise development teams and developers can use the platform to build, integrate, and deploy powerful multi-device applications quickly. Mendix is used by most enterprise IT teams that need to quickly build innovative and differentiating applications in close collaboration with business stakeholders.
The Mendix platform offers its prospective low code users to take advantage of:
Simple visual low code modeling tools
A wysiwyg no code IDE
Cloud-native architecture and collaborative development
Embrace innovative applications with AI and cognitive services
Automation of the entire process and continuous integration
OutSystems Vs Mendix is both low-code experts, providing feature-rich platforms to help enterprises manage their entire app life cycle effortlessly. The question is, which one should you choose?
OutSystems Vs Mendix: Difference Between Outsystems and Mendix
|   | OUTSYSTEMS | Mendix |
| --- | --- | --- |
| Primary use case | Modernization and automation | Process automation and new app development |
| Code generation | Mix of code generation and metadata derived from model | No code generation, runtime based on metadata from model |
| App Extensibility | Extensibility of application mainly enabled by model and process designer | Extensibility of application mainly enabled by model and process designer |
| App Deployment | OutSystems cloud, on-prem, Select clouds | Mendix cloud, on-prem, Select clouds |
| Lock-in | Tied to Outsystems runtime | Tied to Mendix runtime |
| Pricing Model | Number of: apps / environments / end users | Number of apps / end users |
OutSystems Vs Mendix – Which Low Code Platform to Choose?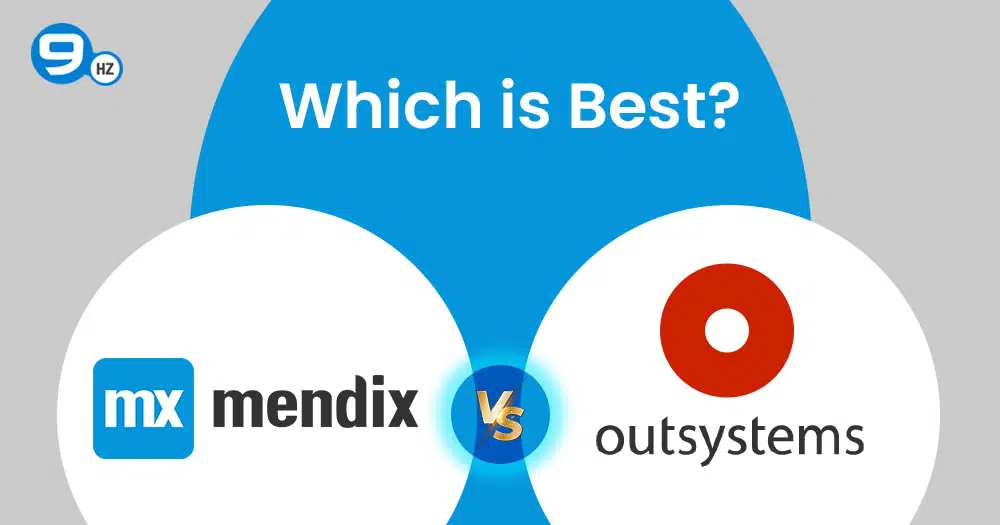 Mendix and OutSystems both have products with similar features and strategies. Both platforms offer similar low-code capabilities for developing web and mobile apps. When comparing Mendix vs OutSystems, businesses must assess and decide which option best meets their needs and allows them to provide a comprehensive experience to their users.
In this blog, we'll go over the two platforms in depth and compare them on several parameters, including:
Architecture and Graphic User interface
Power-Packed Features
Low-code app creation
Integrations and community.
Pricing
Limitations
1. Architecture And GUI: Difference Between Mendix and Outsystems
These platforms will provide you with cloud-native architecture, allowing you to build robust, maintainable low-code solutions while maintaining your standards.
Outsystems Architecture And GUI
OutSystems' low-code platform enables teams to build apps more quickly by utilizing the dashboard and predefined page templates, providing an engaging, user-friendly, and hassle-free GUI. OutSystems platform includes a user forum, job board, and Ideas tab where users can pitch platform improvements and new features. You can use this page to create your private cloud environment with its OutSystems URL.
However, you must manually download the OutSystems desktop integrated development environment (IDE) to proceed with development.
Mendix Architecture And GUI
Mendix's low-code platform is primarily targeted at large enterprises. It provides users with an unavoidable cloud-based experience via its built-in social intranet and collaborative development.
Mendix's architecture, setup, and interface include the following features:
A simple dashboard with tabs such as Apps, People, Buzz, App Store, and Community tabs.
Mendix's new version includes a new web modeler UI called Atlas, with pre-defined page templates and redesigned Android and iOS apps.
The Mendix app GUI includes an Options menu to help you get started developing and configuring your app and a Buzz tab.
2. Features Difference Between Mendix and Outsystems
Companies today want their products to be more digitized and innovative to reach the market faster than their competitors. They can quickly improve their internal business processes with low code platforms, resulting in increased efficiency and a better customer experience. These platforms are power-packed with powerful features that will assist you in developing scalable and powerful applications.
Hire Certified Outsystems Developers
Request A Free Quote
1200+ Projects Delivered 12+ Industry Experience 450+ Clients Worldwide 200+ Certified & Expert Programmers
Outsystems Features
Starting with OutSystems, here are some features you can take advantage of during application development:
Drag-and-drop functionality for creating full-stack, cross-platform apps. When necessary, insert your code. If there is no lock, enter the code whenever it is needed.
With a single click, you can deploy and update apps.
It assists you in analysing all models and refactoring dependencies immediately.
Create stunning mobile experiences quickly with offline data synchronization, native support, and on-device business logic.
OutSystems allows you to scale applications rapidly. Combine microservices with thorough dependency analysis.
Mendix Features
Without any coding experience, you can create and deploy scalable and robust applications. Visually design innovative applications that provide exceptional user experiences across various touchpoints and modalities.
End-to-end automation can help you speed up the app development process.
With AI integration, you can create applications that run flawlessly.
3. Ease of Low-Code App Creation
Low-code development is intended to make app creation easier for everyday business users, IT departments, and professional developers. And both the Mendix and OutSystems platforms provide a simple and stepwise app creation experience to guide citizen developers through the process.
OUTSYSTEM
In the case of OutSystems, developers can choose whether they want to build mobile and web applications from the beginning. It also allows them to specify whether it is a smartphone, tablet, or universal app that will automatically resize to different screen sizes.
OutSystems assists you at every step of the app development process, whether creating a database table from a Microsoft Excel file, building a form, customizing the UI, or assisting the user in publishing the app with a single click.
The platform also includes a powerful app editor that allows you to automatically create tabs as you go. There's also a custom-branded preview of your app in the center, where you can drag and drop UI elements and map to database objects on the right.
MENDIX
Mendix, on the other hand, allows you to build your app with a page of pre-built apps for managing events, expenses, and so on, as well as tutorials to walk you through more complex app templates.
Among the other platform features is a powerful Web Modeler that gives you previews for smart devices, desktop, and tablet apps. To improve the app creation experience, the platform can also start you off with UI design and wireframing instead of database setup; that also comes later.
4. Integrations and Community
IT integration is a key differentiator in UI-centric low-code platforms. The main reason for this is that many products do not include tools for connecting a web front end or new mobile application to core IT applications and databases. As a result, enterprises and non-technical developers have different options here.
Hire Dedicated Mendix Developers
Request A Free Quote
1200+ Projects Delivered 12+ Industry Experience 450+ Clients Worldwide 200+ Certified & Expert Programmers
While citizen developers prefer Mendix platform because it provides a more comfortable visual development experience, enterprises believe OutSystems provides better control over IT application integration and a better way to collaborate with citizens, particularly when the two development groups collaborate.
OutSystems and Mendix both provide an infinite number of integrations and powerful community-built components and apps.
OutSystems Integrates with the Following Applications and Business Systems
Salesforce
Zendesk
Twilio
QuickBooks
UPS
PayPal
Okta
Facebook
Twitter
LinkedIn
On the other hand, Mendix integrates with the following applications and business systems
Salesforce App Cloud
SAP CRM On-demand
Tableau Software
GitHub
Lync Online
Skype
Microsoft Excel
Apart from this, Mendix can also seamlessly integrate with third-party applications as it comes with an API.
5. Mendix Vs Outsystems Pricing
These platforms include everything you need to create the best apps. However, depending on the number of users and applications developed, each has a different pricing plan.
The following are their pricing plans for teams of all sizes.
Outsystems Pricing
Outsystems provides a free version environment for up to 100 business users. Its basic package for 1,000 users starts at $4000 per month.
Mendix Pricing
Mendix, on the other hand, provides a free version for up to ten developers. After that, you can pay based on how many applications you use if you want more. After that, it will cost you $1,917 per month for paid Mendix subscriptions.
Furthermore, the Pro edition of Mendix will cost you $5,375 per month for unlimited app creation. Moreover, Mendix's enterprise edition will cost you $7,825 per month for more advanced features.
6. Limitations of Outsystems and Mendix
Although these two platforms provide excellent services for low code development and app deployment, they face some challenges when developing applications. That is something you should think about before making a decision.
OutSystems' app creation has a quite rigid process. It requires users to select application types such as smartphones, tablets, and so on from the beginning.
OutSystems does not offer a fully cloud-based option.
Mendix is quite difficult to manage one-click deployment once the applications are built.
The platform's free trial version only allows for only ten users.
Mendix's integration with the enterprise apps requires improvement.
Mapping application objects to databases is more difficult than drag and drop.
Outsystems vs Mendix: Which is a Better Low Code Platform?
Mendix Vs OutSystems making a choice between them can be difficult because both products provide excellent options as enterprise low-code platforms that cater to a wide range of business users. In addition, both platforms have a lot to offer in managing the end-to-end app lifecycle, from app creation and deployment to ongoing maintenance and analytics.