Before deciding between SaaS vs PaaS vs IaaS which one benefits you and your business the most, let's understand how these terms were conceived and what they replaced the market with.
So, before the onset of cloud computing (SaaS vs PaaS vs IaaS), businesses were working on on-premise IT infrastructure. The now traditional on-premises infrastructure was not only money-demanding but manpower as well. Besides, constant upgradation is another trouble businesses need to deal with on-premises software. Reliability, server uptime, and post-disaster recovery were a nightmare for IT professionals.
Since the on-premises environment model seems a daunting task, anything that could overcome businesses from resources and storage challenges was going to win hearts. That's where a cloud-computing model was introduced in the business environment as a substitute for on-premises.
But, who knew what introduced as a substitute would entirely take over the IT infrastructure market? Businesses rapidly started switching to cloud computing services, which include three main categories:
Software-As-A-Service
Platform-As-A-Service
Infrastructure-As-A-Service
These cloud services have shown tremendous growth over the years, wherein the 2021 figures were at an all-time high. Amongst the three, Statista reported SaaS solutions with jaw-dropping revenues of 249 billion U.S. dollars, followed by IaaS and PaaS.
With such growth, businesses seem to be ditching traditional infrastructure methods with cloud services.
SaaS Vs PaaS Vs IaaS: Key Differences
| Basis Of | IAAS | PAAS  | SAAS |
| --- | --- | --- | --- |
| Standing for | The provision of infrastructure. | Service platform. | Service-based software. |
| Uses | The network architects use IAAS. | The use of PAAS by developers. | The end user makes use of SAAS. |
| Access | Resources like virtual computers and virtual storage are accessible through IAAS. | PAAS grants deployment and application development tools access to the run-time environment. | The end-user has access thanks to SAAS. |
| Model | It is a service paradigm that offers online access to virtualized computing resources. | It uses a cloud computing approach to supply the tools needed for application development. | In the context of cloud computing, hosting software so that users can access it is a service model. |
| Technical knowledge | It calls for technological expertise. | The fundamental setup needs some familiarity. | Technical expertise is not necessary because everything is handled by the company. |
| Popularity | Researchers and developers like it a lot. | It is well-liked among programmers who concentrate on creating apps and programmes. | File sharing, email, and networking are all popular with both consumers and businesses. |
| Online services | Sun, vCloud Express, and Amazon Web Services. | Google's search engine, Facebook. | Google Apps, Facebook, and Microsoft Office Web. |
| Business services | AWS private virtual cloud. | Google Azure. | Cloud analysis by IBM. |
| Cloud service outsourcing | Sales teams | Gigaspaces, Force.com | Terremark, AWS |
| Admin Controls | Application, Runtime, Middleware, and Operating System data. | The application's data | NA |
So, let's begin by understanding every single cloud service model.
What is SaaS?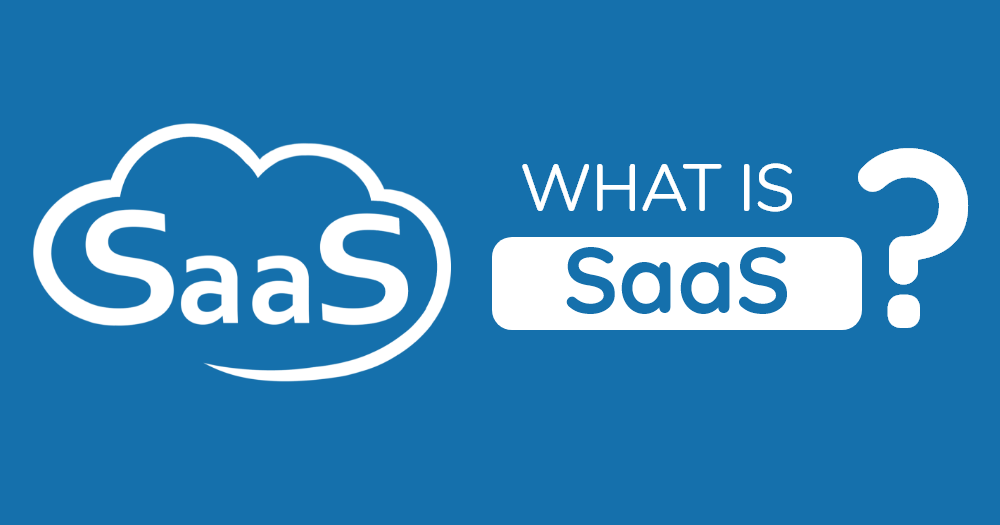 Software as a service, aka cloud application services, is a ready-to-use web application that requires no downloads or installation. The service is available to the user over the internet on a monthly or yearly subscription model.
One of the potential reasons business owners invest in SaaS services is zero dependencies on internal storage; everything from handling technical issues to data to middleware to storage and servers is managed by vendors.
Another benefit SaaS brings to the table is there is no limitation over any browser or operating system – all you need is high-speed internet. Besides, SaaS makes you worry-free of investing in expensive servers, running short of bandwidth, or IT professionals.
When Should You Use SaaS?
Small companies or startups that run out of server issues
Projects that require to be built promptly, easily, and economically
Once-in-a-while kind of applications
Apps that must have both mobile and web interfaces
With SaaS, you can sit back home and relax since you are not only building convenience, but you are also building peace of mind. In the next section, we have some renowned industry leader names. These tech giants have built SaaS products to make their users' lives easier. Let's find out who those tech leaders are.
Saas Examples & Use Cases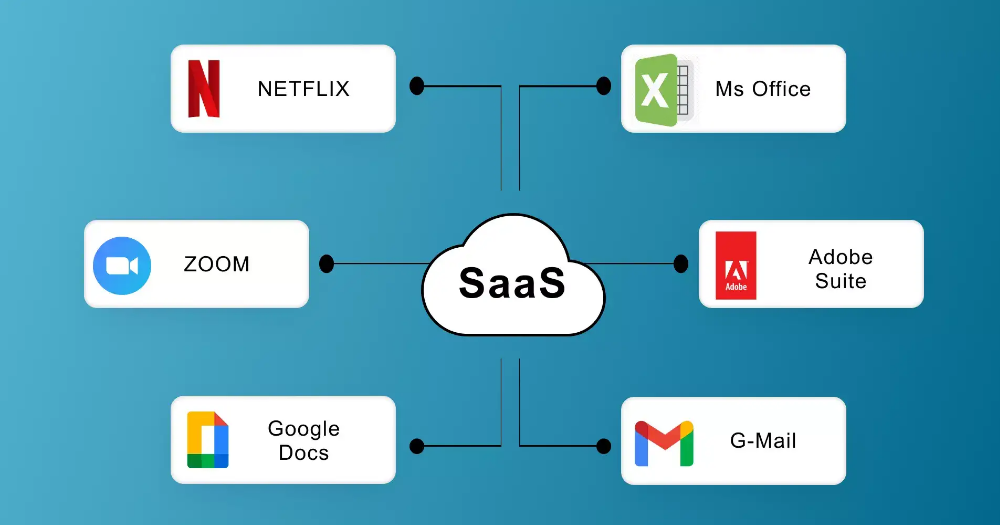 Since SaaS works on both eCommerce and generic models, let us show you some use cases of both categories.
A) E-Commerce SaaS Model
An eCommerce use case of SaaS infrastructure is BigCommerce. Enterprise-level and mid-size businesses opt for BigCommerce since it has an easy learning curve, constant upgradation, and glitch-free performance. Plus, the platform even enables APIs that lets you integrate third-party applications and services into your business.
Since you are building an eCommerce website, a shopping cart is a must-have feature, and BigCommerce does it with excellence. Besides, it even offers an entire hosting infrastructure that makes creating an eCommerce website a child's play. Don't forget, eCommerce website development using BigCommerce bypasses coding, hosting, and heavy software.
B) Generic Model
Google Workspace is a non-eCommerce example that leverages SaaS technologies. And other examples include Gmail, Google Calendar, and Google Docs.
Knowing that one of the biggest tech companies is invested in software as a service should not influence your decision, you must also know the pros and cons of SaaS. Because what might be favorable to the other company may not give you fruitful results and vice versa.
SaaS Examples Include
Shopify
Salesforce
HubSpot
Dropbox
Netflix
Here you can find an ultimate guide on SaaS examples.
Saas Advantages
1. Installation & Download Free Model
The SaaS solution eliminates the installation, downloading, or upgrading activities for businesses. With only the internet, this cloud computing service is easily accessible anytime, anywhere.
And not only you but even the IT professionals at your business also don't need to worry about downloading or installing the software on computers throughout your office. Moreover, the IT specialists would be thankful to you since the SaaS doesn't require regular updating of the software. Leave that to cloud providers. To build your own SaaS products you can hire a SaaS development company.
2. Hassle-Free & One-Time Payment Model
Budgeting is one of the potential factors of any business, with SaaS apps it would be no more a headache for you and your finance department. SaaS comes up with fixed monthly or annual fees. The fees include compliance, security services, and maintenance charges.
Besides, if you want a complex solution for your organization at an affordable rate, SaaS providers are the key to it.
3. No Maintenance or Licensing Fees
As discussed, the SaaS model is designed with one-time subscription fees. There are no additional charges SaaS model demands from customers. So, don't worry about paying fees at every interval.
4. Low-to-Zero Risk Factor
The subscription-based model offers a free trial version, which means exploring the service before paying for it. Ain't it a good deal? Well, it is one of the biggest benefits of SaaS apps that eliminates financial risk.
5. Scalability
Scaling SaaS software ain't a big deal; you can ask for a minimal amount for more storage or any other monetized feature.
You just read about one side of the coin, let's see what the other side has to offer.
Looking For SaaS Development Company?
Hire SaaS Developers
SaaS Disadvantages
1. Security
Since all of the data is exchanged over the cloud, the risk of data loss and security is at its peak. For prioritizing security, you must comply with and adapt to the high-level security standards.
2. Interoperability
SaaS solutions have integration challenges; not all SaaS solution easily integrates third-party apps. Finding apps that easily integrate with SaaS software is a tedious task, and the building would drain away a lot of resources.
3. Personalization
With minimal customization ability, SaaS becomes the least favorite for the one that seeks personalization. A hefty investment goes into adding customization features to the existing application or services.
4. Controllability
SaaS-based businesses lose control over the data since it is managed by a particular third-party vendor. You must have trust and would be able to access the data anywhere, anytime.
5. Performance & downtime
Since a third-party vendor manages the SaaS service, performance and security are all dependent on them. Despite signing a service-level agreement, performance gets impacted due to network issues, cyber attacks, and maintenance.
6. Limited features
SaaS software comes up with limited features, and wanting to have them could demand trade-offs against cost, performance, or security.
7. Fixed vendor
If you avail SaaS service from one vendor, then switching to the other is neither technically nor financially feasible. The difference may be due to several reasons, such as not implementing the same APIs, security protocols, and networking tools.
Final Verdict: SaaS offers services that require no downloading or installing at an affordable rate. Businesses that want to quickly start up without investing heavily should definitely consider SaaS.
What is PaaS?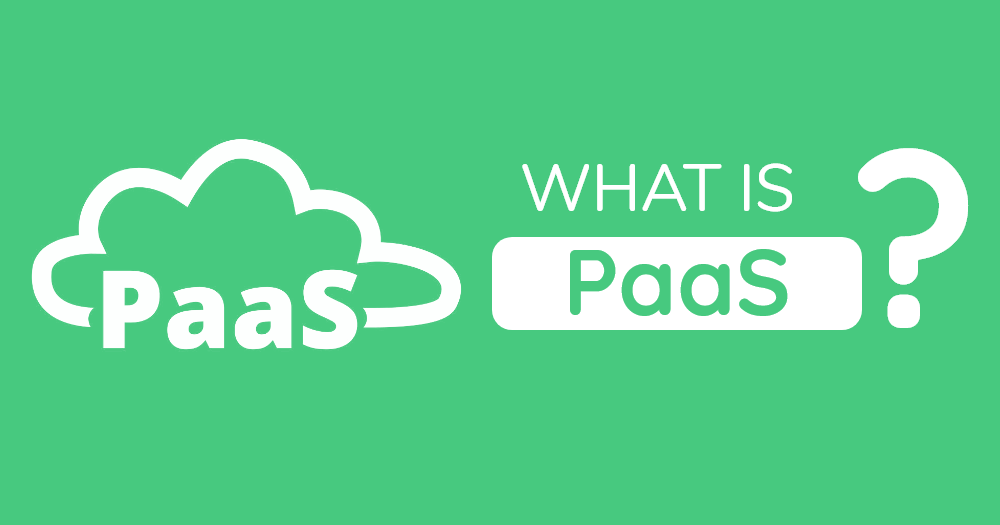 Just like SaaS, even Platform-As-A-Service doesn't require downloading or installing the software. These cloud service providers aim at making software developers' lives better and easier.
All the essential components that a software developer(s) require, such as runtime libraries, HTTP servers, frameworks, tools, and software for building an app or website are available. Through the framework, the development teams can build tailor-made applications, meet all business requirements.
Again, just like SaaS, all the servers, storage, and networking will be managed by a third-party vendor or enterprise.
When several developers are working on the same development project, PaaS would be beneficial to streamline workflows. Some popular PaaS services include:
Engine Yard
AWS Elastic Beanstalk
Red Hat OpenShift
Heroku
Appfog
Google App Engine
Azure App Service
When Should You Use PaaS?
The use of the PaaS platform can be on several events:
When you want to streamline multiple projects
When you want to develop customized applications
When you want to try your hands-on different development tools
Now that you know that software developers in the USA are the key stakeholders in PaaS platforms, let's know what PaaS-based use cases.
PaaS Examples & Use Cases

Here are some extraordinary PaaS solutions:
Internet of Things (IoT): Be it IoT app development or interpreting real-time data from IoT devices, PaaS comes forward as an emerging solution to everything.
Agile Development & Dev Ops: PaaS solutions meet DevOps toolchain requirements and bolster continuous integrations and continuous delivery.
API Development & Management: Since PaaS comes with built-in frameworks for developers, it makes the development task smoother by running, managing, and sharing APIs for enabling data and different functionalities between two applications.
Cloud Native & Hybrid Development Strategy: PaaS solutions enable cloud native development technologies, like Kubernetes, serverless computing, microservices, and containers. With the help of such technologies, a developer can build one and then deploy it to manage private and public cloud and on-premises data centers.
Other PaaS Examples Include
IBM Cloud
Microsoft Azure
AWS Elastic Beanstalk
Google App Engine
Red Hat OpenShift
Let's uncover the advantages and disadvantages of PaaS solutions.
PaaS Advantages
1. Speeds Up Development Time
What once took months to develop, PaaS does it in minutes. From development to testing and deployment, all it takes a while to accomplish.
2. Risk-Free Testing & New Technology Adoption
PaaS is a feature-packed application stack that includes modern-age infrastructure. Due to the availability of resources, the developers can test operating systems, languages, and all the tools essential for development.
3. Swift Collaboration
As a cloud service provider, PaaS offers a software development environment, enabling access to all the tools for operation and development teams. The team can access it from anywhere, anytime.
4. Manageable & Scalable Approach
PaaS unloads infrastructure resources, patches, and updates to cloud service providers. Since PaaS is cloud-based software, businesses would be able to scale up their existing capacity of building to testing infrastructure.
5. Budget-Friendly & Code-less
This cloud-based service model requires less coding than what an off-premise environment needs. And since it requires less coding, the cost also remains comparatively less.
Now that you know the pros of PaaS, let's also know the cons of the platform as a service.
PaaS Disadvantages
1. Issues with Runtime
Runtime would be an issue since PaaS might not be compatible with the languages and frameworks your business uses. It would be difficult to find a tailor-made solution.
2. Limited Operations
Customized cloud operations are not feasible with PaaS solutions since the platform deals with operational limitations for end users. Though limiting the operational burden on the users was a priority, it still becomes a challenge for PaaS to manage and operate.
3. Integration Issues
Integrating on-site and off-site data become a daunting task with PaaS since not every element of on-site infrastructure is compatible with PaaS.
4. Data Security
Security risks are always a concern when it comes to cloud computing service models since an entire control of the data is in the hands of third-party vendors.
Final Verdict: PaaS eliminates the dependency of system administration. The aim is to allow developers to focus on development and not on infrastructure management.
So, this is all about Platform as a service cloud infrastructure. Now let's discuss the last but not least cloud service model.
What is IaaS?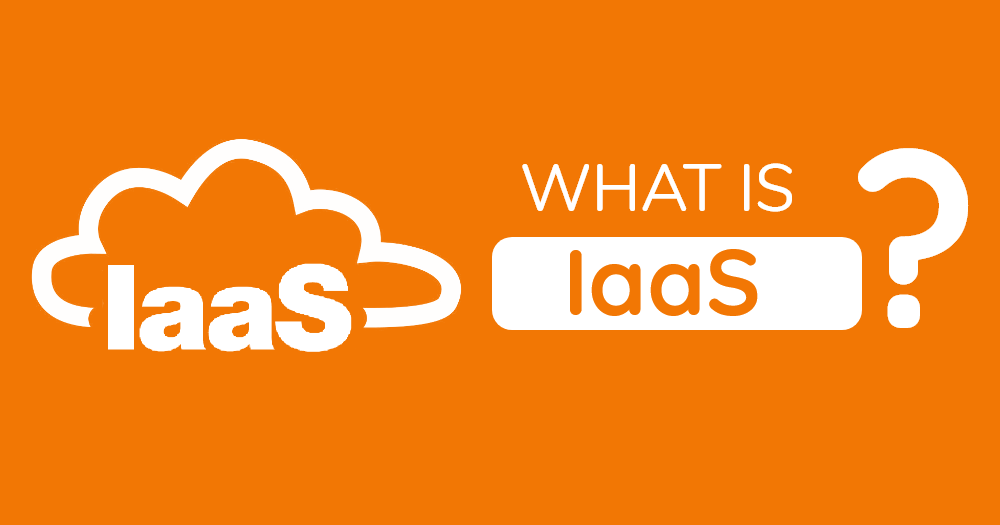 IaaS is also known as Infrastructure-as-a-service. It is different than SaaS and PaaS. In IaaS, the third party offers infrastructure services, such as cloud storage and virtualization technology.
Since you are a user, you will be provided with operating systems, applications, middleware, and runtime, on the other hand, service providers offer access to management of the network, servers, and storage.
On behalf of you, the third-party IaaS service provider maintains your data and gives you API to access and control the infrastructure via the dashboard.
IaaS is quick and flexible since you have complete leverage to use it as long as you need and then stop using it. For instance, you can leverage infrastructure to build, scale it up and down, and stop using it once you are done with it.
When Should You Use IaaS?
Startups & small companies: when you are starting your own company and are running short of funds, you can leverage IaaS to save funds and spend on buying hardware and software.
Larger companies: If the larger companies want to spend money on what they actually consume, then they can leverage IaaS.
Rapid growth companies: When the rapidly growing company evolves, they use IaaS to replace hardware or software.
Now let's take a look at IaaS examples.
IaaS Examples & Use Cases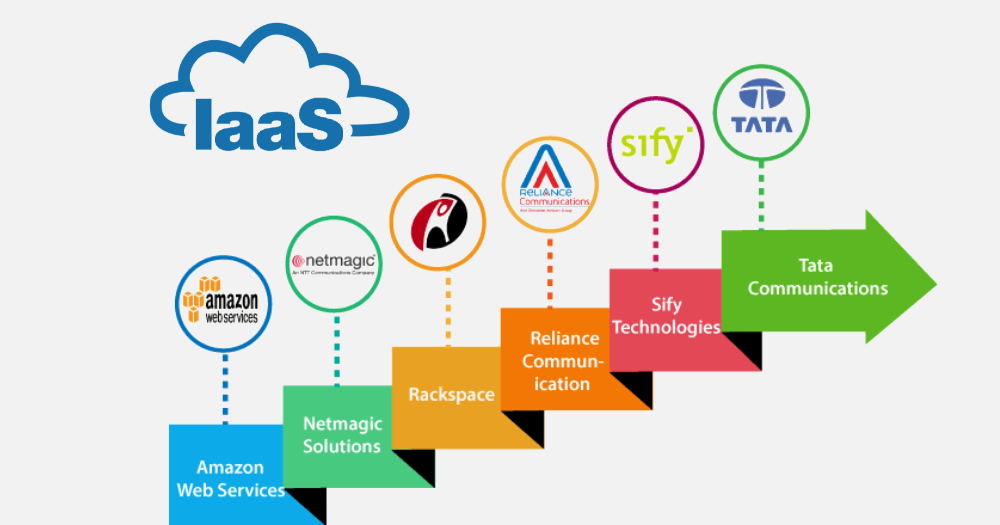 Disaster Recovery: With IaaS, you don't need to set up servers in different locations since IaaS can set up disaster recovery solution to the current infrastructure arranged separately in different regions.
Internet of Things: IaaS makes an easy way through setting and scaling up data storage and computing services for applications with large chunk of data.
Startups: IaaS gives startups a great push since these entrepreneurs could not afford to set up an on-premise infrastructure. With IaaS, startups don't need to invest heavily and could get access to enterprise-class data capabilities.
Software Development: IaaS gives a great push to testing and development environments that can be much more expensive and time-consuming with on-premises software.
So these are some use cases of Infrastructure as a service. Now let's discuss both sides of IaaS.
Other IaaS Examples Include
DigitalOcean
Linode
Cisco Metacloud
Microsoft Azure
Google Compute Engine (GCE)
IaaS Advantages
1. Huge Availability
Companies can create servers in parent and other regions to tackle power outages disaster issues.
2. Enhancement in Performance
With the help of IaaS, you can rest assured with performance since you can manage apps and services much more closer to users.
3. Responsiveness
You can roll out new features quickly to new users and track their responses as well.
4. Security
Organizations get advantage of high-level security protection with IaaS, which they couldn't even get with on-premise infrastructure.
5. Access to Technology
IaaS customers gets access to technologies much earlier and at cheaper rates than on-premises model.
IaaS Disadvantages
1. Outages
If there is power outage at service provider, it can impact the entire system.
2. Difficulty in Troubleshooting
Since IaaS users do not have 100% visibility to the cloud service provider infrastructure, there would be difficult in troubleshooting.
3. Costly
Because of high peak usage, there would be spike in the monthly cost too.
4. Security Risk
Since the service provider shares infrastructure with multiple clients, it becomes risky for security to be maintained.
So, this is all about Infrastructure as a service.
SaaS vs PaaS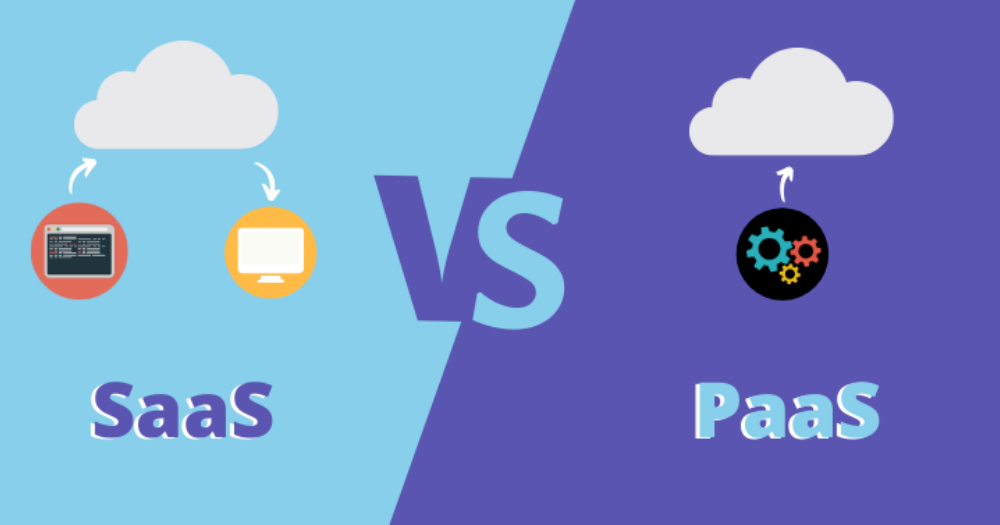 Let's discuss about SaaS vs PaaS in detail.
As previously said, Platform-as-a-Service is utilised to create new products on top of your current network. However, software as a service goes one step farther. The vendor fully manages SaaS solutions, which are available for use by your staff.
In what circumstances should you pick a PaaS product over a SaaS product? Example: Platform-as-a-Service gives you all the resources you need to build a payroll software that is customised to your HR needs. When your product is complete, it can be categorised as SaaS. The best choice would be a payroll programme like Quickbooks if you like out-of-the-box simplicity.
PaaS vs IaaS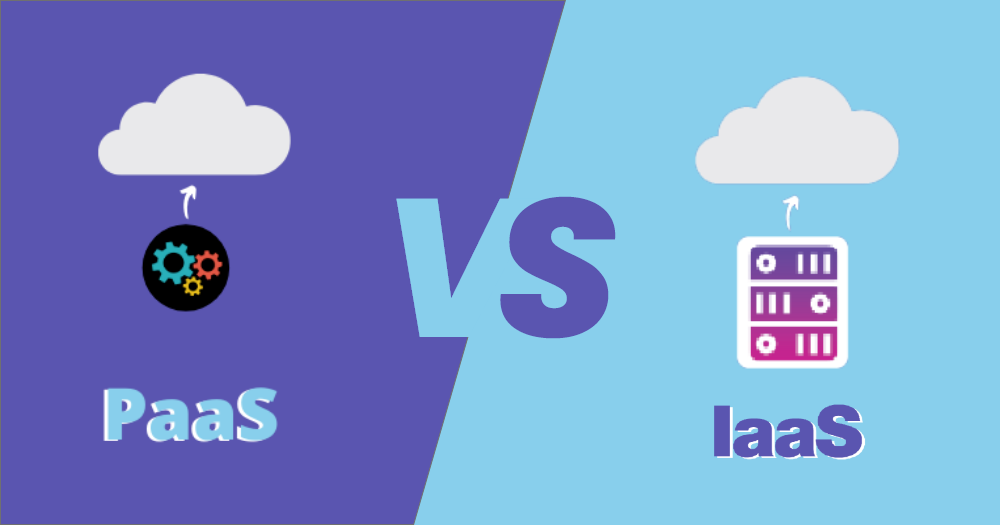 Let's discuss about PaaS vs IaaS in detail.
You have a great lot of control over your operating systems with infrastructure as a service. Your cloud computing environment is built on it. On the other side, with Platform-as-a-Service you can create apps without having to host them locally, giving you greater flexibility but a little less control.
Which service type is appropriate for you will depend on the requirements of your business. An IaaS provider like Amazon Web Services, for instance, can offer the infrastructure for hosting a website and its apps if you're looking to construct one. However, if you wish to add unique features, a PaaS product like Google App Engine lets your developers create and publish unique apps in addition to hosting your website.
SaaS vs IaaS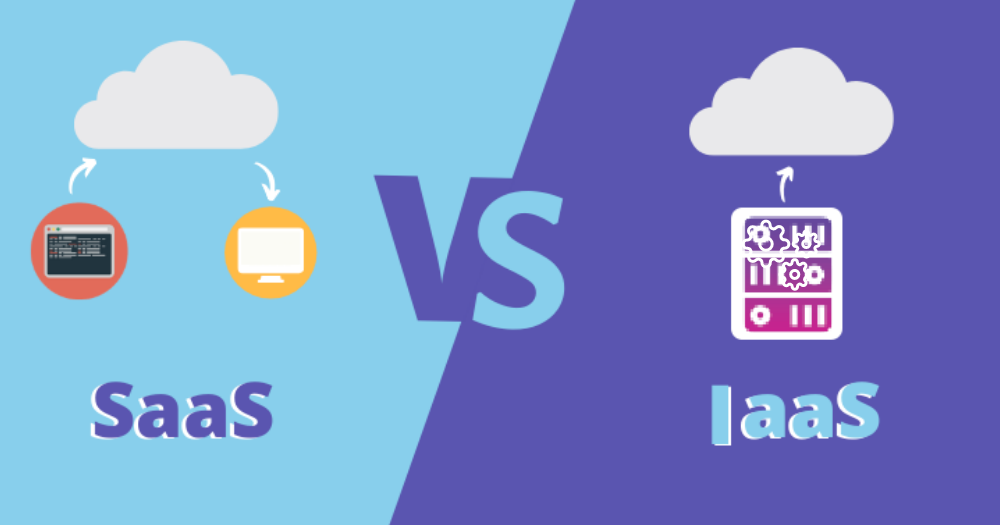 You receive the best software administration and maintenance from your third-party provider when you use a Software-as-a-Service solution. On the other hand, with infrastructure as a service, the provider just provides and maintains essential elements like servers or storage.
What you want to accomplish will determine which model is ideal for your organization. IaaS is the ideal choice if you require the most control possible within the cloud environment and want to prevent problems with external management data that can jeopardize the operation or security of your data. However, switching to a modest SaaS solution is a better idea if you don't require much flexibility and value usability.
SaaS vs PaaS vs IaaS
Now let's quickly give a glance at the difference between SaaS vs PaaS vs IaaS.
| On-Site | SaaS | PaaS | IaaS |
| --- | --- | --- | --- |
| Applications | Applications | Applications | Applications |
| Data | Data | Data | Data |
| Runtime | Runtime | Runtime | Runtime |
| Operating System | Operating System | Operating System | Operating System |
| Storage | Storage | Storage | Storage |
| Virtualization | Virtualization | Virtualization | Virtualization |
| Networking | Networking | Networking | Networking |
| Servers | Servers | Servers | Servers |
| Middleware | Middleware | Middleware | Middleware |
Green – You Manage
Yellow – Service Provider Manages
Looking For Software Development Company?
Hire Software Developers
Conclusion
In this post, we compared SaaS, PaaS, and IaaS, the three primary cloud computing service models. We examined the key distinctions, concrete examples, and deciding elements between them.
The model you finally select will depend on the goals of your application. Here is a brief summary:
IaaS gives users access to virtual servers that already have all required software installed so they can deploy their own apps or make use of pre-existing ones created by third-party vendors. IaaS is your best option if you want complete control over the cloud.
You can create your own applications on a platform provided by PaaS without having to maintain any underlying infrastructure resources. If you desire to deploy contemporary apps quickly using composable services and don't mind vendor lock-in, pick Paas
You can access pre-built business programmes with SaaS without having to instal anything. Choose SaaS if you desire simplicity of use and little flexibility.
FAQ's
1. What is the Difference Between SaaS and PaaS?
When using a PaaS solution, developers can create and manage their own applications, but their data is still safe on a server under the control of a different party. When you use a SaaS solution, a third-party provider will take care of managing the application on your behalf.
2. What is SaaS vs PaaS vs IaaS?
The solution depends on your company. There are several advantages and functionalities offered by each cloud service type.
SaaS can be your best option if you want out-of-the-box features without the fuss of installations.
PaaS would benefit your company right away if you require a platform made for developing software items.
IaaS is the best option for you if you're searching for a highly flexible, scalable service that allows you to maintain control over its infrastructure.
3. Is Amazon a SaaS or PaaS?
Amazon's cloud computing platform, AWS (Amazon Web Services), is extensive and constantly expanding. It combines infrastructure-as-a-service (IaaS), platform-as-a-service (PaaS), and packaged software-as-a-service (SaaS) products.
4. Which is Better: SaaS or PaaS?
The main distinction between PaaS and SaaS is that SaaS products are entirely handled by a different business, right down to the servers and the data itself. You can construct applications using the cloud-based platform as a foundation with PaaS.
PaaS platforms are the best choice if you want to build custom applications for your company.