With burgeoning health problems, the healthcare industry is seeking advancements. In such a scenario, healthcare software development companies play an essential role by introducing new technology support to the medical sector for better patient care and increased efficiency.
Healthcare software developers have incepted a range of tools that streamlines the different tasks in the healthcare industry. Be it keeping records of patient healthcare records or sending uniform reminders to people for their medical checkup schedule, these software have reshaped the way people take care of their physical and mental health.
According to Acumen Research and Consulting, Medical Software Market Size was valued at $41.2 Billion in 2021, which is set to achieve a valuation of $104.1 Billion by 2030. The market is all set to present a CAGR of 10.9% during the forecasted period.
However, in a scenario where a lot of entities claim to be proficient developers, it becomes important to rely on a proven healthcare app development company to develop such software. So, here we have enlisted the top 10 healthcare software development companies that deliver the best solutions to their clients.
What is Healthcare Software Development?
Healthcare software development is basically a process of developing mobile apps, web apps, enterprise solutions, and more, that can help streamline the particular task/s for medical institutions. This process comprises various steps such as requirement analysis, features outlining, coding, designing, testing, deployment, maintenance, and more. Here is an ultimate guide on software development process.
Healthcare software development services identify the need of patient and medical institutions to design interfaces that can streamline tasks, instill automation, and increase productivity.
10 Best Healthcare Software Development Companies
Let's have a quick glance over the top healthcare software development companies–
S.No.
Company name 
Founded year 
Number of Employees 
Key Services
1.
The NineHertz
2008
50 – 249
Electronic health records, telemedicine telehealth apps, HIS & Practice Management software, E-prescription Software, Health Information Exchange, RCM & Medical Billing Software, pharmacy management, DAICOM/PACS
2.
Kanda Software
1993
250 – 999
Healthcare App Development Services, Electronic health record systems (EHRs), medical devices, claims and billing systems, and pharma research
3.
Itransition
1998
1,000 – 9,999
EMR/EHR Development, EHR integration, Healthcare Mobile apps, healthcare CRM, Patient engagement tools, hospital management software, software for medical devices, telehealth
4.
Altamira.ai
2011
50 – 249
Telehealth systems

Data AI solutions

Health apps for patients, Doctor portals, ERP systems

5.
Altoros
2001
250 – 999
Custom EMR/EHR Solutions, remote patient monitoring applications, telemedicine platforms, data analytics systems
6.
Glorium Technologies
2010
50 – 249
Custom software development, mobile app development, web development, product design
7.
Innowise
2007
1,000 – 9,999
Medical practice management software, hospital information systems, telemedicine & telehealth apps, patient mobile apps, EHR/EMR software, remote patient monitoring, medical device software
8.
Andersen Labs
2007
1,000 – 9,999
EHR/EMR, TeleHealth, remote patient monitoring, and other health information management systems
9.
BGO Software
2008
50 – 249
Telemedicine, Disease awareness apps, Patient CRM systems, DTx (digital therapeutics), Behavioral therapeutics, Patient engagement tools, Clinical Decision Support solutions
10.
Sciencesoft
1989
250 – 999
Patient-centered apps, cutting-edge SaMD products, medical device software, IoT-powered monitoring systems
10 Top Healthcare Software Developers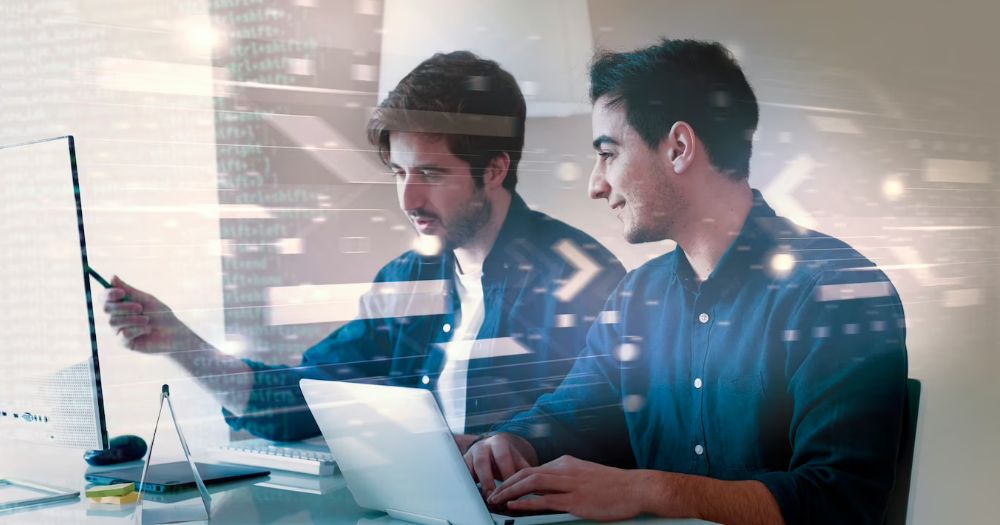 1. The NineHertz: Best Healthcare Software Development Company
The NineHertz tops the list with their experience of decades in software development industries. The firm has specially dedicated experts to work on healthcare software and build digital products with 100% accuracy capability. In its development journey, this healthcare software development company has developed a range of healthcare software development services like electronic health records, telemedicine telehealth apps, HIS & Practice Management software, E-prescription Software, Health Information Exchange, RCM & Medical Billing Software, pharmacy management, DAICOM/PACS, and many more in the line.
The NineHertz works with the industry 4.0 technology and thus instills the next level of automation in the medical software they build. Leveraging artificial intelligence, machine learning, IoT, and AR/VR with cutting-edge healthcare software becomes easier when partnering with the firm.
A complete suite of Healthcare Solutions
Dedicated healthcare software development experts
14+ years of experience
Consultancy session for the right guidance
Hire Software Developers from The NineHertz
200+ Certified Ddevelopers
2. Kanda Software
Kanda Software is one of the known healthcare software development companies with over 25 years of experience in this particular sector. The company was founded in 1993 in Boston and now operates with more than 500 employees. Not only development, the firm also focuses on product designing, strategic implementation, consultancy, and after-deployment support services for their clients. Moreover, Kanda Software has a good time to market which helps their client to introduce the software in the least time. With its healthcare software development services, the firm has worked with well-known brands, many of which are listed as Fortune 500 companies.
Custom software design and development
25+ years of experience
Agile at the core
Low time to market
3. Itransition
This team of healthcare software developers from the USA also carries more than 25 years of experience in healthcare IT. The firm has been ranked high in the 2021 Execution Zone for Telemedicine and IoT by Zinnov Zones. As Itranstion has core expertise in medical software development, they carry extensive knowledge of major healthcare standards and coding systems like DICOM, ICD-10, FHIR, and CPT. Under their healthcare services, the firm provides different offerings like consulting, development, integration, support & maintenance, and legacy software reengineering.
Broad technology stack
25+ years of experience
Industry 4.0 technologies
Extensive healthcare solutions portfolio
4. Altamira.ai
Altamira.ai is a Ukraine-based healthcare software development company that is known for its contribution to developing software for different medical devices. Working with the principles i.e. accelerate, scale, and sustain, the company is trusted by big brands like Novartis, Boehringer Ingelheim, IBDO, and Pfizer. Medical Imaging Recognition software is one of their developed projects which helps to scan, compare, and analyze the medical images of patients to eliminate the chances of human errors.
AI and ML Development
Broad industry exposure
Strong project portfolio
Wide service offerings
5. Altoros
Altoros is one of the healthcare software development companies based in the USA, that offers a comprehensive suite of custom healthcare solutions to streamline the medical center workflow, enhance preventive medicine, and increase diagnostic accuracy. Established in 2001, the Altoros carries over 20 years of experience in developing successful cloud-native applications while adhering to healthcare regulations like GDPR and HIPPA. Moreover, the client gets 24*7 maintenance support for their healthcare software.
Extensive client base including Pfizer, Roche, Qiagen, CiperHealth, and Elim Biopharm
Faster time to market
Adherence to healthcare regulations
Dedicated healthcare technology professionals
Also Read: Software Development Companies in India
6. Glorium Technologies
This is also a dedicated healthcare software development company that streamlines the processes for healthcare centers, instills efficiency and makes the tasks more accurate. Glorium Technologies has developed different types of custom software which include telehealth software, EMR & EHR solutions, remote patient monitoring, patient portals, hospital management, pharmacy management, medical imaging software development, and many more.
ISO:9001, ISO:13485, ISO:27001, and HIPPA Compliant
Works with top healthcare software development trends
Strong medical client base including VitalWare, Medlab.co
99% Client Satisfaction Rate
7. Innowise
Innowise is one of the medical software development companies with 1400+ dedicated professionals that provide healthcare software development services. The headquarter of the firm is based in Poland while ensuring its omnipresence via offices in Germany, the USA, Italy, and Switzerland. In their journey of more than a decade, Innowise is delivering medical solutions to healthcare organizations, medical schools, medical device manufacturers, pharmaceutical companies, and digital health startups from US and Europe. Under their custom healthcare software development suite, the firm builds medical practice management software, hospital information systems, telemedicine & telehealth apps, patient mobile apps, EHR/EMR software, remote patient monitoring, medical device software, etc.
Core expertise in healthcare technologies
Compliance with healthcare regulatory standards
Hi-tech technology integration
Broad technology stack
8. Andersen Labs
Andersen Labs is based in New York since 2007. Being a proficient healthcare software development company, it has delivered 150+ healthcare projects with a team of 300+ healthcare software engineers. The service suite of the company holds the offerings like telehealth app development, integration services, world-class UI/UX design for telemedicine solutions, data protection, security, and support services. Andersen Labs has experience building different types of healthcare products like EMR and EHR Software Solutions, Mobile Healthcare Applications, Healthcare AI Software Solutions, Remote Patient Monitoring Software, etc.
150+ healthcare projects delivered
300+ healthcare engineers
15+ years of experience
Healthcare advisory board of 30+ experts
Need Help with Software Development
200+ Certified Ddevelopers
9. BGO Software- The Digital Health Labs
BGO Software was founded in 2008 and is currently recognized as one of the few software development companies dedicated to healthcare software development. The firm has worked with several healthcare institution clients like NHS UK: Department of Health, Roche, IQVIA, LabCorp, etc. One can leverage different solutions like telemedicine, disease awareness apps, patient CRM systems, DTx Digital therapeutics, patient engagement tools, Clinical decision support solutions, and more.
Broad service suite
Extensive project experience
Core expertise in healthcare software
Strong client base
Also Read: Software Development Companies in UK
10. Sciencesoft
Sciensoft is a well-known healthcare software development company. Operating in the market for more than 17 years. In this development journey, Sciencesoft has delivered 100+ successful healthcare IT projects including the solutions like patient-centered apps, cutting-edge SaMD products, medical device software, IoT-powered monitoring systems, and much more. Their experience working on healthcare projects allows them to comply with health regulations like HIPPA, HITECH, & GDPR. The firm was founded in 1989 and has regional offices in USA, UAE, and Europe.
ISO 13485, ISO 9001, and ISO 27001 certifications
Agile software development approach
Expertise in web 3.0 technology
In-house cyber security competencies
How to Choose Best Healthcare Software Development Company?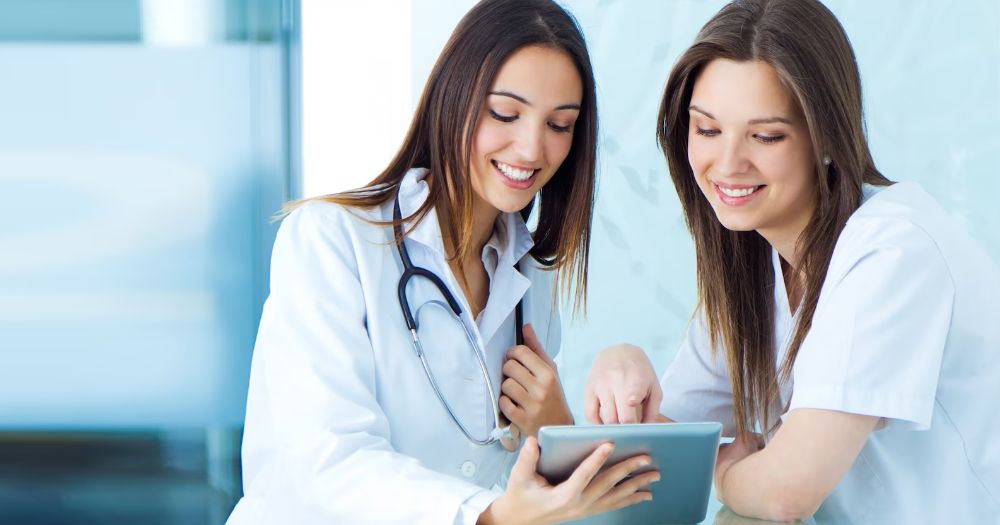 The above-listed medical software development companies have been sorted out on the basis of experience, and their core expertise. While relying on the above company can be the most convenient way for your healthcare software development project, having a keen idea about selecting the right healthcare software development company is also a must. So, here are some of the practices that will help you choose the right team of healthcare software developers for your project-
Analyze the previous experience of the firm in the healthcare app development market. If the firm has worked on similar projects in its journey, it can make them the right choice for your product development.
Go through their knowledge about different healthcare regulations and make sure they comply with these regulations during working on the project.
Check their project portfolio to find out whether they have worked on a project that shares similar features and competencies to yours. If yes, they can be the right choice.
Break down their cost quotation to analyze if they are charging you right. You should not mind the slight difference while going entirely out of the budget is also a not good idea.
Identify the technology expertise they carry to instill in your project. Their portfolio must carry the names like artificial intelligence, machine learning, and AR/VR to foster advancements in your project.
How Much Do Healthcare Software Development Services Cost?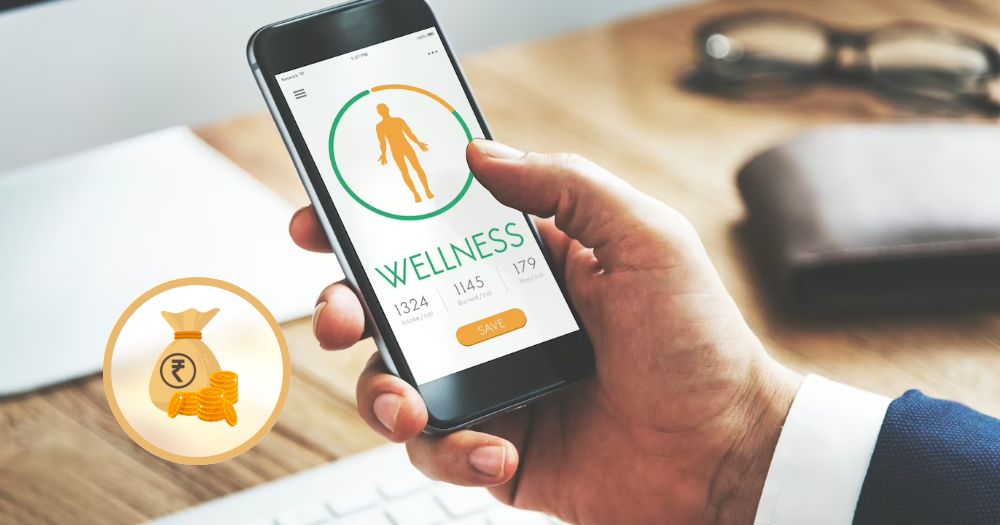 There are multiple key drivers for the cost of healthcare software development and thus a price tag can not be stitched to the same. While most healthcare software development costs anywhere between $50,000-$250,000, the exact cost can only be determined after having a discussion on particular requirements and types of the project. So, instead of just focusing on the number, let's have an understanding of the key factors that determine the cost of healthcare software development services-
| | |
| --- | --- |
| Project Complexity  | This factor is directly proportional to the cost of healthcare software development. As the number of features increases in your application, its complexity increases, and ultimately impacts the cost of development. So, make a list of features that you must communicate to your healthcare software development company.  |
| Type of Software  | The kind of software you want to develop for your healthcare business has also a big impact on your cost of development. For example, choosing between Android and iOS, a web application or mobile application or both will change your cost structure from top to bottom.  |
| Regulatory Compliance  | Healthcare software needs to comply with regulations and norms. For the same, it requires basic measures of data security, accessibility, and so on. It increases the effort and complexity for your software development company which indirectly increases the cost of your software development.  |
| Hiring Model  | Hiring model that you use for your development team is also a big determinant of your cost. For example, hiring an in-house team for your project will be very expensive, while a freelancer might do the same task at a fraction of the cost. However, to make sure you don't have to compromise with expertise and budget, engaging with a development entity can be the best option.  |
Types of Healthcare Software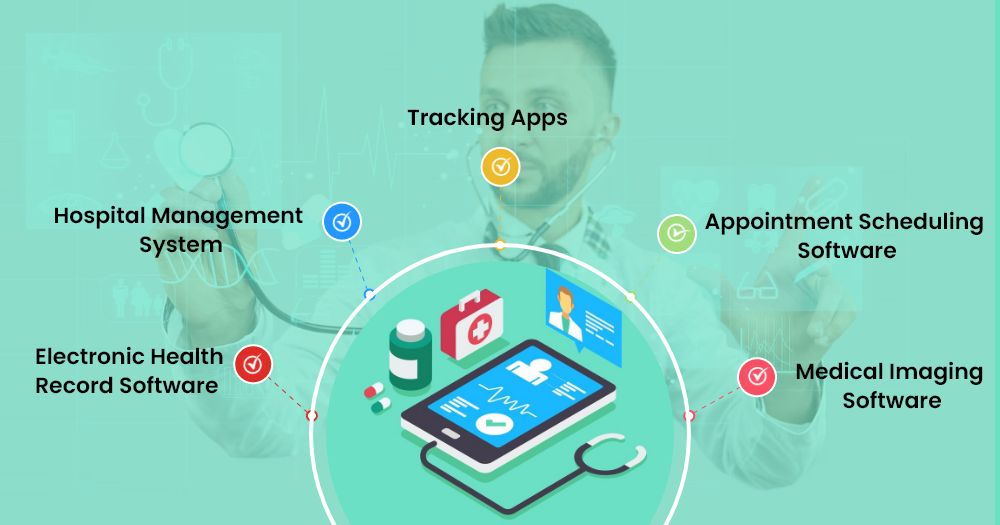 According to the different types of needs and applications in the health sector, there is numerous software that helps to streamline the process. While we have already mentioned some of the healthcare software types in the above section, let's discuss them in some detail-
1. Electronic Health Record Software
Eliminating the need for physical document and paperwork, electronic health record system or EHRS has secured a big space in the healthcare industry due to their efficiency. While this software can be compared to simple CRM software which is built according to the particular needs of the healthcare industry. The software collects the patient data, the medicine they take, and any medical advice given by their physician. This way, the healthcare professionals have quick access to the patient's medical history to proceed with better treatment.
2. Hospital Management System
As the name suggests, it is the software that plays an important role in the overall management of the hospital. The tasks such as managing appointments, accessing health records, scheduling surgeries, availability of rooms and beds, and other many things become more streamlined with this software. The hospital management system is integrated with the official website of the hospital which allows Internet users to book appointments, and access the availability details. At the same time, patients can check their treatment procedures, health records, and prescription. Hospital Management System is also equipped with an SMS feature that reminds the patients about their vaccination schedule, checkup schedule, and medicine prescription.
3. Tracking Apps
As the hectic lifestyle of people doesn't even allow them to care about their health, tracking apps have emerged as a vital solution in such a scenario. These tracking apps help the patient to keep track of their medication, diet, calorie intake, exercise schedule, and much more. At the same time, the tracking apps even alert the medical staff if anything goes wrong with the patient. For the same, the software tracks the intake and symptoms of any health issue to prevent the risk of severity.
4. Appointment Scheduling Software
To ensure that patients don't have to wait in queue for a long time and get medical assistance just when they need it, the appointment scheduling software are playing a vital part. This kind of technology consists of two panels- a patient-facing panel and a management-facing panel. The patient-facing panels make it easy for the patient to book appointments with the respective doctors at a particular time on a specific day. All of this can be done online without running from window to window and desk to desk. At the same time, the patient can share their medical reports, set reminders and even postpone or withdraw the booking.
The management-facing panel informs the hospital management about the appointment and allows them to accept, reject, alter, or take necessary actions. Thus, appointment scheduling software significantly automates the workflow of the hospital, avoids inconvenience to both patients and the hospital, and avoids overbooking.
5. Medical Imaging Software
As the name suggests, medical imaging software helps to print the 3-dimensional blueprint of any body part so that the health professional can analyze the problem in a better way and perform the surgery. These software are also used to analyze MRI/CT/PET of the patients to create 3D images of any body part. Medical imaging software has transfigured the world of human anatomy where surgeons can take a tour of any body part, study the complete condition of the patient and take the necessary steps.
Top 5 Best Healthcare Software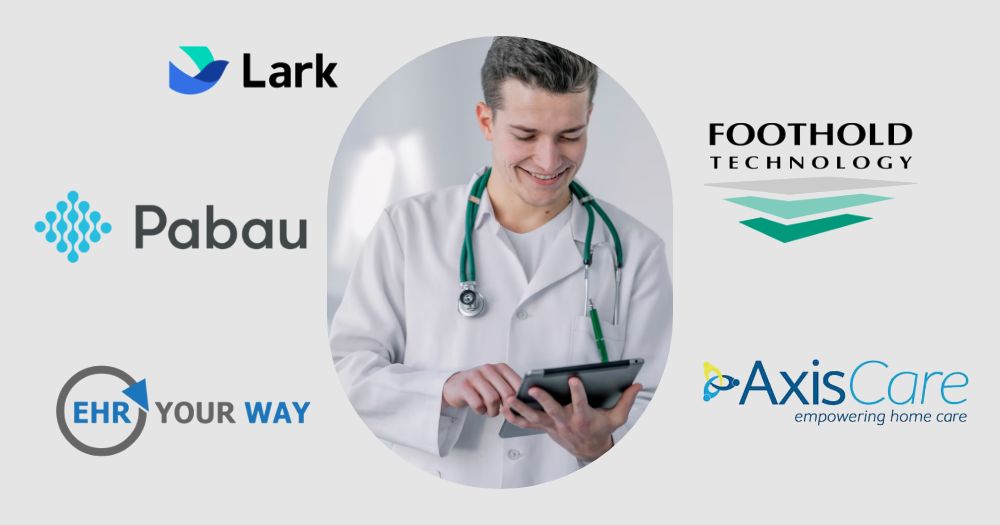 There is a range of software that is being widely used by people and healthcare providers for numerous purposes. Here, we are listing the top 5 best healthcare software which have changed the way people leveraged medical services. This list is comprising the popular software used for different kinds of practices.
1. Pabau
Pabau is a CRM software that acts as the clinic management technology. It helps healthcare providers to fully automate a number of tasks. The foremost feature that it carries is electronic medical reports where the complete health data of the patient is stored. It helps the patient as well as the clinic professional to easily access all the details of the patient. Moving ahead, it carries a calendar that helps to remind the service takers about their appointments and checkup schedule. The payment system enables users to make payments and receive receipts of payments digitally. Other features like automated pre-care/aftercare, media sharing, SMS & Email reminders help to better serve the patients.
Seller: Pabau
HQ Location– London, England
Company Website– www.pabau.com
2. Lark
Lark also known as Lark Health is chronic disease prevention and management platform, using a cognitive behavioral therapy framework, connected devices, and conversational AI that helps people to control the various conditions that might impact their health. The integrated artificial intelligence is trained for personalized experience for all users according to their particular lifestyle and care needs. One can share the symptoms, habits, and other basic details to get knowledge about prevention measures and treatment practices. Lark's Diabetes Prevention Program (DPP) is Fully Recognized by the Centers for Disease Control and Prevention, Behavioral Health Program, Diabetes Care Program, and Hypertension Program. It has served nearly 2 million members and has demonstrated clinically validated outcomes.
Seller– Lark Technologies
HQ Location– Mountain View, California
Company Website– www.lark.com
3. EHR Your Way
One of the most reliable Electronic health record systems is EHR Your Way. The system comes with a range of features like custom forms, endless reporting, multiple portals, reminders, telehealth, and automated billing support. These core competencies of the software make it the best choice for a range of hospitals, clinic entities, nursing homes, therapists, etc. Guaranteeing its quality services, the software comes with a six-month money-back offer where one can use the software live on their system and claim a refund within 6 months if not satisfied.
Seller– EHR Your Way
HQ Location– Atlanta, Georgia
Company Website– www.ehryourway.com
4. AxisCare
AxisCare is all in one software solution that helps healthcare providers in back-office and point-of-sales support. This software is available in more than 10 countries covering the whole United States of America. One can leverage the feature of custom reporting to store the health records of patients, drag-and-drop scheduling to make appointments, caregiver chats to receive basic health assistance, hospitalization tracking for better data management of health records, and much more. Moreover, the software comes with in-built marketing, payment, business intelligence, and EVV support.
Seller– AxisCare Software
HQ Location– Texas
Company Website– www.axiscare.com
5. Foothold
Foothold is a complete suite of different technologies including case management, electronic health record, and client tracking technology. This software is HIPPA-compliant as EHR for Meaning Use which offers complete interoperability as the user navigates through the new scenario of value-based care. Foothold makes it easier for health professionals to automate repetitive tasks and instill more efficiency in the process. It is being used by many entities providing services on developmental disabilities, substance use disorders, mental health, supporting housing, homelessness, HCBS, and much more.
Seller– Foothold Technology
HQ Location– New York
Company Website– www.footholdtechnology.com
Wrapping Up: Healthcare App Development Companies
Increased health risks have increased the need for medical care for everyone. While it might not be feasible for anyone to stay in hospital or a keep a medical professional always on the side, mobile solutions and healthcare software have emerged as a big relief. Be it contacting the healthcare personnel, keeping health records, measuring the intake, booking the appointment, or getting reminders for appointments, everything can be done with this software. These technologies have streamlined the way the hospital operates and serve its customers. However, it is important for medical entities in the healthcare industry to select the right development partner for their software as it might turn the situation upside down. We have listed some of the best healthcare software development companies which deserve your trust and investments.
FAQs: Medical Software Development Companies
1. What is Healthcare Software Development?
Healthcare software development is a process that helps to build the technology tools to streamline the various tasks such as scheduling, billing, record keeping, etc.
2. Which is the Best Healthcare Software Development Company?
The NineHertz is one of the best healthcare software development companies that deliver top-notch healthcare software solutions for its client to instill automation in operations. We leverage industry 4.0 technologies to instill advancements in the products.
3. What are Some of the Most Used Types of Healthcare Software?
Some of the software types that have redefined the way healthcare entities work are remote patient monitoring, telemedicine, patient CRM software, appointment scheduling software, hospital management software, etc.