Atlanta is a global leader in the IT service industries, with a healthy mix of services companies and digital transformation companies. This mix of experience and expertise has allowed Atlanta to become a hub for IT innovation and success. As a result, many of the world's leading IT Services companies have their headquarters in Atlanta, GA. In fact, Atlanta is home to more than 70% of the Fortune 500 IT companies. In this guide, we featured the 10 best IT companies in Atlanta.
This dominance of the US market by software companies in Atlanta is a testament to the city's strength in the industry. Atlanta's success in the IT sector is due to its commitment to attracting and retaining top talent, its supportive business environment, and its willingness to invest in new technologies. As a result, Atlanta is well-positioned to continue its dominance of the USA IT market in the years to come.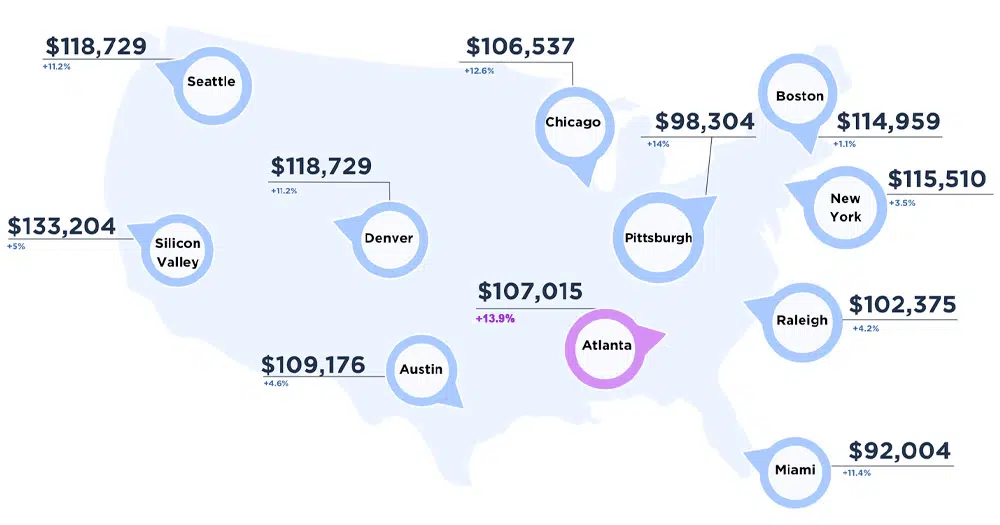 according to CNBC Atlanta is a growing hub for top tech companies such as Google, Apple, and Microsoft. The city is also home to a number of startups and small businesses that are driving innovation in the tech sector. Atlanta's strong tech community is due to a number of factors, including the city's talent pool, supportive business environment, and willingness to invest in new technologies.
List of Best IT Companies in Atlanta
If you're looking for quality IT services in Atlanta, GA, then you can't go wrong with any of the companies on this list. From business solutions to technical support, these companies are the cream of the crop when it comes to providing outstanding IT service.
| COMPANY NAME | YEAR FOUNDED | EMPLOYEE NUMBER |
| --- | --- | --- |
| The NineHertz | 2008 | 300+ |
| Ncr Corporation | 1884 | 30K+ |
| Clarkston Consulting | 1991 | 350+ |
| Mailchimp | 2001 | 1500+ |
| Secureworks | 1999 | 2400+ |
| Springbot | 2012 | 50+ |
| ivision | 2004 | 250+ |
| KMS Technology | 2009 | 1400+ |
| Kabbage | 2009 | 250+ |
| iMedX | 2002 | 600+ |
1. The NineHertz – Best Software Development Company in Atlanta
The NineHertz is a leading mobile app development, software development, and game development company headquartered in Atlanta. The company has a team of professionals who are well-versed in the latest technologies and trends.
They offer cutting-edge software solutions to clients across various industries. The company also offers blockchain development services, big data solutions, cloud computing solutions, business intelligence, and artificial intelligence solutions.
The NineHertz provides strategy consulting services that help businesses to streamline their processes, improve efficiency, and increase profitability. They have a team of dedicated software developers who work closely with clients to understand their specific requirements and deliver customized solutions that meet their needs.
Hire Software Developers from The NineHertz
Request A Free Quote
2. NCR Corporation
NCR Corporation is an American software, full-service technology consulting company headquartered in Atlanta, Georgia. The company also has offices and facilities in more than 30 countries. NCR provides point-of-sale (POS) systems, self-service checkouts, barcode scanners, and other products and services for retailers and businesses.
The company was founded in 1884 as the National Cash Register Company. NCR was one of the first companies to mass-produce cash registers and had a near monopoly on the market until the early 1900s. However, the company began to diversify its product line in the mid-1900s and started to produce computer hardware and software.
Today, NCR is a leading provider of POS systems and other retail solutions. The company also offers IT managed services, and cloud-based services, such as data storage and analytics, to its clients. In recent years, NCR has been focusing on increasing its presence in emerging markets, such as the Asia Pacific and Latin America. You might be interested to know diffference between outsourcing VS offshoring software development.
3. Clarkston Consulting
Clarkston Consulting is an Atlanta ga based leading Managed Services provider that helps companies transform their enterprise software platforms. We work with some of the largest and most complex organizations in the world, helping them to achieve business transformation through the implementation of innovative enterprise software solutions.
Our team of experienced consultants has a deep understanding of the challenges and opportunities associated with enterprise software projects, and we work closely with our clients to ensure that they are successful. We are proud to be a trusted partner for many of the world's leading companies, and we are committed to delivering the best possible results for our clients.
4. Mailchimp – Email Marketing Services Provider
Mailchimp is an online marketing automation platform and email marketing service, provider. Based in the United States, Mailchimp serves over 7 million customers in more than 200 countries. The company has a team of over 700 employees and is headquartered in Atlanta, Georgia, with additional offices in Brooklyn, New York; Dublin, Ireland; London, England; and Francisco, California.
Mailchimp was founded in 2001 by Ben Chestnut and Mark Armstrong. As businesses increasingly look to digital channels to reach their target audiences, Mailchimp has become an essential partner in helping them navigate their digital journey. By providing quality services and innovative solutions, Mailchimp has helped businesses around the world to achieve their marketing goals and grow their bottom line.
5. Secureworks
Secureworks is an American cybersecurity company that provides intelligence-driven information security solutions. The company was founded in 1999 and is headquartered in Atlanta, Georgia.
Secureworks has over 4,000 customers in 60 countries, including many of the world's largest enterprises. The company's solutions are based on a proprietary platform that leverages big data analytics and machine learning to help organizations detect and respond to cyber threats. In addition to its intelligence-driven security solutions, Secureworks also offers a range of consulting and managed services. These services help organizations to assess their risks, implement security controls, and improve their overall security posture.
6. Springbot
Springbot is a solutions provider that offers powerful email marketing and paid advertising platform designed to help ecommerce businesses grow. With Springbot, businesses can easily create and send beautiful email campaigns that are targeted to their specific customers.
Additionally, Springbot's paid advertising tools allow businesses to reach new customers and promote their products and services on major search engines and social media platforms. The paid advertising solution allows businesses to create and manage campaigns on Google, Facebook, and other online platforms.
Springbot also offers a number of other solutions, including CRM integrations, social media management, and web design services.
Also Explore: IT Staffing Companies in USA
7. iVision
iVision offers Managed Services IT solutions that are designed to help businesses improve their efficiency and profitability. We provide cloud-based solutions, IT asset management, and software as a service(SAAS) for businesses of all sizes, from startups to enterprise organizations.
Our team of experts will work closely with you to ensure that your IT infrastructure is able to support your business goals. We offer 24/7 monitoring and maintenance, as well as a fully managed service option that includes regular updates and security patches.
With our Managed Services IT solutions, you can rest assured that your business is in good hands. Contact us today to learn more about how we can help you take your business to the next level.
8. KMS Technology
KMS Technology is a global provider of product engineering and digital solutions. We partner with companies to help them design, develop, and deliver their products and software development services.
We provide strategy consulting services to help businesses achieve their goals. Our team has a wealth of experience in project management, technical expertise, and business strategy. Our team of engineers, designers, and developers work closely with our clients to understand their needs and create solutions that meet their objectives.
We work with businesses of all sizes, from start-ups to Fortune 500 companies. We are proud to have helped our clients achieve their goals and we look forward to helping you achieve yours.
Hire Dedicated IT Professionals
Request A Free Quote
9. Kabbage
Kabbage is an online financial technology company based in Atlanta, Georgia, that specializes in providing small businesses with working capital. The company was founded in 2009 by Rob Frohwein, Kathryn Petralia, and Marc Gorlin, and since then has provided over $5 billion in financing to over 200,000 customers in the United States, United Kingdom, Canada, and Spain.
Kabbage offers lines of credit up to $250,000 and terms ranging from 6 to 12 months. In addition to lines of credit, Kabbage also offers merchant cash advances and term loans. For merchant cash advances, Kabbage provides funding based on a percentage of future sales, and for term loans, Kabbage offers fixed-rate loans with terms of 6 to 36 months.
Kabbage has raised over $700 million in equity funding from a variety of investors, including SoftBank Group, Reverence Capital Partners, Fuel Capital, Greenoaks Capital Management, Stripes Group, and Thomvest Ventures.
10. iMedX
iMedX is a world leader in medical coding and documentation solutions. We provide an end-to-end solution that empowers our clients to improve efficiency, decrease costs, and ensure compliance. We combine content expertise with proprietary technology to deliver an accurate, efficient, and compliance-driven solution.
Our platform integrates with all major EHRs, allowing our clients to code more accurately and efficiently. We offer a comprehensive suite of services, including auditing, abstraction, TDM, consulting, and training. Our team of expert coders and clinicians provides the highest quality service in the industry. Contact us today to learn more about how we can help you achieve your coding and documentation goals.
FAQs on IT Services Companies in Atlanta
Q.1 Is Atlanta an IT Hub?
Atlanta has long been known as a hub for business and industry, and in recent years it has also become a major center for information technology (IT). The city is home to a number of large IT firms, as well as a growing number of startups and incubators.
Atlanta is also host to a number of important IT events and conferences, including the annual DragonCon convention. In addition, the city is home to a number of colleges and universities that offer IT-related programs. As a result, Atlanta has become an important destination for IT professionals from all over the world.
Q. 2 Is Atlanta Good for Tech Jobs?
Atlanta is a great city for tech jobs. The city has a thriving tech community, and there are plenty of opportunities for entry-level and experienced professionals alike. In addition, the cost of living in Atlanta is relatively affordable, and the city offers a variety of lifestyle options.
There are also many reputable colleges and universities located in Atlanta, which makes it a great place to find talent for tech jobs. Overall, Atlanta is an excellent choice for those looking to enter the tech job market.
Q. 3 What Big Companies are Based in Atlanta?
When most people think of Atlanta, they think of the capital of Georgia. However, Atlanta is also a major center of commerce, with many large companies headquartered in the city. Among these are Coca-Cola, Delta Air Lines, and Home Depot. Atlanta is also home to a number of major law firms, including Alston & Bird and King & Spalding.
In addition, the city is a hub for the transportation industry, with both UPS and FedEx maintaining a significant presence in Atlanta. As a result of all this economic activity, Atlanta has been ranked as one of the most prosperous cities in the United States. Indeed, it is clear that Atlanta is much more than just the capital of Georgia; it is also a major center of business and industry.
Q. 4 How Many Tech Companies are in Atlanta?
While Atlanta is not as widely known for its tech scene as some other cities, it is home to a number of successful tech companies. In recent years, the city has been ranked as one of the top 20 startup ecosystems in the world, and it is home to a number of incubators and accelerators that help startups get off the ground. Some of the most successful tech companies in Atlanta include MailChimp, Pardot, and SalesLoft. These companies have all been instrumental in driving Atlanta's economy and helping to put the city on the map as a hub for tech innovation.
Q. 5 How Many Fortune 500 Companies are in Atlanta?
As of 2019, Atlanta is home to 19 Fortune 500 companies. This includes companies such as United Parcel Service (UPS), Delta Air Lines, Home Depot, and Coca-Cola. While Atlanta is not the city with the most Fortune 500 companies (that distinction goes to New York City, which has 64), it is the city with the highest concentration of Fortune 500 companies in the Southeast.
In addition to its large number of Fortune 500 companies, Atlanta is also a major center for innovation and entrepreneurship. According to the Atlanta Chamber of Commerce, there are more than 4,000 tech startups in the city. This vibrant startup scene, combined with the presence of major corporations, makes Atlanta a great place to do business.
The Final Verdict
Atlanta has emerged as the country's new tech powerhouse, therefore a plethora of software development companies are available that works on different technologies like machine learning, networking, cloud, the internet of things, web technologies, mobile technologies, and many more.
We have curated the list of the top 10 software companies of Atlanta and their primary focus, working style, and solutions/services to raise awareness about the city's increasing technological competence. If you are based in Atlanta and want to create cutting-edge software or solutions, feel free to contact us. Our team of industry experts will guide you through the process of app development and drive your business towards success.