Outsourcing VS Offshoring | The Industrial Revolution fundamentally altered the way businesses were run. Companies were able to flourish at an unprecedented rate thanks to highly productive machinery and cutting-edge technologies. During the past decade, there has been a great demand for developers. As a result, they have become major business buzzwords for companies. Although coding and programming have long been vital skills, the global pandemic has hastened company digitization programs, making the demand for software developers even more urgent.
Entrepreneurs who want to make their big ideas a reality in the digital era turn to talented software developers for business functions assistance. Tech expertise is the new currency of industry and companies, which is why companies decided to entrust recruiters with kickstarting the developer hiring process, whether by hiring foreign professionals, coaxing young graduates, organizing coding boot camps, or simply poaching those with attractive experience. Here you can explore the list of top software development companies.
In terms of demand, software development is one of the world's fastest-growing sectors. It is becoming increasingly crucial to comprehend its evolving patterns as it obtains greater importance and influence in the modern world.
According to studies, the software development market is increasing at a CAGR of 4%. The employment of software engineers between 2018 and 2028 is expected to expand by 21%. Studies also report that from 2020 to 2030, the employment of software engineers, quality assurance analysts, and testers is expected to expand by 22%, substantially faster than the average for all occupations.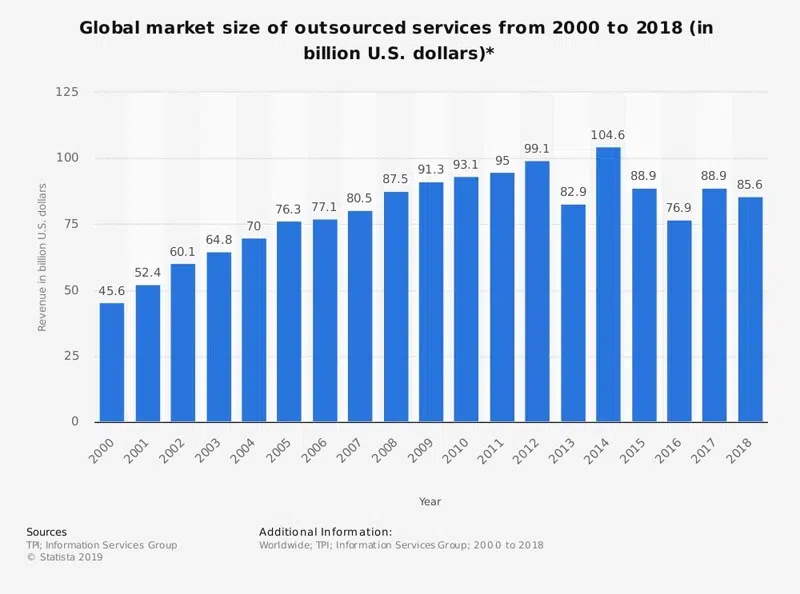 The statistics above demonstrate the increasing importance of software engineering and software development tasks to enhance your business model.
In a rapidly developing world, choosing between outsourcing and offshoring software development can become tricky. This article will dig deep into the offshore outsourcing model for business operations. It will also be covering the key differences in outsourcing and offshoring for complete business processes. Let's start.
What is Outsourcing?

In its most basic form, Software Development Outsourcing refers to an arrangement in which an organization hires an external software development firm or external organization in the same country to efficiently complete all of the duties of a software development project that otherwise could be completed in-house. The act of a firm giving over the responsibility of a specific business process or project to a third-party vendor who is skilled and capable of finishing the needed business duties is known as software outsourcing. It is a cost-saving measure, allowing firms to focus on their core competencies.
Outsourced means delegating work duties to a professional outside your country or overseas to external providers. The initiative mainly seeks to improve human resource flexibility by involving a wider talent pool. Outsourcing can make it easy to complete one-time tasks on a contract basis. The principle is that the clients hire the vendors to achieve specific results. Outsourcing software development can prove to be an effective startup strategy.
Outsourcing allows you to expand your operations into another country for reduced costs and complete control of your processes and operations. In the case of startup businesses, it costs money to hire in-house developers. Having permanent software developers can increase efficiencies in the IT industry while lowering the cost to minimize costs.
Advantages of Outsourcing Software Development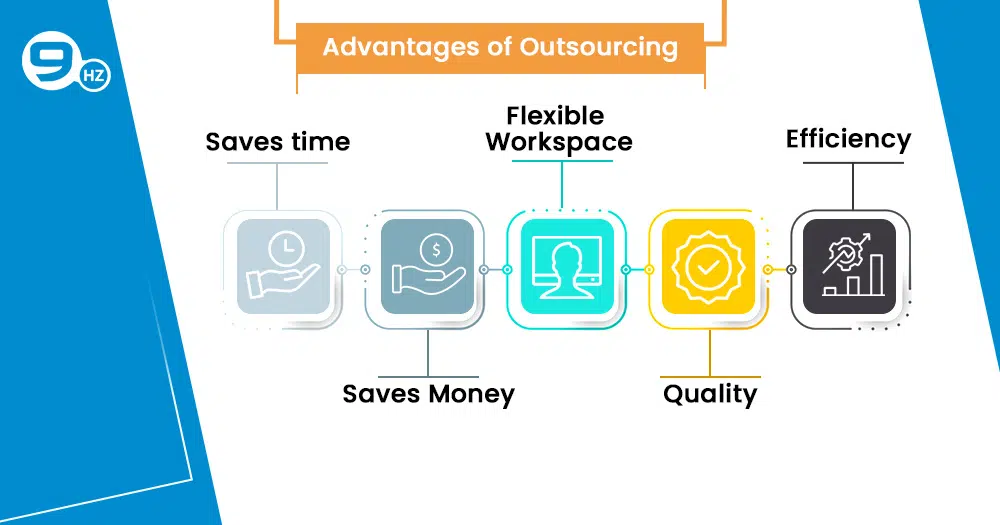 Before going over the advantages and cons of any business model, it is vital to consider the major reasons companies are now turning to outsourcing than utilizing in-house staff for other projects.
There are several important things:
An acute shortfall in the skilled workforce in in-house staff
Increasing talent shortage means companies must seek alternative sources of recruitment in a foreign country
Globalization over the past year
Setting up remotely operated teams sets the international standard for business growth while retaining complete control.
1. Saves Time and Money
It is costly to hire professionals. Working with contractors will save you money on hiring, setting up a workspace, sickness absence, holidays, and other full-time perks and overheads. The only thing you'll need to pay for is a few specified tasks.
There is a time constraint on every development project. If you employ an in-house development team, the project will probably take no more than a few months, and you'll have to pay everyone, irrespective of their actual contribution to the development process. If the companies outsource it, you won't have to invest any of your resources, and all of the internal issues will be handled by a third party.
2. Flexible Workspace
There is no need to educate your employees or look for skilled professionals on the market when outsourcing. Outsourcing helps you swiftly locate and replace professionals as needed for overflow tasks. Acts like these can quickly lead to internal team disagreements, affecting team management, but they're not nearly as tough to cope with when outsourcing software development solutions to an external party.
Outsourcing software development speeds up the entire business functions by delegating numerous duties to other qualified professionals or companies. Seasonal employment and project development are two areas where contractors come in handy.
3. Unmatched Quality
One of the key advantages of outsourcing development is that you can count on a consistently high level of quality and performance from software experts with years of expertise. You can trust that your job commitments will be completed by industry pros if you outsource software development to a reputable company. It's a lot safer than employing inexperienced freelancers. You might be interested to know tips to hire dedicated developers for outsourcing.
4. Increased Efficiency
Major IT companies frequently work on many projects at the same time. Tasks are assigned to teammates to make things as efficient and feasible. Companies specializing in outsourcing are very effective at accelerating growth, especially if they are experts in specific areas.
Hire Dedicated Software Developers
Request A Free Quote
1200+ Projects Delivered 12+ Industry Experience 450+ Clients Worldwide 200+ Certified & Expert Programmers
Trends in the Software Outsourcing Industry
The global recession forced many companies to examine every possible option for enhancing their performance at lower costs. Outsourcing became more common as the expectations began rising. Companies increasingly feel comfortable outsourcing larger areas as a result. Other notable trends include information technology outsourcing focusing on IT services, industry consolidations, where smaller companies purchase larger suppliers.
What is Offshoring?
Offshoring implies hiring specialists to help you with executing specific tasks and development operations. It involves going overseas and hiring foreign professionals. Originally aimed at decreasing costs, lower salaries were the major reasons for moving offshore. Today, tech firms tend to seek talent abroad due to a lack of competent workforces in their homelands.

Unlike outsourcing, offshoring is essentially a geographical activity. Goods are pricy in the West because the labor necessary to make and distribute them is expensive. Diverse and affordable labor pools, on the other hand, provide an easy underpinning for a low-cost economy in developing countries.
Offshoring capitalizes on these cost differences by shifting manufacturing from expensive countries to lower economies to resell the items at a substantial discount with profit margins in the West. It also ensures that all your trade secrets stay in-house.
Offshoring encompasses the manufacture of physical items and the provision of services. The Indian IT industry, for example, has benefited from waves of offshore by Western technology giants.
Advantages of Offshoring Software Development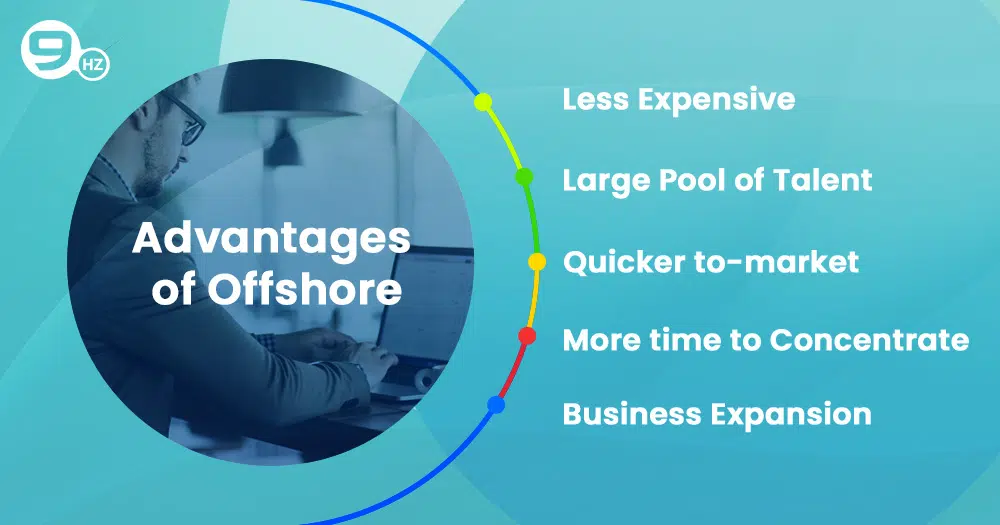 Offshoring has been the fastest-growing section of the outsourcing business, particularly in IT services, with India leading the way. It's not simple to decide whether to build software in-house or engage an offshore development partner. Offshoring software development, however, is a compelling commercial proposal when you consider the advantages:
1. Less Expensive
Maintaining an in-house IT workforce with knowledge of the recent advancements is difficult and expensive. You won't have to spend on IT infrastructure or time finding, hiring, and training project manager and your own employees if you outsource your software development.
2. Access to a Large Pool of Talent
Offshore development gives you access to a large pool of competent and experienced software engineers having substantial expertise in establishing international standards and quality software applications. Because the offshore partner has worked on international custom software development projects for previous customers, they are familiar with the problems.
3. Quicker Time-to-Market
Not only will you be able to complete tasks faster, but you will also be able to ensure that your product reaches the market sooner. An outside team from a different country may provide fresh perspectives on enhancing your company operations, allowing you to take advantage of innovation and creativity at every level. Here is how software offshoring will save your time & money.
Hire Certified Software Developers
Request A Free Quote
1200+ Projects Delivered 12+ Industry Experience 450+ Clients Worldwide 200+ Certified & Expert Programmers
4. More Time to Concentrate on Core Company Operations
Instead of worrying about managing the time-consuming software development process, you can concentrate on your core company strategy with offshore software development. It allows your business to focus on its core business competencies without the added stress of maintaining and managing a software development staff.
5. Business Expansion
Offshore software development allows businesses of all sizes to leverage the same qualified labor supply, lowering production costs and time. You may focus on your capabilities, core activities and strive toward long-term business growth by freeing up time.
Disadvantages of Software Outsourcing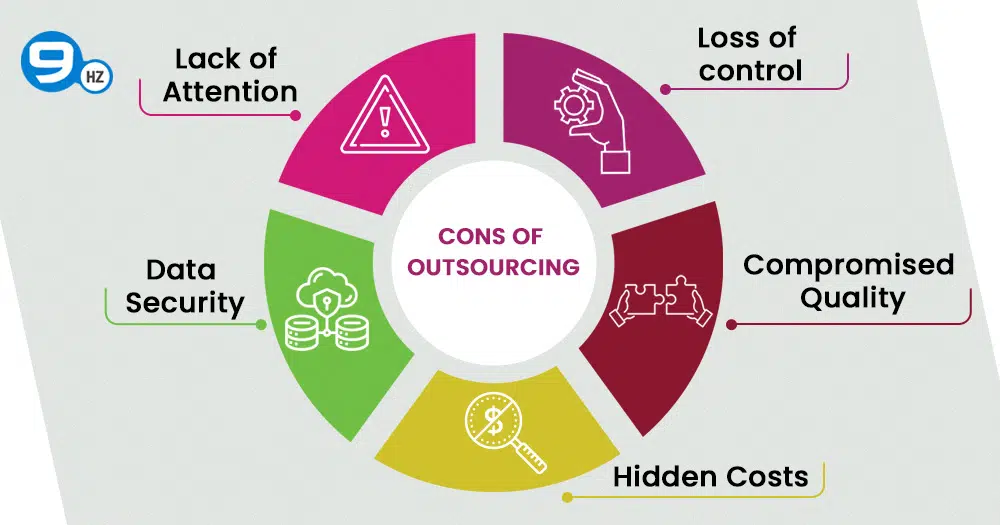 Despite offering full control, tech specialists, increase profit margins, lower costs, and hassle-free delivery, both outsourcing and offshoring have their own set of disadvantages, especially in the software sector. Before companies choose between the two, they must study the disadvantages.
1. Loss of Control
You lose control of how activities are monitored and done when you send work out to external firms or freelancers. That shouldn't be a problem as long as you know and trust people you've employed – but you must proceed cautiously.
2. Hidden Costs
Although outsourcing work is often perceived as less expensive, you must be wary about being taken advantage of. Small business owners will generally be asked to sign lengthy commercial agreements (contract-based work) with outsourcing corporations or large agencies, which will have a lot of fine print. You might be slapped with unexpected expenses if you don't read the terms thoroughly.
3. Data Security
In this day and age of data security, you must use client data with prudence. If you plan to outsource procedures needing personal data on a contract basis, you may be jeopardizing the privacy of individuals; or harming the security of your company by disclosing such information to external parties.
4. Compromised Quality
Profit rather than a job well done may drive outsourcing corporations, remote teams, and certain freelancers. This means the work you send out may arrive fast, but it will be of worse quality than what many businesses or ventures seek from your products or services.
5. Lack of Attention
Because many outsourcing businesses or freelancers serve numerous clients at once, the project you're sending out might not get the attention it needs. Depending on the tasks you're outsourcing, your small business may suffer due to loss of concentration.
Disadvantages of Software Offshoring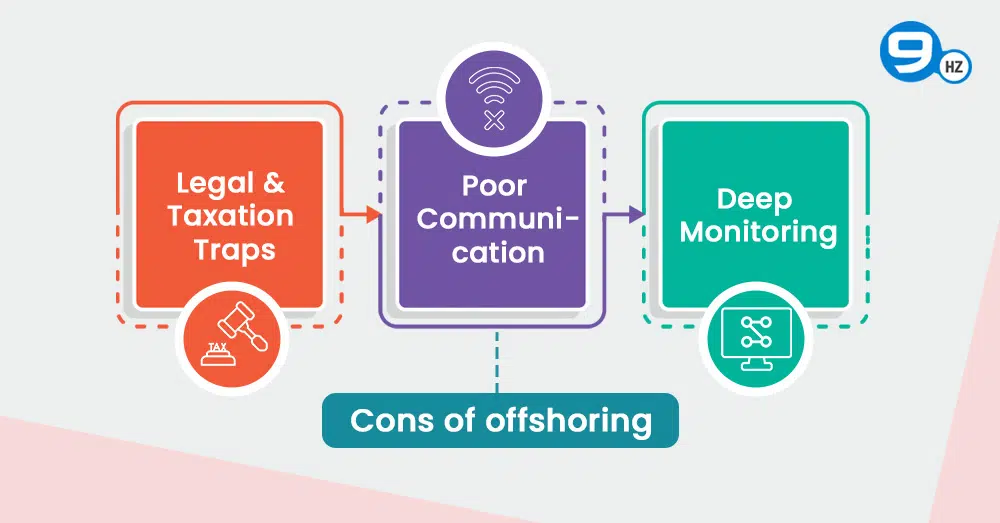 Legal and Taxation Traps
Offshoring can save you a lot of money on taxes, but you must be cautious. To comprehend a country's legal and fiscal complexities, you must contact legal and taxes professionals. You're putting yourself up for a slew of potential business issues if you don't fully examine a country's legislation before outsourcing. Poor judgments might result in you losing a lot of money, being penalized by authorities in that nation, and so on.
Poor Communication
You'll have to cope with significant time and geographical constraints while offshoring work. Actively engaging in work with your offshore colleagues might be difficult because they may be located in different time zones. Furthermore, offshore teams may potentially face difficulties due to language differences. You're raising the risks of misunderstanding because of poor communication if your offshored personnel doesn't speak your chosen language.
Necessitates Deep Monitoring
Offshoring necessitates a higher level of supervision to keep cost-efficient procedures on track. Unfortunately, this can be difficult owing to location, time, and language obstacles. In addition to this, to ensure everything is well, you'll need to do a routine check and hire several on-site supervisors.
Key Differences Between Outsourcing VS Offshoring
Outsourcing
Offshoring
Definition

Delegating non-core business activities to a third-party.

Relocating a portion of business operations to a different geographical location.

Location

Can be the same as the hiring country.

Different than the parent country.

Project control

Less control over outsourced processes.

Higher control over the production.

Benefits

Cost reduction
More resources to focus on core functions
Increased production capacity
Improved service quality
Access to specialized talent
Quicker business transformation

Lower costs
Lighter regulations
Tax and tariff relief

Drawbacks

Communication Issue
Possible intellectual property fraud and theft

Social and cultural differences
Difficulties with quality checks
Geopolitical risk
Time-zone difference
Outsourcing means submitting work to another company to acquire specific knowledge. Outsourcing may occur in a specific region of the country and abroad. Your employees are primarily workers for this company.
For example, using a foreign company for software development of your software development project (could include any part of the project) instead of a specialized internal team.
Offshoring is doing your work in different nations using your business name. It refers to moving business operations across countries to reduce costs to do business.
Offshore manufacturing is frequently criticized for transferring jobs to foreign countries (offshore developers). Other dangers include geopolitical risk, linguistic barriers, and a lack of communication in the offshore team.
Business process outsourcing has dangers like mismatched client-vendor interests, greater reliance on third parties or external organizations, and a loss of in-house understanding of key (though not necessarily fundamental) company activities.
Offshoring has several advantages, including cheaper prices, improved availability of experienced workers, and the potential to complete tasks faster thanks to a worldwide labor pool. In contrast, companies outsource to benefit from specialized expertise, cost savings, and workforce flexibility.
New Option: Offshore Outsourcing
Combining offshore with outsourcing (offshore outsourcing) is the most effective way to save a considerable amount of money for your company. That is, outsource projects to third-party vendors based in a different country.
Offshore outsourcing involves both outsourcing and offshoring. Companies use the system to offer both outsourced and outsourced advantages to their businesses. Offshore Outsourcing means that you can outsource the work to a foreign company from another country. This usually takes place because of the vendor's expertise and a higher-scale workforce and has a large workforce.
Outsourcing VS Offshoring: Which is Better?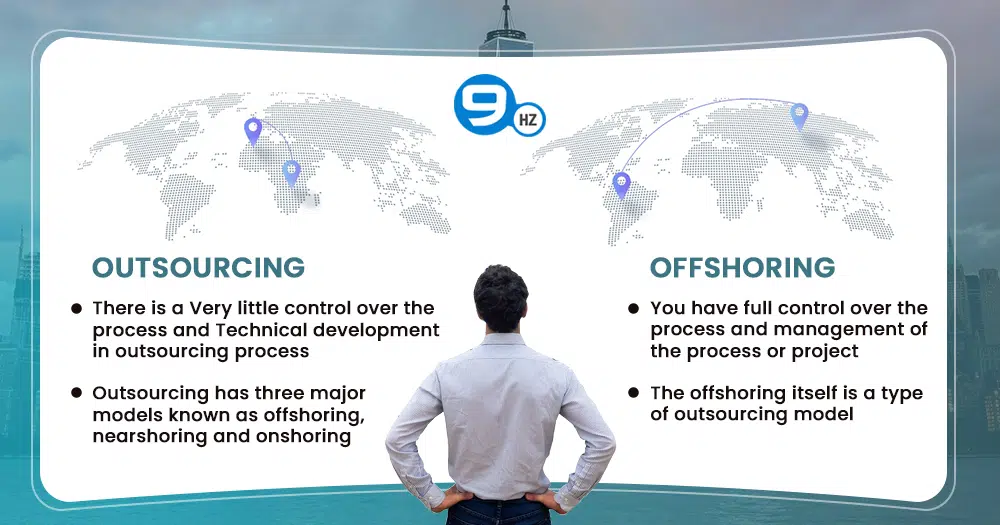 Offset services typically reduce costs and provide broader talent pools to companies. Companies offshore for specialized skills, reducing costs and maximizing labor efficiency.
Although outsourcing can be similar, they are quite different. Outsourcers are the best alternative to focusing on core business functions by delegating work to a qualified external company or workforce. However, if you are looking to increase efficiency, outsourcing is probably the best option for your company.