If you run a business and plan to invest in real estate software development then choosing the right Real Estate Software Development Company is very important. The company should be able to understand your goals and long-term vision so that it crafts the ideal solution that can take your business to a whole next level.
In this article, we will be discussing the top ten real estate software development companies of 2023. Therefore, you don't need to scratch your head as all the information is on the platter right here for you. Just go through the whole article, pick your company, and kick-start your business. Easy breezy!
Some fascinating facts that you must know:
According to the Global Real Estate Market Report, with a 7.6% CAGR, the global market of real estate increased from $3694.47 billion in 2022 to $3976.18 billion in 2023. By 2027, the real estate industry with a CAGR of 7.0% is expected to reach $5209.84 billion.
As per Statista, the US market for commercial property remodeling in 2022 was valued at 51 billion dollars. Within a period of 8 years (from 2012 to 2020), the initial two years saw a decline but till 2020 the industry went to its peak. By the end of 2023, predictions say that there will be 2% market growth.
Commercial real estate sector value in the UK was near 1.7 trillion dollars by the end of 2022 – a pike of almost 50 million dollars from 2021. The UK is the second largest commercial real estate market, the first one is Germany.
Multiple reports say that there are 130.4 thousand real estate businesses in the United Kingdom.
What is a Real Estate Software Development Company?
A real estate software development company creates custom real estate software solutions for enterprises and startups. Such a company helps in facilitating the formation of software products, PropTech tools, and advanced systems, all this to streamline and enhance business operations to drive growth.
A Real Estate Software Development Company is well-versed in building cutting-edge real estate software solutions that truly empower your business operations and boost productivity. A trusted software development company is fully committed to assisting business enterprises steer market disruptions via sustainable technology solutions.
Top 10 Real Estate Software Development Companies
Find the list of best real estate software developers:
| Name | Founded | No of Employees | Hourly Rate | Location |
| --- | --- | --- | --- | --- |
| 1.  The Ninehertz | 2008 | 201-500 | <$25/hr | India, USA, UK, UAE |
| 2.  Seasia Infotech | 2000 | 500+ | $25 – $49 / hr | United States, UK, Canada, India |
| 3.  KritiKal Solutions Inc | 2002 | 200-499 | Undisclosed | India, United States |
| 4.  LeverX | 2003 | 500+ | $50-99 / hr | United States |
| 5.  Konstant Infosolutions | 2003 | 50-249 | <$25/ hr | India, US, UK |
| 6.  Octal IT Solutions | 2007 | 50-249 | $25 – $49 / hr | India |
| 7.  Inoxoft | 2014 | 50-249 | $50 – $100 / hr | Lviv, Western Ukraine |
| 8.  eSparkBiz | 2010 | 50 – 249 | $25- $49 | Ahmedabad, India  |
| 9.  Trango Tech | 2003 | 50-199 | $50-99 | United States |
| 10.  Appello Software | 2015 | 50-249 | $100 – $149/hr | Australia, United Kingdom |
10 Best Real Estate Software Developers
1. The NineHertz: Best Real Estate Software Development Company
The NineHertz is a leading custom real estate software development company providing customized application development, system integration, product implementation, and consulting services. The company was established in 2008 and since then its contribution to the IT sector has been unparalleled. It has served over 2000 clients from all the major parts of the world including the USA, UK, Russia, UAE, Singapore, and Australia.
Services:
Web Development
Application Development
Software Development
IT Consulting
Digital Marketing and more
2. Seasia Infotech
Seasia Infotech is a renowned technology company working in areas like software development, app development, and marketing for more than a decade. The company aims at identifying and solving all the challenges that might be coming your way to operate at your highest potential. All this is achieved by enabling digital transformation and customized workflows.
Web Development
Consulting
Graphic designing
Software development and more
3. KritiKal Solutions Inc
KritiKal Solutions Pvt Ltd. is one of top an Indian-based software development companies that specializes in product engineering, prototyping, and innovation across multiple domains. The company uses trending technologies and frameworks in their workflow such as Machine Learning, AI, AR/VR, IoT, Cloud Computing, etc. Having more than two decades of experience in multiple sectors like healthcare, real estate, education, media, and retail, this company is making a mark in the global IT sector.
Software Development
Web Development
App Development and more
4. LeverX
LeverX is a cutting-edge software development company that specializes in SAP implementation and customization. The company has been able to sustain a reliable and reputable partnership with SAP for more than 20 years as a Preferred Vendor since 2004. The company has served multiple sectors including finance, real estate, healthcare, and retail.
Software Development
Services
Consulting
Mobile App Development
Also Explore: Healthcare Software Development Companies
5. Konstant Infosolutions
Konstant Solutions provides new-age IT solutions to multiple sectors like Banking, Finance, and Insurance, etc. They offer a diverse range of services including e-commerce development, cloud computing, web solutions, IoT, and many more. The portfolio of the company is quite impressive as it has served clients from all parts of the world with its user-friendly and scalable solutions. Lastly, they offer you flexible hiring models, source code authorization, security, and IP protection.
Mobile app development
Web Development
UI/UX Design
Custom Software Development
6. Octal IT Solutions
Octal IT Solutions is one of the major IT services providers in India renowned for crafting quality-oriented websites, custom software, and mobile applications. The company has offices in multiple locations such as India, Singapore, and the UK. Talking about awards and rewards, the company has won several of them and has strong ties with all the major IT giants like NASSCOM, Microsoft, AWS, etc. You can connect to them and kick-start your next real estate software development project.
Mobile App Development
Custom Software Development
Web Development & more
7. Inoxoft
Inoxoft is a leading real estate software development company with a team of 200+ well-qualified and certified engineers and developers. The development team of the company possesses a wealth of knowledge in the latest real estate software development technologies. The company is changing the lives of its customers for good with its seamless, intuitive, and high-end software development solutions. With multiple offices in different locations, the company aims to empower its customers with its end-to-end web and mobile app solutions.
Web Development
AI Development
AI Consulting
Custom Software Development
Also Explore: Fintech Software Development Companies
8. eSparkBiz
With more than 12 years of experience and a competitive staff of more than 300 people, eSparkBiz is the next top real estate software development company on the list. The company works on agile methodology and offers services including mobile application development, web development, digital marketing, and software consulting. The designers and developers within the company are well-versed in creating scalable high-end solutions that drive business growth.
Custom Software Development
Web Development
IT Staff Augmentation and more
9. Trango Tech
Trango Tech offers unmatched IT services to transform their clients' businesses so that they put their best foot forward. Established in 2003, and now with more than 1500 employees worldwide, the company is changing the lives of millions with digital transformation. This full-stack digital transformation company works to help business units accelerate growth and adapt to technological advancements while solving complex issues seamlessly.
Custom Software Development
AR/VR Development
IT Managed Services
IT Staff Augmentation
Mobile and app marketing
10. Appello Software
Appello Software is a full-fledged software development company offering competitive mobile and web software development solutions to enterprises and startups. The company creates top-notch web and mobile applications that streamline business operations by automating the systems and keeping things in place. The company's staff is filled with well-qualified and experienced full stack engineers, frontend engineers, UI/UX Designers, Project Managers, etc Therefore you can rest assured that your project is in safe hands as they are well equipped and ready to take it to the next level.
Mobile App Development
Custom Software Development
Web Development and more
How to Choose the Best Real Estate Software Development Company?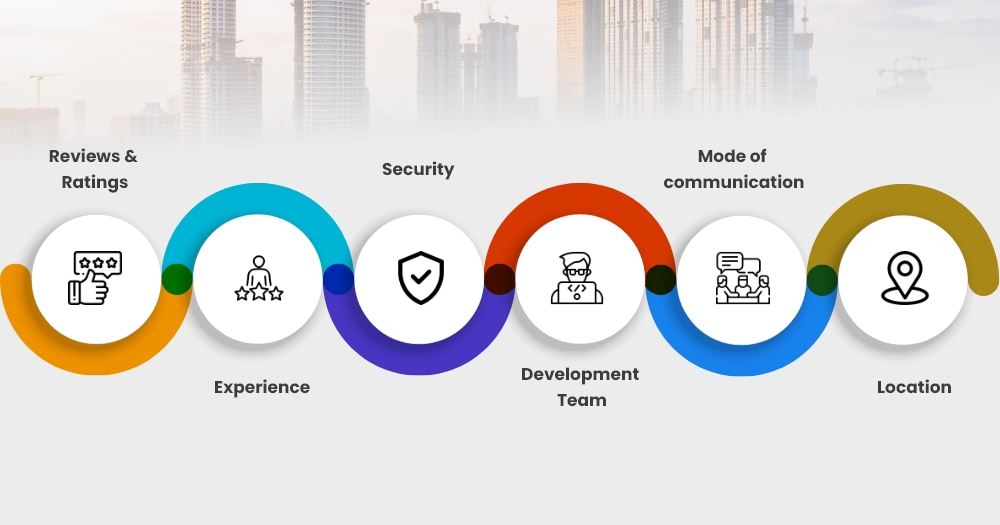 If you want to create a real masterpiece that pleases your audience with its intuitive design and seamless functionality then you need to partner with a high-end Estate Software Developer. But the real problem comes when you realize that the market is overcrowded and picking the best one that meets your requirements is a tough nut to crack.
Therefore, for choosing a reliable software developer, there are a wide range of aspects that you need to consider to understand whether or not it deserves to be trusted. You can find all those aspects below, so let's begin:
1. Reviews and Ratings
Take some time out and go through the social media handles of that particular real estate software development company. Social media is like a mirror that reflects the character of a company. Study the comment section to know what the people have to say about the company. Secondly, make sure that you check the ratings & reviews of the company on trustworthy platforms like clutch.com.
2. Feedback from past clients
The feedback from past clients can let you understand whether or not the company is proficient so that you can rely on it. Read all the testimonials of past clients and if possible communicate with them on one so that you have a clear and crisp idea of the company's credibility. Ask questions like do they deliver projects on time, whether are there any hidden charges, what methodology they follow, etc.
3. Experience
It is one of the most important things that you check before finalizing your real estate app development partner. So try finding out how long it has been doing business, what methodology they follow, and how many projects its team has under its belt. Pay utmost attention to portfolios and case studies in these terms. Review them to understand whether or not you like the final outcome.
4. Security and compliance
Security is a very important aspect and you must never compromise on that. While working with a real estate software development company, it is obvious that you might share some sensitive information. That's the reason you should have full confidence in the company that it handles all of this and has measures in place to protect and safeguard your ideas, solutions, and confidential information.
5. Development Team
The development team is like the backbone of a software development company – it can make or break it. That is why you should check the expertise of the team you are partnering with. You should also choose a company that has an in-house team of developers so that things are in place and you can keep track of the progress of your project by speaking to them regularly.
6. Mode of communication
Seamless communication is a sign of professionalism and credibility. While choosing your software development company, you should make sure that your real estate software agency is ready to establish easy and effortless channels of communication in the form of video calls, audio calls, chats, and one-on-one meetings (if possible). If there are no communication barriers, then there is no scope for any doubts or confusion on both ends.
7. Location
When it comes to development rates and pricing, the location of your real estate company is of primary importance. If you want to cut down your cost to a great extent, the best way is to outsource your project to a remote developer. Also, there are a couple of factors like the language of communication and the time difference that you should pay attention to. In countries like India and Bangladesh, the rates are very low as compared to companies situated in the USA and Europe where the costs are very high.
How Much Do Real Estate Software Development Services Cost?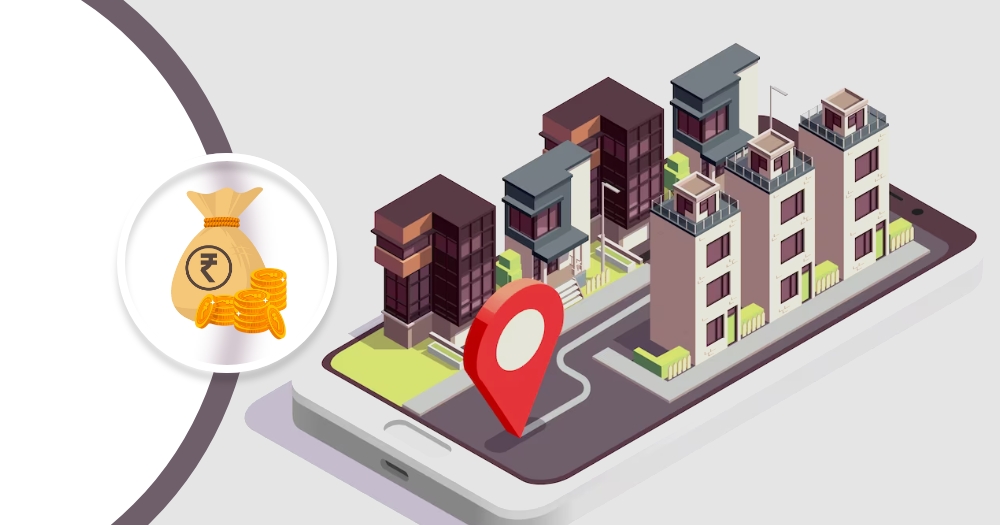 On average, real estate software development services cost at a range from $15,000 to $300,000. Hourly rates can range anywhere from $15 to $50. The development cost depends on factors such as the number of features, app type, degree of complexity, number of development hours, and distribution platforms.
| Real Estate Software Type | Projected Cost | Projected Timeline |
| --- | --- | --- |
| Basic Level App | $15,000 to $35,000 | From 3 to 6 months |
| Mid-Level App | $35,000 to $80,000 | From 6 to 9 months |
| Complex Fintech App | $80,000 to $300,000 | From 9 to 12 months |
Also, the location of your development team is a strong factor in deciding your development cost. For example, in Asian countries like India, the per-hour app development cost is less compared to places like the USA and Eastern Europe where prices are quite high. So for your ease, let us break down the cost into three levels.
Conclusion
The real estate business in general is a quite complicated task involving numerous day-to-day challenges. However, thanks to different real estate software and applications (both mobile and web), this industry is becoming easier to work in as things are getting streamlined.
Real estate business management software helps in decreasing costs, improving communication, and making managing payments simpler than ever. With the help of the software, a business can drastically increase the security of the data and save a lot of time by reducing the administrative workload.
If you are running a business or planning to do so, then investing in real estate software development would be the best thing that can happen to you and your business. A lot of your time and energy can be saved so that you can focus on other important tasks like marketing, testing, etc. All this will in turn help in maximizing your revenue.
FAQ's: Software Development Companies for Real Estate
A) What are the Best Real Estate Software Development Companies?
The list of the best real estate software development companies is as follows:
The NineHertz
Seasia Infotech
KritiKal Solutions Inc
LeverX
Konstant Infosolutions
Octal IT Solutions
Inoxoft
eSparkBiz
Trango Tech
Appello Software
B) What is real estate CRM?
A Customer Relationship Management System or CRM helps a business or an individual to manage all sorts of communications with both leads and clients. CRM tools are becoming more and more popular these days as they help in making the workflow easy and systematic.
C) What is the Use of Real Estate Software?
The job of real estate software is to assist real estate agents and realtors in managing all their day-to-day job activities. For example, with Real estate CRM software, agents can store and track contact information that helps in lead generation. The real estate software also helps with email and phone outreach, lead nurturing, and engaging with current and potential clients on social media.
D) What are the Types of Real Estate Software?
There are multiple types of real estate software such as:
Lead generation tools
Real estate CRM (customer relationship management) software
IDX Website and blog creation tools
All-in-one real estate software tools
Real estate marketing software
Tools like CRM and Lead Generation tools are single-threaded which means they focus on one area at a time. On the other hand, tools like All-in-one software suits provide agents with capabilities spanning multiple areas.
E) What is the Timeline to Develop a Custom Real Estate Software Solution?
The time to develop a custom real estate software solution can vary depending on factors such as project complexity, the scope of work, the budget, and the development team size. In general, a real estate software solution can take anywhere from a few months to a year or more to complete.
F) How Much Does it Cost to Hire Real Estate Software Developers?
The majority of real estate software developers avoid disclosing their price on their official website but will provide the information on a request. The cost also depends on what type of tool it is, the number of capabilities, and the number of individuals who will be using this software. For instance, the cost of a basic real estate CRM platform will cost around $50 per user per month. If the app is loaded with more advanced features and functionalities, the cost can increase significantly.