AR App Ideas | As we all know, Augmented reality is on the verge of becoming a part of everyday life. It enables the superimposition of virtual objects onto reality using a smartphone or tablet. Augmented reality, in a nutshell, is the combining of a real-world picture with a computer-generated image. Because of its potential and impact, augmented reality is gradually being integrated into different industries, including online retail, healthcare, travel and tourism, education, real estate, and many more. AR apps' immersive and tangible user experiences are crucial to their enormous popularity.
In this blog, we will go through with what Augmented reality is, how it works, the key benefits of augmented reality app development in Business, education, healthcare, and the best AR app ideas. So keep scrolling and get acquainted with everything that you need to know!!
List of Best AR App Ideas in 2023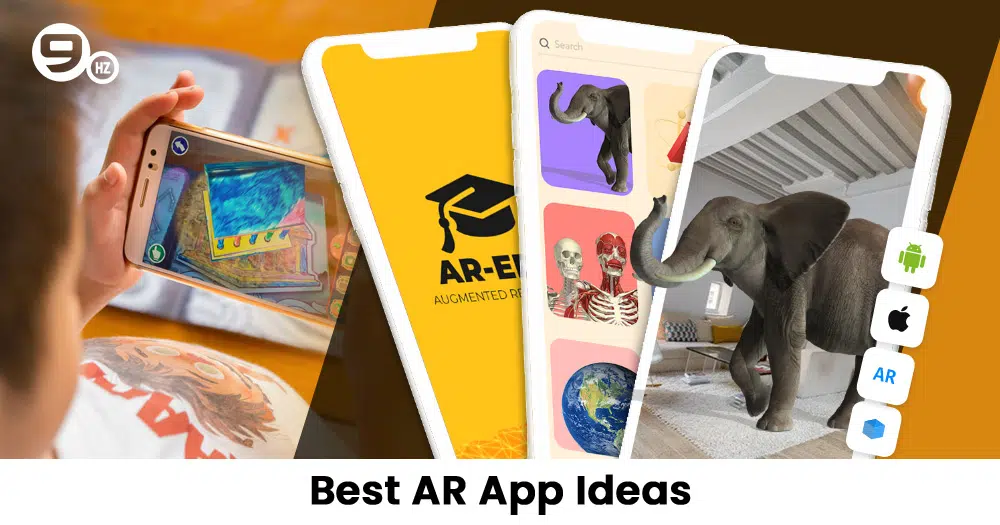 Augmented reality is one of the fascinating technologies that have entered the mainstream in recent years. Unlike virtual reality, which generates an entirely simulated world around the user, augmented reality blends virtual things into the user's current surroundings. It becomes more dynamic and realistic as a result.
This section will inform you of some best AR app ideas and how these unique ideas can help you to grow your business.
1. AR App Ideas for Travel and Tourism
AR can provide all information on all areas you wish to go to, and maps paired with an AR tour may offer a fantastic city exploring experience. Museums may also benefit from this technology by informing visitors about the artifacts they see and bringing them to life.
2. AR Apps for Cooking/Recipe
Here, augmented reality will be employed for educational purposes rather than entertainment. Consumers will be able to point their phones to a recipe, whether online or on paper, and see an augmented reality overlay description of the dish being created while it is being prepared. Using this type of AR, users may even ask questions about the dish and receive a response.
3. AR Apps for Furniture Placement
With only a few taps, you can create your ideal home and see it in 3D. The power of 3D may be fully utilized in creating your home's furnishings, providing a real-time depiction of how it will seem. With a list of built-in furniture, you can simply filter out, choose, and position the furniture wherever you wish to finish the design. For the convenience of the user, an option to immediately purchase the selected object can be included.
4. AR App Ideas for Eye Wear
Augmented Reality is quickly becoming the future technology to power any company, entertainment, or workflow enhancement. One may acquire a trendy design, a unique lens shape, and a one-size-fits-all approach with the AR app ideas for eyewear.
5. AR App Idea for Salon
The salon sector was not left behind as the on-demand economy began to alter enterprises. Salon chain owners and entrepreneurs have created On-demand platforms. These platforms provide consumers with quick and straightforward access to beauticians at times that are convenient for them.
Using mobile technologies for on-demand beauty services has made booking appointments in real-time much more accessible.
6. AR Virtual Trial Room
Virtual trial rooms with augmented reality are the progress and technical innovation in the fashion business. "Try before you buy" worked well for effective consumer involvement in clothing retailers years ago. Now, the notion is progressively being replaced by virtual trial rooms, which allow clients to try on garments digitally, reducing long lines and waiting periods in front of trial rooms.
7. AR Trial for a Shoe Store
The next AR app idea uses foot scanning technology to provide clients with the best-fitting shoes. Customers merely take images of their feet, which are then used by the app's technology to recommend shoe size and breadth. Users will be able to see a visual representation of the fitting shoe.
8. AR App for Watches
The AR app for watches allows users to try on different watches. The app is based on ARTag technology, which uses particular markers printed on a band that should be placed on a user's wrist in place of a watch to begin a virtual try-on of the watch. Only the visible markers in the frame are processed by the computer vision algorithm, which determines the camera's location in reference to them. Following that, in order to accurately draw a 3D object, the virtual camera should be put in the same area.
9. AR App for Laboratory Learning
AR in education provides genuinely limitless learning potential. With realistic real-life simulations, augmented reality offers a novel method of learning. Technology allows for a perfectly realistic psychological and physical experience and a genuine virtual experience that may be achieved in real life.
10. AR App Ideas for Sports
Sports fans are undoubtedly the most enthusiastic and dedicated people when it comes to their interest; Some prefer to watch the game in person, cheering on their favorite team at the stadium, while some prefer to watch it on television, where the best moments are repeated and remarked on.
With AR app ideas, viewers will be able to acquire statistics and see the ball's trajectory and speed immediately at the stadium.
What is Augmented Reality?
Augmented reality is exactly what it sounds like the reality that has been enhanced with interactive digital elements. Augmented reality technologies add digital details to our physical world. By projecting digital visuals on any real-world physical object, this platform adds layers of information to it. Unlike VR, it does not create an altogether new environment; rather, it enhances the interactivity and information of existing physical objects.
Basically, It superimposes computer-generated pictures over any object, giving it the appearance of a live projection. You've probably played a variety of smartphone games in which you use your phone's camera to interact with projected animated characters; all of these incredible apps are based on augmented reality.
Isn't this technology going to be the catalyst for further futuristic advancements in the future? Of course, it will. As our way of life changes and evolves toward a more digital lifestyle, We will use such items. All of these factors will incorporate to create a "smartly organized lifestyle."
Now, let's take a closer look at augmented reality technologies to see how amazing this technology works and what makes them so exciting in fields like business, education, and healthcare. You might be interested to know the difference between augmented reality vs virtual reality.
How Augmented Reality Work?
The possibilities of augmented reality are awe-inspiring: it can be used for everything from making yourself appear like an adorable kitten to navigating shops. You may visually test on glasses or view how new home appliances will look on your desk using augmented reality.
To present the valuable content to the user, AR uses computer vision, simultaneous localization, mapping, and depth monitoring content (sensor data calculating the distance to the objects). This method allows the camera to gather, transfer, and process data to display digital content relevant to what the user is looking at.
For instance, suppose you're using augmented reality (AR) navigation. First, computer vision analyses and recognizes the camera's collected position and objects. The software then places labels on the surface. The procedure repeats when a user raises a phone camera in front of a previously mapped place. You can read the impact of augmented reality on app development.
Want to Create Your Own AR APP?
Request A Free Quote
1200+ Projects Delivered 12+ Industry Experience 450+ Clients Worldwide 200+ Certified & Expert Programmers
Augmented Reality for Education Industry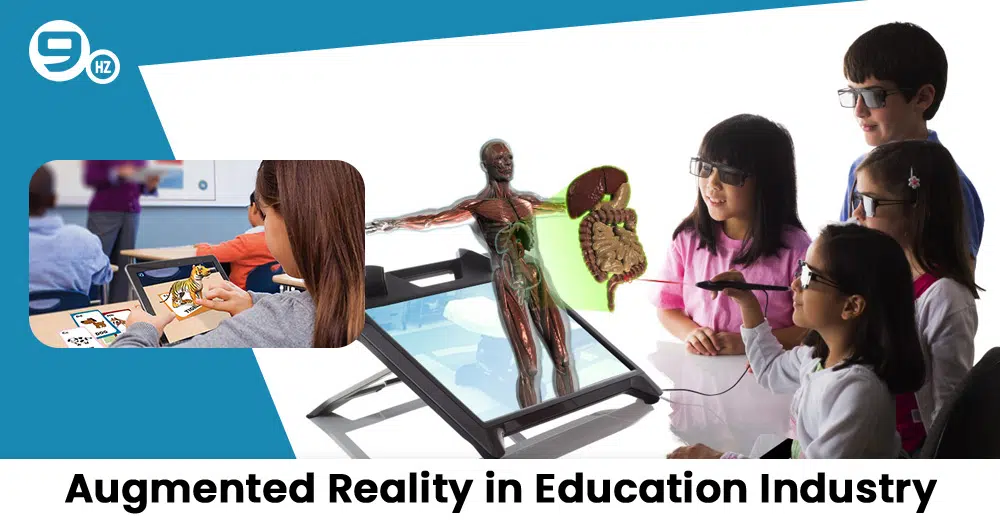 Traditional systems of education, as we know them, are becoming obsolete. They are becoming increasingly digital as a result of technological advancements. Augmented Reality in education can give numerous benefits, not only in terms of a move from traditional to digital but it is also believed to have improved and effectively affected student knowledge and interaction, resulting in good outcomes and in-depth understanding of the subject.
As a result, the combination of interactive education and interesting content can help students to retain what they have learned and gain quick skills and information in a short period of time and without much confusion.
AR apps for education can be used in practically all disciplines taught to students of all ages, whether in schools or institutions. They can range from reading to arithmetic to languages to sciences to machines, and so on. This guide is helpful for you to know How are IoT and Live Streaming benefit the education sector?
Also Read: Web Development Frameworks
Benefits of Augmented Reality Apps for Education
There are numerous roles and implications of augmented reality that may be recognized in the realm of education. This is not only establishing a new learning method and current age education trend, but it also plays a critical part in altering the traditional educational strategy that has been applied.
Benefits that Augmented Reality in education has to offer
1. Learning From Everywhere: Paper textbooks, physical models, posters, and written manuals could all be replaced with AR app ideas for education. It provides learning materials that are portable and less priced. As a result, education becomes more transportable and accessible.
2. Making Learning Interesting: Augmented Reality in education helps students obtain better results by allowing them to see and fully immerse themselves in the subject matter. Isn't it true that a picture is worth a thousand words? As a result, rather than reading theories about something, students can witness it with their own eyes, in action
3. Practical learning: Aside from education, professional training can greatly benefit from the application of augmented reality. For example, precise recreation of in-field situations can aid in mastering the practical skills required for a specific job.
4. Interactive lessons: The use of Augmented Reality in education allows students to participate in interactive lessons. Students have complete access to instructional and interactive models on their devices. In the long run, this leads to a clearer and deeper grasp of educational subjects. This is one of the most effective methods for engaging students. This improves learning and enhances educational activity among students. As a result, assist students in reinforcing the principles they learned in class throughout lectures.
5. Combined learning: Augmented reality-based education can replace outdated approaches and textbook-based reading. For example, AR-based classes might be supplemented with worksheets and assessments to ensure that students understand what they have studied.
Best AR Apps for Education Industry
Augmented reality is truly changing the way we see the world and has infiltrated many facets of our lives. One of the most beneficial of these characteristics is education – AR provides students with a new perspective on their work and subject while keeping them engaged in what they learn.
Since the invention of the technology, app developers have been producing instructional augmented reality apps for education, and it's good to see how far things have progressed. Let's take a look at the top augmented reality apps for the education industry.
1. Narrator AR
Narrator AR is one of the best AR app ideas for education since it encourages pre-school writing in a fun and inspirational way. The app invites children to pick up a pen and write before using Augmented Reality to animate handwritten text off the page. It also encourages kids to engage in crucial fine motor and cognitive abilities at a critical time of early school in order to enhance early literacy and brain development.
2. WonderScope
WonderScope is another Augmented Reality App that transforms mundane spaces into fantastic stories. Whether you open the AR app in your room or outside, Wonderscope allows you to observe stories unfold all around you. It has elements that will enable youngsters to read their lines aloud to interact with and communicate with characters and solve challenges along the road.

3. ANIMAL 4D+
The Animal 4D+ app was designed to highlight the beauty and significance of wildlife on Earth. Various animals are miraculously brought to life in realistic 3D animation for the youngsters to see, complete with their unique sounds and motions, thanks to the magic of Augmented Reality. It's one of the best-augmented reality apps for education that aims to raise children's awareness of the diversity of animal species and the need to conserve, safeguard, and save ecological balance.
4. CoSpaces Edu
CoSpaces Edu is an AR app that allows users to go beyond consuming AR and become producers of AR. Users acquire coding and digital literacy, which have become the most fundamental learning skills of our day. CoSpaces Edu allows users to develop and design their own 3D creations, which they can then experience in AR. The software incorporates games, storytelling, displaying, and 360-degree tours.
Hire AR Developers for Educational App
Request A Free Quote
1200+ Projects Delivered 12+ Industry Experience 450+ Clients Worldwide 200+ Certified & Expert Programmers
Augmented Reality for Healthcare Industry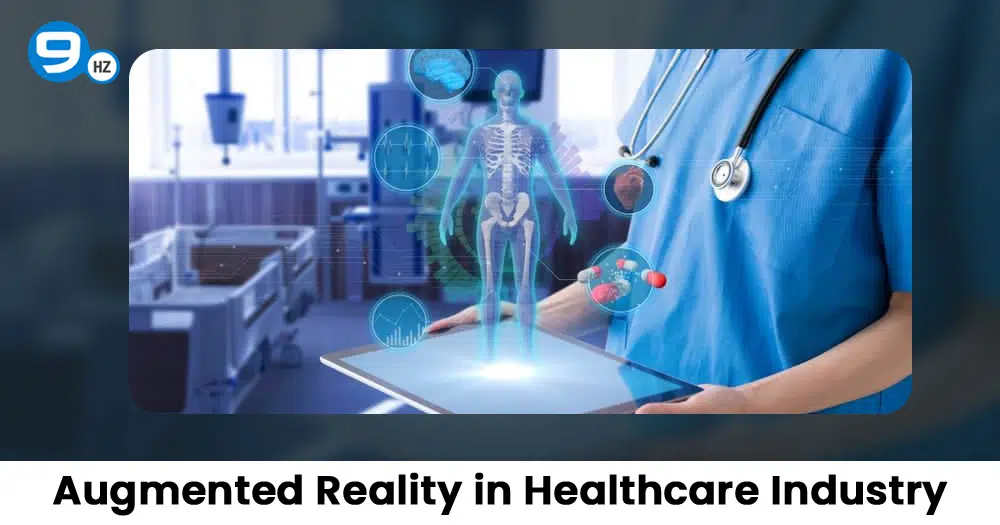 Healthcare has always been complicated, but the 21st century has brought about unprecedented changes.
The healthcare industry is undergoing a massive transformation. The pace of technology innovation, the need for more tailored patient experiences, rising medical costs, and growing outreach to rural areas, in particular, bring a slew of new issues. Augmented reality is reshaping the healthcare industry, thanks to the growing use of connected devices, computer vision, and artificial intelligence (AI).
Both skilled medical professionals utilize augmented Reality in the healthcare industry and in educating medical students or during their education to show and teach medical experience in a relatively safe, cost-effective, and thorough manner.
People are using AR apps for healthcare to study and be educated about fundamental anatomy and first aid. This is used by practitioners ranging from dentists to surgeons, as well as all those learning it.
Also Read: Native App Vs (PWA) Progressive Web App
Benefits of Augmented Apps for Healthcare Industry
AR technology benefits the healthcare industry by boosting the quality of care given to patients and assisting medical professionals in improving their performance by converting complex medical concepts into interactive 3D forms.
From conducting intricate procedures to managing MRI equipment, augmented reality has the potential to increase the efficiency of medical training.
Benefits of AR apps for healthcare Industry
1. AR Navigation: AR may be used for everyday navigation all around the world. In the healthcare industry, healthcare providers can use AR-powered technologies to help nurses/patients/doctors locate the appropriate way or a room in the hospital swiftly. Furthermore, it is an excellent emergency remedy. In addition, when integrated with a hearing aid, AR-based software provides unique options for blind patients. They can navigate the hospital more easily by sending voice messages.
2. Surgical Assistance: Augmented Reality in healthcare can generate 3-D models of organs or tumors for use as a reference during surgery. The model can be viewed by the surgeon using a hands-free headset to improve accuracy when planning and performing the procedure. The headset causes the model to appear as a hologram hovering over the surgical field. The surgeon can also be guided by on-screen notes.
3. Remote Guidance: A doctor can obtain remote instruction from an expert using augmented reality apps for healthcare, regardless of where they are. Both doctors can see the same view of the patient and operation thanks to two-way audio and video available via a headset. A specialist can advise a doctor through an examination or surgery in real-time, providing the patient with access to expertise and a better outcome.
4. Mental health issues: Any health problem is accompanied by added stress and worry, putting additional strain on the nervous system. AR apps for healthcare assist patients in being more aware of their bodies' processes, reducing anxiety, and avoiding treatment difficulties. AR introduces new techniques for dealing with psychological disorders and phobias. Simulators can assist in recreating a dangerous situation and overcoming fear in the absence of actual danger.
5. Emergency navigation: AR applications that promptly assist nurses in finding an available room with sufficient equipment should not be overlooked. A patient's life frequently hinges on seconds, quick judgments, and actions, which AR apps for urgent hospital navigation can provide.
Top AR Apps for Healthcare Industry
In the healthcare industry, there is plenty of innovation incorporating Augmented Reality. Moreover, numerous Augmented Reality healthcare apps have already been developed. While some are employed as educational AR Apps for institutes, others are already used in specific hospitals.
Let us introduce you to the Top AR apps for healthcare in 2021:
1. DocPAL
DocPAL is an augmented reality telemedicine system with a user interface that is as natural as possible. Interactive Voice Recording and other cutting-edge technology like these help to improve the quality of patient-doctor discussions.
2. VIPAR
VIPAR is an acronym that stands for Virtual Interactive Presence and Augmented Reality. These augmented reality apps for healthcare assist with remote operations. This video support solution allows a surgeon in a remote place to operate on a patient at another site by using Google Glass to point and instruct the surgeon on the patient's position. This is more than just telemedicine; the objective is to transport the remote expert to the victim's location as needed.
3. AccuVein
For any patient, having their blood drawn is a nightmare. The only worse circumstance is when they have to stick again and again in search of a vein. AccuVein employs projection-based augmented reality. AccuVein is a cutting-edge technology that combines a processing system, laser-based scanner, and digital laser projection in a portable package.
This is a hand-held scanner that scans the skin and tells doctors and nurses where veins are located and different types of bifurcations and valves in patients' bodies.
4. Current Studios
When an MRI is performed, the patient must remain completely still with no movement. For a tiny child, this could be really tough. Current Studios created a game for kids to play on tablets before going into the machine for an MRI, making them more comfortable lying still for an extended time.
Meanwhile, doctors will receive a dashboard with their statistics, and only they will be able to determine whether a child requires general anesthesia.
Hire AR Developers for Healthcare App
Request A Free Quote
1200+ Projects Delivered 12+ Industry Experience 450+ Clients Worldwide 200+ Certified & Expert Programmers
Augmented Reality for Business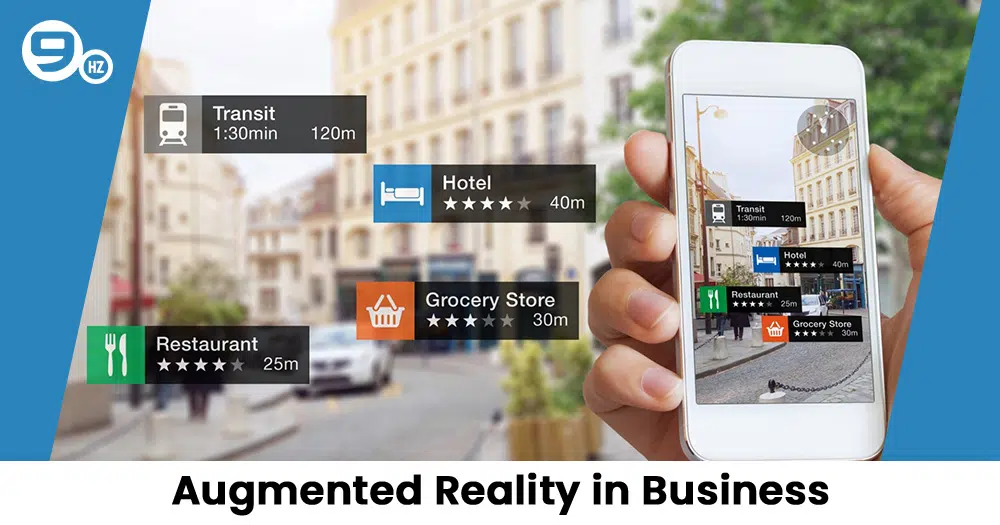 Businesses are continuously glancing for new ways to improve their operations. However, strategic planning and process improvement are critical to increasing the business's efficiency and productivity. By planning in advance and analyzing the bespoke demands of the organization with the help of AR apps for business, it will become more apparent what modifications need to be done.
Augmented reality, worth billions of dollars of technology, has transformed how people interact with their actual surroundings. Creating an immersive user experience offers up many opportunities for organizations — regardless of industry. Augmented Reality for Business improves information across several sensory modalities and is frequently used with artificial intelligence to assist organizations in cutting costs and improving employee performance. You must explore 40+ web app ideas for new businesses.
Also Read: 20+ Best Apps for Couples to Improve Relationship
Benefits of Augmented Reality Apps for Business
AR combines a novel method of information exchange and interaction capabilities that, in the end, assist better fulfilling business objectives. It is a hybrid of the physical and virtual worlds, with aspects from the actual world thrown in for good measure. It enhances computer-generated perceptual information to create immersive experiences.
Top Benefits of Utilizing Augmented Reality for Business in 2023
1. Better Experiences: The most significant advantage of Augmented Reality for business is that it produces one-of-a-kind digital experiences that combine the finest of the digital and physical worlds. It also does not require any specific gear or software to enjoy the experience.
2. Best Technology for Marketing: When AR technology is used in marketing, it creates a plethora of new business prospects. When applied effectively, this technology fosters greater loyalty and dedication to businesses and goods. AR technology allows you to communicate with customers as they wander about the business with their smartphone in hand, looking out for pricing and product features. It gives business owners a tool for creating customized information connected to discount offers, allowing them to create an entirely new customer experience.
3. Improved Information: One of the benefits of AR apps for businesses is that they present the user with real-time information about the product, area, and material. For example, creating augmented reality apps benefits the retail industry by allowing customers to obtain vital information about a product's attributes, use, availability, and more.
4. It's New & Exciting: Although augmented reality has had a significant influence in recent years, it is still a young technology that is constantly evolving. As a result, it is regarded as one-of-a-kind and hence significant technology to employ in a firm. When you supply this technology, your company will be better positioned to acquire momentum from the experience it can deliver its clients. Customers nowadays want convenience and distinctiveness, which is where augmented reality comes in. You don't want your company to fade into obscurity; instead, you want it to be at the forefront of the market.
5. Repetitive Engagement: Another benefit of augmented reality for business is that it encourages repeat interaction. Establishing recurring engagement works as a successful advertising approach for businesses since it simply requires constructing an AR app, and other benefits may be realized via repeated exposure. This type of interactive strategy differs from 'traditional' advertising.
Best AR Apps for Business Industry
Now that you know the benefits of Augmented reality apps. To further inspire you, we have covered the top Augmented Reality for startups covering different industries where they are applied in day-to-day lives.
1. IKEA Place
This augmented reality software for Android and iOS allows you to set virtual replicas of home décor products on your floors, spaces, and walls to test them and determine which ones suit best – in size, shape, and design – before buying or ordering at an IKEA store.
2. ModiFace
ModiFace is an AR app that allows you to scan your face and then apply the cosmetic product you choose to your face visually, in real-time, as if you were wearing it. You may use ModiFace to see how your makeup, hair and skin products, and other types of beauty goods will look on you.

3. ScopeAR's
Maintenance personnel or any other worker/person on the manufacturing floor can use ScopeAR's Remote AR app to receive AR-based video picture instructions, text-based and further annotations, chat, and general guidance from an expert without traveling and performing the maintenance themselves. It was first shown at CES 2014 and then released in 2015.
4. Roar
The Roar AR content management platform enables you to quickly create and distribute any AR experience for your clients, students, or friends by overlaying the actual environment with virtual elements such as sound, video, animations, models, games, and so on. You may publish on the web, iOS, and Android.
To sum -up: Best AR App Ideas
To summarise, there is a great deal of evidence that Augmented Reality applications are and will continue to transform the sharing of information across sectors. So, we can assist whether you want to investigate how AR could be applicable to your organization or if you already have some ideas. We are a top software development company in USA and can create responsive and strong apps for your company.