Gaming and specifically mobile game development is continuing to revolutionize the entire entertainment industry. Every year there is a significant rise in the number of people playing mobile games as they are looking forward to spending their time in some fun way that gaming provides. Covid-19 is playing a part in accelerating this upward trajectory. As a leading Mobile game development studio in India, we are also created various mobile games during covid-19.
According to the reports of Newzoo, last year the mobile game revenue reached a mark of around $80 billion which amounts to 12% increase from 2019. Last year was the most fruitful year for mobile gaming enthusiasts as due to the pandemic more and more people switched to mobile gaming to pass their time resulting in an explosion of mobile gamers within a few months.
As per the reports, in 2020, the mobile gaming industry alone generated more annual revenue than the film and music industries combined. Let us have a quick look at some of the statistics and trends to understand what we can expect from gaming in 2021.
Statistics of the Mobile Gaming Industry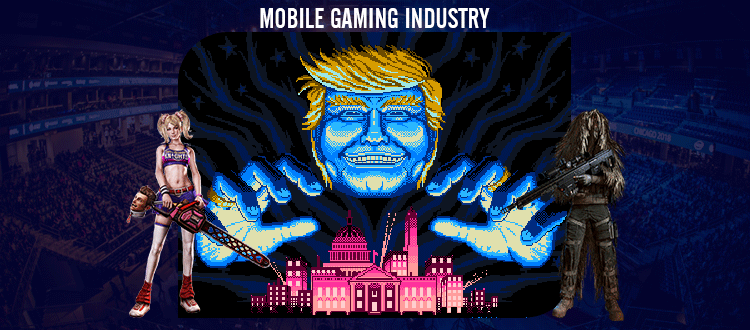 As per GameAnalytics, in the first quarter of 2020, the number of mobile gamers grew from 1.2 billion to 1.75 billion per month showing a massive increase of 46%.
Newzoo predicted that in 2020, the number of mobile gamers will shoot up at 2.6 billion of which 38% will pay for the games and the prediction stood true majorly.
In the second quarter of 2020, the consumers spent over $19 billion on mobile phone games which in itself was a record according to App Annie.
25% of iOS and 21% of Android apps downloaded are games globally.
Revenue of Google play store continues to increase at a bigger level compared to the revenue of the iOS app store which is 19.6% to 13.2%
By the end of 2022, there is a prediction that games on Android will be responsible for 56% of all mobile game revenue.
The Mobile Gaming Market
According to the data suggested by App Annie, casual games are becoming one of the fastest-growing genres within the mobile games leading the global download growth rankings. Every year the growth in downloads is increasing by 45% as suggested by the data in H1 2020. There are enormous challenging career opportunities offered by the gaming industry.
Within the casual game genre, the market alone is worth over $2 billion and has brought into the ecosystem more than 100 million new mobile phone gamers. This figure is huge and valid proof of the craze of mobile phone games among the global audience.
As far as the marketers are concerned, the cost in 2020 to acquire a player dropped to $1.47 which amounts to a figure of 66% decrease from 2019. Having said that, it is costlier to acquire a paying user than in 2019, which amounts to $43.88 cost marks a 24% increase. This trend suggested that there will be more user-oriented monetizing via ads.
In the North American region, the retention rates from day 1 to day 30 are the highest which beats the global retention benchmark by 1 to 2% across the curve. Social casino curve and that too genre-wise has the strongest retention curve with almost 3x the retention of Midcore and hyper-casual and 2x the D30 retention than Hardcore.
Game development process to know before hiring Mobile Game Developers
Ideation:
This is the stage where the core team brainstorms ideas for the game. These could be inspired by other games, movies, or even real-life events.
Design:
Once an idea is chosen, the designers create a prototype of the game. This helps the team visualize how the game will look and play.
Development:
The development stage is where the game is actually created. This includes coding, graphics, and sound design.
Testing:
Before the game is released, it must go through rigorous testing. This helps to ensure that there are no bugs or glitches in the game.
Release:
Once the game is deemed ready, it is released to the public.
Marketing:
In order for people to know about the game, it must be marketed. This can be done through online ads, social media, or even word of mouth.
The game development process can vary depending on the type of game being created. For example, simple games might only require a few months to develop, while more complex games could take years.
When hiring a mobile game developer, it's important to consider the size and scope of your project. If you have a large and complex game in mind, it's likely that you'll need to hire an experienced team. However, if you're looking to create a simple game, a freelancer or smaller development studio might be a better option.
No matter what type of game you're looking to create, there are a few key things to keep in mind when hiring a mobile game developer. First, be sure to communicate your vision clearly. It's also important to get a detailed quote and understand the development process. Finally, make sure you provide clear instructions and feedback throughout the development process. By following these tips, you can be sure to find the right developer for your project and end up with a great game.
How much does it Cost to hire mobile game developers
The cost of hiring mobile game developers can vary depending on the size and scope of your project. For small and simple games, you might be able to find a freelancer or small development studio that charges hourly rates. For larger and more complex games, you'll likely need to hire an experienced team that could charge by the project or by the hour.
In general, the cost of hiring mobile game developers will depend on the size and scope of your project, as well as the experience of the team. If you're looking to create a large and complex game, you can expect to pay more than if you're looking to create a simple game.
| Designation | USA | UK | Germany | India |
| --- | --- | --- | --- | --- |
| Game Project Manager | $90-$110 | $80-$100 | $55-$65 | $25-$50 |
| Jr. Mobile Game Developer | $50-$70 | $45-$60 | $40-$50 | $20-$40 |
| Sr. Mobile Game Developer | $75-$105 | $70-$95 | $65-$80 | $35-$60 |
| Lead Mobile Game Developer | $90-$115 | $80-$100 | $70-$90 | $35-$65 |
| Junior Game QA | $45-$60 | $40-$55 | $35-$45 | $15-$25 |
| Mid-level Game QA | $60-$75 | $50-$70 | $45-$55 | $25-$35 |
| Senior Game QA | $75-$90 | $65-$80 | $50-$65 | $30-$45 |
Various Mobile Game app Development Platforms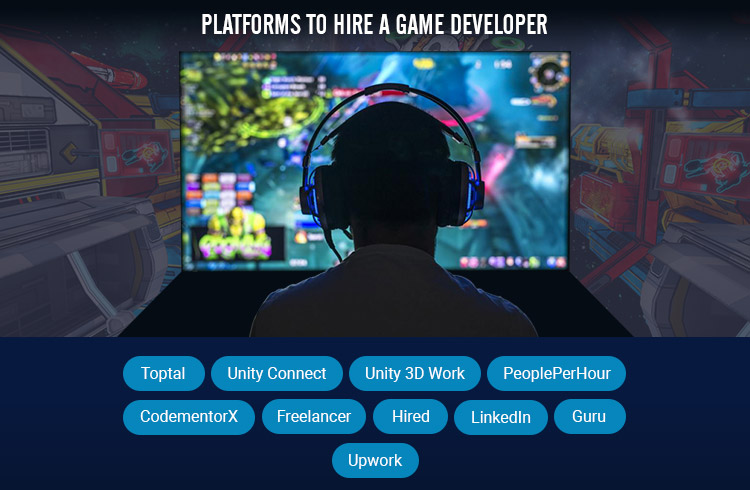 Earlier, it was quite a challenging task to hire to find a game developer. However, thanks to online portals and various communities that have made it accessible to find the game developers in this technologically driven scenario. But finding a suitable game developer can prove to be a tricky task as there are a lot of newbies in the market and it is very easy to deceive with a little touch-up. Therefore, you need to be very specific and alert while finding the right developer to do your job.
When we talk about game development, the Asian market, especially the Indian market is turning out to be a promising hub for this domain. Indian market is enriched with talented and experienced mobile game developers who are well versed in their field of developing gaming apps. So when we compare India to other countries, we find that Indian game developers are much more experienced as well as affordable. This is the main reason why many agencies prefer to outsource game developers from India.
A professional game developer has mastered the art of building game applications for smartphones with iOS, Windows, or Android operating system and use various methods, equipment, and platforms including game engines for creating a unique game application. Further, the game developers are well versed in the understanding of all the concerned resources, equipment and patterns needed for various mobile platforms.
Here are the Top 10 Online Portals Where You Can Hire Game Developers/Freelancers:
Toptal
Unity Connect
Upwork
Hired
PeoplePerHour
CodementorX
Freelancer
Unity 3D Work
Guru
LinkedIn
If you don't want to go with the freelance option as you are not sure about the genuineness or the credibility of the developer, you can go with a fully-fledged and experienced game development company like The NineHertz. The Ninehertz is an Indian technology company working in the game development sector for the past decade and proving its credibility from time to time with thousands of successfully delivered projects to clients worldwide.
Also Read: Why Hire Unity Game Development Company?
How to Pick an Expert Mobile Game Developing Company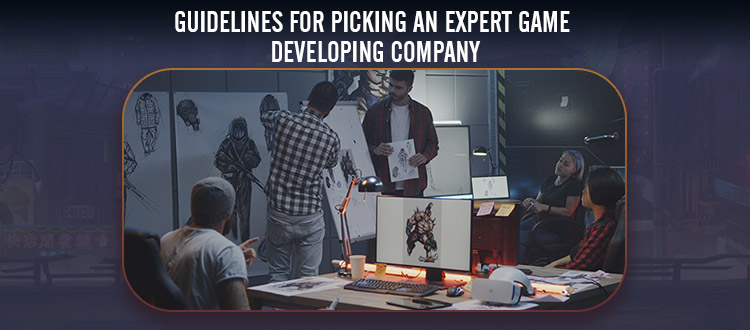 Before deep-diving into the guidelines, let us understand the pre-requisite to hire a game developer. Before hiring a game developer you need to create a game design document which is explained below:
Game Design Document
Before hiring a game developer it is recommended to have a planned outline concerning the game level of your desired game application that you expect. It is recommended for you to prepare a game design document containing all the relevant details concerning the structure of the game such as app complexity, game quality, and budget. However, all these can alter depending upon the requirement.
Now here are the guidelines for choosing or hiring an expert game developing company:
The company should possess the expertise to produce various types of gaming applications with consistency.
The company should be able to create a digital presence.
The prices should be pocket-friendly.
The services must be top-notch and quality assured.
The customer service must be reliable and on time.
The company should be efficient enough to complete and deliver projects on time.
The company must involve the clients in the process of app development.
Hence, these were the hiring options and the prerequisites to hire a game developer. As far as the payment of a game developer is concerned, it depends upon multiple factors including game genre, platform, game type, game engine, region, and many more. So if you are looking for a definite answer then it might not be your cup of tea as the process depends upon a lot of factors that are needed to be taken into consideration.
But one thing is for sure that the game development companies are much better than the individual freelancers as they have a proper team and the resources to execute your project in the right direction and within the deadline.
In the gaming industry, the Mobile game development cost solely depends upon the standards of the industry. However, the same also depends upon the individual skillset. Say for example, in case you are a fresher in the industry, you will be provided with a standard salary as per the company norms. After getting significant experience, you can do wonders and get a tremendous leap in your professional career. Talking in numbers, generally, iOS game developer's standard cost is greater than Android game developers. Generally, the hourly cost to hire a game app developer is between $20 to $30 depending upon the project's specification and complexity. The same may vary depending upon the policies of the employment.
Determination of cost structure of Mobile Game Development
In the last few years, the extraordinary growth of mobile gaming applications has made customers question the mobile gaming development cost. Generally, the game developers charge $20 to $30 on an hourly basis. This implies that if a game developer is spending 30 hours to develop a game, then the cost of mobile game development will amount to 30 Hours * $20 = $600, approximately.
Technologies Involved in Mobile Game Development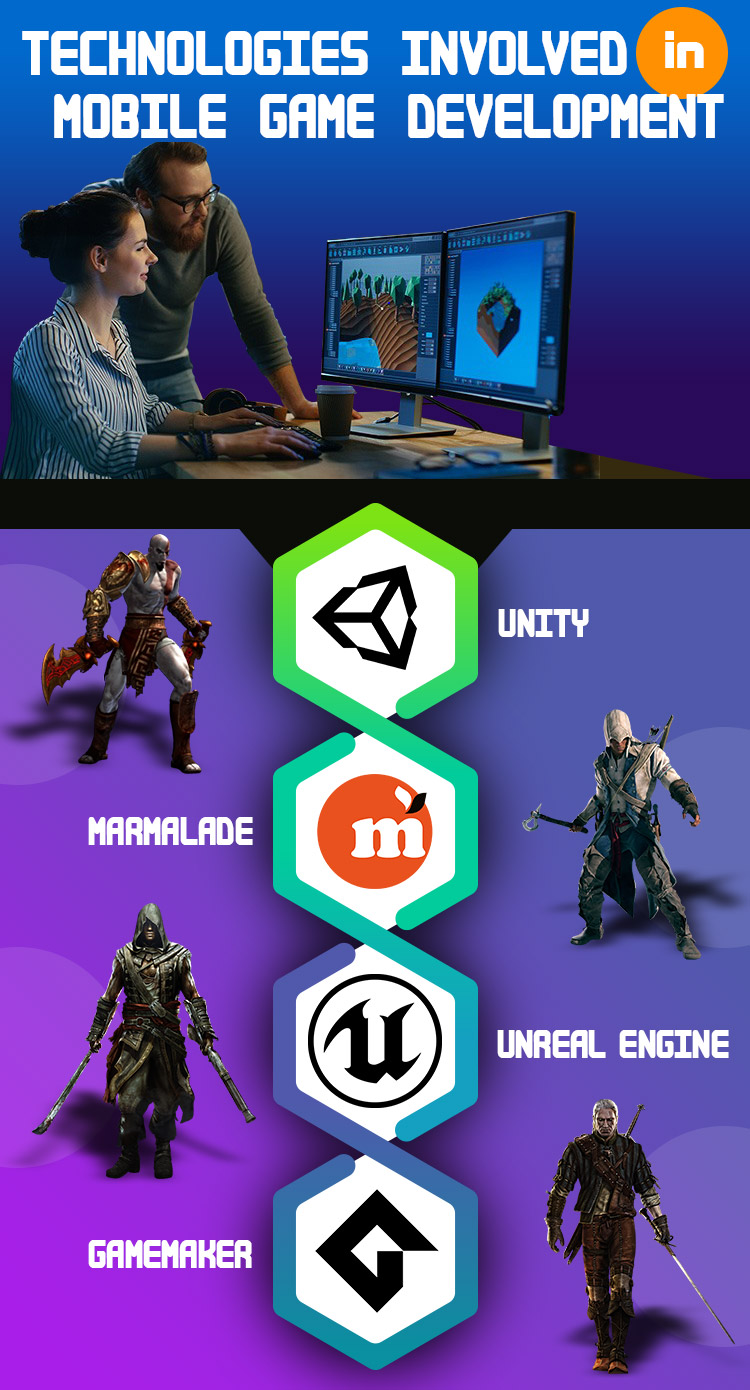 Here we are going to talk about the technologies prevailing in the mobile gaming market. Efficient tools and frameworks are required to build a high-quality mobile game. Although there are plenty of game engines and technologies that but here we will be discussing the most popular ones. You might also like to know about mobile game development tools. Hence, please read the rest of the blog to get complete knowledge:
Unity
Unity is a cross-platform game engine created by Unity Technologies. It was first introduced and released at a conference helped by Apple called Worldwide Developers Conference in the year June 2005 as a Mac OS X – Exclusive game engine. In the current scenario, the engine has been extended to support more than 25 platforms. The engine is capable enough to create two dimensional, three dimensional, augmented reality and virtual reality games and many more. The industries apart from gaming also have adopted this technology due to its superb features. The various industries are namely, automotive, film, construction, engineering, and architecture. The engine has released several of its version with the latest 2020.2.2 version released in January 2021.
Marmalade
It is one of the leading game development platforms and a powerful SDK. If you want to make a mark in the industry with powerful performance then you must avail the tools of Marmalade that contain porting processes. Developers can create games free of cost there. They can use the SDK to perform the coding in the C++ language. IT supports hybrid apps using technologies like JavaScript, HTML5, and CSS. You can use Marmalade Quick to develop applications using Lua. Marmalade helps in simplifying the process of porting games and applications to Android and iOS. You can visit its website for further information.
Also Read: Top 9 Advantages of Unity 3D Game Development – Developer and User Aspects
Unreal Engine
Created by Epic Gems, Unreal Engine was launched in the year 1998. The developers trust this engine as an old but reliable engine for mobile and PC games. Unreal Engine is like a complete package for anyone working with real-time technology. From cinematic experiences and design visualizations to premium-quality games across console, PC, VR, AR, and Mobile Phone Devices, the unreal engine provides you with everything you need to kick start your game development process. You can stand out from the crowd by using this technology.
Game Maker
Game Maker is like a series of cross-platform game engines introduced and created by Mark Overmars in the year 1999 and the development part of the engine was performed by YoYo games since 2007. As far as the functionality of the engine is concerned, it has a drag-and-drop visual programming language feature that helps in accommodating the creation of cross-platform and multi-genre video games known as the GameMaker language. This language is very useful in developing more advanced games that could not be formulated just by making use of the drag and drop feature.

Conclusion
In the end, let us conclude by saying that the gaming industry is one of the most dynamic industries in the world and still growing. It has surpassed the music and movie segment in the entertainment industry. As the world is going digital there are enormous opportunities for both developers and business enterprises or startups. Globalization has opened up the horizons for everybody and now more and more people are entering the gaming segment. If you are also looking for a reliable company to develop your dream game that can make millions of dollars for your company then you can contact The Ninehertz which is a well-known company in this segment. Feel free to contact us and kick-start your project.