The creation of Matt Mullenweg and Mike Little, WordPress rolled out in 2003. Ever since then, the WordPress Development platform has come a long way and turned out to be a powerful software in the web development industry.
Written below facts and statistics also proves its worldwide popularity, let's have a look.
WordPress-Content Management System powers almost 34% of all the websites on the internet.
WordPress enjoys a market share of 60.8% in the CMS market.
14.7% of the world's top websites are developed using WordPress CMS.
Every day constructed websites count using WordPress surpasses over 500 as compared to 60-80 sites built using platforms like Shopify and Squarespace.
There are more than 55,000 plugins in the WordPress Plugin Directory.
In my opinion, these facts are more than enough to make you decide to choose WordPress over other web development platforms for your next web development project. Now the question arises, how much does it cost to build a WordPress website in 2020. In this article, we are going to explain the factors which are responsible for estimating the cost of WordPress web development. Also, a fair consultation with the hired WordPress Developer or the WordPress Development Company will provide a clear insight into WordPress development cost considering your requirements.
How Much Does WordPress Development Cost?
Starting with the basic information, WordPress is free to use a Content Management System. You can easily download it and use it according to your need. Besides being technically free, you won't be able to live a website without spending over at some of the six facts which are considered to estimate the cost of WordPress web development likewise hosting fees, domain name costs, premium themes, and plugins.
Domain Name Cost($12/Year) for WordPress Website
Well, with several website builders owning a domain name remains part of their paid plans but with WordPress.org you need to purchase one from a domain registrar like Domain.com.
While purchasing a domain name one thing you should keep in mind that the domain name should be short, memorable, and demonstrate your business or website name.
In the domain names suggestion list you will find most domain names available at a reasonable price of $11.99/month. Yet the ones which are most sought after will cost you premium around thousands or even in millions.
The most popular and highly preferable domain name extension among others is '.com'.
Note: If you are looking to purchase a premium or highly preferred domain name, it will cost you around thousands as its initial price. Because there are investors who already have purchased those premium domain names in lieu of earning more profit with their resale in the market. In the later years, the domain name price renews based on standard pricing of $10-15/year.
Hosting Cost ($3.95-$34.95/month)for WordPress Site Development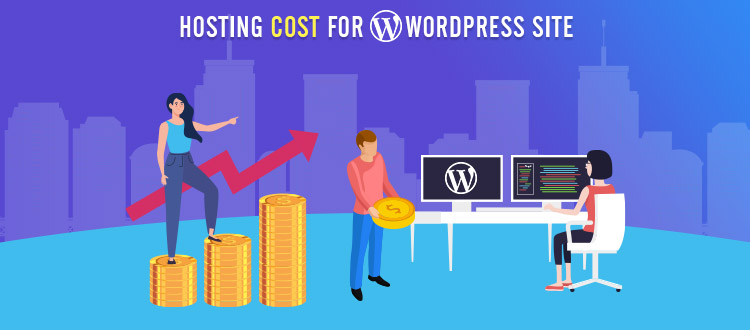 Hosting is basically reserving a little bit of internet space for your website. Without hosting you can't think of a website.
While setting up a website, you can avoid the cost of purchasing a domain name as mentioned above that several website builders provide it as a part of their paid plans. But buying hosting is an unavoidable costing factor in website development.
Note: Available website builders in the market offer hosting and domain name purchasing aid as a bundle in just the payment of a small monthly fee.
If you are looking for a website hosting for your WordPress website, the most recommended and always ranks top in search of WordPress hosting is Bluehost. Even WordPress recommends Bluehost for its WordPress websites.
In the big scenario of WordPress website development, the hosting costs very little as compared to others. Have a look at different types of hostings from Bluehost and their monthly pricing.
| Hosting type | Bluehost prices/month |
| --- | --- |
| Shared hosting | $2.95-$13.95 |
| VPS hosting | $18.99-$59.99 |
| Dedicated hosting | $79.99-$119.99 |
Note: The prices mentioned here get updated from time to time. So we recommend checking the cost once on the Bluehost website for up-to-date rates.
You can choose any of the above-mentioned hosting types based on the traffic on your website. As if you have a newly developed small website, buying a shared hosting plan is the appropriate one. It is the cheapest and starts at a monthly cost of just $3.95.
Otherwise, you can opt for the more flexible VPS or cloud hosting in case of traffic on the website started growing. Bluehost's VPS plan is capable of handling that surge in website traffic and costs you around $18.99/month only.
The websites which witness traffic more than a thousand visitors a month, moving to a dedicated hosting plan is an ideal choice. It provides you with a dedicated server that grants an overall control over all the resources. The price for dedicated hosting starts at $79.99/month. But before opting for this plan it should be considered that a huge amount of traffic is hitting your website.
Also Read: A Brief Guide to Becoming a Pro WordPress Developer
Pre-Made Themes ($0-$200: one-off cost)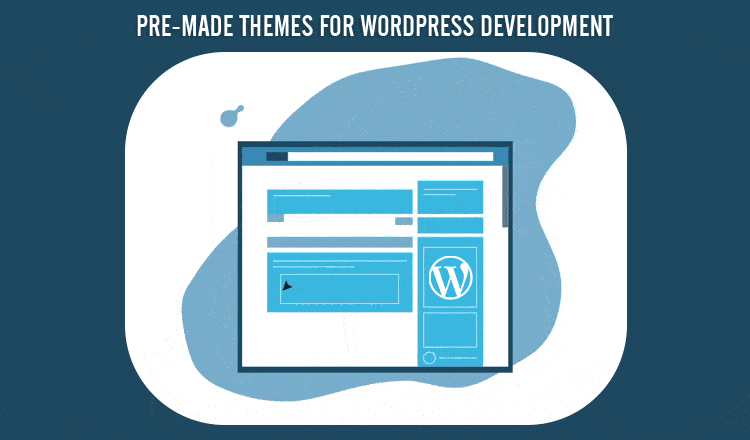 After considering the cost for boring admin sections, it's time to move on to something more fun and interesting-themes.
An appealing theme is the heart of a website which contributes a lot to improve user engagement and retention. Well, WordPress offers a whole lot of themes in its library, free to use. The only thing you have to do is take a demo and click on the install button. These are developers created themes that are certified from a theme review team. Not even this, user ratings there, ensure their authenticity and in use record.
Other than the free themes, customers have an option of paid themes as well from third party sites like Themeforest. The benefit of investing in paid themes is your websites will stand in a bunch of other websites. Also, once you make a one-time payment for the theme you are free to use it for different websites as free.
In the market, you will get to see themes ranging from $2 to $200. Thus, the average cost for the theme will be around $55.
Opinion: Don't forget to read user reviews before choosing a theme considering its less pricing and design language. Since it will hurt you only when an update will roll around and your theme won't get updated accordingly and results in site break.
Also, there is no problem, if your theme doesn't get all the features you required. There is the facility of adding those features through plugins and making your website feature-rich.
WordPress Plugins ($0-$1000: someone off-charge, some ongoing)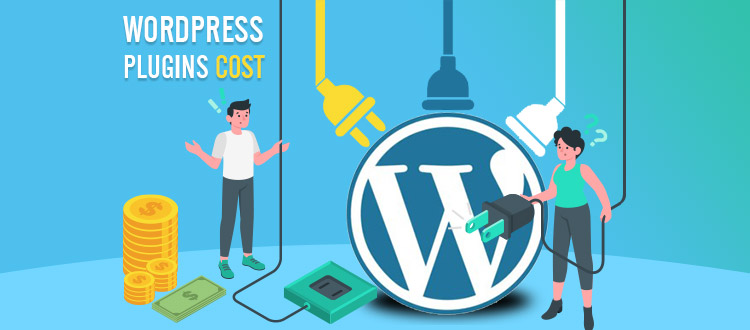 As mentioned above, if you find your website any less in terms of features, plugins are the way to add required functionality. It's like downloading apps for your phone or laptop.
You can choose from a large number of free or premium plugins according to your requirement. For a simple project like a blog, you will end up spending little or nothing but if you want something more complex then start stacking up the amount for each functionality.
Some favorite and widely used plugins:
Yoast SEO Plugin for WordPress
Yoast SEO is a tool for Search Engine Optimization of your website which helps in ranking your website high. It is available in both free and paid versions. The starting price for its paid version is $69 (one-off cost)
MonsterInsights Plugin for WordPress
This tool is also available in both a free or premium version. The pricing for its premium version starts at $99.50 and goes up to $399.50 every year. It supports analytics and takes it to the next level.
MailChimp Plugin for WordPress
MailChimp is the best option for email marketing as its main purpose is to send mails effortlessly. Added to any website, this plugin performs the duty of capturing addresses and sending out emails to them.
Note: According to the reports, the reason behind 60% of the hacked websites is a cheap or free plugin. So prefer to consider a reliable and well-reviewed one over a free or cheap option as it will benefit you in the long term. You can know here about essential WordPress plugins must for business websites.
How Much it Cost for WordPress Security? ($50-$550: one-off cost, $50+/year ongoing)
Although security is one of the most important factors that need to be paid attention to, still it is the most avoided since WordPress software itself comes featured with some pretty robust security measures.
The core WordPress software featured with themes and plugins requires regular updates. With such software, it is impossible to install the available update as early as possible. That is why old software is highly prone to be attacked by hackers and viruses.
To handle such situations, the best option is to choose a WordPress service provider that offers the facility of automatic updates and backups as standard. Like Bluehost.
SSL Certificate Cost
An SSL Certificate a.k.a 'Secure Sockets Layer' is essential for a secure website. It is a standard technology that offers a secure internet connection to your website along with important padlocks in the search bar for your website. SSL is the part behind the 's' in the 'https'.
SSL Certificates are part of plans with Website builders but in case you choose for a CMS system, you have to arrange one for yourself.
In terms of cost, a basic SSL costs around $50 per year but it can go up to $600 or more for the high tech SSL options.
There are several hosting providers like Bluehost in the market which offer an SSL certificate for free with a number of their WordPress hosting plans.
Best Plugins for WordPress Security
Well, the WordPress in itself offers a host of built-in security measures though for improved security you can opt for plugins that offer an extra yet valuable layer of protection.
The most favorite and widely used plugins for security include:
UpdraftPlus: This security plugin is available in both a free and premium version. Its premium version costs from $70 and goes up to $195 as a one-time payment. It is used for backups and restores of website data.
Sucuri: Sucuri plugin is used for advanced protection and hack fixing. Its pricing ranges between $199.9-$499.9 as one-off costs.
Also Read: Benefits of Choosing Magento eCommerce Development Platform for Online Store
WordPress Developer Fees ($0-$1000: one-off charge)
Besides all, you can hire a WordPress developer for your website considering the following reasons
You're short on time
You have a specific website design in your mind and want to add advanced features and functionalities that require custom coding.
You are not confident developing a website through WordPress software tool on its own
Now the question arises how would you estimate the cost for hiring a WordPress developer. It depends on the kind of website you want. If you like to have a simple website with basic features, you need to spend an amount ranging from $100-$200 for the developer you are going to hire.
Else for a website with complex functionality, you could end up spending over $1000 for hiring a WordPress developer. Here complexity can be understood as the number of functionalities like you want to develop a website for a gym. Wherein you want a login feature for the gym members, payment option for memberships, and booking option for classes with scheduling aids. This is how extra functions increase the cost for developers able to provide you with all the mentioned functionalities.

Conclusion:
So these are the most probable cost deciding factors you will face while developing a website using WordPress.org. Going through the article, you have also understood that it is not easy to tell the exact figures of how much it will cost to develop a WordPress website. But the associatory base cost for every key factor is mentioned here. Considering those figures with a slight cross-check with the WordPress Web Development Company and hire WordPress developers. You can estimate the cost and budget accordingly.