Popular music apps like Soundcloud have completely changed the way people consume music. While given more options to music lovers, the music streaming apps have also created new revenue sources for music creators especially independent and lesser-known artists. 3 big artists who worked on music streaming app development and started  SoundCloud are Post Malone, Don Monique, and Kygo.
Gone are the days of slow downloads and limited memory spaces. Technology has got smarter now, making real-time music streaming a reality. Music apps like Soundcloud are giving more power to both ends of the music industry i.e the creators and the consumers.
Independent artists can now create and distribute audio files instantly to the online audience. Fair to say that creating an app has been instrumental in creating a level playing field for creators while simultaneously offering more choice and flexibility to end consumers.
Since you are here, we are sure you also want to know how to create an app like SoundCloud. Well, let's put it straight it is not going to be a cakewalk. But with the right roadmap, the right team, and the right revenue model you can create a successful streaming app. Keep reading to know more:
What is Soundcloud App?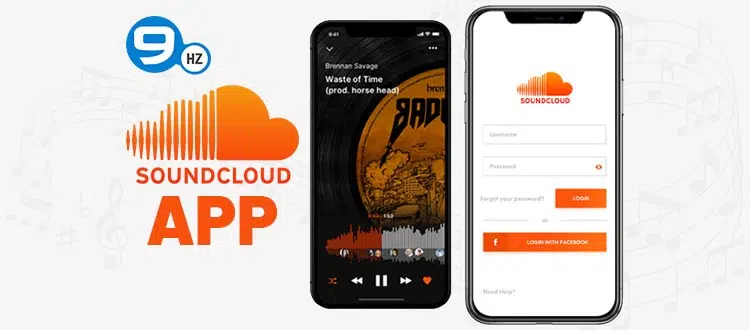 Soundcloud is a popular audio delivery and distribution platform that runs on the cloud. In more simple terms, SoundCloud is the modern-day audio-sharing social networking platform where one can upload and share audio content.
But what works in SoundCloud's favor is its underlying technology that has enabled a new era in music accessibility and consumption. It has redefined how music is consumed in the 21st century.
No more downloads, No more storage issues, No more piracy issues.
With music apps like SoundCloud, you can just tap and listen to the songs whenever and wherever you want!.
Music Streaming App Development Market Stats
Numbers can tell their own stories. If you look at the stats of the music streaming app development industry, the numbers project more growth and opportunities not just for the current players but also for the new and upcoming ones.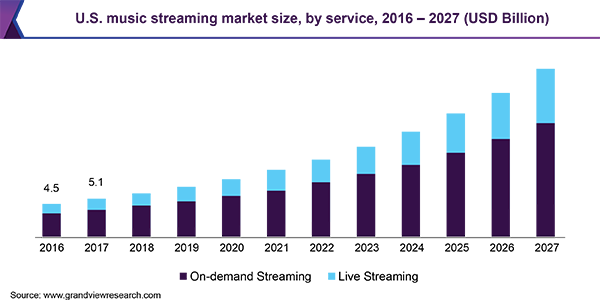 304.9 million music subscribers globally (as of 2019)
USD 7.47 billion– the expected growth of the music streaming market during 2020-2024(19% CAGR)
COVID-19 is expected to have a neutral impact on music streaming service growth
In 2020, about 83 percent of U.S. music revenue was from subscription-based and ad-supported music streaming services(up from only 7 percent in 2010)
What are the Types of Music Streaming Apps?
We can classify music streaming apps into two categories:
Radio stations: Play songs based on personal preferences and not on-demand. The best examples of such apps are Pandora and iHeartRadio.
On-demand streaming services: You can create a custom playlist and listen to songs on demand. Spotify, Apple Music, and Tidal are popular on-demand streaming services.
What is the Business Model of Soundcloud App?[Free + Paid Plans]
Here's a brief overview of the different monetization models music app developers can use after your music app development.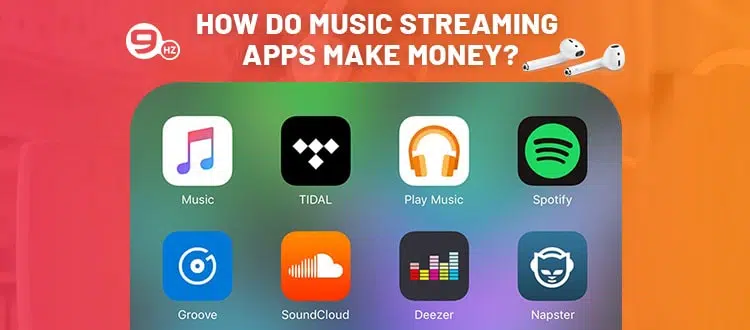 Revenue Model For Listeners
There are multiple ways to cater to the needs of different categories of listeners and generate a consistent flow of high revenue.
Paid Subscriptions:
Paid subscriptions can also have multiple sub-categories such as Basic, Premium, and Plus.
Basic is a free subscription which means users have access to limited app features and content.
Premium and Plus category subscriptions allow users to access unlimited tracks with high-quality audio, share their plans with family members, etc. Soundcloud for instance offers a premium subscription for $6 a month and SoundCloud Pro for $12 a month.
Ads:
A large portion of the revenue for music streaming apps is from advertisements.
Ads are a perfect way to monetize freemium users. Music streaming app developers can use in-roll or mid-stream ads between music feeds of freemium users and generate revenue in the process. For those users who hate Ads, you can offer ad-free subscriptions on a monthly, quarterly, or annual basis.
Other Sources:
Music streaming apps need to keep reinventing the wheel to identify and create new revenue sources. Most popular streaming apps like Pandora, QQ, Google Play Music, and Apple Music are already doing it.
Pandora offers ticketing service Ticketfly selling concert tickets to its users.
QQ Music app lets users create Karaoke and stream it online. App users can buy and gift coins to their favorite streams.
Google Play Music and Apple Music allow freemium users to purchase particular songs or albums.
Ready To Create Your First Music App
Request A Free Quote
Revenue Model For Creators
Music streaming apps offer independent artists and music creators a wonderful platform with a huge user base.
In-App Promotion
If you have popular streaming apps like Spotify, you would have come across ads of independent artists promoting their new releases. These are paid promotions that creators pay for to use the large distribution network of popular music streaming apps.
You can also offer such a paid service by offering independent artists and creators tools to manage their ad campaigns within the app ecosystem.
Paid Artist Profiles
SoundCloud has been a pioneer in this regard. They offer three three Artist profiles – SoundCloud Basic, SoundCloud Pro, and SoundCloud Pro Unlimited. While the basics are free, the rest are paid profiles.
New artists and creators can use the paid profiles to upload tracks, schedule releases, analyze the response, etc. The total duration of tracks uploaded is ideally between 3-6 hours.
How Much Money Can You Make with App Like Soundcloud?
Soundcloud's revenue in 2016 stood at $25 million. However, at $166 million its revenue has grown by nearly 85% in 2019. However, a key factor that is driving this huge surge in revenue is the increase in the number of paid subscriptions. So this is showing how much revenue can music app developers can generate with music app development.
Paid subscriptions are a business model that is now used by many internet-based companies. The model is recurring in nature which means customers have to renew their subscriptions after a fixed interval (monthly, quarterly, annually, etc).
Users are compelled to use paid subscriptions for a better listening experience such as ad-free music in the case of music streaming apps.
Best Music Streaming Apps [Leaderboard]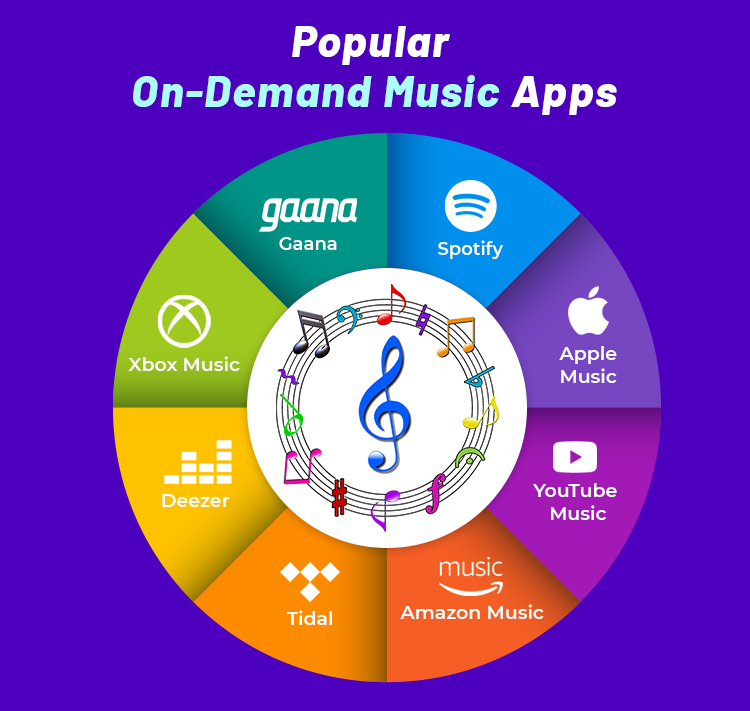 Music app Spotify is a clear leader in the music streaming segment. It currently commands over 30-35% of the market share. The revenue for 202o stood at $10.8 billion.
Apple Music, with $4.1 billion in revenue in 2020, is the nearest competitor to Spotify.
Although a fairly new entrant, Amazon music is fast closing the gap and has occupied the third spot in terms of market share and revenue. In 2020, the subscriptions for Amazon music services grew by nearly 104%. The share of revenues for the year 2020 stood at 12%.
Next in line are services like Pandora, Tencent, MeION, Sound cloud, Deezer, and others.
Soundcloud App Development: Things To Consider Beforehand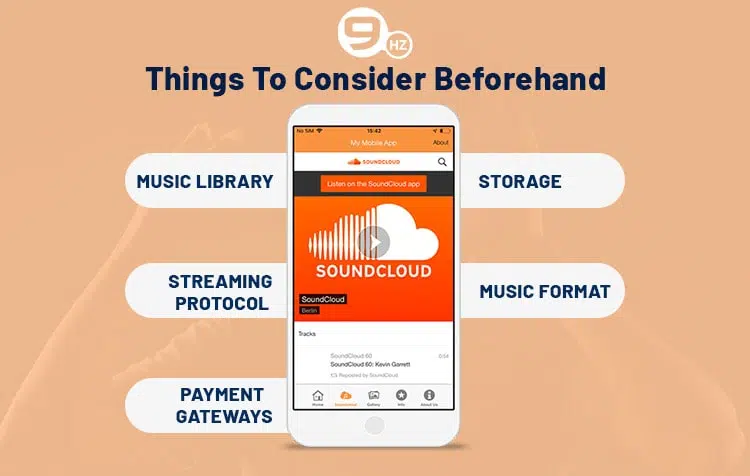 Large Music Library:
To appeal to the taste of every app user. To avoid legal issues, ensure that you have a license from music labels, artists, and media companies well in advance.
If you plan to develop an on-demand music streaming service, you will have to get written consent and sign licensing deals with music label companies, independent artists, and publishers.
As far loyalties are concerned, you can choose between one or more of the following options:
Per-stream rate
Percentage of revenue
Upfront payment for future streams
Equity
Storage:
When it comes to storing music files, you should choose only cloud hosting services. Cloud storage offers high capacity and exceptional security at lower costs. Plus, they are easy to scale. You will face no issues when your subscribers increase. Choose a cloud service with a Content Delivery Network (CDN).
The Streaming Protocol:
TCP protocol is best for streaming audio data packets to end-users. The congestion control ensures that there are no delays and the data stream is always uninterrupted.
The Music Format:
You can choose from a wide range of music formats. The most popular ones include FLAC, ALAC, Vorbis, and AAC
Payment Gateways:
Choose the payment services that your users and creators will use to avail of paid services.
Tell Us Your Flutter App Idea
We are good listner
SoundCloud Like App Development Must-Have Features
Regardless of the type of music streaming app, you decide to create, some features are necessary. These include:
1. User Profile
Onboarding plays a crucial role in ensuring that your users feel welcomes to the app ecosystem. User accounts help you collect information about your users, their preferences, and more. You can combine this information to deliver a more personalized user experience.
#Tip: Adding direct questions like favorite artists, albums, genres, etc are great additions to the login form. Further, you can use social APIS (Facebook/Instagram/Google Logins) to gain more insights into users' likes and dislikes.
2. Search
An advanced search feature is an essential element for any on-demand music streaming service. Users must be able to search for songs, podcasts, playlists, artists, and other music content.
Further, you can also add features to filter the search by mood, activity, days, weekends, remixes, etc.
3. Custom Playlists
Users should be able to create their playlist with songs and tracks from their favorite artists, albums, and more. To facilitate this, categorize music by artists, albums, mood, and other purposes such as Study, Work, Sleep, Meditate, etc. The music categories must be auto-arranged when users tap on the browse or search section.
4. Offline Availability
Allow users to download music content and listen offline.
5. Social Sharing
There is no alternative to the magic of organic promotions. Allowing users to share playlists on their social channels will not only increase app downloads but also create some more loyal customers.
6. Upload
A feature that surely will be loved by all the music creators. The Upload feature will allow independent artists and music creators to upload and distribute audio content to the app community.
Also Read: Video Conferencing App Development Like Zoom
Music App Development Advanced Features
The above are just basic features that are more or less constant in any music streaming app development. However, to create a great ecosystem of music lovers and creators, you will have to add some advanced features as well. Here's a list of some of the most important ones.
1. Recommendations
A must-have feature that will keep your users glued to the app for longer. For creating an advanced recommendation system you will need a large database and user base. However, there are still a lot of other factors that you will have to consider to build a great recommendation engine.
Particularly the algorithm, the data mining and machine learning techniques you use will more or less determine how personalized your recommendations are. Unless your solution gives users exactly what they want, there is no point in adding one to your app.
2. Lyrics Generator
There is a hidden singer in all of us. People love to sing along while listening to their favorite track. A lyrics generator will give your users one more reason to keep using your app as well as recommend it to others as well.
3. Social Media Sharing
It would be naive to not integrate social networks into your app. They allow your users to share their experiences with their online networks. Plus, it's an excellent way to promote your app organically and attract new users.
4. Push Notifications
Keep your users updated on the latest features, new deals, songs, tracks, and more with push notification features. It's also a great tool to also engage and reconnect with users who have not used the app for a while.
5. Pre-Save
Won't your users love reminders when the next track or album of their favorite artist is released? The pre-save feature lets app users never miss the chance to listen to the newest albums on the first day of release itself.
The Structure of Music App Developers Team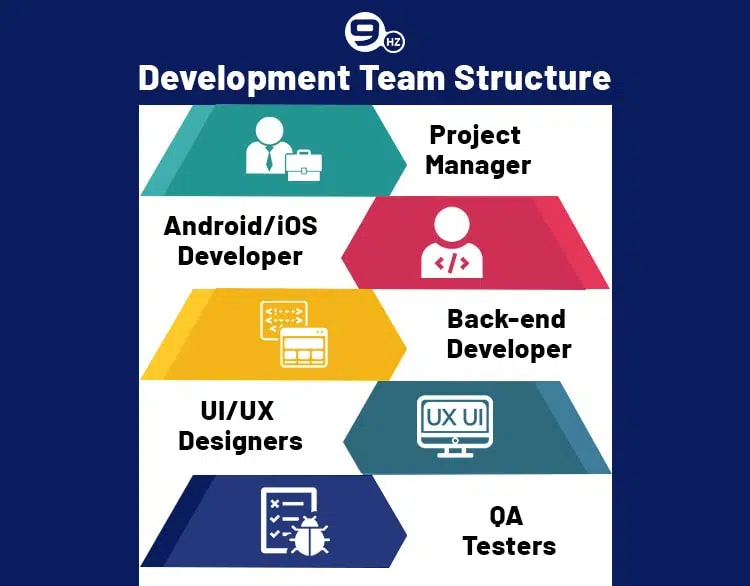 1. Project Manager
Project managers are responsible for setting the roadmap for the SoundCloud clone app development. Among their many responsibilities the primary ones include effective communication and ensuring that all teams involved work collectively in the right direction.
2. Android/iOS Developer
You can choose either to build a cross-platform app or a native app. For native apps, you will have to hire a different team of android and iOS developers. Whatever platform you choose, make sure that the music streaming app developers have ample experience.
3. Back-end Developer
The back ended developer will be responsible for server-side web application logic. Make sure that the people you hire are well informed about your goals and the solutions your desire.
4. UI/UX Designers
UI/UX designers are responsible for delivering the best user experience to your app users. Their role is extremely important from the standpoint of customer satisfaction, app retention rate, engagement, and revenue.
5. Graphic Designer
The graphic designer will handle the visual aspects of the app. Some of the key aspects of branding and product packaging such as the app layout, the logo, icons, etc are the responsibilities of the graphic designer.
6. QA Testers
Last but not least, the QA tester ensures that your app meets all quality standards and works seamlessly in a live environment. QA testers have to work in collaboration with all the teams to ensure the app has no glitches or bugs.
Factors Affecting The Cost Of Music Streaming App Development?
The music streaming app development cost will depend on multiple factors. The primary among these include: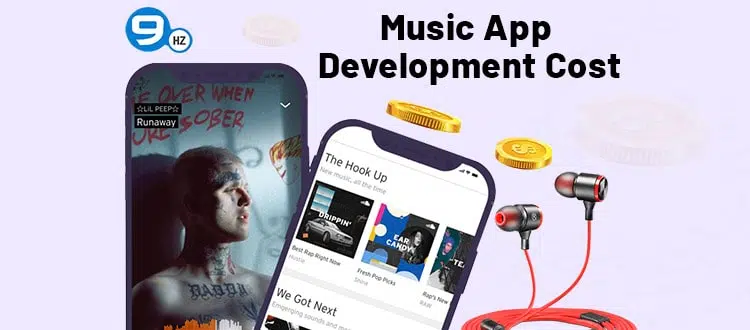 Features and Complexities
Total Development hours
Size of the music app developers team
Country or region of development
Target platform(Android, iOS, or Both)
Costs will also vary depending on the cloud services you choose, the advanced features you want in your app, and the overall technology stack for your app.
Another important consideration is in-house vs outsourcing. While the former offers you more control, the latter reduces your development time and workload significantly. Building music streaming apps like Soundcloud requires a tremendous amount of paperwork in terms of licensing and onboarding music labels, artists, etc. As such outsourcing your development needs to an experienced music app development company is one decision that will pay you rich future dividends.
Why Choose The NineHertz for App Developmet?
When it comes to outsourcing music Streaming app development companies. The NineHertz remains the first choice for startups, and big Tech alike. The NineHertz has been providing quality mobile and web solutions to their clients all around the world for over a decade now. Whether you need an MVP for early adopters or a full-scale app, The Ninehertz has the right blend of expertise and experience to deliver the exact solution you want.
If you want a platform-specific app with basic features and functionalities, the development cost of a SoundCloud clone for android would be around $10,000 – $30,000. For the iOS version, the cost would be somewhere in the same range.
If you want a cross-platform app that runs seamlessly across all devices and platforms, the development would go up to $50000.
Conclusion
Building a music streaming app like Soundcloud requires lots of market research, an ample amount of paperwork, a great roadmap, and an excellent team of developers.
Equally important is putting together the right technology stack and resources to perfectly manage the development cost for the SoundCloud clone app. Thankfully, you have all fronts covered with the Ninehertz- a preferred technology partner for entrepreneurs, startups, and enterprises from all around the globe.
With us by your side, all you have to do is focus on the business end of things while we take care of everything else. Still, confused about how to make a music app for android or iOS?
Contact the NineHertz now and get technology as well as a cost estimate for your app from our team of expert business analysts and application developers.
Hire Dedicated Music App Developers
Award-Winning App Developers
FAQs on Creating an App Like SoundCloud
Q.1 What Apps are Similar to SoundCloud?
Music streaming is a fast-growing industry. Other popular apps similar to Soundcloud include MixCloud, Play.FM, Spotify, and Podcast Addict.
All these apps have an excellent distribution network for audio content. But what makes each of them stand out is their unique revenue model. To build a successful streaming service, the business model you choose must be profitable in the long run.
Q.2 How Do I Make My Own Music Streaming App?
The music streaming industry is going to witness exponential growth over the next decade. And there is lots of room for new players. Some of the key things to keep in mind when creating your very own music app include:
Build your app around a unique idea
Identify your target audience
Keep features simple and easy to use
Connect your business model with your app's USP
Create a social media strategy for branding and promotions.
Q.3 Do I Need a Website for My Music Streaming App?
No, there is no need to build a full-scale website for your app. A simple landing page with good branding, app download links, and all essential information should serve you well. It will save you both time and money that you can invest in other key business activities.
Q.4 What is the SoundCloud Music App Written In?
The Soundcloud app is written in Ruby and Scala. However, Soundcloud has migrated to multiple platforms now which means the technology stack is also more complex. For applications and API, Sounclcoud uses Scala, with Finagle, and some Clojure (occasionally JRuby). On the infrastructure end, Go, Scala and Ruby are the programming languages.
Q.5 What's So Great About SoundCloud?
The best thing about SoundCloud is that it is insanely simple. The classic waveform player which SoundCloud created from scratch is now the standard for music streaming services. Lastly, SoundCloud is rich in stats. Creators can get a great level of insight on the tracks and use these insights to churn out music content that is more likely to be loved by the audience.