Since 2020, we have witnessed massive uncertainties in terms of people and their lifestyle due to the Covid-19 pandemic. That's the reason people from all parts of the world are recommended to maintain social distancing from one another. And due to this uncertainty people and businesses are forced to work from home.
Now every workstation demands some stability and consistency. In order to achieve that and make processes streamlined, most people have been dependent on video conferencing applications. This vacuum has been filled by video conferencing app development like Zoom. Zoom is a video chat app that helps businesses and individuals to conduct meetings online.
As per TechCrunch, the downloads of video chatting apps were over 62 million in just one week of March 2020 for both personal and business purposes. This is a clear indication of the massive popularity of such video conferencing apps among the worldwide audience. Seeing the enormous potential, if you too are planning to enter the market using your own hybrid mobile app development you have just hit the right spot.
It is a great scenario to launch such an app seeing the current market trends. Let us, deep-dive, into the topic and learn how to develop a video conferencing software similar to zoom, why you must develop such an application, and how much does it cost to build a Zoom clone app.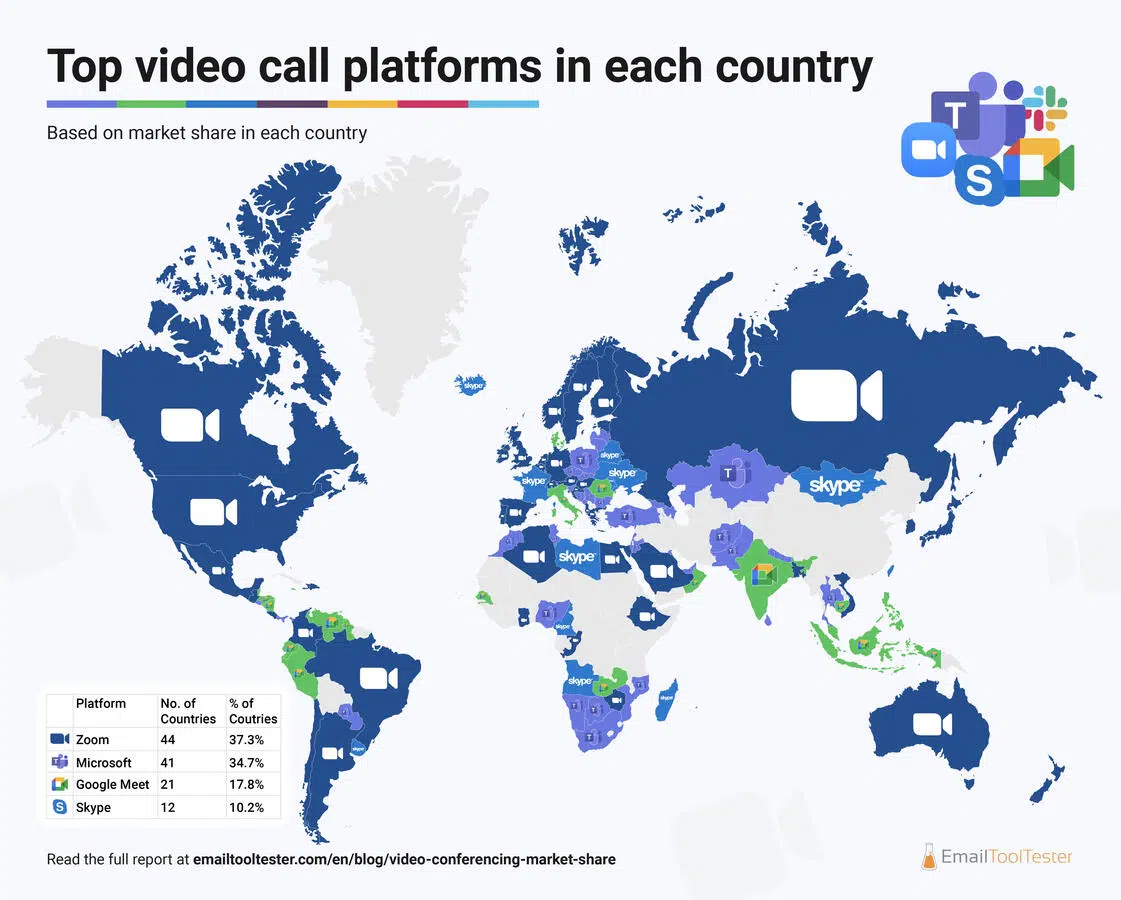 Market Stats of Video Conferencing App Like Zoom
Zoom application generated $2.6 billion revenue in the year 2020
This hike is measured at 317 percent growth from the last year.
During the pandemic, Zoom was one of the fastest-growing apps with meeting participants increasing by 2900 percent
As of December 2020, it had 470,000 business customers
The valuation of zoom exceeded $100 billion during the pandemic which measures a whopping figure of 383 percent increase on its value in January 2020.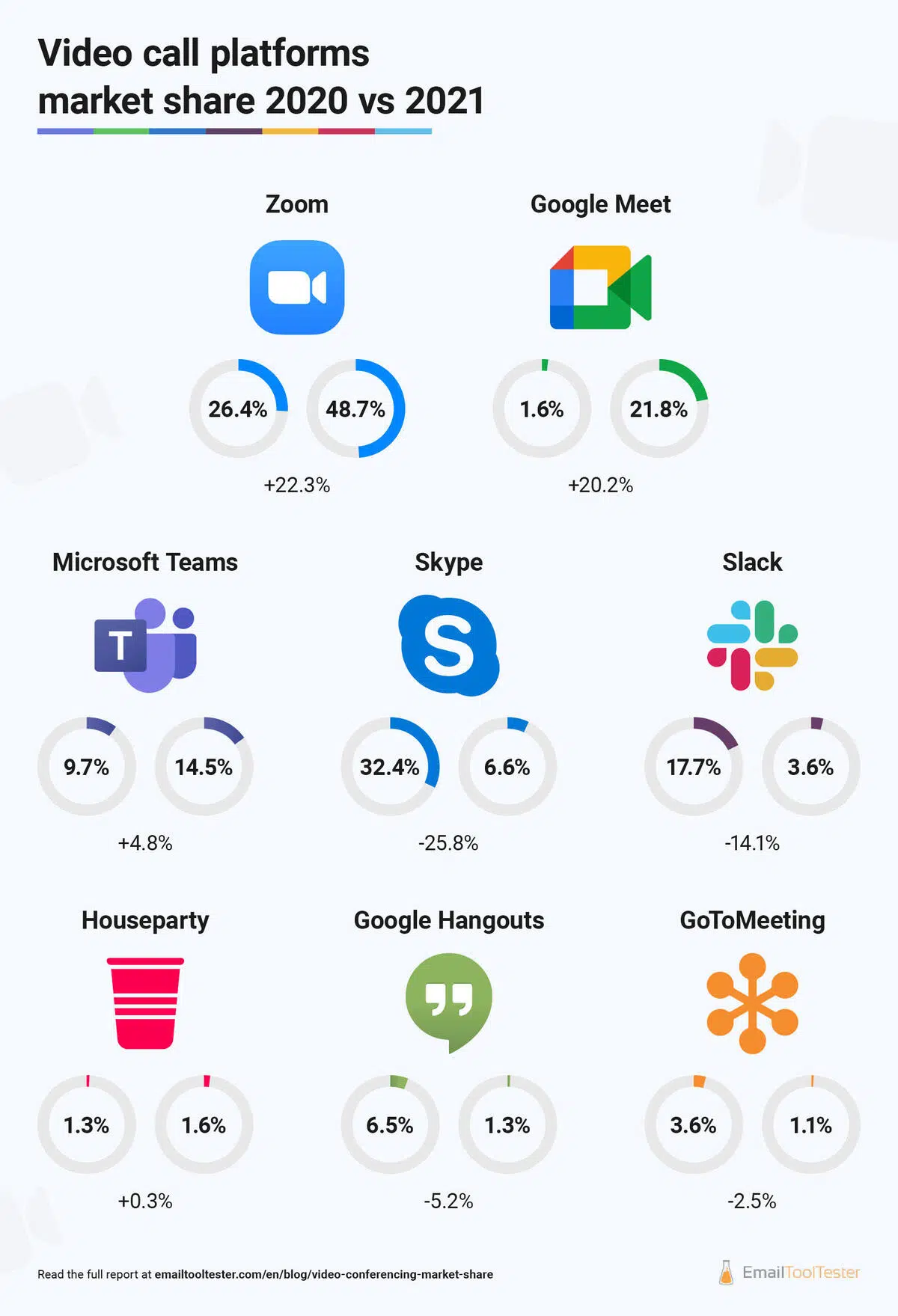 What's The Importance of Video Chat Apps?
Video Conferencing
Video conferences can positively impact organizational productivity. It has been observed that those employees who chose email as the medium of communication tend to work at a slow pace. With the use of multi-party video conferences, you can improve collaboration between employees in real-time.
Enterprise Platforms
With the use of collaboration tools, team efficiency can increase up to 50%. Enterprises can bring improvements in their engagement rates with the implementation of social platforms that assist one-on-one video calls.
Online Retailers
When it comes to e-commerce websites, almost all provide their customers with chat-based assistance. A video chat helper can assist in increasing the customer service quality which can positively impact sales, brand performance, and customer loyalty. A video chat app is very beneficial in resolving issues quickly and in real-time.
Want to Create a Video Conferencing Software
Our app developers and business analysts will provide you with a free project cost estimation.
Connect Now
Reasons for Video Conferencing App Development
Here are three primary reasons why custom video chat app development like Zoom is a billion-dollar idea: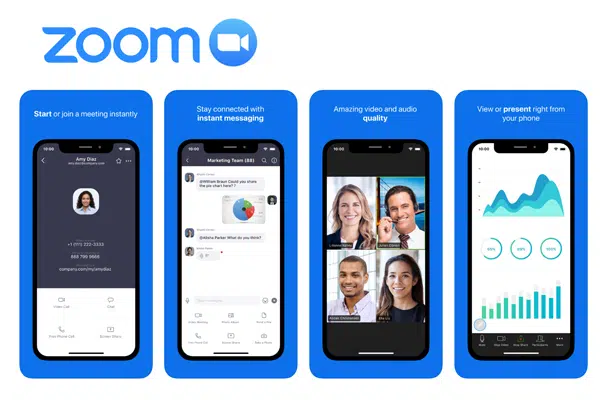 The Net Worth of The Video Conferencing Market Will Surpass $50 Billion by 2026
Money is the main driving force that compels you to create a video chat app similar to zoom, isn't it! Well, fair enough, and you can possibly achieve this only if you invest in a flourishing and healthy market. According to the global market insights, the value of the video chat app market will surpass $50 billion by 2026. As the Covind-19 pandemic has hit our lives, the social events and gatherings have come down to a very negligible level. This is the reason why the popularity of such apps has grown exponentially. In the long run, this will certainly drive the video conferencing market popularity.
Great Opportunities to Enter and Capitalize on the Market
Various sectors make use of such video conferencing apps like Zoom, say for example education industry holds more than 10% of video conferencing market shares. Since most of the educational institutes are shutting down, there are more ample amount of opportunities for such video chat apps like Zoom.
The Pandemic Has Led to An Increase in the Popularity of Such Apps
During the lockdown, technology has helped people in terms of work and staying connected to their loved ones. As per a report published by Statista, global downloads of video conferencing apps like Zoom increased by over 100% in March 2020. This indicates an exponential growth in the popularity of video chat applications and why you must think of investing in this industry.
So now, it is quite clear that investing in a video chat application like Zoom is just a mind-blowing idea. To achieve success in the market, you should know the procedure to create such an app. Let's try to understand the process in detail.
How To Develop Video Conferencing App Similar to Zoom?
Building such an app demands time, persistence, research, and smart planning. Following are the steps that you need to follow for reliable video chat app development: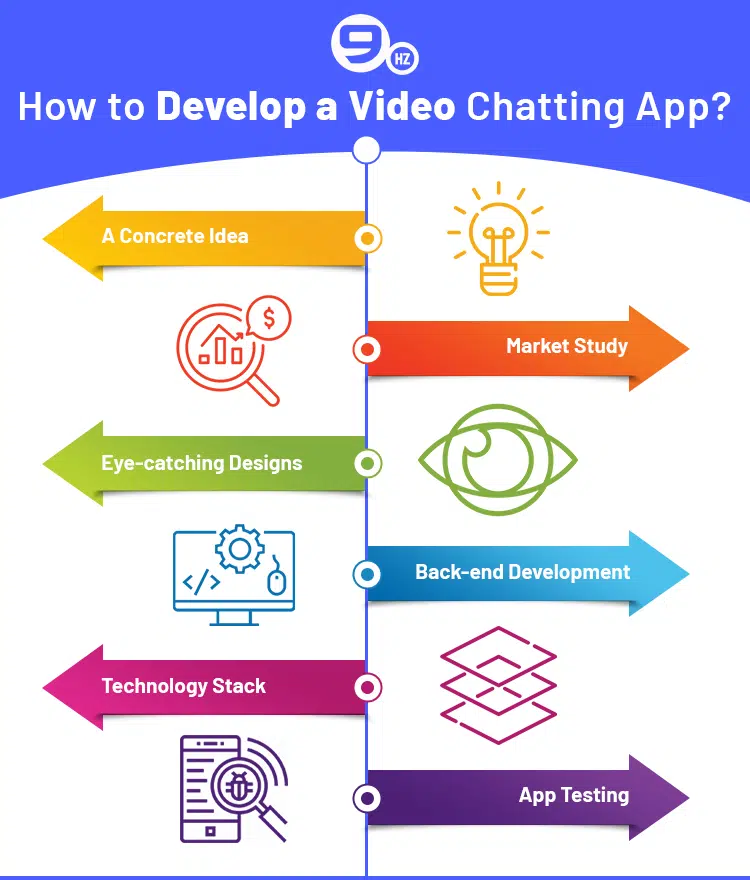 A Concrete Idea and Market Study
A complete market analysis is necessary before structuring the idea of building a video chat app. You must see the potential of your idea in terms of growth along with the study of your competitors.
You must integrate some special components into your application to make it unique. Now depending upon its uniqueness, you can target your potential customers based on its design and type.
Eye-catching Video Chat App Designs
You must set an amazing UI/UX design for your users after having a clear idea. If you want your app to become popular, you must ensure that it is enriched with attractive designs with a bright color scheme.
Also, if you want to cater to businesses through this app, use colors that are soothing and look subtle. Also, if you want to make it for a group of people, your designs must be simple and intuitive like Zoom.
Back-end Development
Back-end development forms the backbone of the mobile app development process. The web server, database, and app server come under the backend development of an app which lays the foundation of the backend depending on which you can include different functionalities in your application. Stability is very important as you would need the app to handle numerous users at a time.
Technology Stack
If you want to build an app for a single platform, you can select among so many choices, for example, Objective-C and Swift for iOS app development and Kotlin and Java for reliable Android app Development.
However, if you want to introduce a cross-platform app, you may select between React Native and Flutter. You may get help from an efficient app development company if you can't choose this.
App Testing
In the branded video chat app development, testing is a crucial procedure. Before your video chat app gets released, you should focus on testing for the purpose of eliminating the scopes of any error and potential bugs within the application.
Top Features for Video Chat App Development
Let's have a look at the most important features that you must include while making a video conferencing app: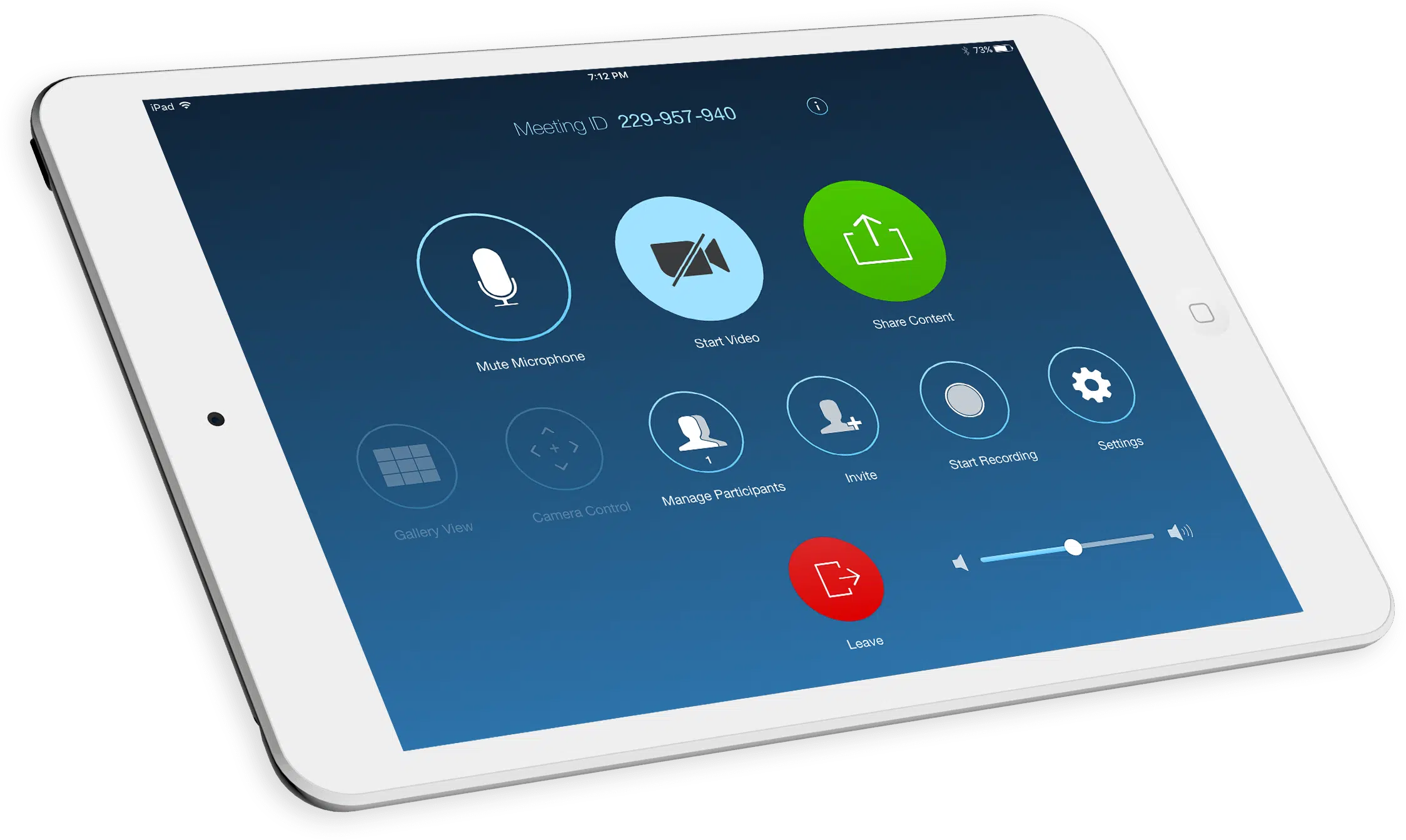 User Profile Management
As soon as a user registers in your app, he or she becomes an exceptional entity in your app's ecosystem. You can recognize the user with his profile using app appropriate data incorporating user's names and display pictures.
While creating a user profile, follow the key principles – structural streamlining, followed by keeping some data private, and lastly do not overload the screen with extra information. The app should allow users to edit their profiles in an easy manner.
Video and Voice Calls
For setting up voice and video calling features in your application, you will be requiring a Publisher-Subscriber pattern that you can derive via a technology known as WebRTC.
Make sure that all users get access to see HD videos while using your application and the sound must be crystal clear and audible on both sides.
App Onboarding
Create an app onboarding process that is simple and can attract users. This means that they should be given both the choices that either they can register in your app manually or can perform registration by using social media like Facebook.
Furthermore, the procedure of user authorization must be safe and secure so that users can utilize it without any issues regarding the safety of their accounts.
Text Chat
Your application should be such that it has the power to connect your users in order to lower the application churn rate. Text chat can be a good resort in such a situation. Third-party tools can be utilized in such a scenario as Twilio or Firebase to integrate this particular feature into your video chatting app.
End-to-End Encryption
The technology of end-to-end encryption is very useful as you can encrypt the message, the user's device and decrypt the device of the receiver. This technology is very useful to ensure the privacy and safety of the user. Also, it increases the credibility of your app by tagging it as a secure app.
Noise Block
This feature eliminates extra sounds like paper shuffling, keyboard typing, etc. By this feature, the user can recognize when somebody is talking and when no person is speaking by muting the mic.
Group Calls
Make sure that your app has the feature to conduct group calls. The uses conduct group meetings using group calls and based on your target audience you can restrict the participants you want to permit in a group call.
Push Notifications
The job of push notifications is to automatically inform all users regarding more features of your app, new messages, and calls for informing about any updates, etc. Again, in this case, third-party tools can be used like Firebase, Twilio to boost the engagement rate of your app with lesser effort.
Screen Sharing
This feature is helpful in displaying the content of a user's screen to another user. This feature is of great help especially when it comes to develop online tutoring app, streaming games, and watching movies together.
Virtual Background
This feature is intended to enhance the overall experience of video conferencing. It allows users to put up an image as the background of the video. The AI working in the app efficiently recognizes the difference between the person and the actual background and does the job accordingly.
Stickers and Emojis
Stickers and Emojis allow you to personalize your app by creating those funky Emojis and stickers to attract mass users. These express what they feel in a better manner.
In-app Purchases
This is one of the most used app monetization strategies used by video streaming apps like Netflix. Under the in-app purchases model, you can add some features in your app that users will need to pay for before using it.
Also Read: How to Develop E-Learning Mobile Game?
Which is the Best Video Conferencing Software in 2021?
We take pride in showing unbiased top 5 Video Conferencing Software on user satisfaction and reports.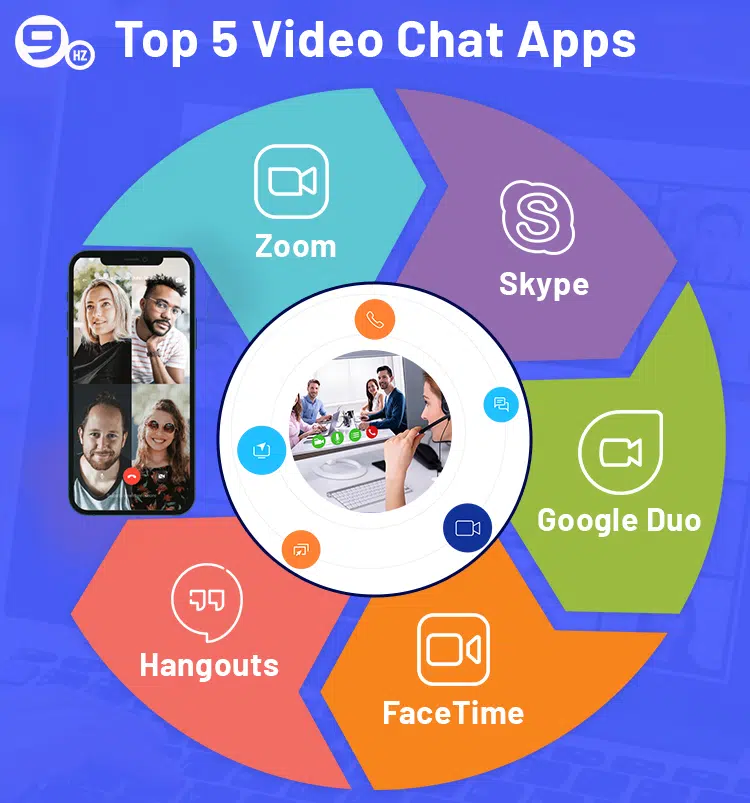 1. Zoom
One of the best video chat apps in the current scenario. The app can be used both for professional and personal use. Under the free plan, users can set up video conferences with 100 participants that can last up to 40 minutes. Under the paid plan, users can get access to large meetings where they can host up to 500 participants. This cloud-based video conferencing application is used by more than half of fortune 500 companies. Features Included:
Group messaging with text, images, and, audio, etc.
Safe driving mode
User statuses
Invitations
One-on-one meetings
Screen sharing
Group video conferences
Zoom meetings/zoom rooms
Zoom App Stats:
Rating: 4.4
Installs: 10,000,000+
Download: Android, iOS
Works on: iOS, Android, Windows, Mac, web
2. Skype
Skype is a very popular app. It's been known for connecting people across the globe for years. It is considered very reliable in terms of safety and security. Also as far as the performance is concerned, the platform doesn't disappoint at all. Video calls support up to 50 participants. Features:
International texts and calls
Video calls
Audio calls
Screen Sharing
You can send pictures, videos, text and voice messages
Compatible with multiple devices
Live transcriptions
Low calling rates to landlines and cell phones
Skype App Stats
Rating: 4.3
Installs: 1,000,000,000+
Download: iOS, Android
Works on: Android, iOS, Windows, Mac, web, Xbox
3. Google Duo
Google Duo app has been launched recently and is considered one of the best video chat apps for users using Android. On most new Android phones, Duo is pre-installed and it is convenient to use and completely free. Features:
Recording and sending of video messages
Calls across Android and iOS devices
Voice calling
Low light mode
Knock-knock feature giving a live preview of the caller
Video calls with up to 12 people
Google Duo App Stats
Rating: 4.5
Installs: 1,000,000,000+
Download: iOS, Android
Works on: Android, iOS, Windows, and Mac via web
4. FaceTime
There should be no surprise seeing FaceTime on the list of best video chat apps. This app is inbuilt in all apple devices – iPhone, iPad, and Mac. In a very less time, this app has won the hearts of millions of users worldwide and still counting. Features:
Voice calls
Video calls up to 32 people
High Definition video calls
Incoming calls on iOS devices even when FaceTime isn't running
Incoming calls on all Mac devices
Stickers, effects, and emoji
Allows integrating FaceTime calls into the recent calls list
FaceTime App Stats
Rating:3.6
Installs:10,000+
Download: iOS
Works on: iOS, Mac
5. Hangouts
Last but not least – Google Hangouts. For Android users, this app is one of the best options. The drawback is that it is not as easy to use Google Duo. It is not a regular video chat app. However, when it comes to creating a web video chat link and letting people join in on their devices namely phones, tablets, laptops, and web, this app is among the best options available. Users are also allowed to integrate video calls into the calendar without any difficulty. Features:
Video calls with up to 32 people
Synchronized chats across all devices
Up to 150 contacts
Landline calls
Google Voice account for SMS, phone calls, and voicemail integration
Animated GIFs, status messages, photos, emoji, and stickers
Remote management of the app with Google Cloud
Hangouts App Stats
Rating:4.3
Installs:1,000,000,000+
Download: iOS, Android
Works on: Android, iOS, Windows, Mac, web
Also Read: How to Develop Online Medicine Delivery App Like 1MG?
How Much Does it Cost for Cloud Meeting App Development?
There are multiple factors that determine the cost structure of a video chat app like Zoom. Factors like app complexity, the number of features, place of app development, the budget of the project, the size of the app development team, the number of hours needed to make an app, and the development platform determine what amount of cost would be needed to develop an app similar to zoom. Video conferencing app development cost depends on the type of personalized solution you wish to have. Let me give you a straight answer, based on the services and features you select for your own cloud meeting app development similar to Zoom where the dedicated mobile app developers team of works on everything from the beginning may cost you nearly $50000 or more.
You should search for an industry-leading video conferencing software development firm that has skills and mastery in building high-quality and scalable mobile and web applications for its clients.
Here is the table showcasing the country-wise rough cost estimates to create an app similar to zoom:
Although, it is just a rough estimate because the real cost depends upon several factors such as the app features, the size of your team, the team's location, and the number of hours invested to build the application.
Want to Validate Your App Idea?
Get your free consultation now.
Why Choose The NineHertz as a Video Conferencing App Development Company?
When it comes to video chat app development services, The NineHertz is a well-known name making a strong presence in the industry. It's been more than 12 years since we are delivering quality-oriented technology solutions to people all around the world.
We have a robust team of efficient developers who are well versed in crafting applications for multiple sectors including Healthcare, Media, Entertainment, E-Commerce, Real Estate, Education, Finance, Agriculture, and many more. That's the reason we claim to be the leading Video Conferencing software Development agency.
We offer top-notch mobile and web application development services at affordable prices. So what are you waiting for! Contact our professionals and kick-start your dream project.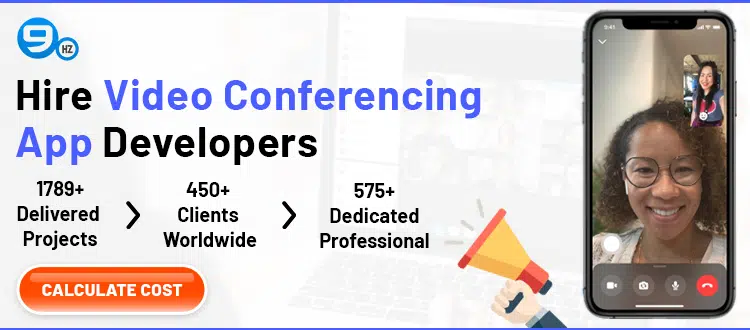 Conclusion: Zoom Clone App Development
In the current scenario, video chatting is not only a corporate need but also the need of a common individual. The Zoom application has placed itself as a benchmark in the domain of video-conferencing applications.
However, there is still a significant amount of scope that is left for the creators to create their presence by launching such an app. There are great opportunities to avail yourself by entering the market and capitalizing by launching your own application like Zoom.
So what's the point of waiting? Contact The Ninehertz and kick start your Zoom clone app development. We have a well-experienced and skilled in-house team of developers that can perform all sorts of projects. Drop us a mail or contact our consultants to get a better idea regarding the whole process.