Ludo is one game that has been relatively popular for decades. Remember the time when you used to sit with the family and play Ludo. That's the reason you can also call it the game of the family. The modern version of the game is payable on screen. Ludo King development is one of the most successful mobile game development of the decade with millions of active users worldwide.
Ludo King is gaining immense popularity and love from people all around the world. The game comes with a multiplayer cross-stage functionality that supports devices including Android, Windows, and iOS. Another spell bounding feature of this exemplary game is that it can also be played offline with local multiplayer and computers. It's quite fascinating to experience the style and overall happy-go-lucky feel of the game. You migh be interested to know how to create a mobile game.
Crispy Facts About Mobile Game App Ludo King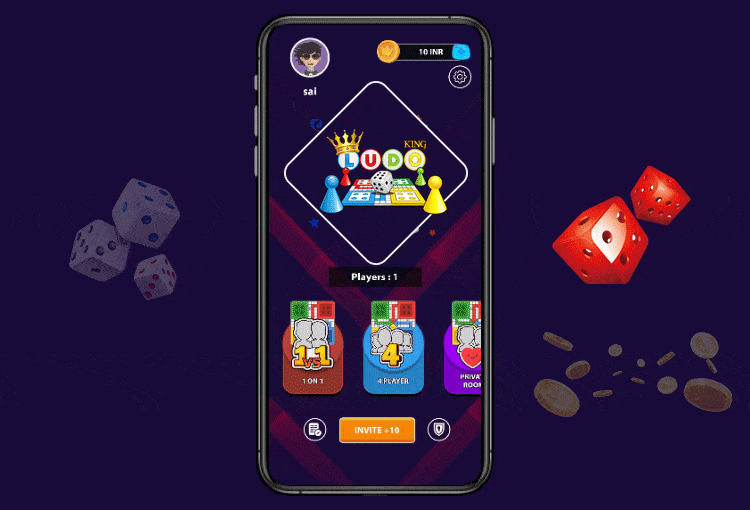 Ludo King has been a proud member of the list of top 5 widely played games in free time including games like Rummy, Teen Patti, and Poker.
In 2020, the net worth of the gaming app was around $285 million and the graph is still increasing this year
Within a very narrow time period after the launch, the application has received star ratings equivalent to 4.5
The game offers multiplayer gaming modes with impressive UI, and UX interface and design makes it such a favorite especially among family and friends.
Want to Launch Your Own Game?
Convert Your Game idea into Reality
How Much Money and Downloads Ludo King Earned WorldWide?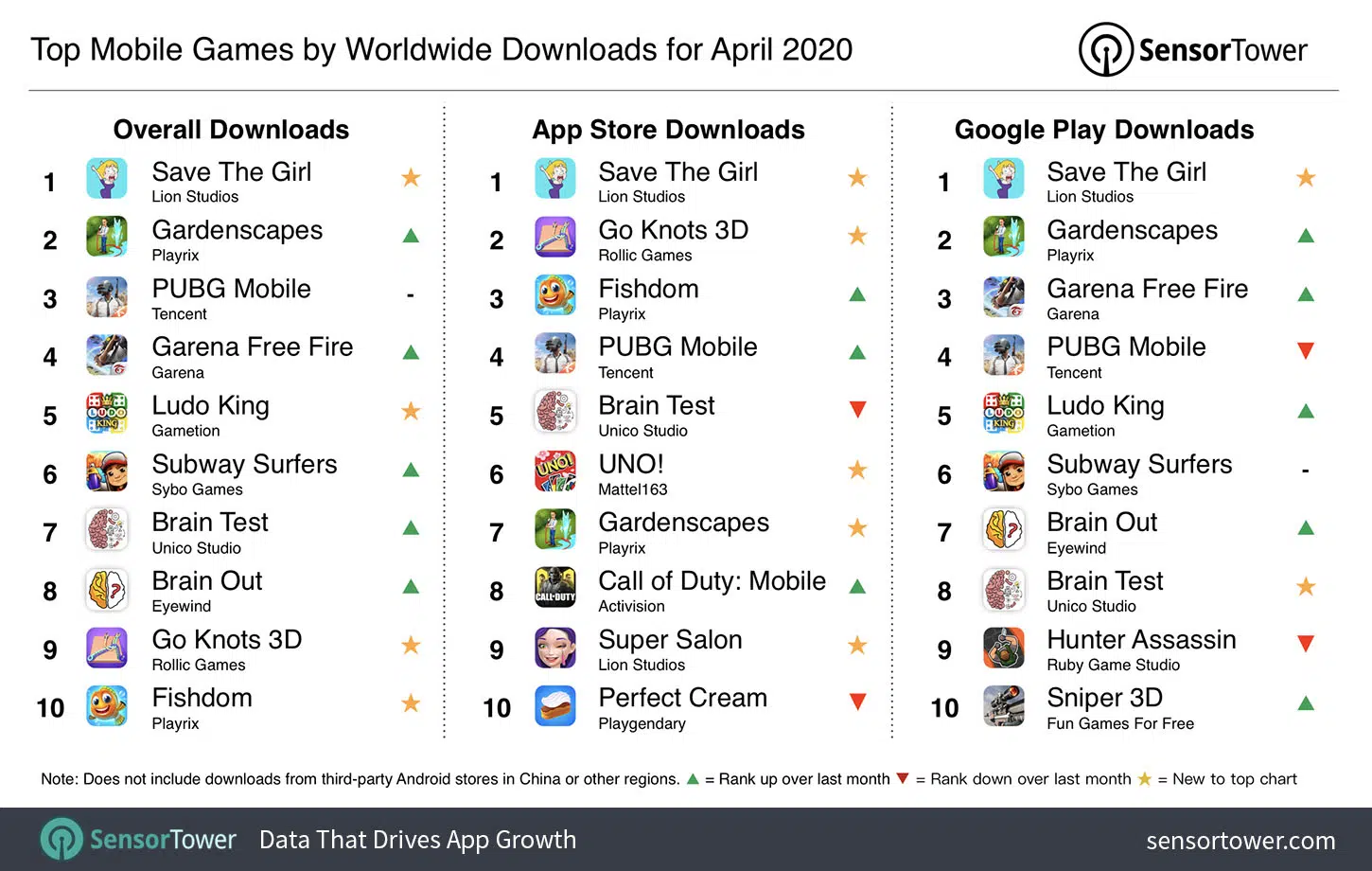 Source: https://sensortower.com/
Ludo King owned by Gametion Technologies Pvt Ltd has claimed that it has clocked $20 million in revenue in 2020 with millions of downloads and users all around the world. Ludo King, being India's first gaming app to cross 500 million downloads worldwide in December 2020 has shaken the online gaming industry upside down.
As per Vikash Jaiswal (founder of Gametion Technologies), the app has witnessed 4X growth in revenue in 2020 especially after the sudden interest of users in mobile gaming during the lockdown. The lockdown has brought tears to multiple business owner but Ludo King being an exception has not only survived but also seen significant growth in numbers as people during the pandemic were getting more inclined towards online mobile gaming.
The founder also claimed that the company is targeting 5X growth in revenue this year aiming to cross the $100 million mark with more in-app purchases and launching new features. Jaiswal said that in countries like Australia and Singapore, an average user spends $3-4 on in-app purchases while in India, the figure is minuscule which needs to grow.
Meanwhile, the major chunk of revenue Ludo King comes from advertising. Therefore, the company is trying its level best to open up the horizons of other sources of revenue, for example, the company is planning to introduce casual gaming tournaments (both physical and digital). This in turn will create opportunities for sponsorships and shift the burden from advertising which contributed to more than 70% of total revenue as only 30% comes from in-app purchases.
Apart from Ludo King, Gametion Technologies also offers other games including Carrom and Sudoko King. But, Ludo king is surely its flagship property and will continue to be so. Over the last nine months, Ludo King saw its monthly average users rose from 110 to 142 million and its daily active users increase from 15 million to 32 million daily. Further, the game is played in 30 countries and available in 14 languages.
According to KPMG, the online gaming market of India is e3xpected to reach $1 billion with approximately 310 million online gamers by 2021.
Market Overview of Ludo Game App Ludo King
Ludo King earned $20 million in revenue in 2020.
Ludo King became India's first gaming app to cross 500 million downloads till Dec 2020.
The Covid-19 has increased the number of downloads and in turn, overall revenue for the company as people had a lot of free time.
The company generates 70% of its revenue via advertising and 30% from in-app purchases.
This year the company is aiming to cross the $100 million mark with more in-app purchases and launching new features.
The in-app purchase in countries like Australia and Singapore is far better than India where an average user spends $3-4 on in-app purchases.
The company owns other games too but Ludo King is still its flagship product.
The game is played in 30 countries and available in 14 languages.
Want to Create Your Own Board Game?
Talk to Our Ludo Game Development Experts. Get Your Free Quote.
Board Games App Like Ludo King Trends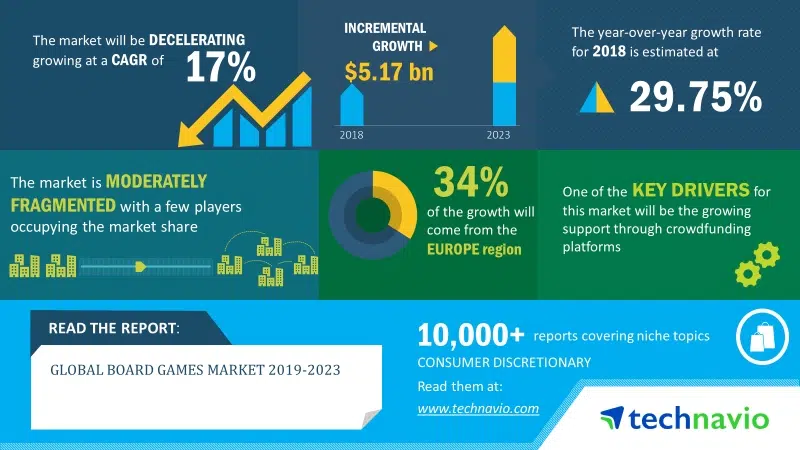 Source: Technavio
Games like ludo and snakes & ladders are regarded as cult games that are immensely popular among families but the fast-moving life did not make it feasible to sit with your loved ones and enjoy playing these games. A big thanks to this digital era has brought these games back with a bang in the form of applications that can be easily played over mobile phone devices.
Generally, due to the busy schedule people are unable to manage to play these games which form a huge part of their childhood memory. But the technology has introduced a platform where we can find a room to adjust ourselves and enjoy games like ludo and snakes & ladders without hampering our schedule.
This is all possible due to the technology. Technology has shattered all the barriers allowing people to formulate a bond of love, belongingness, and happiness with their families and friends by connecting remotely with each other over this refreshing game.
According to a report published by Technavio, "The global board game market size is expected to grow by 5.17 billion during 2019-2023.
How Mobile Game App Like Ludo King Make Money?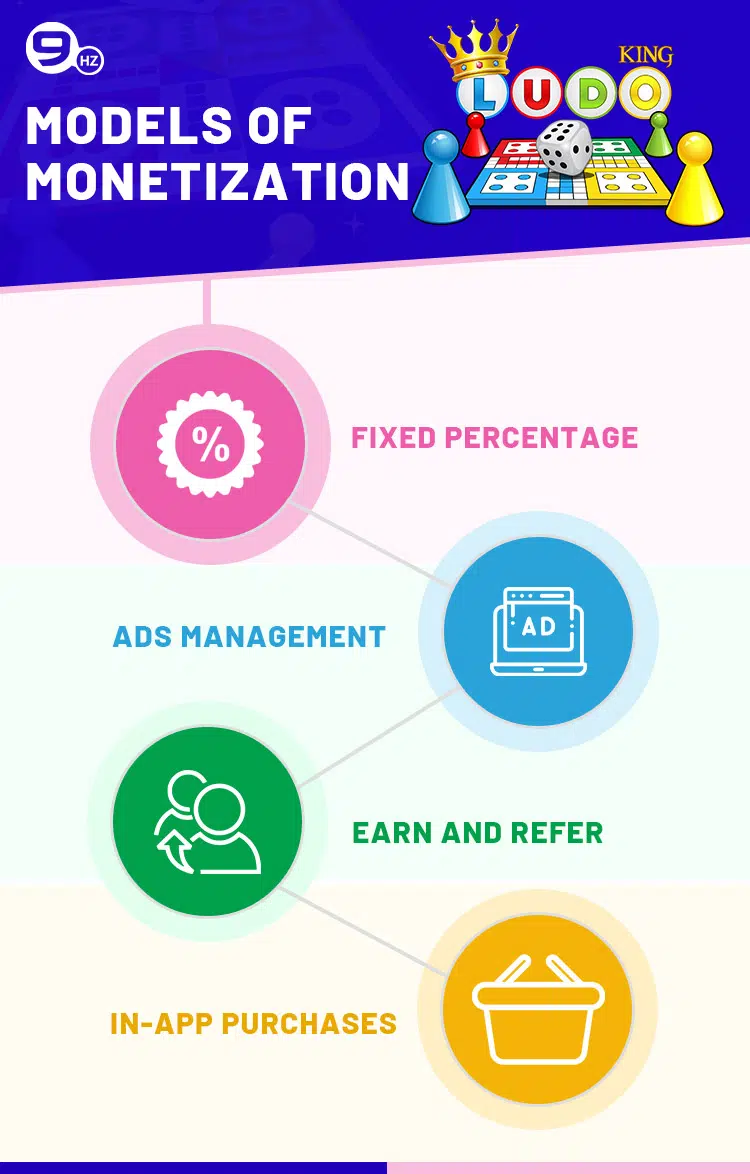 The first thought that comes in every business owner who makes a significant investment in terms of time and money in building a gaming application is the way an application can earn money. There are various methods described below by which an app like Ludo King make money:
Fixed Percentage Model
Under this model, the administrator sets a certain percentage over every game which is being played and can make alterations to it at a later stage depending upon the choices of the players. In this way, you can generate the outcome for the money being invested.
Ads Management Model
One of the prominent methods of earning money is through third-party advertisements. Hence, the administrator has to take care of the regular flow of advertisements to make sure that the brand earns an adequate amount of earnings from third-party websites or platforms.
Earn and Refer Model
If the administrator keeps a feature in which there is an option where you can refer the game to other users, there are high chances that more users will get attracted to the game. Depending upon the marketing model opted by the administrator, the marketing plan can be executed. Also, depending on the user management and server traffic, this activity can be monitored.
In-App Purchases Model
This is one of the most highly grossing strategies to make money through gaming applications. In order to enhance the profile, the gamer can buy certain credits or points. The administrator also has the option to integrate e-commerce options within the application for encouraging more in-app purchases.
Also Read: Mobile Game App Development Like Candy Crush
How to Play Ludo Game App Like Ludo King?
There are various modes provided by Ludo king making it very interesting among the users. There are mainly four options:
Computer Mode
Under this mode, the PC is selected as the opponent player and is one of the simplest modes to play at ease.
Local Player Mode
The gamers can play and enjoy this beautiful game with their family and friends over the same phone by using this mode.
Multiple Player Mode
The multiplayer mode allows users from any part of the world to play the game sitting at home.
Private Mode for Multiple Players
Under this mode, a private virtual mode is created for multiple players which can be the friends or family members of the user/gamer.
How to Design a Ludo King Clone App?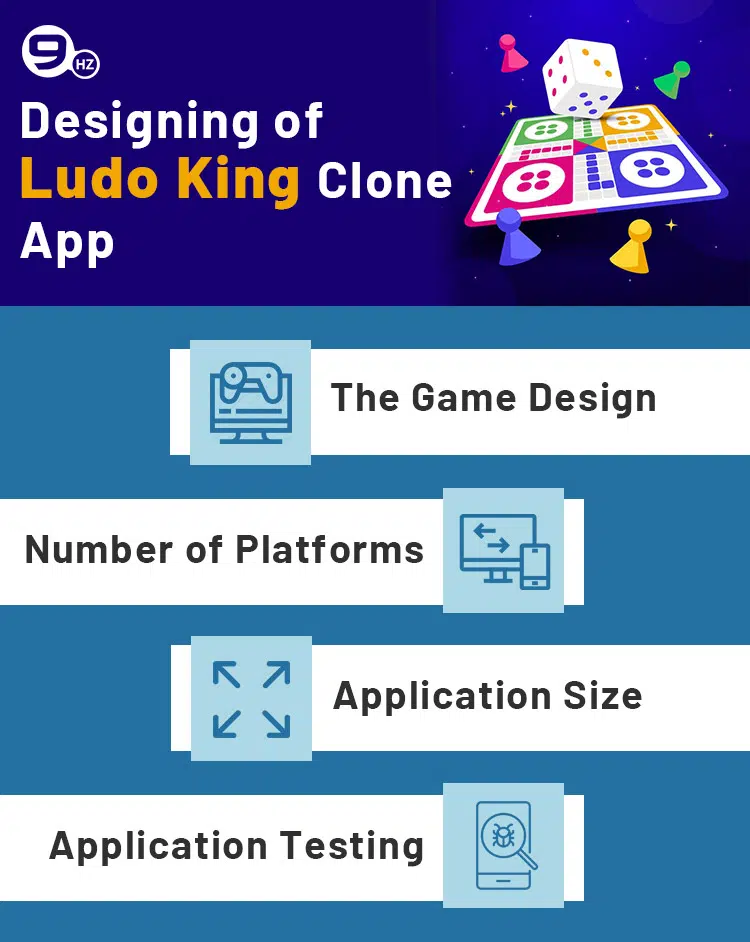 Factors including designing, user interface, UX, number of platforms, and testing etc are very critical to build a good quality game. There we have curated a list of some major factors that need to take into consideration while ludo game app development.
The Ludo Game App Design
Gaming is all about a great experience. The game will not be a success unless and until it engages its users with its application design, interface, theme and concept. For example, the interface of the Ludo King App is very user-friendly. Further, if we talk about UI, it is well managed with engaging graphics. Also, it provides its users with amazing sound effects and impressive images to magnify the overall vibe of the game. Most important is to gather maximum user attention and that's why designing a face involves a lot of time, money, and effort. Hire Skilled and experienced developers are essential for any company to fulfill these requirements.
Number of platforms
The number of platforms decides the number of specifications and features integrated into any gaming application. There are majorly three widely used platforms – Android, iOS, and Windows. Additionally, the creation cost of the game application depends upon the stage that is selected. The mobile game development cost for Android is high unless there are various devices over which the application can be tested again.
The application size
Increasing the scale enhances the game quality and appeal. The size of the application helps in deciding the capacities, features, and additional items that you might want to integrate into your mobile gaming application. If you choose to include various elements in your application like themes, players, graphics, and other similar factors) then you should be ready to pay more than the average amount.
Ludo Game App Testing
No gamer would like to face any hindrance in terms of glitches and interruptions while playing. The gaming application should be bug-free to give the best-uninterrupted gaming experience. Therefore, developers need to test the mobile device over a few stages to create a bug-free application. This is the most critical aspect of the testing process and no game developer should skip testing while ludo game app development.
How to Make Ludo game app Like Ludo King?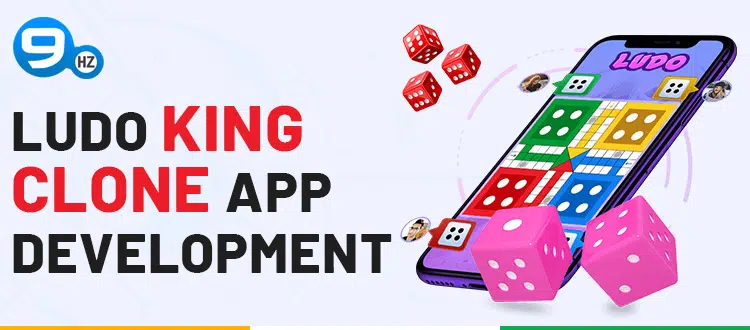 Activities Prior Ludo King App Development
The most important step before the development of any application is the documentation of the concept or idea. It should be completed and done prior to the development stage. As soon as the design of the game is done, project planning is completed.
App Like Ludo King Development Phase
Once the activities prior to the development stage are completed, there comes the stage when actual development begins. Under this stage, programming is executed and completed, audio-visuals are created, and various quality checks are conducted.
Activities Post Ludo King Clone App Development
Under this step, we take into consideration such activities including support, maintenance, and customer service etc. These activities fall under this step.
Also Read: Want to Develop a 2D Game? Reasons You will Always Want to Choose Unity Game Development!
Features of Ludo King Clone App

User-Friendly Interface
The user-friendly interface helps developers to learn and use the platform effectively and quickly. Developers must focus on delivering an immersive experience when it comes to virtual gaming. The interface should be made in such a manner that the users don't face any difficulty or hurdle while using the app. Developers must utilize the latest components and comply with different UI guidelines. Designers need to create eye-catching 3D images with high resolution to attract users for a longer period of time to offer a next-level experience. This requires proper time and research.
Cross Functionality
Ludo game supports cross-functionality. At present there are multiple OS in the market and developing code for every OS can be a very time-consuming and costly affair. It increases the overall budget of the project to a great level. Ludo game development code can be used with multiple operating systems for executing the same code of several platforms and launch the final product in a short span of time with the same functionalities. You should consider building a cross-platform application for major operating systems.
Invite, Earn and Play With Friends
For any gaming app to be successful in the long run, it is essential to turn its players into loyal gamers and engage them as much as you can. You can offer exciting features to your players to get more users and increase your brand's visibility. Give access to them to recommend the game to their family and friends and give some bonus points. These freebies in the form of bonus points act as a catalyst in popularizing your app among users and they get motivated to recommend the app to other players. This feature will immensely help in increasing the number of downloads.
Single/Multiplayer
Ludo offers both single and multiplayer options to gamers. It provides an opportunity for gamers to play the game with their family and friends. This is the best way to cherish and relive the memories of their childhood. In case of the absence of a partner, the player can play in a single mode. Admin panel searches for an available partner and plays the game testing the skills across the globe.
Live Text and Video Chat
For enhancing user experience, a feature of live text and video can be integrated into the ludo game. This gives a chance to the users to interact among themselves and turn the game into an engaging platform. The users can have a video chat to avoid the hassle of typing again and again.
Daily Free Bonus
Users get the opportunity to unlock the advanced level stages and even win the bonus points on a daily basis. This promotes the relationship with the players and will help in beautifying the platform. If you offer your users a daily free bonus then it might help in popularizing the platform to a great extent. It also can lead to unlocking new themes and various functionalities. The users must get the rewards in a seamless manner.
Offline Mode
This is yet another very important feature that must be integrated into the ludo mobile gaming app. Give access to your users to use your app in offline mode. This means that internet connectivity shouldn't be needed to use the functionalities of the application. Hence, playing with friends and family can be possible even without internet connectivity. Travelers can take advantage of this feature as even today in some areas there is no internet connectivity.
Invite Friends
With the ludo application, users can relive their memories of childhood and enjoy the game with their friend and family at a private table. They can create a room and send the code to their friends so that they can join without any hindrance. The code can be sent through various social media platforms including Facebook and WhatsApp directly to the users. That code is a ticket to enter the game and play virtually with other team members anytime and from anywhere.
Play with Real Money
With the ludo gaming app, players also get a chance to earn real money. For turning the game interactive and engaging, players can bet on some particular amount in their budget and continue the game. It will give them a sense of motivation to play the game and earn some bucks. This feature will prove to be a great help to the owners of the game to attract new players and raise their revenue.
Global Ranking
Various factors decide the rankings, for example, how many coins one player has earned, how often one plays the game, how many championships one has won, etc. The global rankings keep on changing on a real-time basis and that's what makes this game more addictive and thrilling.
Multiple Languages
The game is not just popular in India but around the globe. Now as the game is played worldwide, so it comes with an option of bilingual language so that no matter where you are and what language you understand, you can easily enjoy the game in your language.
Real-time Chat Support
While playing the game, users can have a live chat with one another. This feature has enabled the users to connect among themselves and play the game while making various strategies.
Rush Mode
This mode has helped the game to become more competitive and interesting in a short duration of time. Here, the rules are modified in order to make the game more thrilling. In 'rush mode', the player instead of waiting for the other player's chance to end, can keep on rolling his dice until you get what you want. Here, the aim is to get to the finish line at the earliest by beating other players and sending them to where they started. Earlier, the fate of the token relies upon the rolling of dice, unlike rush mode which is a more exciting version of ludo. Further, under the rush mode, the players also get bonus points after grabbing the tokens of other players, but the winner is the one who survives until the end as there is no finish line.
Missions
There are several missions and challenges at various levels within the game. These missions and challenges make the game more exciting as players are rewarded with bonus points and codes to unlock various exciting themes and features after winning over the missions. For maximizing the rewards, the missions have a turnaround time limit that needs to be stick to.
How Much Does it Cost to Build a Ludo App with The NineHertz?
Get your free consultation now.

Please Enter Vakid Email-id



Also Read: How to Hire Mobile Game Developer? Cost, Hiring Platforms & Technologies
Ludo Game App Development Admin Features
Admin Login Authentication
Dashboard displaying parameters concerning sales and marketing
User Management
Leader Board – Local, National or Global
Manage tournaments
Manage table entry fee
Wallet management for transactions
Manage coins to be given to users
App version management
Notice management
Manage chats
Notifications
CMS (Content Management System)
How Much Ludo App Development Cost?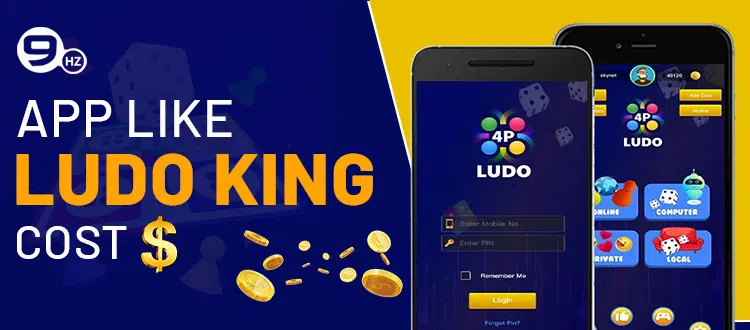 It is very hard to depict a definite figure as it cannot be determined except you finalize your developer and discuss all of your project requirements. It is very critical to outline the prerequisites against time and endeavors that will be invested in the phase of development before assessing the cost. If the developers and designers you have hired are experienced and skilled, the Ludo game development cost will shoot up accordingly.
The Ludo game development cost directly depends upon the number of features added to the app. For example, if the design is straightforward and simple, the development cost would be lesser and vice-versa.
Ludo App Development Cost Factors
Size of the application (whether it's small, medium or large, depending upon the features)
Level of UI (Either MVP, Basic or Polished)
Level of UI (Either MVP, Basic or Polished)
Signup options and user accounts (e.g. Facebook, email, Google account, Twitter)
Social engagement (providing a message box, chat box, forums, or commenting, sharing, referring)
User admin pages
Intercom
Usage analytics
CMS Integration
Performance Monitoring
Multilingual Support
All these factors play a crucial role in deciding the number of resources to be invested in your game app like Ludo King.
Let's have a look at the average app like ludo king development cost for you in pointers to construct your app:
The Ludo game app like Ludo King with basic features: $5,000
Ludo King clone app with advanced features: $10,000
Mobile Game App Like Ludo King with extra functionality: $15,000
In order to decide the Ludo app development cost, the development partner also plays a vital role. If you are choosing the best game application development company which has immense experience in delivering high-quality gaming solutions, then the project's cost will increase obviously.
Also Read: Why Hire Unity Game Development Company?
Choose The Best Ludo Game App Development Company
If you are searching for a company to develop a robust gaming application like Ludo King and you have landed over this article, then guess what, you have hit the right spot. The NineHertz is a well-known Ludo game app development company that is based in India and has its customer base all around the world including all the major countries like the USA, Australia, Singapore, UAE, UK and Russia.
The best thing about The NineHertz is that it is not just confined to game development but also specialized in taking care of your business needs like marketing. We are a team of experienced and talented professionals who can take your business to a next level with our outstanding and customized marketing strategies. Also, Stay tuned with the article to get the complete knowledge of how to develop a gaming application like Ludo King.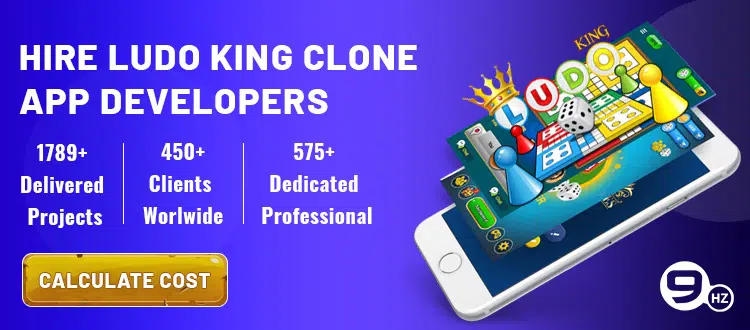 Conclusion: Ludo King Clone App Development
We hope this article will be of great help and now you must have understood how to develop a game application like Ludo King. We have tried our best to give you a good idea regarding all the aspects of building a gaming app like Ludo King. If you want to know more and planning to develop a Ludo King Clone app then feel free to speak to our professionals and we will guide you in the best possible manner. We have a robust team of eminent game developers and designers who are well versed in developing a high-quality mobile gaming application. With The NineHertz, you can kick-start your project and turn your dream into a reality. All the best!
FAQ's On App Like Ludo King
Will You Provide the Source Code of Ludo King App Clone?
Yes, we do provide our clients with the app source codes. This way they can customize it shortly as per changing user expectations. But for that, the user has to make the complete payment.
Can I Change or Add My Own Rules to the Ludo Game?
Yes, customization is fully possible depending upon your requirements. We can make any changes as per your request.
How Much Does it Cost to Develop Ludo King App?
The cost to develop an app like Ludo King depends on various factors such as the time needed, resources invested, and the technologies. Talk to our professionals to get the exact cost details. We will offer you the best-quoted price as per industry standards.
Can I Make Money From the Ludo King App?
Yes, you can monetize your Ludo Clone Game Software by opting for the freemium model and ad-supported game model. We make sure that the game is developed according to your revenue model.
Do You Have any Previous Experience in Game Development?
Yes of course. We have developed several gaming apps and have more than 12 years of experience in this domain. We have also worked with some big names in the industry.
How Can I Get More Details?
You can either connect with our support team over a call or you can mail us concerning your project. You will get all the contact details on our website – www.theninehertz.com.