Mobile payment apps and E-wallets have taken the place of cash and cards in the last few years. People are giving preference to the payment wallets over credit/debit cards or cash, as they find it more convenient in usage. There is no such risk involved unlike in carrying cash or cards. Hence, for all of your payment needs, an e-wallet app development is a one-stop solution.
According to some reports and surveys, with the increase in the use of online payment wallets, the worldwide mobile wallet market's revenue has risen from $450 billion to $750 billion. This is a clear sign of the success of mobile wallet app like Phonepe and Google Pay. Here is a complete guide on how to create a mobile app.
Source: https://www.paymentscardsandmobile.com/
PhonePe: A Online Payment App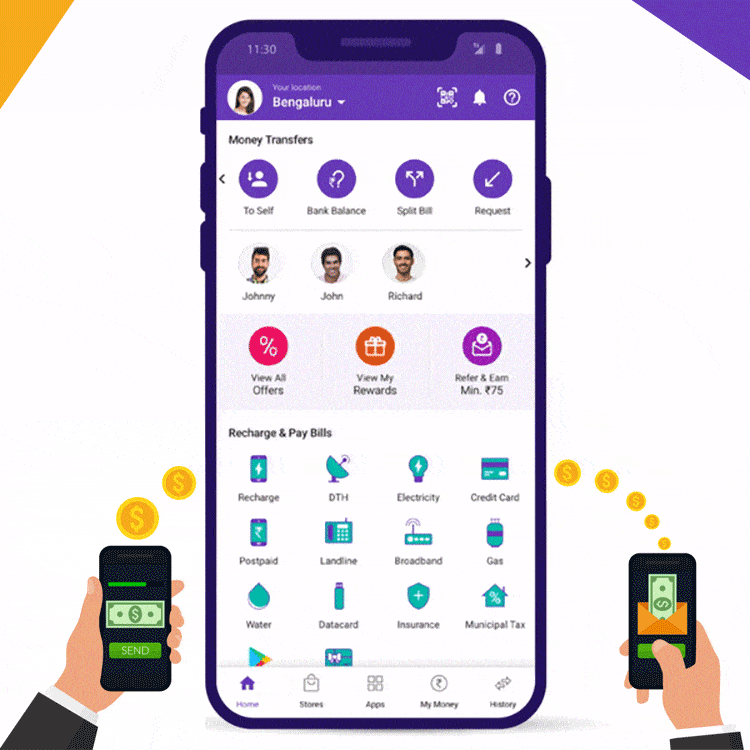 Initially, Phonepe was a payment sending portal that allows people to transfer money online. Currently, it is one of the biggest mobile applications used to transfer money along with other services like ticket booking, mobile/dish recharge, online shopping, offers, deals, etc.
The intention behind the development of the mobile wallet app Phonepe was to make things easy for the users in terms of making an online payment. The process of registration is very simple. You just need to have a mobile number linked with a bank account and create an account with a UPI ID and a PIN of 4 or 6 digits.
UPI transactions with online payment app like Phonepe, Google Pay and PayTm, etc. have increased tremendously over the years. According to the reports, the Phonepe app saw a whopping 857.22% growth in the year 2019, followed by PayTm with 827.68% and followed by Google Pay with 337.73%.
Create Your Own Mobile Wallet App
Request A Free Quote
Phonepe is capturing the whole market with its strong presence and due to this fact, a lot of IT companies in various parts of the world including India are planning to create more personalized mobile wallet app like Phonepe. Let's deep dive into the topic by first understanding the essential features of the eWallet mobile app like Phonepe.
Features of eWallet Mobile App like Phonepe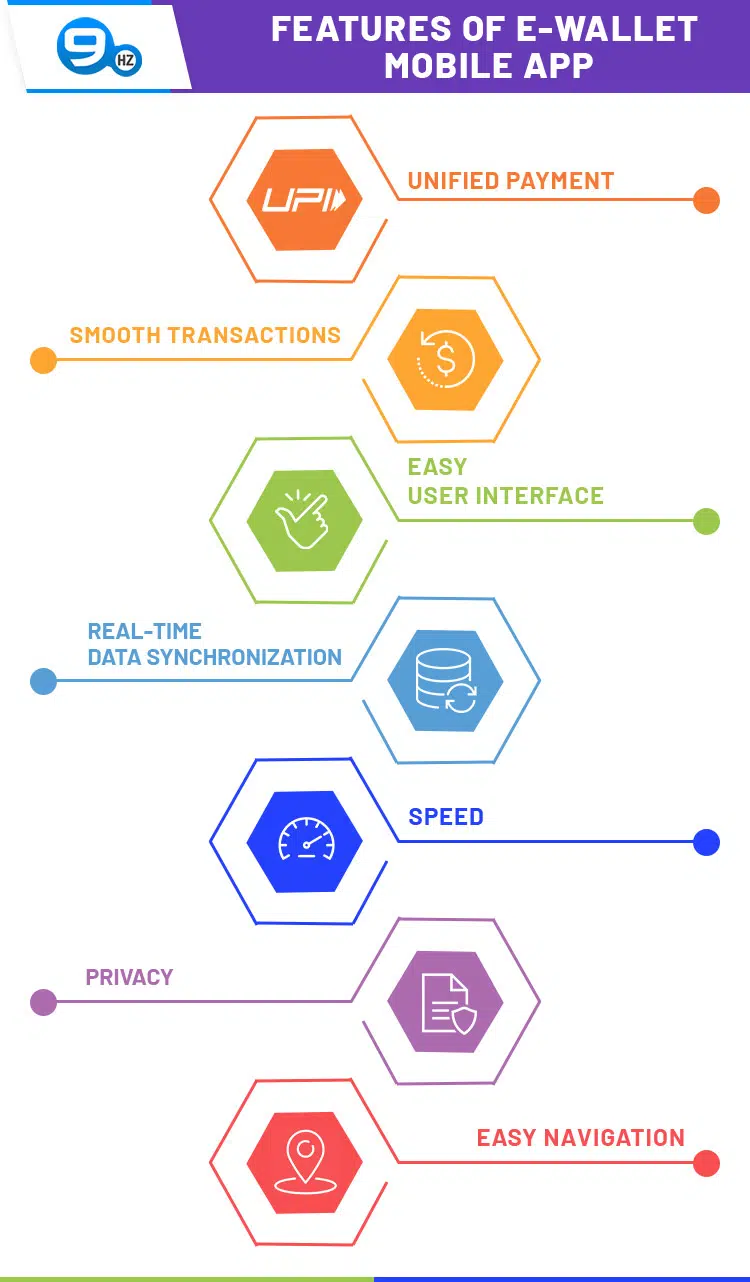 Unified Payment
eWallets mobile app offers unified payment options UPI that assists the user in completing the payment directly from the bank without the need to get the recharge to their app wallet.
Smooth Transactions in Mobile Wallet App
Such eWallet mobile app like PhonePe is a guarantee uninterrupted transactions and offers a one-stop payment solution for all your financial needs. The applications are accepted on a global scale and within few clicks, the users can complete their transactions.
Easy User Interface of Mobile Wallet App
The user-friendliness of the user interface is very important so that it is easy and convenient for the users to complete the transactions easily without any hassle.
Real-time data synchronization
The synchronization of the transactions in real-time is very important. The absence of synchronization can lead to the occurrence of discrepancies in terms of account balance left after each transaction. With real-time synchronization, you get assurance in terms of the account balance that shows the same amount after deduction.
Speed of Online Payment App
The transactions must be completed speedily in the online payment app. There should not be any delay. Even if the internet connectivity is slightly weak, there should not be an issue in loading time when the transactions are taking place. This enhances the user experience and hence makes it popular among the target audience.
Want to Launch Your Own App?
Convert Your App idea into Reality
Privacy and Security
Privacy and Security are the two primary concerns of an E-Wallet. The transactions need to be secure and there should be total privacy in terms of its users. Data privacy is the core of any mobile wallet app like Phonepe.
Easy Navigation in Phonepe Clone App
Navigability means moving from one screen to another and that should be done easily and smoothly. The whole mechanism should be such that users can perform actions without having the trouble to look for options. The functionality of the application must be seamless. Peculiarities like font size and color should be able to guide and navigate the user effortlessly.
Issues Without E-Wallet Apps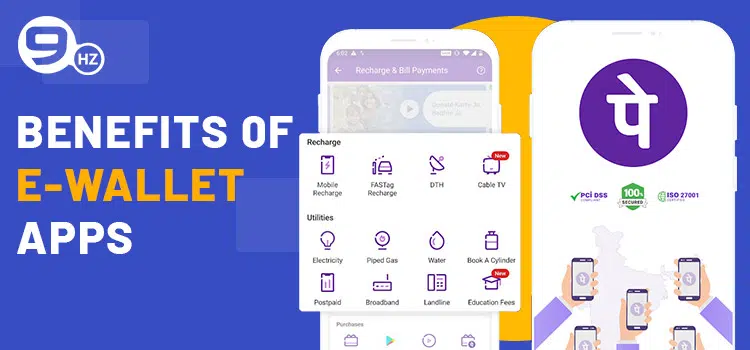 User's Point of View
Using cash and cards is time-consuming
There is a threat in terms of theft of cards and cash
Issues related to refund and cancellation are time-consuming with car payments or net banking
Other than bank statements, there is hardly any consolidated record of transactions.
Merchant's Point of View
Complex Process of refund or cancellation to the users
Takes a lot of time as card payments need to be done one at a time
The use of bank statements is only for consolidated record keeping
How to Design & Develop Mobile Wallet App Like Phonepe?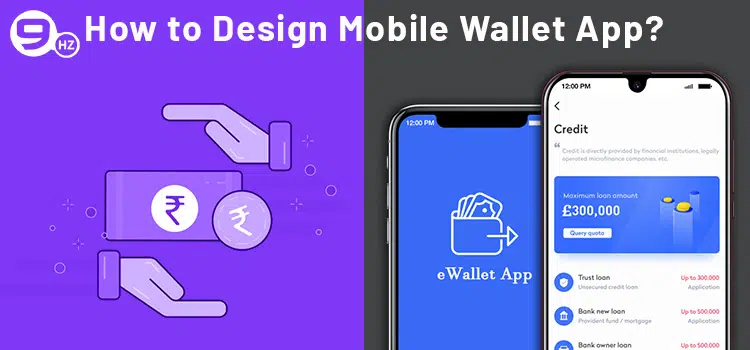 Pin or Password Protected Screen
This screen occurs when the user taps into the app icon. This is password/pin protected. This means that if the smartphone gets lost or stolen, then it cannot be accessed until and unless it is hacked to crack the password. Hence, the initial layer of security is intact.
Transaction Screen
The next screen is the transaction screen which is used to make the transactions by the users. The users have two options, either they can scan the QR code of the recipient or enter the mobile number of the recipient to transfer the money.
Verification and Validation
Once the confirmation of the payment details of the recipient is done along with the amount, either a pin or OTP verification is needed to complete the payment transaction.
Confirmation
The payment proceeds successfully as soon as the Pin or OTP is confirmed.
Success Message
Once the payment is done, the user receives a success message mentioning the details of the transaction.
Check Balance
Users can use the e-wallets and payments app and check their bank account balance. The app should have the authorization to access bank servers and extract the balance of the user's bank account linked with the application.
Review All Transactions
The application should be enriched with a feature in which the user can see a consolidated record of all the transactions made by making use of the mobile wallet application. Most of the famous online payment app like Phonepe and Google Pay have this feature to enhance the user experience.
Want to Develop App Like PhonePe?
Request A Free Quote
1200+ Projects Delivered
12+ Industry Experience
450+ Clients Worldwide
200+ Certified & Expert Programmers
Hence, if you have a robust and qualified team of developers that consist of efficient UI/UX designers, making an eWallet mobile app like Phonepe is very easy. You can contact The NineHertz which is an India-based technology company delivering a quality solution at affordable prices all around the world. As far as the cost is concerned, it ranges from $25k to $50k depending upon the features and functionalities along with the layers of security implemented.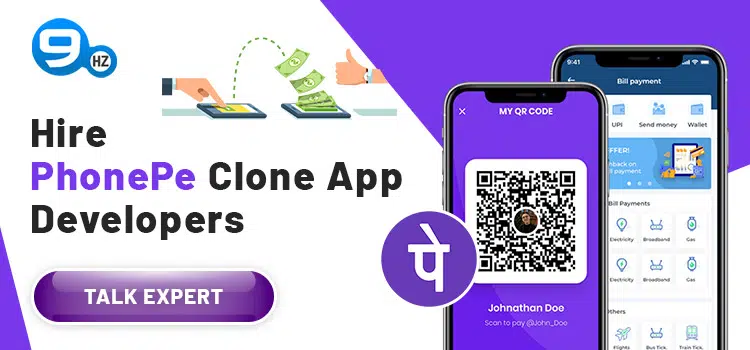 key Features Affecting the E-wallet App Development Cost
Mobile wallet app development cost or any other Phonepe clone app is calculated based on accompanying fundamental and progressed highlights. Building applications like PhonePe, Paytm, PayPal, Google Pay, is not as easy as it sounds. It takes a great amount of research, time, preparation, and obviously, cash.
Profile Registration with phone number
OTP confirmation
Back Account Approval
Adding cash from the bank
Client account
Pop-up messages
Re-energize mobile numbers
Send and receive cash
Bill payment of various amenities
Allude and earn
Coupons and prizes
Cashback rewards
PhonePe wallet administrator board
Phonepe Clone App Admin Panel
Information synchronization
Alluring dashboard
Cloud-based operations
Add/block highlights
Wearable consolidation
Calendar booking
Overseeing offers
Contacts management
QR code
What Factors Determine E-wallet App Development Cost?
mobile wallet app development demands a number of factors and requirements from the perspective of the user. The following components are responsible for determining the actual cost to develop an app like PhonePe:
1. App Platform (Android, iOS, or Windows)
The cost of a PhonePe clone app primarily dependent on the mobile platform chosen to run the app. The cost will significantly increase in case we choose to run it on both cross platforms – Android and iOS. You need to know that an iOS app development costs more amount than an Android app an iPhone device has many testing methods and is much time consuming and hectic.
2. App Features and Size
The cost to develop an app like PhonePe relies upon the basic and advanced features developed in the mobile or web app. If you want to integrate multiple features and functionalities in the mobile wallet app, the same requires more size as the development cost varies over the size of the app.
3. User Interface
The cost of native or hybrid app development like PhonePe varies depending on the type of UI/UX designs and patterns selected for the purpose of app design. User-friendly, attractive, and eye-catchy designs are prone to user engagement. A more attractive user interface is costlier and takes much time and money.
4. App Developers
The PhonePe clone app development cost also depends upon the size of the development team, geographical location, project manager, developers' team experience, and skills in the respective domain.
5. Type of Technology Used
Today, in the current scenario, e-wallet apps like PhonePe and Paytm come with secure and sophisticated features for attracting and protecting the data of the user from scammers and hackers. Further, the cost also depends on the type of technology used. Today latest technologies like Blockchain and Cloud are implemented to create apps.
Also Read: How to Develop Home Service App Like Urban Company/UrbanClap?
How Much Does it Cost to Develop Mobile Wallet App like Phonepe?
It is very difficult to predict an exact figure to develop a PhonePe clone app. This is because the on-demand app development process depends upon a lot of factors like the size of the project, budget, functionalities, country of development, in-house team or an outsourced team, etc. Hence, telling an exact E-wallet app development cost is next to impossible.
Hire Dedicated Wallet App Developers
Request A Free Quote
1200+ Projects Delivered
12+ Industry Experience
450+ Clients Worldwide
200+ Certified & Expert Programmers
However, based on the information and experience, we can predict an average figure which ranges between USD 5000 to USD 20,000 depending upon the requirement. Rest, you can get a better insight by getting in touch with our professionals who are well versed in guiding you regarding all the technical and financial aspects of developing an app like PhonePe.
Wrapping it up!
We hope that you have read the entire article and got an idea regarding the development process and cost to develop an app like PhonePe. In case you are still facing doubts regarding the cost, technology, and features of an e-wallet app, feel free to call us and talk to our professionals for a better understanding. The NineHertz is a well-known IT company proving quality solutions to people all around the world. We use the best strategies to develop a high-performance mobile app for you to meet your all business requirements. So what are you waiting for, call us now!
FAQ's
1. Can I Create My own UPI?
Yes, you can create your own UPI app by partnering with a bank and obtaining a license from the National Payments Corporation of India (NPCI).
2. How Do I Start a UPI App?
To start a UPI app, you need to partner with a bank and obtain a license from the NPCI. Once you have the license, you can develop the app and launch it.
3. How Do I Make a Payment App Like Phonepe?
To make a payment app like Phonepe, you need to have a team of developers and designers who can create a user-friendly interface. You also need to partner with banks and payment gateways to process transactions.
4. How Do I Start an App Like Google Pay?
To start an app like Google Pay, you need to have a team of developers and designers who can create a user-friendly interface. You also need to partner with banks and payment gateways to process transactions. Additionally, you need to obtain a license from the NPCI.
5. How Much Does it Cost to Create a Payment App?
The cost of creating a payment app can vary depending on various factors such as the complexity of the app, the features you want to include, and the development team you hire. However, the cost can range from a few thousand dollars to hundreds of thousands of dollars.