Are you facing difficulties managing your clinic? Does your staff also take hours scheduling your appointments every day? In such a case, maybe you need a way to manage appointments in an effective manner. Let us see by giving some examples of how some of the world's top clinics are countering this issue. In this guide we will explore doctor appointment app development process in detail.
The Cleveland Clinic, which is considered as the world's one of the biggest and most reputed US medical centers, streamlines appointment scheduling and offers an improved patient experience through their app which is known as MyChart. Apart from scheduling appointments, the app is also very useful in checking test results and outpatient progress notes. The app also provides a feature where you can have a chat with your doctor.
Apart from Cleveland, there is The Mayo Clinic which is yet another high-ranking US medical center that also finds it efficient in managing everything from doctor appointments to medical bills in their application. Well, these were just a couple of examples but there are many more such examples.
If you are also interested in doctor appointment app development or healthcare mobile application development, then you have hit the right spot. Today, in this article, we will be talking about the benefits of such an application like its features, cost, and stories related to it. So stay with me and read the full article.
Want to Build Your Own App?
Convert Your App idea into Reality
Why is Doctor Appointment App Development Important?
As per a study conducted by Accenture, the time taken by a patient to schedule the appointment of a doctor through a phone call is on average eight minutes. What if you can get the job done within a few seconds just like when you order something or book a cab! Isn't it very convenient, of course, it is!
The best way to do that is to have a doctor appointment app where you can schedule an appointment within a few taps. It is not only beneficial for the patient as he can save time and energy but also for the doctor as he can scrutinize a lot of extra overheads in terms of maintaining extra staff for taking appointment calls.
Let's have a look at the super advantages of doctor appointment app development for both the parties, i.e. Doctors (clinics) and Patients:
Doctor Appointment App Development Benefits Associated with Clinics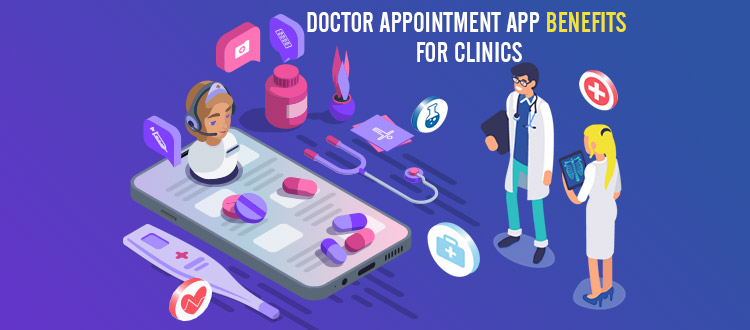 Clinics can make serious improvements in terms of efficiency by streamlining processes.
Clinics can manage staff scheduling in a better manner.
A lot of time can be saved on administrative tasks.
You can predict and make reductions in appointment no-shows.
Overbooking can be avoided with apps as there will be a limit and then a full stop.
As everything goes online, human errors like typing, misspelling can be eliminated.
Get complete insights of performance like a list of completed and non-completed appointments, appointment history, etc. to compare and evaluate productivity.
Online Doctor Appointment App Development Benefits Associated with Patients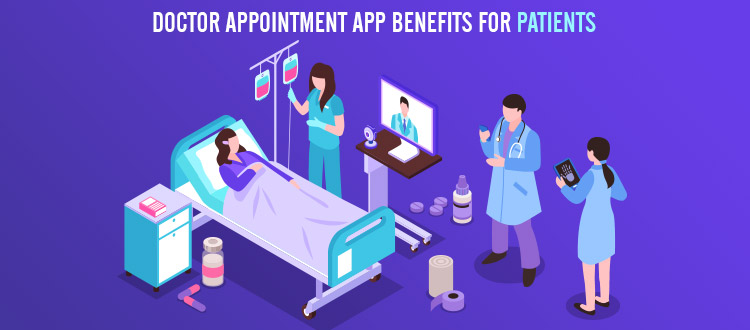 Patients are able to access healthcare at all hours of the day.
Patients are able to schedule and reschedule appointments anytime from anywhere.
Patients can access and pay bills, provided payment functionality is offered.
Patients can communicate with their care team in real-time.
A lot of time and energy is saved by the online appointment medium.
Doctor Appointment Booking App Development Features
Here is the list of some core features that can be used for almost any online doctor appointment app development:
Doctor Profiles
There should be a feature to browse doctor profiles so that the patients can choose the doctor they like. All the necessary information should be inside the profile like experience, competencies, certifications, and spoken languages. A feature to include called rating and feedback can be pretty useful so that the users can know whether a doctor met the expectations of previous patients in terms of treatment, communication, and competence, etc.
Search for a Doctor
Give patients the freedom to choose healthcare specialists in terms of ratings, specialty, location, and experience.
Reminders
Push notifications work great to automate regular interactions between clinics and patients such as giving patients reminders regarding appointments. You can notify patients a few times so they don't forget about an upcoming appointment but you need to be careful about not overdoing it.
Book and Manage Appointments
The patients can use the calendar to schedule an appointment with a doctor. Also, the feature to cancel and reschedule the appointment should be provided to the user. You may be interested to know the important features of mobile apps for doctors.
Doctor Appointment App Development Advance Features
Payments – Allow customers to access and make the payments.
Cloud-based E-records – Allow patients to view examinations, radiology images, test results, and prescriptions.
Online consultations – In this feature you are allowing patients to see their concerned doctors via video calls without being worried about visiting the clinic physically.
Health tips and insights – Share stuff related to health and fitness on a regular basis like fitness guides, information, and advice on illness.
Medication tracker – This tracker helps in reminding patients to take medications and refill prescriptions.
Top 4 Doctor Appointment Apps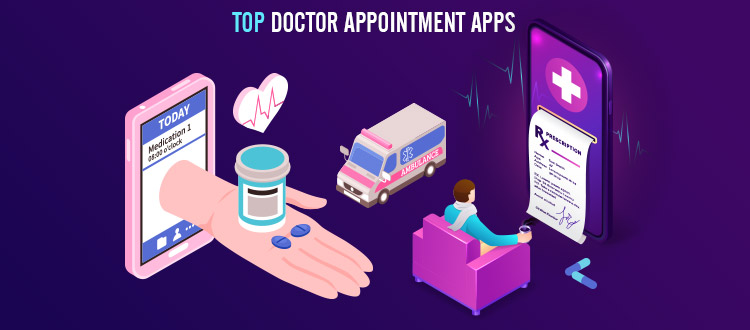 Let's check out some real-world examples in order to know what exactly doctor scheduling apps look like and what features they have:
Mayo Clinic Doctor Appointment Mobile App
The Mayo Clinic is a reputed medical center providing quality medical services to patients with severe diseases or illnesses for more than a century. The clinic has its presence in three states with running major campuses which are Arizona, Minnesota, and Florida. Apart from that, the clinic has dozens of locations across five states. The Mayo Clinic has developed an app for streamlining its healthcare operations, managing staff, and engaging patients in a better manner.
The patients can do a lot of things using the Mayo Clinic App, such as:
Book doctor appointments
View the schedule of all the appointments
Access to health-related stuff like health-related recipes, health videos, and fitness tips, etc.
Get full access to test results, radiology images, and examinations
Add health data to the iPhone health app from Mayo Clinic
Pay for clinic visits quite conveniently
Establish a strong communication network with the healthcare team
MyHealth Doctor Appointment Mobile App
Stanford Health Care is responsible for developing the MyHealth App. The application has beautifully integrated the popular electronic health record system. The application also uses the HealthKit for importing health and activity data from third-party devices by organizations such as Fitbit.
According to the CEO of Stanford Health Care, the application is proving to be a milestone in reinventing and redesigning the entire health care system. He claimed that they are providing care for some of the most technologically sophisticated patients across the country through innovation. The CEO also stated that after evaluating carefully all the available mobile technologies, they recognized that for meeting the needs and expectations of the patients they had to develop their own mobile solution that worked effortlessly with their existing electronic healthcare record system.
With the MyHealth app, patients can do stuff like:
Check-in for any appointments
Pay their medical and health bills
Organize and schedule video chats and in-person appointments
Access test results
Manage prescriptions
Access to the latest health and fitness information
Communication with the healthcare team
Get step-by-step directions to appointments locations
Health Buddy Doctor Appointment Mobile App
SingHealth developed the app Health buddy and is intended to work for some health care institutions in Singapore including Singapore General Hospitals, Singapore National Eye Center, SingHealth Polyclinics, National Heart Center Singapore, National Dental Center Singapore, KK Women's and Children's Hospital, National Cancer Center Singapore, Changi General Hospital and Sengkang General Hospital.
With the Health Buddy app, the patients are able to:
Order medicines
Pay medical bills
Schedule, reschedule, or cancel appointments
Check real-time wait times
Find a general practitioner nearby
Get health-related tips and videos
ZOCDOC App
Founded in 2007, ZOCDOC is an online medical care search and booking service that helps in connecting users to local specialists and physicians. On the platform, the users are able to enter their personal and other insurance information, and then serve up nearby verified caregivers, well-reviewed and within the insurance network of the user. Here is a complete guide on how to build an app like ZocDoc.
The task to create a user experience for healthcare applications is a very challenging and tedious task, especially for mobile devices. ZOCDOC performs this task in an efficient manner. As far as the location is concerned, the app is US-based and has its headquarters in New York. As far as the business model is concerned, ZOCDOC earns money by charging a subscription fee from doctors and physicians and offering them paid "Sponsored Results" in search. Although, for patients, the service is free to use.
Some of the features of ZOCDOC are as follows:
ZOCDOC is like a marketplace for both patients and doctors that helps patients to find suitable doctors and schedule a meeting (both in-person and online).
The service is free for patients, although the doctors have to pay a certain amount if they want to be seen in the sponsored search results.
The platform is available for both Android and iOS.
The platform uses AI to help patients find doctors with some algorithms without using medical jargon.
How to Build Doctor Appointment App in 7 Steps?

Here we will be telling you about the procedure involved in the doctor appointment app development, so here we go:
Get Your Doctor Database Ready
The doctor appointment app works as an on-demand doctor app development. From the point of view as a user, doctors are the product and what you offer is a marketplace. And the way the user places an order is by scheduling a meeting. Hence, the first thing you need to do is to ensure that you have the product. Do you need to have answers to the questions like do you have the database of doctors if you are working with a specific clinic? Are you able to access it through APIs? It might be a good idea to explore publicly available doctor databases and APIs through platforms like 1upHealth, doctor.com, BetterDoctor, and Doctor Database.
Verifying the Prototype
After deciding the data sources of application, the next item on your agenda is a prototype. Prototyping involves developing all the visuals of all screens in the application and crosscheck its features with the help of a prototype.
You should remember that the driving force for the iterations should be the feedback taken from your medical staff along with the test users. At this stage, you will be needing a prototyping instrument. There are quite a few prototyping instruments in the market and you can use any one of them to perform your task. Some examples of such instruments include Invision, Figma, Sketch, and Adobe XD.
Review Off the Shelf Scheduling Tools
The most time-consuming chunk while developing a doctor scheduling app will be developing a scheduling engine. But apart from the option of building the app from scratch, the better option here is to choose an off-the-shelf scheduling API like those provided by Timekit, Acuity, or OnSched.
You can speed up your custom mobile app development process by using these or similar API's but be prepared that this will influence your UI. Scheduling APIs or SDKs don't provide too much flexibility with the look and feel of a calendar. You can although use these tools to make your app look good by simply integrating a plug-in tool.
CODING
Now this part is considered as one of the most boring tasks to take place for your doctor appointment booking app to materialize. However, for our team at The Ninehertz, we love it, as we know how to turn it into a fascinating for you too. The development team at The Ninehertz is well equipped with all the latest technologies and that is reflected in our work too. We keep the coding process completely transparent for you by quick iterations and holding regular meetings.
This is the best way for you to track the progress of your product and make all the right calls in time. Since you have to code the website and mobile parts of your doctor scheduling application, we recommend that you do that in synchronization in order to avoid prolonged code refactoring at a later stage.
Factor in HIPPA Compliance
While creating an online doctor appointment app, it is very important for you to ensure that it is built using a secure architecture with the HIPAA regulation, especially HIPAA compliant video conferencing and messaging. These are the things that you must consider:
SSL Certifications
PHI connections
HIPAA-as-a-Service cloud platforms
HITECH Act, GDPR, and other regulations
Testing
Developing and launching a doctor appointment mobile application is impossible without proper testing. In a real-life scenario, the testing process simultaneously begins with coding and follows every development sprint. In the final testing, the process covers all app functionality and includes things like security, stress testing, and unit tests.
Release and Maintenance
This is the last step where you release the app for the users to make doctor appointments. Remember that adding mobile apps to app stores and moving the web dashboard to a "live" server is not all. You will be required to update the application on a regular basis for supporting new mobile OS versions and enhancing the app's functionality, depending on the feedback of the user.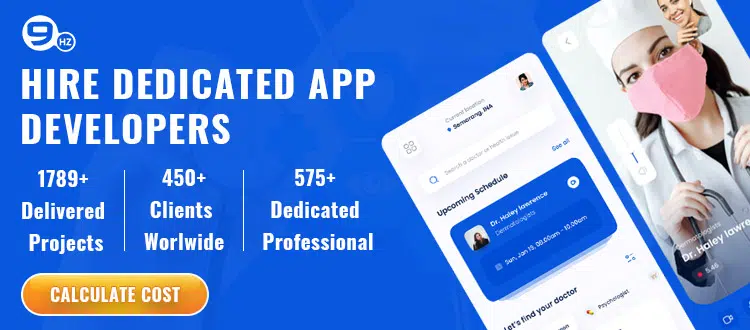 Doctor Appointment App Development Cost
The cost to build an doctor appointment app may range between $54,000 for an MPV to $84,000 for a fully-fledged doctor appointment booking system. The latter version would include mobile apps and a web dashboard for medical staff.
If you want to make the most of your investment, switch to ready-made scheduling components. You can also include a chat feature which is yet another feature implemented through third-party SDKs, which will also assist in minimizing your overall project budget.
Another approach is going for cross-platform. You can choose a cross-platform app development approach using tools and frameworks such as React Native and Flutter to keep the app development cost as low as possible. Hence, we can say that for building a doctor scheduling app, the entire process completely depends on the specific features and functionalities you want in your app.
Hence, with the above discussion we can say that for understanding which regulations your application will be subject to, it is critical to examine various factors like app's functionality, the type of data it will store and transmit, and the region it will be used in. As far as the working pattern of our organization is concerned, we take utmost care in maintaining your privacy and security standards when it comes to developing any medical app. We also use encryption to make sure that the health information of the user (PHI) is securely stored and transmitted within the application.
Why Patients and Doctors Love Doctor Appointment/Scheduling App System?
Patients' Perspective
With the help of smartphones, we could perform our routine tasks like ordering food and booking a cab within some taps and that's it! Every business is going online with its presence on the mobile device in the form of an application & healthcare is not an exception.
Patients/customers no longer want to waste time on scheduling or rescheduling their doctor appointments. Rather, they want a quick fix which these apps provide them beautifully where they not only find a specialist quickly but they can also read reviews, set up an appointment immediately, and post feedback based on their overall experience.
These are enough reasons to encourage a health care provider to create an application for doctor booking appointments. But if you think it is over then hold on for a second as there are a lot of other factors patients get value from like:
An extensive directory of available health care professionals
24*7 access to scheduling appointments
Safe and secure multiple online payment options
Automatic reminders and integrations with their digital calendars
Freedom to submit any existing health-related documents prior to a consultation
Doctor's Perspective
There are uncountable advantages for the doctors' community when it comes to online doctor appointment app development. When business enterprises build applications or doctor appointments, it is quite evident that it helps in cutting operational costs and maximizing the revenue as the number of visits increases. Plus a lot of extra work is eliminated as you don't need to maintain extra staff for booking appointments offline.
Here are some of the major advantages that come along with the doctor appointment mobile appdevelopment:
Reduce no-shows
Optimize the use of front end resources
Streamline billing process
Improve health data management and reporting
Increase revenue and overall efficiency
Want to Build Doctor Appointment App?
Convert Your App idea into Reality
Conclusion
In the end, let us conclude by saying that having a doctor appointment app is beneficial for both patients and clinics. It is a win-win situation for both parties as it simplifies the whole system and makes things easy and convenient. If you too want to build such an app and streamline your business then feel free to connect with us and we will make your dream turn into reality. At last here are some of the FAQs that we are mentioning to help you further in understanding the concept and making up your mind.
Frequently Asked Questions
1. How Long Does it Take to Create a Doctor Appointment Booking App?
The time duration is usually between two to four months, from prototyping and designing to uploading a fully functional customized app to app stores followed by deploying a web dashboard to a production environment.
2. Which Languages or Technology is Used in Creating Such an Application?
Most organizations work with cross-platform frameworks for deploying the app on both the platforms iOS and Android. The frameworks for this are usually React Native, Flutter, React.JS, and Node.js. If the app involves diverse functionality like animations etc., then native development is a good choice in such a case using languages like Kotlin, Swift, and Java.
3. How Much Does it Cost to Develop a Doctor Booking App?
As mentioned in the article, the cost may vary from $54,000 for an MPV to $84,000 for a fully-fledged doctor appointment booking app.
4. What Shall Be the Appropriate Team Composition for Building a Medical Scheduling Application?
The team combination will include a full stack web developer for developing a dashboard, 2-3 mobile developers for creating Android and iOS apps, a quality and assurance engineer, a designer, a tester, and a project manager for keeping you up-to-date on the project's progress.
5. Can I Create a Doctor Appointment App Work with Other Healthcare Software Like EMP/EHR?
Yes, you can as most EHR platforms offer APIs that can be utilized for connecting your scheduling app with them.