React Native is one of the most preferred mobile app development technologies for cross-platform business app development. And the reason behind such major adoption of this technology is its ability to build versatile, budget-friendly solutions that can easily be updated, maintained and provide needed support.
So if you are wondering to adopt this robust technology for your next business app project and looking to hire dedicated React Native Developer or React Native Consultants. Don't forget to follow the hiring tips we are going to discuss in this article. It will help you in finding the perfect fit according to your project requirements within budget.
Well, who will be an ideal candidate for your project? The one who possesses all the skills your project requires. There are a majority of React Native developers available in the market. It is easier to classify them into three categories according to their skills, experience and knowledge.
React Native Developers' Classification Based on Skills, Experience and Knowledge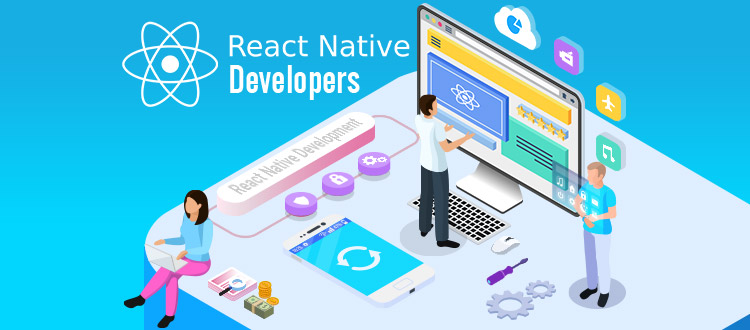 Junior React Native Developer
Those who are recent graduates or switched their occupation to developer falls in the category of junior React Native developer. These personnel are expected to have little or no experience in the sector. Still, they should have hands-on following activities.
Code in JavaScript: React Native is a platform that works on JavaScript. So a junior developer requires to know programming in JavaScript ES6 or later versions. Also, they should know to use all its features, existing or newly added.
Work with React Native: At Least they should know how to use the React Native framework, including all its features, APIs and libraries. Well, the understanding of basic react assumptions will be a plus for them.
In-app Navigation Knowledge: A Junior developer should know all the main types of navigation implemented in an application likewise model, push, and more.
Work with Redux: Redux is one of the most convenient and robust state management tools. Using this tool, it became easier for developers to manage states shared across components. Also, they can develop predictable apps which can efficiently run across different platforms. Other than Redux, developers can use several other state management tools available in the market.
Work with debugging and testing tools: Debugging and testing is one of the important processes of mobile app development. So a junior developer should know how to perform debugging and testing on an application. Also, they should have hands-on using tools used for these purposes.
It can be understood that junior developers won't have any working experience. But they should have worked on pet projects to learn and practice the mentioned skills.
For your information, a junior developer would require a senior or more experienced React Native developer to mentor and coach them throughout their work.
Also Read: Why React Native App Development Suits 2020 Trends?
2. Middle React Native Developer
The React Native developers who have minimum working experience of least two years fall in this category. They work independently and have completed different projects within this time duration. Middle React Native developers have developed problem-solving skills and can take charge of their work.
Skills of a middle React Native developer
Performance optimization: They should know how to optimize the performance of an application using different approaches. Also, they should be able to present different ideas for the performance optimization of various types of apps.
Work on mobile-specific features: Middle React Native developers should know how to work with the hardware used in mobile phones likewise microphones, cameras, GPS sensors, and gyroscopes. In addition to this, their implementation into an application. The quality of handling issues that occurs while working on these components will be a plus.
Integration with third-party services: Middle React Native developers should be aware of the hurdles that came across while integrating third-party services like PayPal, Facebook, Google. Also, they should know how to use APIs of third-party services so that the functionality of the application can be extended easily.
Store data and cache data offline: They should know different types of databases and libraries so that working with them became easier. Other than this, detailed knowledge of offline data caching and experience in deciding when to use ready-made code and when to create caching logic from scratch.
Sign and deploy the app: Middle React developers should know the complete process of signing of an application including where and how to find the required components for the process. Along with it, the knowledge of application deployment on platforms like Google Play and the App Store.
As compared to Junior developers, Middle React Native developers do not require to have an eye on their work to a greater extent. Since they can find ways on how to solve the problems. Still, they can't make critical decisions about the application.
3. Senior React Native Developer
Senior React Native developers are those who have vast knowledge and skills in the field of react native app development than Ionic or Flutter. They have completed at least three years of working and have successfully launched several apps. Other than this, they have experience of handling teams and coaching newcomers.
Skills set for a senior React Native developer includes
Develop native apps: Senior React Native developers should have an understanding of different programming languages used for native app development likewise Objective-C, Swift, Java, and Kotlin. So that it became easier for them to port existing Android and iOS apps to React Native.
Integration of native libraries and frameworks: They should know how to integrate native libraries and frameworks into React Native apps. So that they can develop feature-enriched products.
Work with CI/CD: They should know to work with continuous integration and continuous delivery. Since it helps in writing quality code with ease of early detecting and fixing issues. Not even this, the development process became more visible and transparent.
Suggest and maintain an effective development team workflow: A senior React Native developer should have different approaches to handle various software development projects. Also, he should be able to suggest an effective workflow for a particular project. However, if any requirement arises to shift from the existing to the new workflow, he should be there to help his team during a workflow transition.
Research and discuss app architecture and share ideas accordingly: The app architecture is crucial for the development of an application. A senior React Native developer remains responsible for deciding the app architecture based on the project's business and technical requirements. After deciding the app architecture, the app development work proceeds further.
Considering your project's requirements, you can easily decide which one to choose from three different categories of mentioned React Native developers. Other than this, the availability of developers in your in-house team can also help you to choose the right pick.
Also Read: 10 Takeaways Developers to Consider While React Native App Development
Important Tips to Hire Dedicated React Native Developer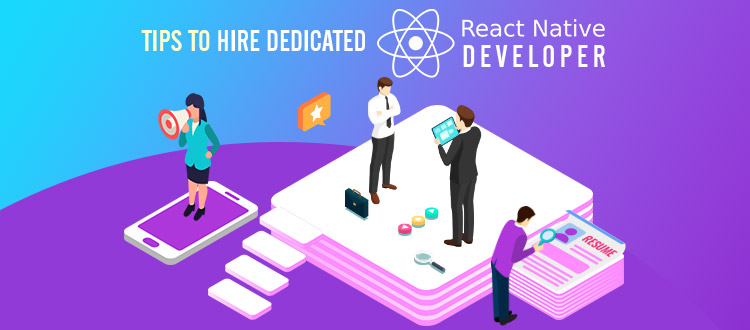 After deciding the hard skills required for your project, the other things you need to check on before hiring a react native developer or react native consultant are as follows.
Soft skills
The characteristics which define the personality of the candidate are known as soft skills. According to many HR managers, soft skills are way more important than hard skills to make a project successful.
So what soft skills we would find in a software engineer. The curiosity, helpfulness, teamwork, communication, accountability and problem-solving.
However, these soft skills will vary according to the candidate's seniority. The newcomer would be curious and crave for learning more. However, a senior React Native developer will be strong-headed with skills approachability, helpfulness, problem-solving, and accountability.
Cultural fit
It means choosing a person who shares a similar mindset and values as of your company. According to a company that offers HR software solutions, cultural fit plays an outstanding role in a long-term perspective as compared to hard skills, talent and experience. There will be staff retention, employee engagement, improved productivity, performance, and communication within a company.
Portfolio
It is important to check the portfolio of the developer you are going to hire for your React Native mobile app development project. Because it showcases skills and information about the previous project they have worked on.
Feedback from clients
Don't forget to review feedback or customer recommendations before choosing the candidate. Whether you are hiring a middle or senior React Native, developer. The best platform to look for sayings from the previous employers and coworkers is his Linkedin profile. So go through it once to get an honest review.
How to hire React Native Consultants or developers
There are several ways you can look for to hire a React Native developer or React Native consultant.
Search On the Internet: A most common and easiest way to search is doing Google "Hire dedicated React Native developer". Then select appropriate searches according to your project requirements. However, it is not the best way since the top results on the Google search never show a suitable answer. They are according to the question you asked for.
Research About Technology: It is important to know about the technology, you are going to hire a person for. Basic knowledge about the technology will help you discuss the features you want in your application. Also, you can give suggestions for the application.
Make Fake Inquiry: It is good to enquire about the project with different developers. Making some fake inquiries will give you an idea about the budget and how the project will proceed, etc.
Choose one among shortlisted candidates: Following all the above-mentioned steps, hope you have shortlisted 5 candidates based on your project requirements. Now choose one of those going through their portfolios, reviews, and feedback from the previous clients.
Communication: Once you are done with the hiring process, it is good to communicate with the developer regarding your project. A healthy relationship is a must since during the development process you have to coordinate with the developer for suggestions and getting the development status. That is why communication is the key as well in mobile app development.
These are some popular platforms that are highly recommended for hiring freelance developers globally. Likewise, Upwork, Freelancer, Fiverr, Toptal, Guru, Nexxt, PeoplePerHour, etc.

Conclusion
In this blog, we have discussed almost all possible ways to hire dedicated React Native developers or React Native consultants. Everything depends on your project for React Native app development. Accordingly, you can decide to select from Junior, middle, or senior React Native developers. You can consider candidates' soft skills, their portfolios, and feedback from previous customers. Whereas to shortlist candidates you can opt for the methods or post job applications on the platforms mentioned here. Hope this blog will help you find the perfect fit for your React Native app development project.