As mobile technology advances, it influences our daily lives. Today the pervasiveness of doorstep medicine delivery app like 1mg in our daily lives is undebatable. Not only do these apps make it convenient to buy medicines, but they also bring innovations to the pharmacy industry.
1mg is a one of its kind online medicine delivery apps where one can buy Prescription and OTC medicine from the comfort of their mobile screens. It would not be an exaggeration to say that it could well turn out to be the Netflix of online medicine. But these are still early days for 1mg and there is a lot of scope for new players.
If you want healthcare app solutions, there could never be a better time. The industry is still in its teething stages and there is a lot of scope for exponential growth through innovation, better user experience, and excellent customer service.
Let's deep dive into the different moving parts of an on-demand delivery app development for a medicine project. In this blog, you will learn about the essential aspects of app development, the do's and don'ts, the best practices, and everything else.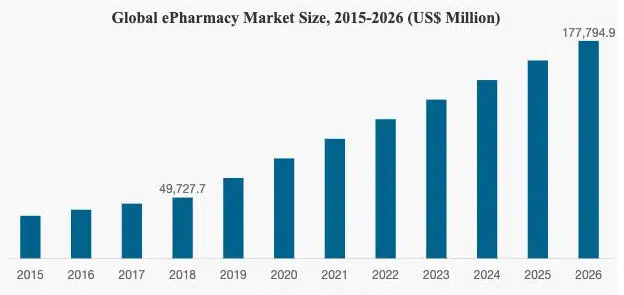 Online Medicine Delivery App Development Market Stats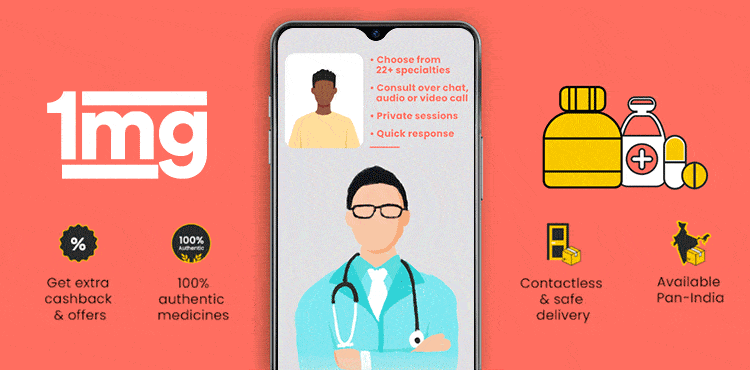 If you like numbers, here are some stats regarding online medicine delivery application that should attract your attention:
The global e-pharmacy app market is expected to generate USD 107.53 billion by 2025 (CAGR-14.26%)
1mg's Revenue Surged By 158% In FY20
Apps like 1mg have attracted funds worth $462 Mn between 2014-19 (the most among all categories of healthcare app solutions)
Want to Launch Your Own App?
Convert Your App idea into Reality
Top Online Medicine Delivery Apps Like 1MG in India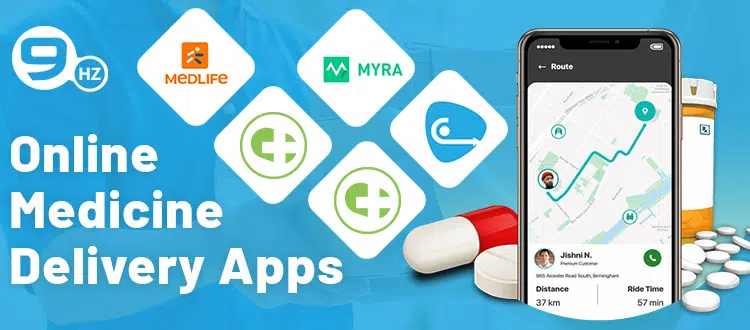 As already mentioned, the online medicine delivery app marketplace is still in its early stage. A good reason for this is the higher number of compliances and regulations in the industry. This being said, it has not prevented the e-pharmacy sector from witnessing excellent growth and investment.
The participants in the e-pharmacy app segment have registered double-digit growth over the past years and some have even attracted huge investments in the process.
Other apps like the 1MG app that operates in this fast-growing online segment include:
Medlife: Delivering medicines to 22,000+ pin codes across India
Netmeds: Delivering medicines to 19,000+ pin codes across India
Myra: Delivering medicines in Bengaluru & Mumbai
CareOnGo: Delivering medicines in NCR, Bengaluru, Hyderabad, and Kolkata.
Pharmeasy: Delivering medicines to 22,000+ pin codes across India
Source: (Frost-Sullivan-Outlook-on-e-pharmacy-market-in-India)
The Business Model of Online Medicine Delivery Apps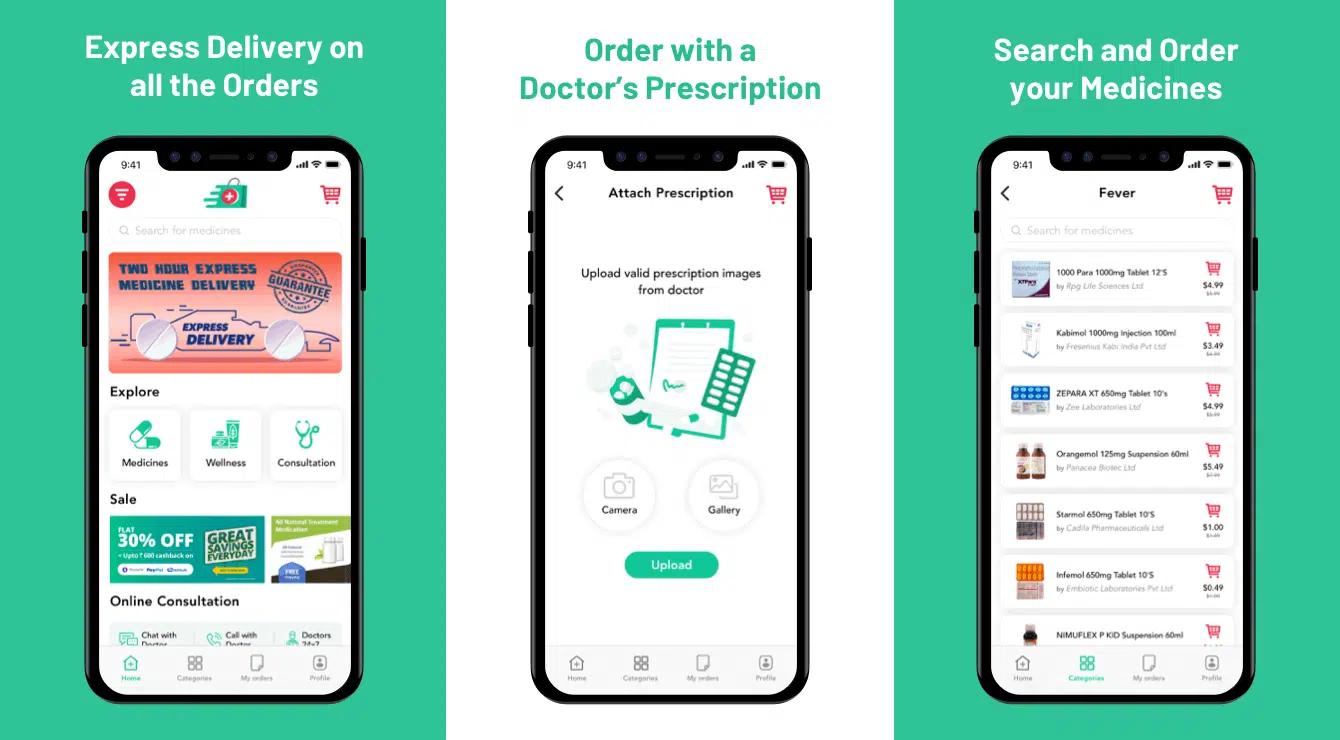 Source: https://www.letsnurture.com/
Most of the online medicine delivery apps adhere to an inventory-based model.
In an inventory-based model, the firm manages an inventory or stock of medicines(prescription and over-the-counter (OTC) medicines). Depending on the areas and regions they serve, these stocks are stored in nearby warehouses and delivered to the locations on receipt of order.
However, the key USP of these apps is the attractive discounts on medicines coupled with the comfort and ease of doorstep delivery. In a nutshell, here's a list of things that poise e-pharmacy for greater success in the future:
First-time buyers discount
Limited period offers
Cashbacks
Membership plans for frequent buyers
Attractive deals on popular categories such as Diabetes care, elderly care, healthcare devices, etc
Value-added services like discounts on lab tests
The inventory-based model is a tried and tested method. It has worked exceptionally in favor of retail e-commerce. And, considering the huge investments that early-stage e-pharmacy apps like 1mg and others have attracted, it is only a matter of when and not if these apps will outrank and outpace traditional brick and mortar pharmacies. In all probability, the e-pharmacy segment is expected to follow the same growth trajectory as the e-commerce app development segment.
Also Read: How to Build an App Like Netflix?
How to Design a 1MG App Clone?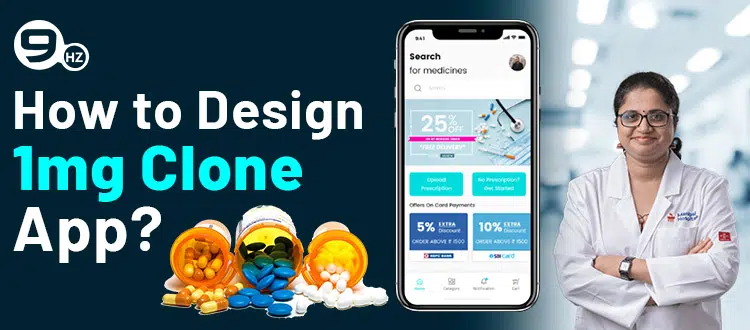 Design is a very critical aspect of app development. All key success factors such as brand name, user experience, customer loyalty, app traffic, and revenue are intrinsically linked to the app design.
The secret to design thinking is keeping in mind the needs and expectations of your target audience. In the case of pharmacy app development, here are a few things you should practice to design a 1mg app clone:
Research: Before you reach for the keyboard and start designing your app, it's important to understand the niche market. Also, when you are creating an app like 1mg, it's key to identify areas of design where you can find better ways to attract your target audience over your competitors. A good place to start your research is by analyzing the app review of your competitor's apps at the play store and app store. This way you will find a lot of information about design features that are missing in your competitor apps. Try to accommodate these missing design elements in your app.
Create a Wireframe: Once you have fine-tuned your app idea, it's time to create a wireframe for your app. Initially, you can start with visual sketches using pen and paper. However, a digital wireframe makes things a lot easier and simple for more complex and detailed designs. Moreover, collect feedback on every wireframe you create. Ask what your partners and co-workers feel about the design and if there is any scope for improvement. It will help you further refine the app's structure, navigation, and user experience.
Transform Wireframes into Realistic Mockups: The next and final step in the design process is creating realistic mockups from your wireframes. This is a super important step, and it is always wise to hire the services of an expert designer. Never settle for a design if you feel there is room for improvement, especially for colors, fonts, and design elements that strongly impact user engagement and experience.
Also Read: How to Develop Home Service App Like Urban Company/UrbanClap?
How to Develop an App Like 1MG?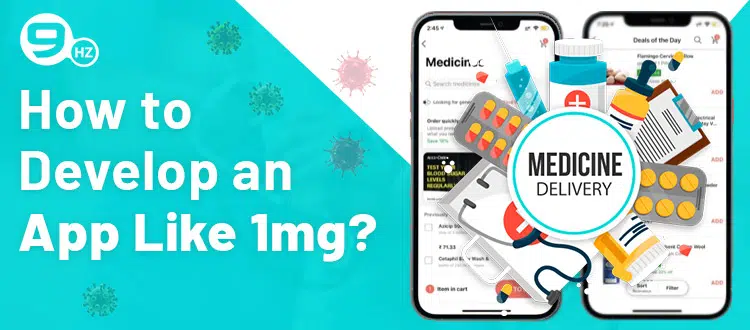 You can either choose to develop the app in-house or hire the services of a top e pharmacy app development company. In either case, there are few things that you will have to do on your behalf to ensure your app turns out exactly the way you want it to in the first place.
Online Medicine Delivery App Development: Planning
Start with putting all your application needs, features, and functionalities on paper. Proper documentation is a key element of successful project development. Documentation helps set the right roadmap and mitigates any discrepancies or confusion that may crop up during the app development phase.
In addition to these, an Online Medicine Delivery Application has to comply with many regulations, and as such proper documentation will ensure that all these are well embedded during development.
Pharmacy App Development: Technology Stack
Once you have documented all your application needs and requirements, the next step is to identify the right technology stack for your app. Are you going to build a native app or a cross-platform app? How much cloud storage do you think is enough to ensure that your app will require initially? What about data security steps? What is the expected budget and time to market for MVP? These are questions that you should keep in mind when deciding the technology stack for app development.
Want to Launch Your Own Medicine Delivery App?
Request A Free Quote
1200+ Projects Delivered 12+ Industry Experience 450+ Clients Worldwide 200+ Certified & Expert Programmers
1MG App Clone Development: Coding Stage
The coding stage is when you program all the features and functionalities of your app. Your development team will have to work in close association with UI/UX designers, Quality analysts, Business analytics, and other teams. Only when everybody is on the same page will you be able to bring efficiency and agility to the programming.
The programming phase will be composed of many sub-stages namely: Prototype, MVP, the Polished Product, and Launch.
E Pharmacy App Development: Support and Maintenance
Launching your app is only half the work done. Equally important is app support and maintenance. Most of the apps like 1mg are cloud-based. These apps are continuously optimized. You will also have to invest considerable resources and time in DevOps, Data Analytics, and ML to ensure continuous optimization and maintenance.
1MG App Clone Development Must-Have Features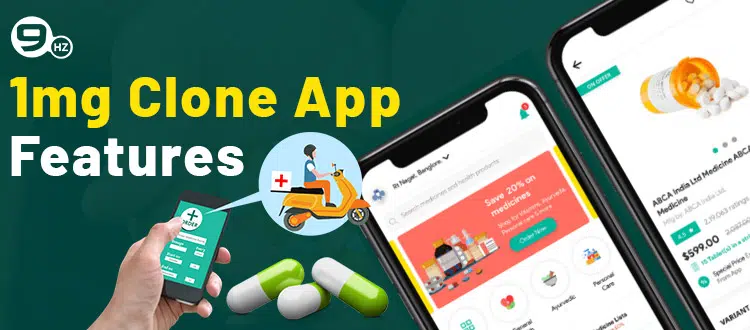 Now that we have discussed the design and development stages, let's take a look at some of the essential features of an online medicine delivery app.
Uncompromised User Experience
When it comes to an online medicine delivery app, developers must keep in mind that the app must be easy to navigate. A good part of this will depend on the design which should be intuitive and hassle-free. However, this is always easier said than done. To make your task a little easier, here a few things to keep in mind:
Keep banners at the top of your main-page
Make icons stand out and build a recognizable brand
Allow visitors to explore products by category, top deals, best brands, trending products, health concerns, etc
Allow visitors to search products based on delivery options (Pincode)
Ensure that benefits like cashback behavior, exclusive discounts, free shipping are well highlighted and grab the attention of visitors immediately.
Ensure that the app runs seamlessly on all screen sizes.
Offer Coupons and referral Points for Invites
Turn your app users into brand promoters by Offering Rewards and Loyalty Points for inviting friends and families to your app. Most people are likely to use an app at least once if it is suggested by friends and relatives. Use this to your advantage by integrating social sharing in your app and reward users who loved your app and would be more than happy to invite their friends and family.
Daily Exclusive Discounts
Medical expenses have a strong impact on household incomes. Lower rates than offline stores are one of the primary reasons why people buy medicines online. To compete with apps like 1mg, your app must also offer daily deals, loyalty rewards, and more. Plus users must be able to avail these rewards in a hassle-free manner.
Don't Ignore Blogs
A blog is one feature in your app that will bring exponential long-term benefits. Whether it's brand awareness, social media marketing, or informing your audience about a healthy diet, prescription drugs, and exclusive deals, a blog section will help you achieve multiple business goals within a fixed budget. A blog is forever and one of the best way forms of digital marketing.
Convert Your App Idea into Reality
Request A Free Quote
1200+ Projects Delivered 12+ Industry Experience 450+ Clients Worldwide 200+ Certified & Expert Programmers
AI-Powered Chatbot
Customer service is a key ingredient for success for any type of business (online or offline). But setting up a team for handling general user queries is both time and resource-consuming. Thankfully, you can now use AI to offer premium customer support at an affordable cost. Integrate AI, ML & NLP-based chatbots to offer the best advisor to those who need help in navigating your app. These chatbots are easy to implement and can be automated on a large scale.
Chatbots streamline interactions, enhance customer experience, and offer new opportunities for app owners to optimize the engagement process and operational efficiency.
Pharmacy App Development Admin Features
Admin Login Authentication
Dashboard displaying parameters concerning sales and marketing
User Management
Wallet management for transactions
Manage reward coins to be given to users
App version management
Notice management
Manage chats
Notifications
CMS (Content Management System)
Online Medicine Delivery Application Development Cost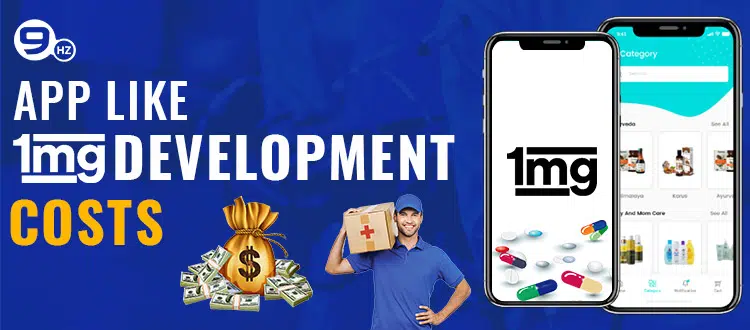 Now that we have covered all the important features, the design thinking approach, and the development strategy, let's move ahead to the business end of things.
How Much Would it Cost to Build an App Like 1MG?
Depending on scale and functionality, we can categorize an app into three types: Basic, Advanced, and Premium.
A basic 1MG App Clone Development cost is between $5000-10000
An advanced Medicine Delivery App Development cost is between $10000-15000
A Premium Online Medicine Delivery App Development cost is $15000+
An advanced level basic native app built for a specific platform can cost you up to $20000. For a hybrid app that works seamlessly across all platforms (android, iOS, and Windows), the development cost will be anything close to $25000-$30000.
However, you should keep in mind that these are only estimates. Online medicine delivery apps development cost increases depending on several crucial factors. If you integrate features that are complex and resource-consuming, naturally your app development costs will increase. Some factors that significantly impact app development costs include:
Application Size: Whether your application is small, medium, or large
Level of UI: Either MVP, Basic or Polished
Signup and User Accounts: Facebook, email, Google account, Twitter login features increase development costs
Social engagement: Providing a message box, chatbox, forums, or commenting, sharing, referring will require core programming
User admin pages: App admins need greater capabilities than general users
Performance Monitoring: Requires API calls, APM tools, and complex logic to monitor and maintain the expected level of performance.
Usage analytics: Embed enterprise-level BI and analytics for tracking user experience and behavior
CMS Integration: CMS integration in pharmacy app development
Multilingual Support: Multilingual support in e pharmacy app development
The above features are now an essential element of any 1mg clone app development. However implementing them will require an experienced team of designers, developers, subject matter experts, and business analysts.
How to Hire an Online Medicine Delivery App Development Company?
Hiring and managing an in-house team is not easy. Plus you will have to divide the team between other key areas of business such as marketing, inventory creation, onboarding suppliers, vendors, etc.
Not to forget, hiring and retaining an experienced team of designers and developers is very costly. If managing app development projects is not your strength, you can choose to outsource your needs to an application development company that will work as your extended arm, doing all the heavy lifting on your behalf.
It will allow you to keep an undivided focus on key business aspects of the e-pharmacy app.
Moreover, outsourcing is way more cost-effective and time-saving than an in-house team. You don't have to worry about hiring, adding office space, buying new systems and equipment, etc. All your development needs are managed like clockwork by a third party. Here are some of the primary benefits of hiring an online medicine delivery app development company as your technology partner:
Cost-effective
Access to an experienced, well-coordinated, and dedicated team
Expert developers, designers, and experienced project managers
Consistent support and service
Saves development time
Focus on things that matter for business success.
Better quality of code
Risk reduction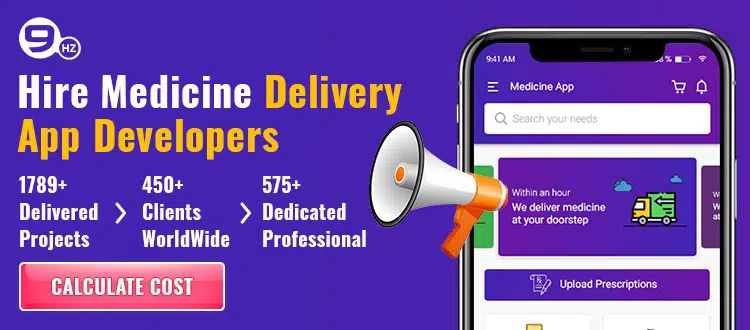 How to Choose Medicine Delivery App Development Agency?
Now that you know the benefits of hiring the top online medicine delivery application development company, how are you going to find one?
Well, there are several factors that you should look for in your potential technology partner.
First and foremost is the company's experience and client base. Always choose a company with a proven track record and considerable experience in mobile app development. Furthermore, look for a technology partner who can provide app marketing, maintenance, and support services as well. By doing this you will easily take care of periodic needs like app updates, fishing errors, and optimizing user experience based on initial user feedback and response.
Since you are here, we would like to remind you that you can find an ideal technology partner in The NineHertz.
Why Choose The NineHertz, As Medicine Delivery App Development Company?
12+ years of experience
1789+ projects delivered
450+ clients worldwide
575+ dedicated professionals
15+ countries served
100% quality assurance
100% client satisfaction
As the best mobile app development company in India, our goal has always been to deliver exceptional value to our clients throughout the app development journey and beyond. With the right balance of exceptional business analysts, developers, designers, project managers, and subject matter experts, we have been able to help hundreds of clients from diverse industry domains to take their business to the next level. Want a sneak peek into our portfolio, follow this link now.
Conclusion: Medicine Delivery App Development
A wise man once said: "All good ideas need the right information and tools to realize their true potential"
Hope that the information in this article is relevant to your idea of creating an online medicine delivery app. If there is anything more that you want to know about creating an app like 1mg, we are always here to answer all your queries. You can also get a quote from us. All you need to do is get in touch with one of our experts.
And, before we wrap up we would like to remind you that we look after your app marketing needs too. Depending on your business goals and budget, our experts will create customized strategies in line with your marketing goals.
We have a robust team of well-experienced and organized app developers and designers who have ample experience in developing end-to-end high-quality e-pharmacy applications. With The NineHertz, you have the right talent, the right technology, and the right marketing to turn your e Pharmacy app development idea into a success. All the best!
Hire Certified App Developers
Request A Free Quote
1200+ Projects Delivered 12+ Industry Experience 450+ Clients Worldwide 200+ Certified & Expert Programmers
FAQs on Online Medicine Delivery App Development
Will You Provide the Source Code of 1mg App Clone?
Yes, we do share the app source codes with our clients. This way they have the freedom and flexibility to customize the app to stay in line with changing user expectations. However, the course code shall only be shared when the client has cleared all outstanding development costs.
How Much Do You Charge for App Maintenance and Support?
Our fee is very nominal and at par with industry standards. There is no room for guesswork or misinformation. We practice complete transparency so that you know exactly where your money is spent.
How Much Does it Cost for 1mg App Clone Development?
Any app, let alone an online medicine delivery app, has many moving parts. The scale of each varies as per client needs and demands. Once we know your exact needs, we can better estimate cost factors like the time needed, resources invested, and the technology stack. You can get an estimate within one working day. Get in touch with one of our experts for the best-quoted price as per industry standards.
Is the 1mg App Clone White-labeled?
Yes, the apps we build for our clients are completely white-labeled. It will carry your name and brand. Nowhere do we use our name or logo. Our designers work extensively to create icons, labels, and landing pages that gain maximum attention and brand awareness for your app.
Do You Have any Previous Experience in ePharmacy App Development?
Yes of course. We have worked with several vendors and helped them set an e-store for their business. Our experience has helped us understand the medicine delivery ecosystem better.
We have also been technology partners for many big pharmaceutical companies and helped them embrace digital transformation in key sub-domains like inventory management, logistics, and transport, inventory tracking, centralized billing, etc.
How Can I Get More Details?
You can either get in touch with our support team over a call or simply send us your requirements on our official id [email protected]. You can find the contact details here on our website too – www.theninehertz.com.