Mobile app development outsourcing can help in decreasing the project's cost, shortening the time to market, and improving your product's quality. This is the reason why more than 50% of IT companies prefer to outsource software development. This article is about giving you a handy guide for choosing a suitable mobile app development outsourcing company. We will also be discussing the typical working and paying models that are associated with outsourcing so you get a clear picture when it comes to selecting the best alternative.
6 Steps to Hire the Best Outsource App Development Team
These are the six steps which will help you to find out the ideal app development company for outsourcing:
Becoming Self-aware of What You Need
You need to be fully aware in terms of what you need or what your requirements are when you are planning to outsource. You should be having a detailed analysis of your future mobile application on paper to avoid any confusion.
Finding an App Development Team
You need to be sure regarding what type of mobile application development team you need for outsourcing. You need to choose between the three types and they are onshore, nearshore, and offshore.
Go Through the Portfolio
Before outsourcing the mobile app development team, you need to go through their portfolios. Also, it would be better if you check the reviews.
Communicating With the Previous Clients
Before finalizing your app development team, you need to make sure that the company/team is credible. Hence, it is advisable to communicate with the company's past clients.
Selecting the Service Model
For hiring outsourcing app developers, you need to choose among the service models namely project-based models, dedicated teams model, or outstaff working model.
Choosing a Payment Model
For a dedicated team or a project-based working model, you have the option to choose among fixed price or time and material paying models.
These were the six steps before hiring outsource app developers. Also, you need to remember that it is a must for you to have a detailed definition of your mobile application or a project you want at the outcome with your development team.
Top Platforms Where You Can Outsource
These are the most popular platforms where you can outsource app development online:
Freelance Websites
If you want to outsource an individual having a particular skill set, freelance websites are the best option. Say for example there is a website called Upwork where you can hire a freelancer on an hourly basis. However, there is a risk involved while working with a freelancer as it is very hard to authenticate the experience and skill set of any developer.
B2B Directories
On such websites, you can see the listing of mobile application development outsourcing companies. The list is sorted by location, rating, and skill-set. You can visit any of the popular B2B platforms and loom for suitable app developers based on customer reviews, categories and advance search options.
Blogs
The development teams working in The Ninehertz publish tech blogs involving multiple case studies and methodologies showing the vast experience in the field of mobile application development. If the expertise of the organization meets your project requirements and specifications, you can contact such a company to initiate the project.
Design Networks
Many app development companies are running currently that are full-cycle and create both the design and code. This is the reason why design companies like Dribble and Behance also work as a great medium to find a team to outsource.
Now after choosing the type of outsourcing and the team's location, you need to create the list of developers you wish to hire.  You can check some mobile app development outsourcing trends. After completing those tasks, you need to check the industrial experience of the team for finding out whether they can complete your project on time and with the following specifications or not? Read the following section to find out.
App Development Company Expertise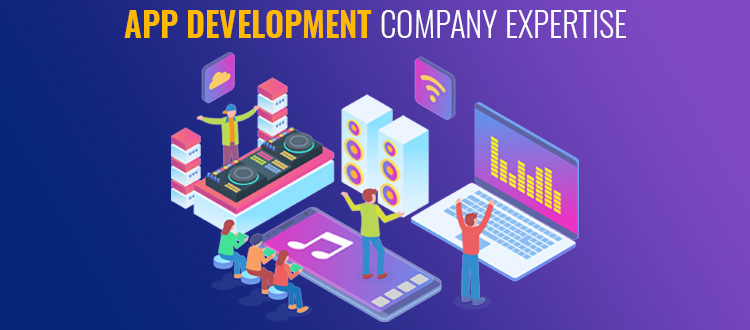 These are the important points that you need to keep in mind while choosing the app development company for outsourcing:
Projects/Assignments: Does the development team have credible projects in their portfolio?
Tech Stack: IS the team experienced enough to deliver the desired results with the latest technologies?
Industry: Has the team created a project similar to yours in the past?
Clients: What do previous clients say or what are the reviews about the team in general?
Partners: Is the team partnering/collaborating with famous technology companies like Infosys, Google, Accenture, etc
After analyzing these points thoroughly, you will point down the scrutinized list of app development candidates. Now you can contact them one by one to get the best deal in terms of price, quality, and time duration.
Opting For the Most Desirable Service Model
You need to choose among the following working models in order to hire outsourcing app developers. There are three working models namely Project-based, Dedicated Team, and Outstaffing. Let us explain each of the models in detail:
Project-Based
Under this model, when you outsource a dedicated team, you have a pre-defined goal that needs to be met within a set deadline. In this way, you, as a client, only focus on the outcome, not the technologies and tools used in the project.
Features of Project-based application outsource are as follows:
A team that is fixed-sized
A fixed budget
A fixed period
The task to develop the product based on the backlog
This business model is famous among small tech companies and start-ups without their own development team or enough experience in managing a project.
Dedicated Team
Under this, the outsourcing company is responsible for team building, personal management, and process quality. This enables you to get a fully-fledged development team to work on the project full time and deliver the desired results.
The provider in a dedicated team is responsible for:
Team leaders
Task assignment
Project management
Project status
Tasks schedule
However, you are still in control of the project management or the product which includes:
You can control the project roadmap individually.
Or you can pass the project decisions to the provider and manage the project at a superior level.
As far as this model is concerned, it works great for middle-level size teams that need to implement only a part of a project or integrating some functionality into a project.
Outstaffing or Extended Team
Under this business model, you assign tasks to outsourced developers as well as provide them a place where they can work.
Under this business model, you will be primarily responsible for:
Controlling the Work-In-Progress
Controlling vacations
Managing the project
Regulating working time
Paying salaries
Motivating the employees and creating a positive atmosphere
This model is suitable for mid-size as well as large-scale companies who need to recruit a particular specialist for a particular project while maintaining the existing budget. Outstaffing works perfectly in a situation where a customer has PM and where the Technical Officer or CTO can control or perform an audit of the development team by giving them tasks to manage them on the technical end.
This model puts a lot of extra responsibilities to the client. But all and all outstaffing is the cheapest and suitable for such type of companies and startups. Some startups even have their own technical leaders and chiefs. Sometimes co-founders of the business also possess such kind of expertise and experience.
Also Read: 7 Tips to Hire a Dedicated Developer For Outsourcing
Choosing a Suitable Payment Model for Outsourced Developers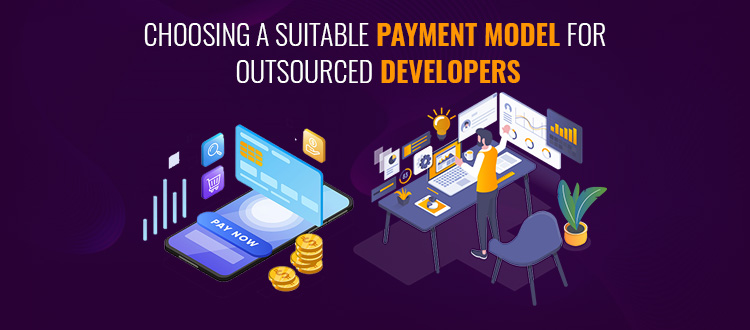 After outsourcing app developers under the out staff model, a monthly salary is paid to the staff members like regular employees. For a project-based or a dedicated team working model, these are the options from where you can choose as per your preference:
Fixed Price: Such a model works with a combination of the following:
A limited budget
A relatively small project
Work is defined clearly
Calculation of time-frame is easy to estimate
This paying model is suitable for newly established startups that need to develop an MVP. However, due to the human factor, the evaluation of the scope of the project is quite to predict. Due to this reason this option is the second preference for most of the companies after time and material.
Time and material: This payment model is prevalent among companies that use agile methodology. This method is also called Pay as You Go. Under this model, first, you and the developer team will decide that what is going to be the hourly rate for each developer, and after that, you make the payment based upon the actual time taken for the development. This method is used by companies when:
The estimation of the scope of work is quite difficult in advance
The client needs to alter the specifications during the work process without modifying the existing agreement.
Due to these features, the time and material model is gaining immense popularity among outsourcing mobile application development companies. This model is suitable for projects of multiple sizes.
Also Read: Reasons Why Tech Companies and Startups Hire Developers from India
The cost Involved to Outsource App Development
Let's talk about how much it will cost to hire outsourcing mobile app developers:
Depending upon the geographical location of the development team, the cost to create a simple mobile application may range from $25.000 to $50.000. If you want to create a complex app with advanced functionality and features, then the cost will range from $100.000 to $200.000 approximately.
This type of bifurcation will help you understand the overall cost estimation
Real Estate Applications – $12,000 to $15,000
A messaging application (Ex. WhatsApp) – $50.000 to $130.000
City guide application – $25.000 to $50.000
Dating Application (Ex. Bumble) – $80.000 to $200.000
Social Media Application – $30.000+
Taxi booking application (Ex. Uber) – $25.000 to $100.000
Banking/payment app – $40.000 to $70.000

Conclusion
In the end, we can conclude that Outsourcing app development helps in reducing costs, increasing team productivity, and allowing the delivery of the project within schedule. This sort of collaboration is suitable for all kinds of businesses – small, medium, or large size. Having said that, for receiving from outsourcing app development you need to select your development team with utmost care and diligence. Hence, it is mandatory to check the company's portfolio, tech stack, and reviews from previous customers. After that, you need to select the most appropriate payment model as per your business plan and get started.