If you have a home services business, then you can take your business online with the help of home services on-demand application/website. People nowadays expect to get skilled handyman to help them within hours to simplify their lives. Say, for example, you moved into a new house and there are few things in the kitchen you want to change. As it is a new locality, you hardly know any local contractors and also you cannot ask your neighbors for any recommendations as you don't know them personally. You come across an app that came out as a savior for you to help you in finding out the best professionals for the job. After booking an appointment via an on-demand app, an expert visits your home and fixes the issue. Isn't that great, indeed it is!
This is the primary use of a handyman app where you can book an expert to do a household job for you at a certain time and at a certain price without any hassle. Many businesses are exploring and capitalizing on this field as there is a huge demand for such apps in society. Developing a robust and powerful on-demand handyman mobile app enriched with useful features ensures to bring maximum revenues for your online business. You can hire an on-demand app development agency to build a mind-blowing handyman mobile application to diversify your business online.
Handyman App Development Can Take Your Business to Next Level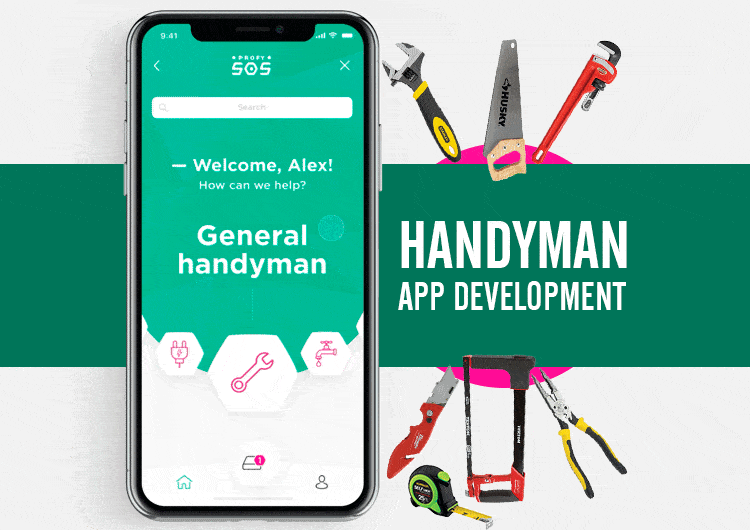 Whether you want to remodel your kitchen or need to fix a leaky faucet in the washroom, you can hire the best professional experts from on-demand applications and get the task done without any problem. These days, on-demand applications for handyman have become a common trend, they help the users in many ways such as it saves a lot of time, effort, and of course money.  That's the reason that on-demand app developers are in demand even after the covid 19 crisis.
In case when you are unaware of whom to contact for cleaning or repairing jobs, it is a reliable and safer option to make use of an on-demand handyman app just like Uber. Gone are those days when one had to follow all the tedious traditional methods to connect with a professional like browsing the internet, talk to a few locals, and checking the licenses to hire the professionals. Today, in this technologically driven scenario, things are getting easy and a lot accessible, thanks to on-demand mobile apps that made this possible. Apps like TaskRabbit, QuickBooks and Swiggy, etc. have completely transformed the overall user experience. Today you can order your favorite food from your favorite restaurant and book a cab sitting at home within a few taps. Similarly, nowadays, you can hire an expert within less than an hour and get the job done in the next hour with the help of on-demand mobile applications. Talking about reasons why people prefer these apps are namely lack of time, supply-demand gap, and delays in delivery. These were the reasons that gave rise to the need for such an ecosystem.
Established business enterprises, as well as startups, are coming up with ideas to build on-demand apps to fill the gap between users and service providers. Such apps have a massive role in revolutionizing the entire mobile commerce domain in multiple ways.
Fulfill Your Customers Need With Handyman App Development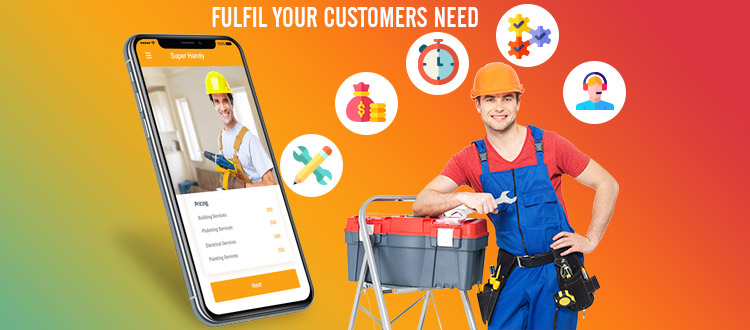 Let us understand the concept by giving a relatable example. Let's suppose there are two friends, Nick and Jones. Nick called up his friend Jones as he had some issues in his washroom. Nick asked Jones whether he knew any plumber as his bathroom is chalked up and was looking for someone to fix the issue. Jones replied that he doesn't know anyone and recommended an app called x7 where he could find the plumber.
Nick thanked Jones and downloaded the application. There he hired a plumber and within 2 hours his problem got solved. The point is whether you have a broken window, a damaged door, or a clogged drain, you can hire a handyman via on-demand apps. Such on-demand handyman mobile applications have a list of experts and professionals who are well versed in doing such type of job.
Hire Handyman App Developers
Request A Free Quote
1200+ Projects Delivered 12+ Industry Experience 450+ Clients Worldwide 200+ Certified & Expert Programmers
How to Develop Handyman App Like Uber, TaskRabbit, QuickBooks?
It is very important to understand the problems faced by common people if you are planning to create an on-demand application for a handyman business. Try to understand the overall concept and see how you can make their lives easier.
Mentioning here some of the top features for the handyman on-demand app development that startups can consider:
We have curated the list of top features for developing an app like Uber, TaskRabbit, QuickBooks for the handyman and get it into the Apple Store and Google Store.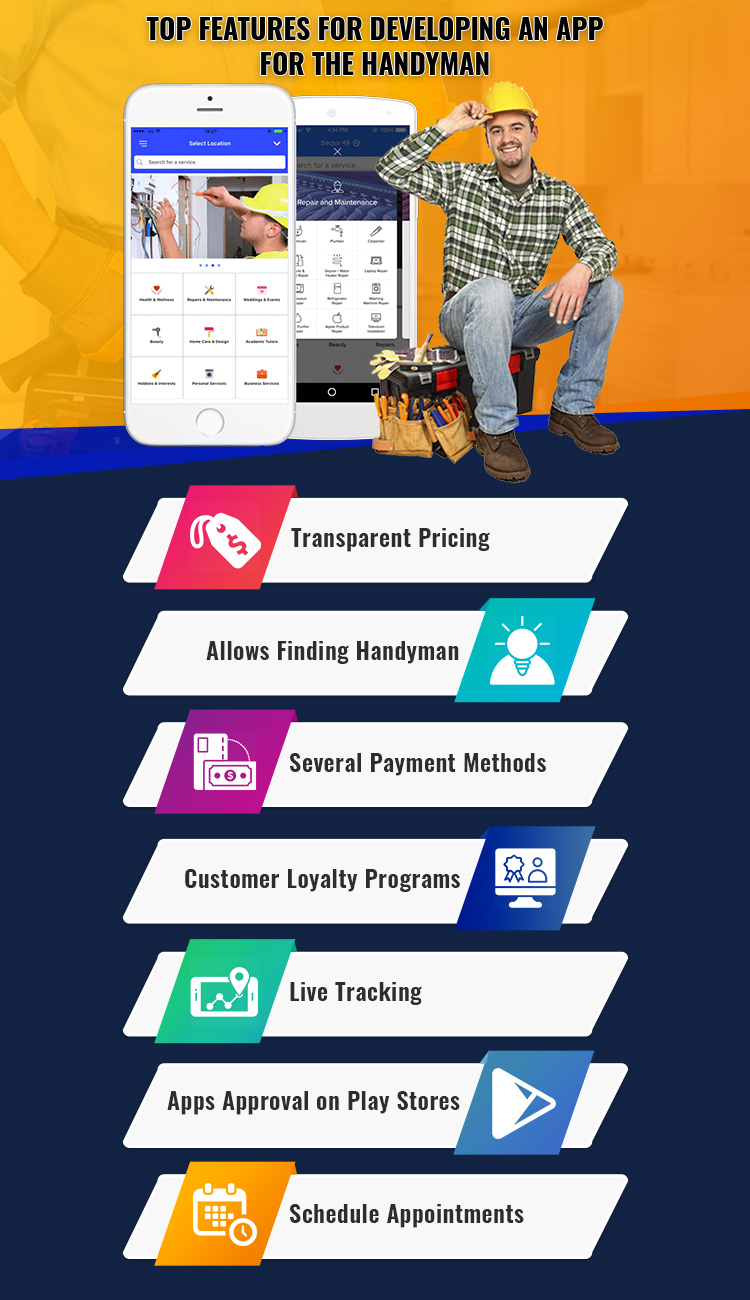 Transparent Pricing
The app must maintain full transparency with the users. There will be discontentment among the users if they came to know later on that there are hidden charges for the repairs or the cleaning services. All the details must be communicated like service charge, estimation, cancellation charges before they make the choice to hire. Think of all the aspects a use requires to hire a handyman app and provide the same to simplify and ease the process of hiring an on-demand handyman. Try using some of the other handyman apps for understanding what features they provide. Make your application stand out from the other applications by offering something unique to the users and service providers.
Allows Finding Handyman Nearby
This feature is considered one of the major features of an on-demand app for the handyman. No Plumber or carpenter would travel 250 miles for the job. Therefore, app users must connect with professionals who are nearby. Users should be able to establish a connection with a number of handy working professionals such as on-demand electrician, mechanic, carpenter, cleaner, plumber, packers, movers, etc. an on-demand handyman app must be enriched with all sorts of handyman services.
Several Payment Methods
A handyman app must provide multiple payment options to its users. Seamless payment methods generally offer great convenience to users. It should be that simple that even a layman can understand the payment options to proceed with the payment. Providing a single payment option can damage the brand's reputation as it might restrict the users to make the payment. Also, there should be an option where they can make the payment via debit or credit card. Hence, you must think sincerely to integrate secure and trusted online payment options like PayPal and Stripe.
Customer Loyalty Programs
This might be a very promising reason why users should stick to your services of an on-demand mobile app. If you want your users to repeat their business, you must send them time to time discount offers and promo codes. This practice is very important to increase sales and leads. You can use push notifications for notifying the users regarding offers and referral code features to cater maximum amount of users.
Live Tracking
The users are able to track the handyman in real-time with the help of this unique feature. You can get detailed reports concerning the activities of a handyman. As soon as the handyman accepts the job and gives approval, the user can track the movement of the professional in order to know at what time exactly the professional will reach the user/customer.
Application Approval on Play Stores
We work in such a manner that whenever we are assigned with any app development project, we are not only committed to delivering a world-class app but also ensure the launching of your app on the iOS store and Google Play store. We follow an approach where we build top class products by our highly skilled developers. We have an experienced team of world-class IT Professionals. Hence, feel free to contact us for your dream project.
Schedule Appointments
The on-demand app must provide users with the facility where they can schedule appointments or make bookings instantly as per their convenience. Some app users may prefer to call the handyman at a later time or date while some app users may expect immediate help. You should provide an option to your users to make advance bookings and schedule them for a later time or date.
Also Read: On-Demand Food Delivery App Development Cost and Features For App like GrubHub, UberEats
Get Advantages Over Your Competitor with Handyman Application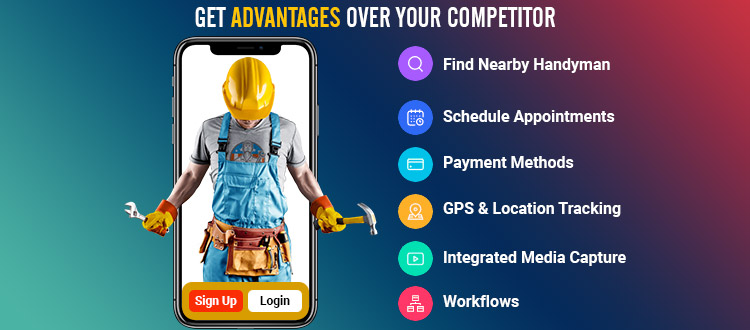 There are many benefits or advantages associated with launching a handyman application. So here we are discussing some of the major benefits in terms of both the parties, i.e. End User and Entrepreneur/startups.
Entrepreneur's Point of View
Generate higher revenues by milking the growing popularity of on-demand handyman app
If you have tools and equipment, your cost can be lowered.
Auto-operations and easy use of a tech-powered model
Startups can focus any on residential or commercial services by deciding their niche.
Multiple revenue options can be opened like appointment fees, service commission, convenience charges, and onboarding fees, etc.
Businesses can establish their brand by spreading the services all over the market through the mobile app
Work as per the convenience or availability
Service providers are paid in utmost 72 hours
The application also makes use of the location for offering quick and affordable services.
End User's Point of View
A lot of time can be saved
Saves money in the long run
The searching and hiring process is simplified
More accessibility
On-demand availability
Cashless payment options for the users
Verified handyman service professionals
Handyman App Development Cost in 2021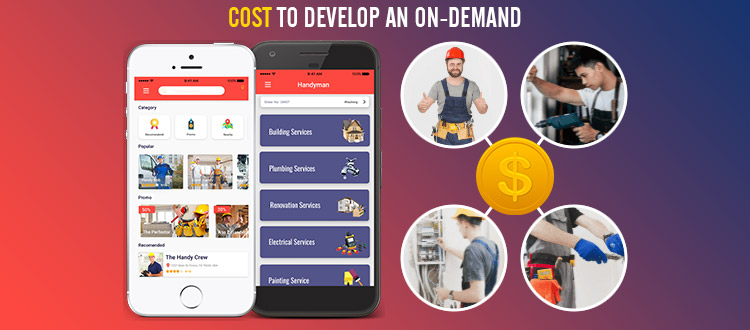 Some factors need to be considered if you want to know the estimation of the cost element of an on-demand handyman application. The app development price will depend on many factors such as the choice of platforms you choose – Android, iOS, or both, the development time needed to customize and create an app, number of features to be added in the application, targeted platforms, design complexity, product management backend app development and many more. You may be interested to know how much developing an on-demand taxi app cost?
The reason why the cost varies is the fact that the application development process is considered quite complex and the more features and functionalities are added the more cost is increased. Hence factors like the number of experts, technologies used, and frameworks used decide the overall cost of development. However, it will be a great option to take an expert opinion to get an idea from scratch to launch. You can contact The NineHertz and get the best quotation for your project.

Final Words
If you are a budding enterprise and want to kick-start your app development process, then you should think of some unique and exclusive ways to grab the attention of your users. The app should be developed with a prime intention to solve user's problems and make their lives smoother and easier. We, as a leading on-demand app development company can help you get the best on-demand application for handyman for multiple platforms like android, iOS, or both. We, The NineHertz are experts in delivering customized web and mobile solutions to people worldwide.