Considering why on-demand app developers deliver apps that are significantly influencing all industries.
It has been around eight months ever since the first case of coronavirus identified in China. And the COVID-19 is getting enormous each passing day with numerous cases across the world. Nobody knows how long it will take to get rid of this pandemic but the people have learnt to live with it now following social distancing and self-quarantine practices. And it has only become possible with the help of technology that played a significant role in adapting masses for this new lifestyle. Thanks to mobile app development services that bring out an outstanding approach to simplify the living of people through on-demand apps.
On-demand delivery app solutions come out as a blessing during this coronavirus outbreak. Not only it brings services like food delivery, grocery services, laundry, beauty services, ATM services, rental services and others to your doorsteps when the people are forced to stay at home. But also helped the dooming economy through support to businesses struggling hard for their survival.
That is why the demand for on-demand apps is high in the market and the businesses are looking for on-demand app developers so that they hire a team of dedicated programmers to bring their business idea online. And serve people with their goods and services seamlessly during this pandemic situation.
Here in this article, we will shed light on different types of trending on-demand apps and reasons why they are in demand during this COVID-19 crisis. But before diving deep into this, first, understand the term on-demand apps.
What are On-Demand Apps?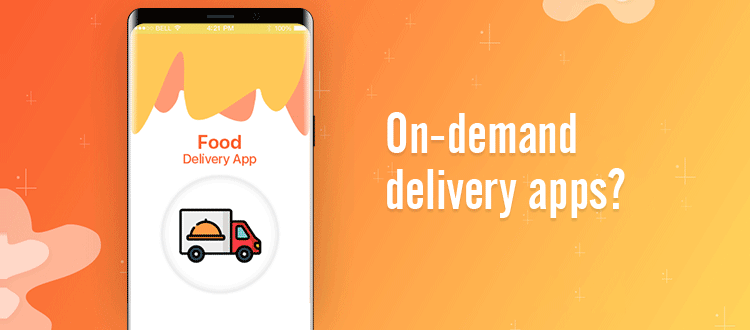 On-demand mobile apps can be understood as the mobility solutions which provide users access to the services in real-time at their doorstep or physical location from the different businesses globally.
Among services, you can get benefited with on-demand food delivery, on-demand grocery services, on-demand beauty services, on-demand laundry, on-demand rental services, on-demand ATM services, etc at your doorstep.
However, these services were already making a difference with their comprehensive list of features including a wishlist creation, multiple bookings, different payment options, order tracking, feedback, and more. Yet exceptional growth is witnessed in the demand of on-demand apps during the coronavirus outbreak as compared to others in the technology world.
Reasons Behind Exceptional Growth in Demand for On-Demand Apps During Coronavirus
There are several reasons which increase the demand for on-demand apps and push businesses online during the Coronavirus pandemic. Let's go through each of them one by one.
No-Contact Delivery Options
In such a situation where numerous coronavirus cases are being registered daily across the world. People are in fear and strictly following social distancing. Which in turn, made businesses come up with a solution where people don't have to make direct contact with the suppliers. However, the option was already available-on-demand apps, but its demand raised during this COVID-19 crisis. On-demand apps prevent direct contact between the delivery professionals and users. Therefore, businesses are adopting on-demand delivery services as the best option to serve consumers with their requisites.
According to surveys, almost 95% of the US families are taking advantage of at least one on-demand app for fulfilling their basic needs during this Coronavirus pandemic.
One App With Multiple Choices
Whether you make offline or online purchases, a variety of options always tempt consumers. This is what an on-demand app provides. With a comprehensive features list, it gives users access to purchase their requisites scrutinizing through multiple choices of products or services.
Excellent Shopping Experience
In the wake of uncertainty when this pandemic will end. People are rushing to shops and panic buying overstock. Consequently, most of the shops are running out of stock and shutting down. But it is not the case with the on-demand apps. They have better stock management strategies that not only let them handle reorders efficiently but also make them offering a quick yet hassle-free buying experience to the consumers. Thanks to thousands of professional delivery staff that prevents panic buying and ensures convenient shopping right from the comfort of their home.
Spreading Hygiene Awareness

The coronavirus outbreak has filed people with fear. They are not being able to buy essentials and maintain proper hygiene with peace of mind. Since they don't know much about the virus. So it's better to guide and educate them about the necessary steps that they can take while tackling the situation and protect their community using an application.
Experienced on-demand app developers can help you in customizing your business app with this exclusive feature of creating hygiene awareness among the people and securing the community.
Increased Customer Satisfaction
The time when people are afraid of going out on the street or marketplace. The on-demand applications offer the choice of buying their essentials from the comfort of the home. Without any need of making contact with the delivery personnel. Also, the facility for instant delivery or 24-hours delivery services enhance customer satisfaction and leave them with a happy shopping experience.
Opportunity to Increase Business Revenue
At a time when businesses were experiencing downfall or shutting down due to the lockdown. On-demand apps come up as a boon for businesses across the world. Not only these apps are helping consumers buy their essentials from the comfort of the home but also providing an opportunity to increase business revenue.
Mentioned above are the reasons which are influencing the growth of on-demand apps for numerous businesses during this COVID-19 crisis. Therefore, business owners are looking for companies that create apps that can avail them an appropriate on-demand app solution considering the supply of product and services of the businesses. So choose to hire dedicated programmers or a mobile app development company that offer the service of on-demand app development.
Different Types of On-Demand Apps Trending During this Coronavirus Pandemic?
The impact of coronavirus on different industries is different. Businesses that require face to face interaction with the customers may be losing their grounds. But those based on doorstep delivery of the services are seeing growth in demand.
The coronavirus pandemic however impacted a wide range of industries very badly still there are some which are enjoying the unseen benefits even in this worst situation, thanks to on-demand applications.
So let's shed some light on the businesses which are blossoming with the help of on-demand service delivery apps.
On-Demand Grocery Delivery Apps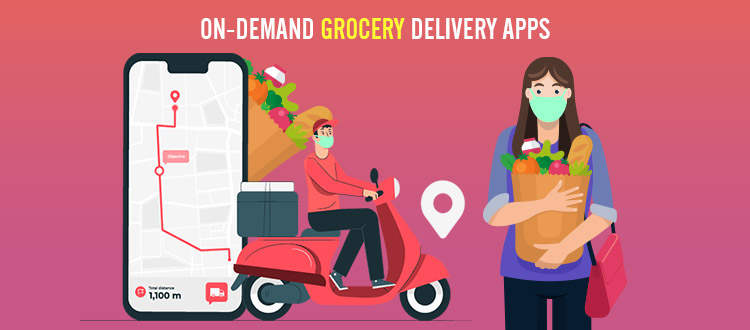 Well, the concept of on-demand apps is not new for businesses and customers. But during this COVID-19 crisis, the concept is gaining more attention and getting popular due to the people failing to go out of their home. According to the Apptopia, an app store intelligence firm, online grocery apps like BisBasket, Instacart, Instashop, Shipt, Walmart Grocery and more are setting new records of daily downloads. If the average daily downloads from February to mid-March are compared with the other days, following brands registered a growth of 218%: Instacart, 160%: Walmart Grocery, and 124%: Shift on average daily downloads.
On the other hand, SuperMarket News reported an increase of 98% in the average daily downloads of grocery apps in February.
Also Read: On-Demand Food Delivery App Development Cost and Features For App like GrubHub, UberEats
On-Demand Healthcare Apps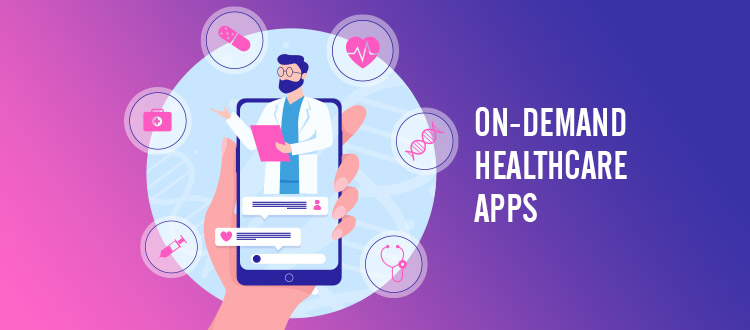 According to the Statista report, the global healthcare market is likely to reach a milestone of $90.49 Billion in 2020 from $21.7 Billion in 2018. But due to the coronavirus pandemic, we probably got to see an increase of 33.7% in revenue.
When we are forced to stay under lockdown even for essential services. We can't neglect the demand for doctors and medicines. Where the situation is worst and patients can't hit the hospitals and clinics for treatment. On-demand healthcare apps play a promising role in providing online consultation with doctors and medical supplies as well.
Also Read: How to Make an Online Doctor Appointment Web Portal and App like ZocDoc, Practo
Push Doctor: it is a Manchester-based online medical consultation app. During the last month, the application witnessed a surge of 70% in consultations.
Medi24: It is a Switzerland based telehealth app. Launched in 1999, the application used to take 6,000 calls daily with the support of a team of 90 nurses and 25 doctors. But if going by the press release of Allianze Partners, Medi24 handled 70,000 cases during the last month which is 34% higher than the previous year. Out of 70,000 cases, 30,000 cases were related to coronavirus for which they recommended self-treatment to the patients.
Well: It is a leading e-telepath application. During this pandemic, the application garnered a hike of 400% in the number of downloads.
On-Demand Social Media Apps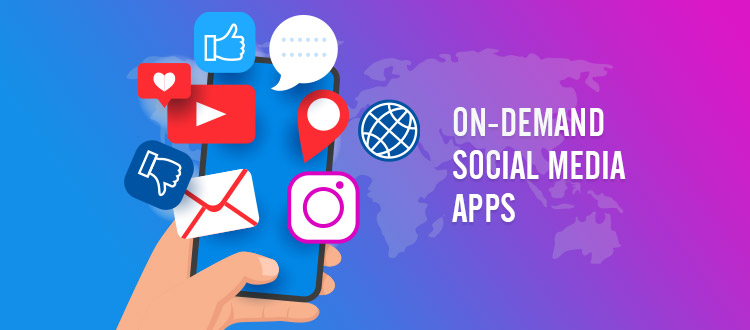 Lockdown implemented due to the COVID-19 crisis, forced people to stay behind the doors without work. So people are looking for entertainment through streaming apps like YouTube, Netflix, social media apps like Facebook for connecting with others, and social media video apps like Musically, TikTok for short video content.
TikTok: This social media video app enjoys a large audience base with over 500 million users. The application of which the majority of the audience is teens witnessed a drastic change in its usage from January 21 to March 24. Within these two months, the average daily traffic of the application increased from 16 million to 19 million in two months.
Also Read: How to Develop a Mobile App like TikTok: Top Features, Business Model and Cost
Netflix, YouTube, and Facebook: A sudden hike is also observed in the streaming industry due to the coronavirus pandemic. As per the reports, an increase varying from 8% to 20% is noticed in the viewership of on-demand streaming, video apps and live-television.
On-Demand Education Apps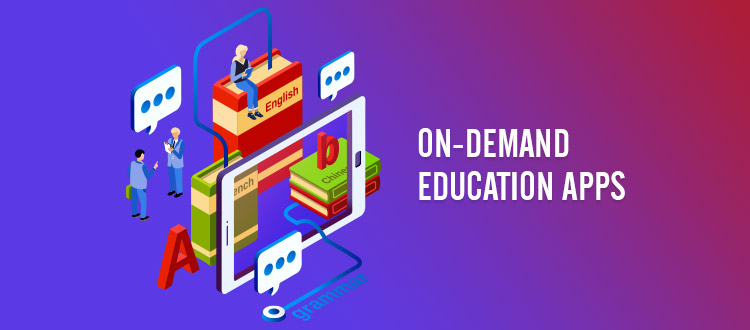 Not even this, live online classes have become the latest trend in the education industry due to imposed lockdown across the nations. According to the report of Statista, it is likely that on-demand education mobile apps development would make a revenue of 243.8 million US dollars in 2022.
From the above-mentioned facts and figures, it is clear that the demand for on-demand mobile apps is increasing across the world. And it is worthwhile to hire dedicated programmers to develop an on-demand app for your business to survive in this sinking market.
Also Read: How to Design and Develop a Fantasy Sport App like Dream11​?
How Much Does it Cost to Develop an On-Demand Mobile Application?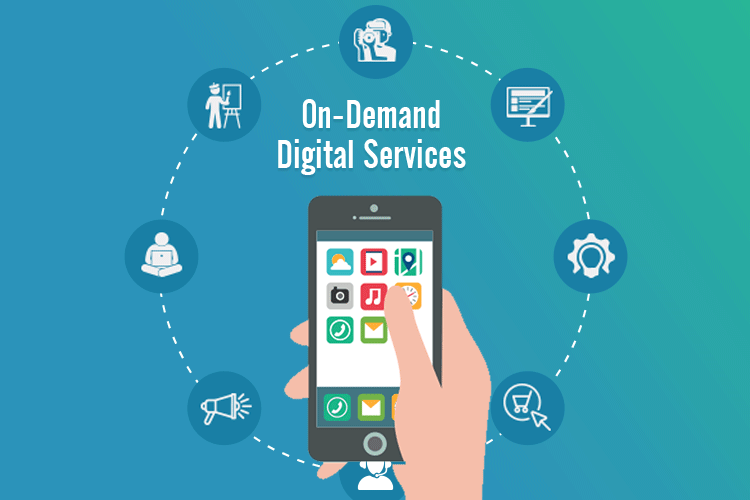 Going through the article till here, you must be assured that it is good to develop an on-demand app for your business to survive in this sinking market. And now you are looking for estimation of time and cost for app development. So let me clear you that it is not easy to calculate the exact time and cost of development.
But considering factors responsible for influencing the final cost of the app development. Like the app idea, the complexity of the app involved technologies, features, and functionalities, selected operating platforms, and more. You can get an estimated cost of on-demand app development.
According to the survey report of Clutch, the average costing for app development may vary between $25,275 to 725,500. And an application with complex features and functionalities may cost higher than mentioned pricing range.
Note: above-mentioned average costing for app development is estimated based on the survey conducted among 10 leading companies. Whereas the average cost for Android app development services starts from $18 to $30 per hour for developers.
Final Words
COVID-19 is not only a health crisis but also an economical crisis for nations across the world. We have to fight with this pandemic in both ways so that not only we can stay alive but also can survive by keeping our businesses stable with the help of mobile app development services like on-demand apps.
On-demand delivery apps can turn out as the best solution for almost every business, which will let you serve your customers with the required products and services at their doorstep. Also, it works keeping the community safety and hygiene of the delivery boys and customers in mind.
So if you are willing to develop an on-demand app for your business, it is the right time to hire dedicated programmers and get your finished application within limited time and cost. Hope this blog will help you understand why the demand for on-demand developers is growing even after the COVID-19 crisis.