Are you planning to create and sell online courses? Then it is the right time to get started because the eLearning market is growing at a rapid pace globally. A study shows that by 2026, the global e-learning industry will reach $336.98 billion. And with the rise in online course platforms, people are shifting from traditional learning methods and getting used to modern ways of learning.
With more and more people taking an interest in learning through online courses, the number of online learning platforms and online course platforms is increasing daily. Even the global Learning Management System (LMS) market is expected to grow by 19.1% annually to reach $29 billion by 2026.
If you too want to sell online courses, now is the right time. But, with so many online learning platforms and learning management systems, which one is the best for you? This blog has curated a list of the 15 best online courses platforms where you can create courses without coding skills and sell online courses. But before we dive into that, let's understand what is an online course platform, how can you create online courses on an online course website and sell online courses.
List of 15 Best Online Course Platforms to Create & Sell Online Courses
| S.NO. | Platform | Pricing |
| --- | --- | --- |
| 1. | Thinkific | $39- $399/Month |
| 2. | LearnWorlds | $24/Month |
| 3. | Podia | $39- $79/Month |
| 4. | Teachable | $0- $299/Month |
| 5. | Kajabi | $119- $159 |
| 6. | Udemy | Comission Based |
| 7. | WizIQ | $27/Month |
| 8. | Learn Dash | $159- $329 |
| 9. | Skill Share | $8.25/month |
| 10. | Pin Learn | $399- $999 |
| 11. | Shaw Academy | $49.99- $60/Month |
| 12. | Ruzuku | $74.75/Month |
| 13. | LinkedIn Learning | Start at $15/Month |
| 14. | Udacity | Varies from course to course |
| 15. | Coursera | $39- $79/Month |
1. Thinkific: Create, Market & Sell Courses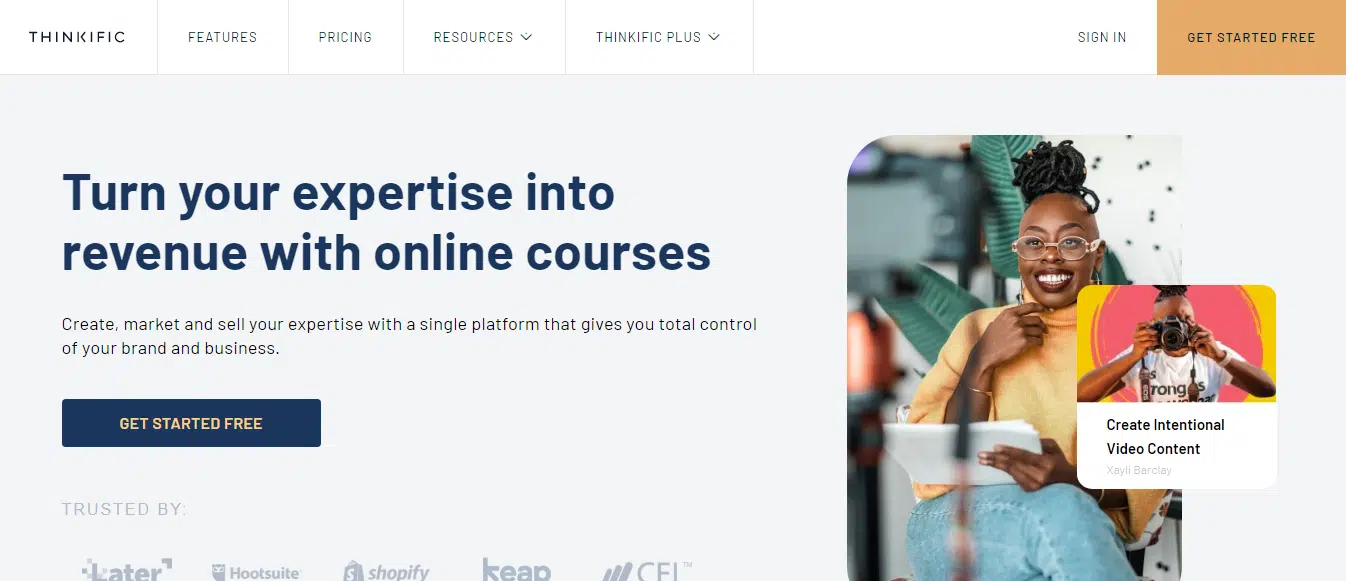 Thinkific is rated to be one of the top online course platforms to sell courses online. It's the number 1 choice of many people as its pricing precisely aligns with features provided compared to other affordable options on the list, and it delivers a high-end online course experience.
Thinkific Key Features
Easily customize your course website, and one could never guess whether it is Thinkific.
Easy to use yet, advanced drag and drop editor to organize your website content.
Course sales pages are neatly and efficiently optimized.
Thinkfic offers real-time professional dashboards that are customizable. Add your choice of videos, text, and any other files allowing digital downloads for your users.
You can even establish an expiry date for your online courses.
Get complete access to HTML and CSS.
It allows you to run Google and Facebook ads that help you promote your courses online.
Create and sell unlimited courses on Thinkfic regardless of your pricing plan.
Get a free plan without investing any money upfront, try, and if you like it, you can purchase it.
Zero transaction fees.
The platform can support more than 30 different languages.
Pricing of Thinkfic
Thinkfic's basic plan starts at 39 dollars per month, and the pro plan is for 79 dollars per month, while the premier will cost you 399 dollars per month. The basic plan is your best bet for anyone just getting started as it limits transaction fees and has few limitations.
2. LearnWorlds: Create and Sell Online Courses from Your Own Website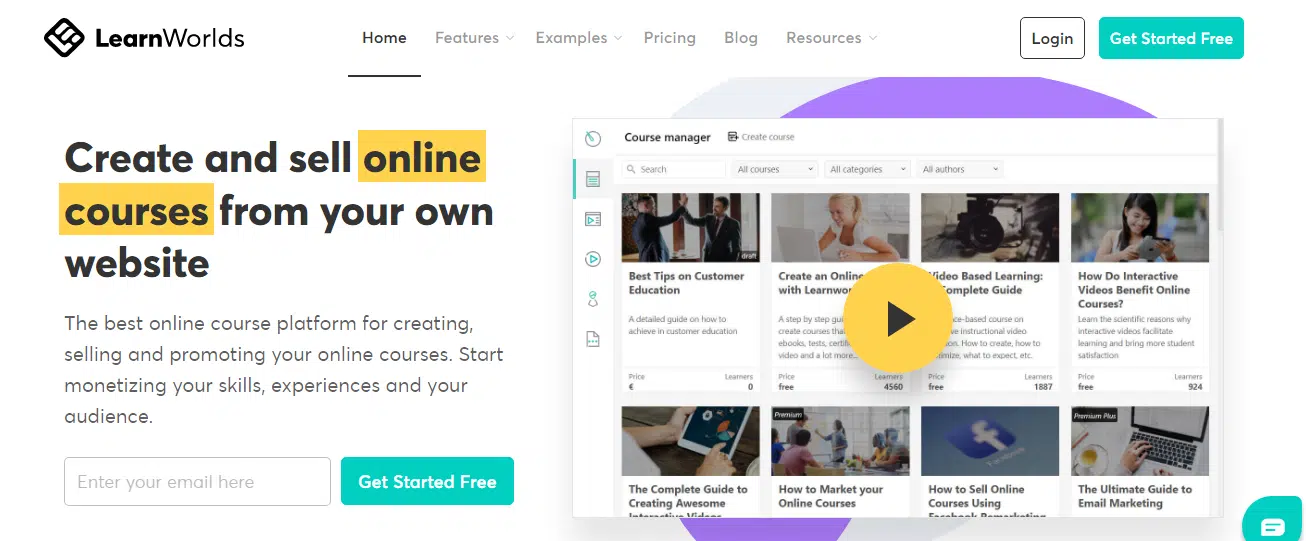 LearnWorlds is one of the robust all-in-one platforms for online course creation carefully designed to help you sell online courses with various advanced and interactive features. For example, an integrated video player and E-Book reader in the platform are both interactive features providing the users an exceptionally unique experience compared to other platforms. The course sales pages and payment processes are highly optimized, leading to high conversions and increased course sales. The ease of use encourages many course builders to use it.
LearnWorlds Key Features
Drag and drop editor that gives a sense of familiarity.
Highly Responsive Templates.
Marketing automation
Professional dashboard
Interactive Audio Narration
Integrated Video Player
Pop-up quizzes, games, puzzles, assignments, etc., for increased engagement.
Built-in online community interaction platform, just like social media, to help you and your users interact easily on the same platform
Edit the pages you want to use Javascript and CSS.
Supports multiple languages.
Best part? Ample ready-to-use, pre-designed, and customizable web page templates to quickly build your online course website.
You can provide free courses.
Try out the free plan and then decide whether to purchase an advanced plan.
Pricing of LearnWorlds
If you decide that LearnWorlds is the platform for you, the plans start at just $24 per month. Every plan offers numerous features like drip-feeding courses. You can upgrade your plan without any hassle as your business grows.
3. Podia: Sell Courses, Webinars, Downloads, and Community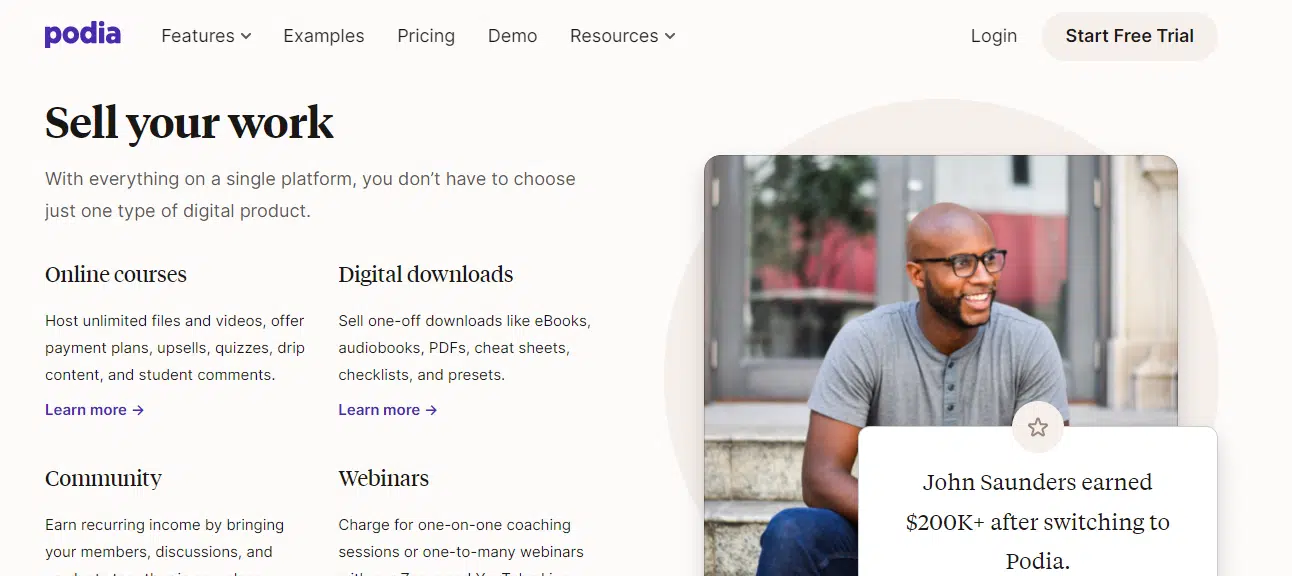 Podia is an easy-to-use online course creation softwarethat has everything you will need as a course creator for creating and selling courses. Podia enables you to host online webinars, add downloadable content on your landing page, establish a private membership site community, and even allows you to chat live on the platform itself for accessible communication with your users to increase engagement.
Podia Key Features
Live Chat Widget.
Easy file downloads.
User role-based access.
Offers various advanced marketing automation tools.
Users can access your courses through any device. (Mobile, tablets, laptop, computer)
Easily combine and create a package of similar courses.
Live preview feature for all your courses.
Numerous marketing tools.
Free trial for 14 days.
Pricing of Podia
Podia plans start at as low as 39 dollars per month for their 'Mover' package. The 'Shaker' package they offer will cost you 79 dollars per month, allowing you to scale your business. Moreover, it gives you an option to try out the platform with a free trial for 14-days.
4. Teachable: Create and Sell Online Courses and Coaching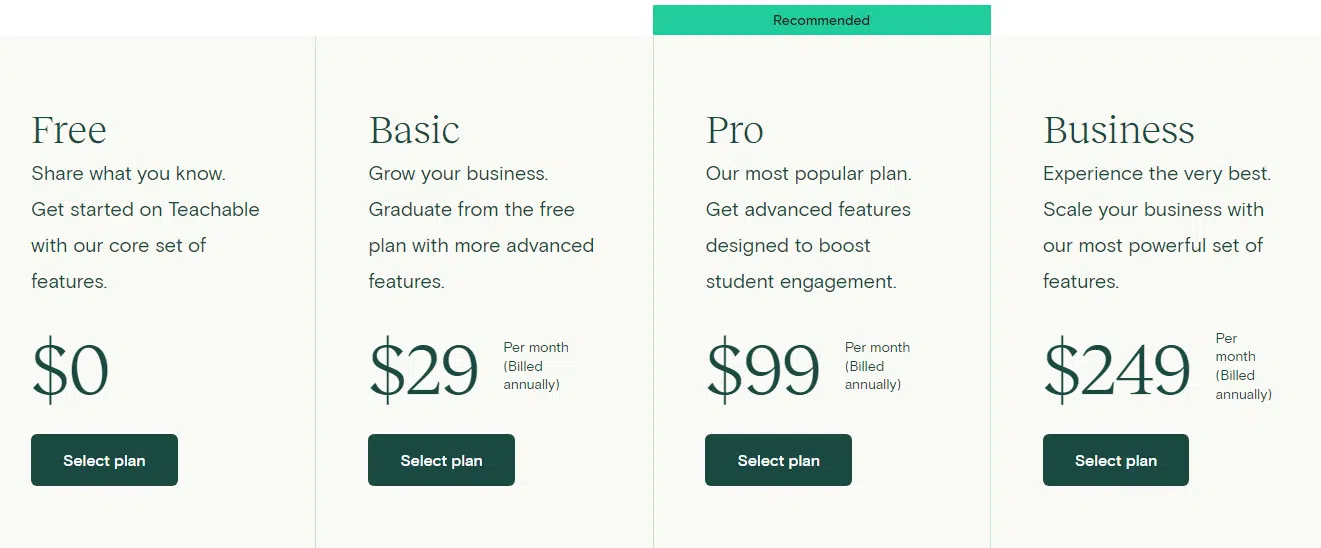 Teachable is a cloud-based online course creator solution that offers a user-friendly course builder interface, especially for beginners. This is (statistically) one of the most extensive online course marketplaces. Teachable has over 100,000 instructors on its platform and has helped many people earn over 500 million dollars.
Highly popular names like the New York Times and John Lee Dumas use Teachable. If they trust the platform, so can you. You have to add your subject matter content in the ready-made templates and later customize them as you want them to look and function.
You can easily set everything up via the dashboard, including payments, course sales pages, digital downloads, track progress, and much more. Teachable recently added an online course storefront on their platform called "Discover." They're paying attention and a lot of effort into it right now, giving the impression that it is poised to grow in the future. Imagine if your course got featured, it might be an excellent opportunity to increase your course sales.
Teachable Key Features
In-house payment processor
Interactive lectures through various media.
Google form integration.
Supports payments in over 130 different currencies.
Get a custom domain.
Excellent technical and customer support.
Advanced progress tracking and reporting.
Offers affiliation program for instructors.
Pricing of Teachable
Teachable offers different plans based on various features when it comes to pricing. This is an excellent option because you only have to pay for the features you need. It offers a free plan for trial, and the paid plan starts at just $29. Each comes with unlimited courses and unlimited students. The best part is that this great online course platform offers a free trial for you to test and then get started quickly and easily.
5. Kajabi: Create & Sell Online Courses & Coaching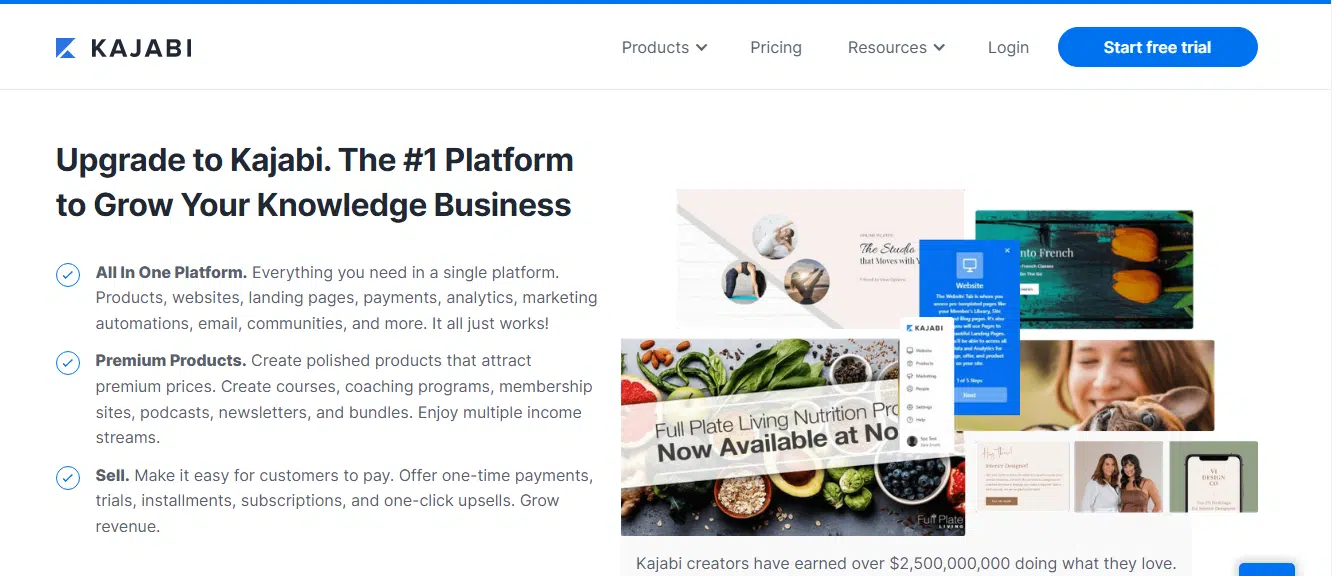 Kajabi is one of the most famous online course creation platforms. It offers advanced and powerful course builder features like automation to help you quickly create and sell your structured online courses. Kajabi is a complete cloud-based course creation system. It has multiple customizable course site themes for you to use and create a beautiful and unique own website for your online education business.
Thanks to the features with different levels, this all-in-one platform and course builder are perfect for beginners and advanced users alike. It provides a user-friendly dashboard which is ideal for even non-technical users. The drag-and-drop feature makes customizing and setting up your digital courses (or digital downloads) without the need for any unique design or coding skills. Kajabi is the best course builder for any course creator who wants to use email marketing tools directly within their dashboard.
Kajabi Key Features
Build good-looking landing pages with an easy drag-n-drop editor.
Build as many pages as you want to.
Add live events to your home page.
In-built email marketing tools.
Affiliate program for instructors.
24/7 customer and technical support.
Best online all-in-one platform with ready-to-use, customizable course site templates.
Host podcasts.
Add video lectures.
Write blogs for better reach and increased traffic.
Third-party app integrations.
Download the mobile app.
Kajabi Pricing
Kajabi offers the users to use a 14-day free trial before they decide to commit and purchase a plan. The pricing options start at 119 dollars per month for its basic plan. The Growth Plan will cost you $159 per month when billed annually.
6. Udemy: Learn Anything, On Your Schedule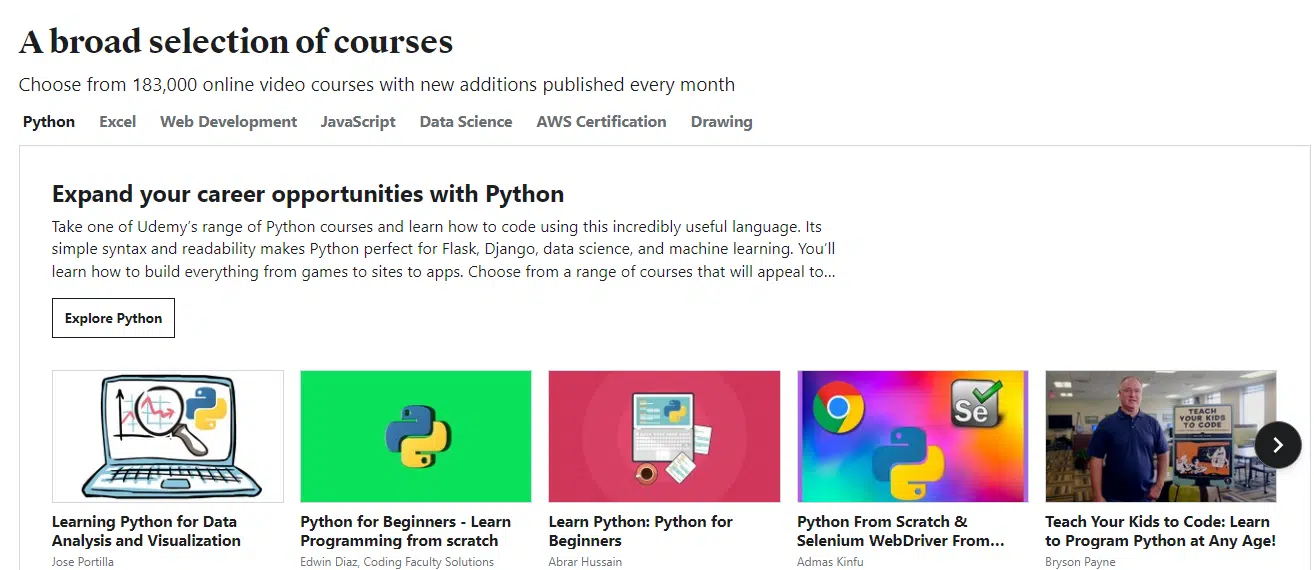 Udemy, one of the best online learning platforms, and best online course marketplace offers more than 24 million students, 35,000 instructors, and an unbelievable number of eighty thousand plus courses. But to create your own course and sell it on the platform, you first need to sign up and become a premium instructor.
Once your premium instructor account is approved, it's effortless to create unlimited courses. The course creation process is relatively easy. When creating your video content, remember the content has to be at least 30 minutes long and contain at least five elaborative lectures.
Another benefit of adding selling courses on Udemy is that you can easily promote your top online course within their platform. You can use their marketing tools in site-wide discounts, be placed in their marketing tools, or join their own affiliate program with tiered commission rates.
Udemy Key Features
Various advanced monitoring tools.
Teach in multiple languages without any restrictions.
Create your own brand using the marketing tools.
Best online courses.
All in one platform with advanced video recording and course builder features gives users an online school-like feel.
Unlimited students.
Join the affiliate program and promote your top online course.
Unlimited courses.
Better performance in comparison to other platforms.
Also offers online degree programs.
Udemy Pricing
Udemy is free to use. Doesn't matter if you teach through text or video lessons in your courses. You can quickly start creating your online courses right away. The website even offers free classes. When you begin selling courses, a small portion of the revenue earned goes to Udemy for their service to help you connect with their massive best online course marketplace.
7. WizIQ: Virtual Classroom and LMS Software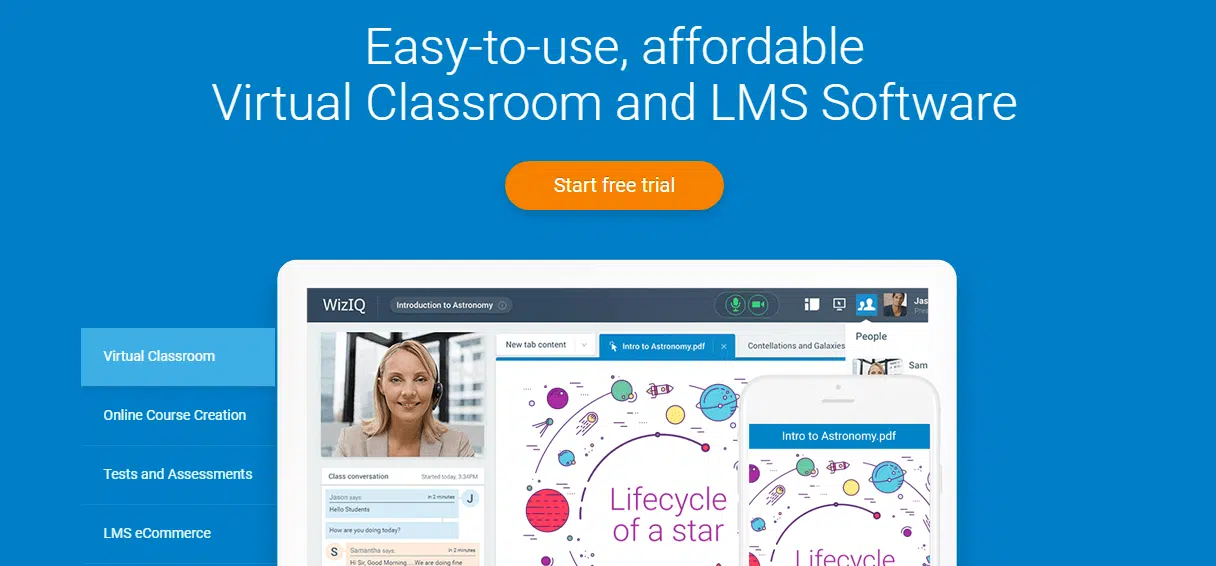 WizIQ is among many others one of the leading online course platforms that offer teachers and educators an easy way to create virtual classroom software. It allows a course creator to upload live interactive online classes. You will not believe it, but the fact is that over 4,00,000 instructors have leveraged WizIQ to teach students across 200 countries.
They provide the latest technology tools for online course creators to start their live training programs. A few of these are discussion boards, video streaming, mobile accessibility options, critical assessments, and analytics dashboards.
Suppose you are an educator or a corporate person who wants to reach your audience live anytime, anywhere in the world. In that case, you can use their 14-day free trial and later decide if you wish to purchase a new plan.
WizIQ Key Features
All in one online High Definition video conferencing feature.
Unlimited Storage place for as many courses.
Remotely access content anytime, anywhere, or on the go.
Build your brand image by adding your online course business logo and brand colors.
This online course creation software gives you analytics reports to track your performance.
Allows LMS integrations, unlike other platforms.
Conduct as many assessments and tests online.
Create your own private membership site.
Pricing of WizIQ
The WizIQ introductory course creator plan starts at $27 per month.
8. Learn Dash: Your Online Course Deserves the Best!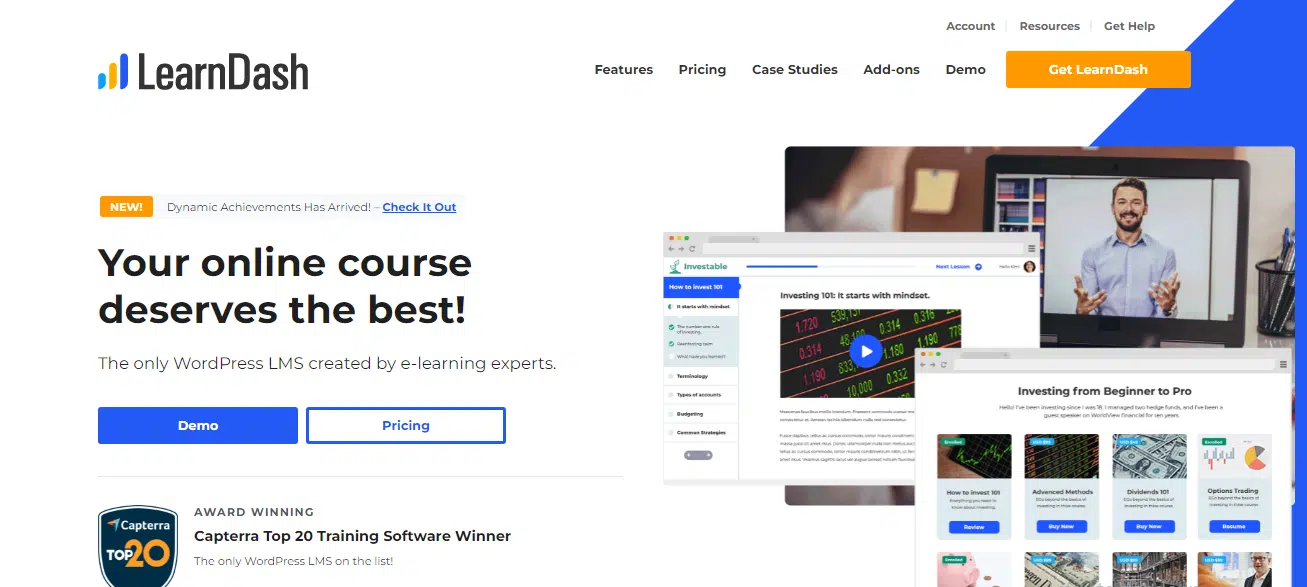 LearnDash is a WordPress plugin, one of the best online course platforms you need for course creation and to sell your courses with a WordPress site.
This famous WordPress LMS plugin is used by some huge websites using LearnDash including Yoast SEO, Infusionsoft, and the University of Michigan. One of their USPs and the first helpful feature is their "Focus Mode". This mode blocks all distractions when students are learning through one of your courses.
LearnDash's full-featured course builder aligns just right with their email drip campaigns. You can build the top online course on your own website, match your content with one of the email drips and schedule to send lessons according to specific programs.
Learn Dash Key Features
Gradebook Technology gives students and learners overall grade-based quizzes homework scores. It creates a weighted average for teachers to review.
Course award points for various actions.
Features that compete with college curriculums.
Badges and certificates.
Focus Mode to block and eliminate any distractions.
Build as many landing pages as required.
An advanced course platform with diverse features and courses.
Create membership sites.
Learn Dash Pricing
The basic plan starts at 159 dollars per month. The plus package costs 189 dollars, and the pro package for 329 dollars.
9. Skill Share: Creative Classes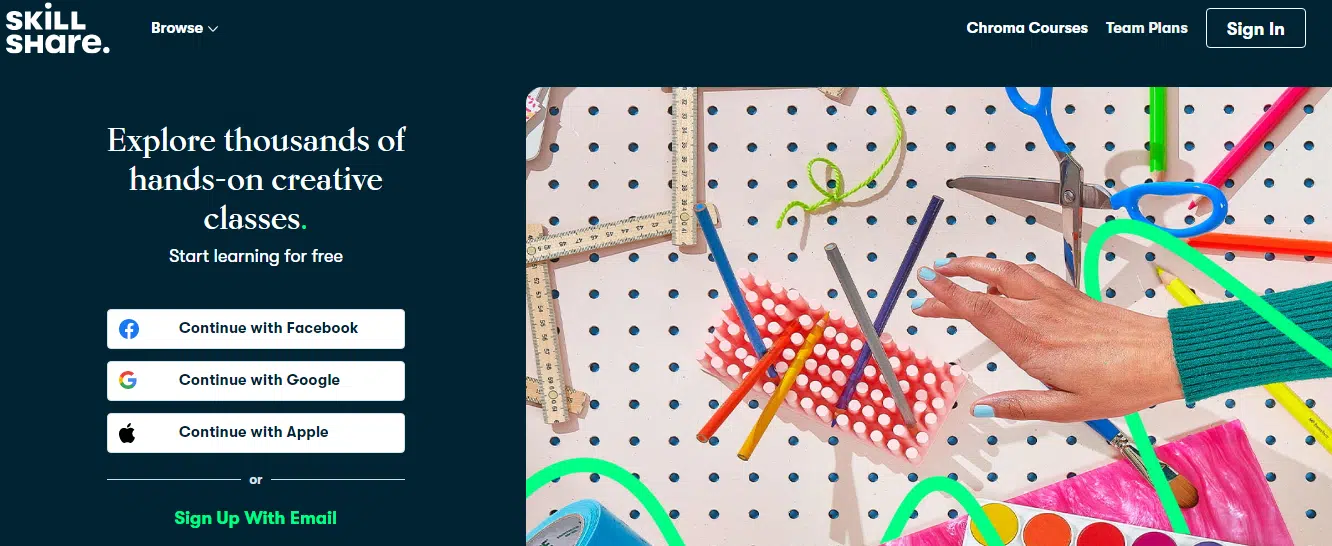 Skillshare is another best online course platform dedicated to helping students learn efficiently and interactively. It offers courses on a dispersed range of subject matters, including analytics, graphics designing, eCommerce management, cooking classes, music, performing arts, and much more. SkillShare also offers courses explaining how to earn money through blogging and become a successful YouTuber.
When you create a course on SkillShare, it becomes a part of the catalog, and as users go through your courses, you earn a revenue share of their membership sites fees. By joining SkillShare, you can earn 10 dollars per users' membership and referral. Even though earnings are typically low, SkillShare is a nice content creation platform offering some leading online courses compared to other platforms.
Skill Share Features
Learn on any device, anytime, anywhere.
Instant sales through SkillShare's existing audience.
Link third-party social media platforms to expand your reach and exposure.
Premium instructors can instantly start earning a good amount monthly.
Grow sales for your best online course.
You don't need considerable technical skills to begin your online courses on SkillShare.
Primarily video content classes.
Pricing of Skill Share
Start learning for free through SkillShare. Get unlimited access to all lessons for the first 14 days through a free trial, and later you can decide if you have made up your mind to pay $8.25/month for continued access.
10. Pin Learn: Self-hosted Online Tutoring Marketplace Software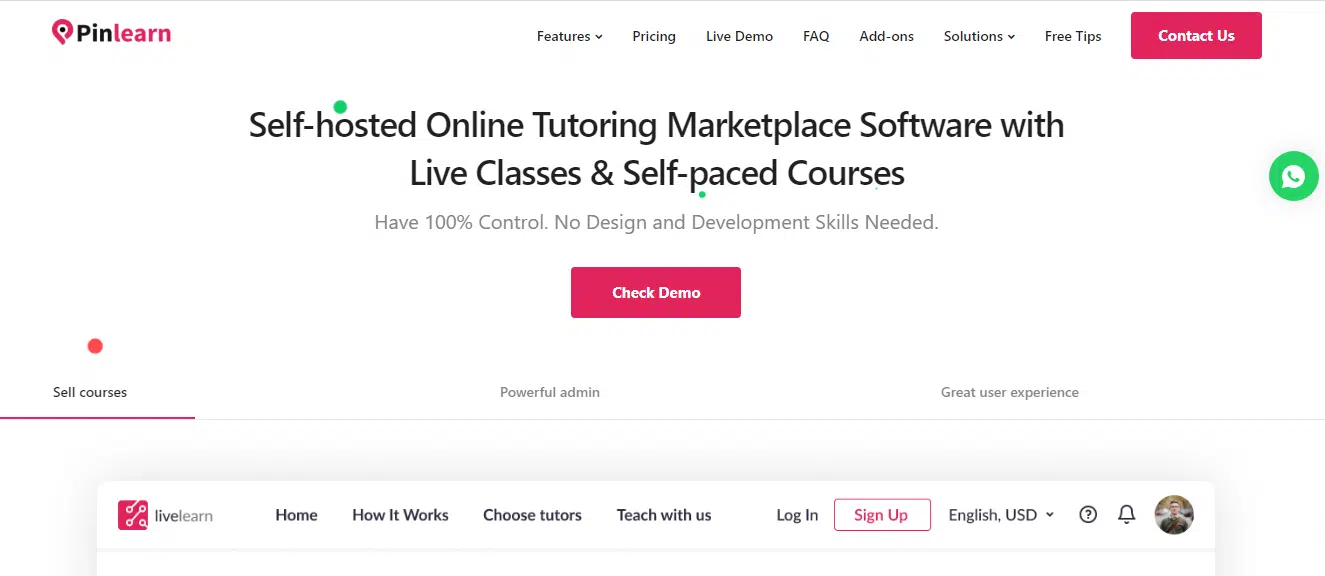 Pin Learn is a versatile eLearning platform and course builder with built-in features to sell your courses if you're not aware. You can create self-paced courses take 1 on 1 live classes, and schedule webinars. Sell courses on your own and invite other tutors and educators on your platform. Must read how can you make on demand tutor app.
Pinlearn is a one-stop course creation place to fulfill your eLearning and business needs. Do you want to sell self-paced courses? Earn from live video lectures? Or monetize group webinars? Worry not because Pinlearn supports all of it on a single platform.
You can sell your courses and at the same time allow other tutors to sign-up and sell their courses as well. The best part is that all educators and tutors get a dedicated Tutor-Dashboard for managing their professional profile, online courses, individual classes, meeting appointments, students' progress, and monthly earnings.
The platform offers everything from an efficient course builder to analytics and all the other features an educator needs for creating courses, organizing webinars, and taking real-time lectures via video conferencing.
Pin Learn Key Features
Integrated session recording
Save live lectures to learn later.
Built-in course authoring feature.
Live lectures and webinars.
Multiple payment gateways for easy transactions.
Detailed analytics and progress reports.
Separate dashboards for tutors, students, admins, etc.
Role-based access.
Interactive learning features.
Easy file downloads
Collaborate with various tutors on the platform.
Integrated SEO and marketing tools.
Free trial.
No transaction fees.
Pricing of Pin Learn
Pin Learn provides source-code access; they don't offer any free trial. However, you can request a free online demo on their website to test the software in action. You don't have to pay recurring payments. You can purchase the source code by initiating a one-time fee for respective packages. You also get the option to easily upgrade your Regular package to a Premium package in the future, as per your requirement. The regular package costs $399, and the premium package costs $999.
11. Shaw Academy: Free Online Courses & Certification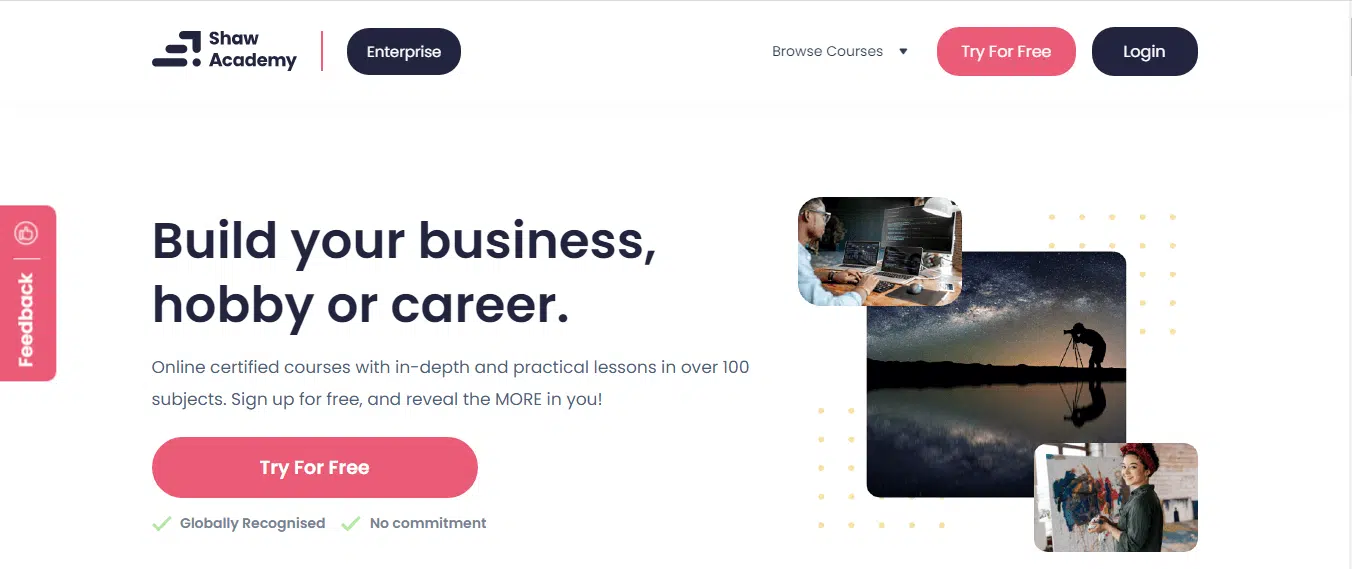 Shaw Academy is one of the top online learning platforms that give students access to professional and prestigiously accredited online courses. Students can easily sign up for Shaw Academy and get access to all of the long-form courses on the platform.
Shaw Academy offers courses in three different categories: for those who want to follow their hobby, for professionals, and for entrepreneurs.
Shaw Academy Features
Globally-recognized courses.
Certifications to help students in their careers.
In-depth classes on digital marketing, project management, web development, Photoshop, and Microsoft Excel.
Access helpful classes on trending topics and skills.
Flexible courses and you can complete them at your own pace.
24/7 technical support.
Download class recordings and watch them offline.
Get a four-week free plan.
One of the best online course platforms.
Zero transaction fees.
Robust course builder.
Shaw Academy Pricing
Courses offered by Shaw Academy are free for four weeks. You can then continue taking courses and your learning process by paying for a monthly plan that ranges from 49.99 dollars to 60 dollars per month.
12. Ruzuku: Teach Amazing Courses People will Love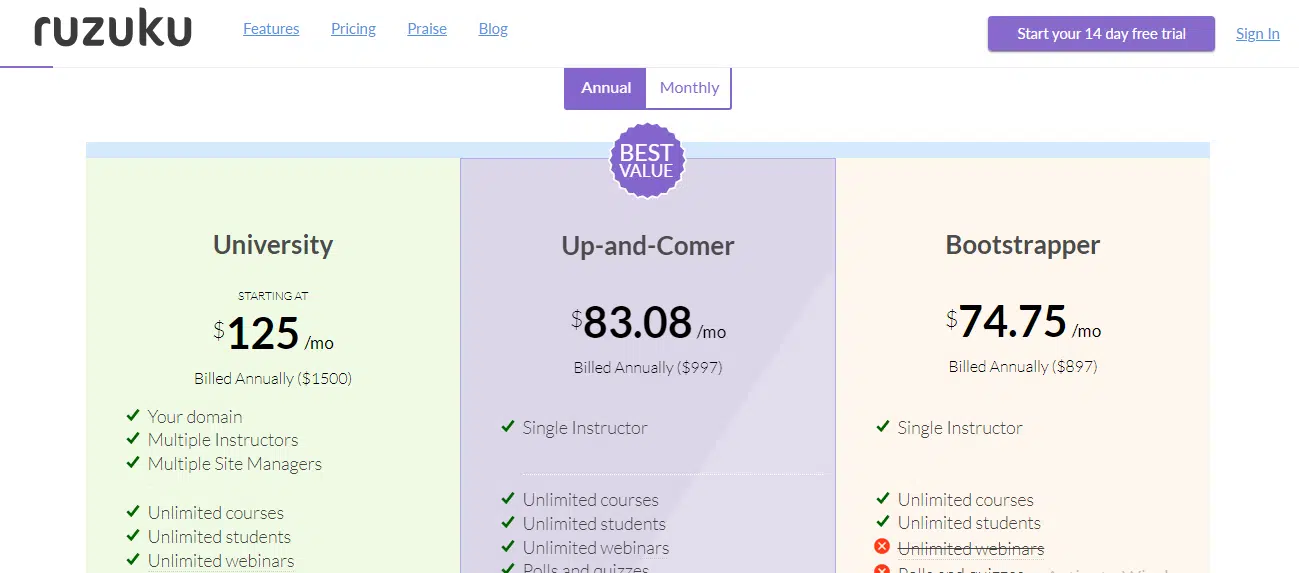 Ruzuku is an advanced course platform that allows you to create a step-by-step online course. Allowing you to add various downloadable files, PDFs, and add text in minutes. Quickly create course outlines, edit and re-arrange your steps with ease. Launch your course without any hassle and generate great sales in no time.
Ruzuku is one of the top online course platforms and course builders, integrated with tools like MailChimp, Infusionsoft, and various payment gateways like Stripe and PayPal for smooth transactions. They don't charge transaction fees.
Ruzuku Features
Community and Q and A forum.
Third-party integration tools.
Easy course builder with advanced features.
Daily backups for your content.
Open access to all courses.
Global content delivery network.
MailChimp integration
Calendar-based courses for regular scheduling.
Students are allowed to post pictures, videos, and pdfs in their responses.
Live classes and webinars.
Best quality course platform.
Ruzuku Pricing
The basic plan of Ruzuku starts at 74.75$ per month.
13. LinkedIn Learning: Online Training Courses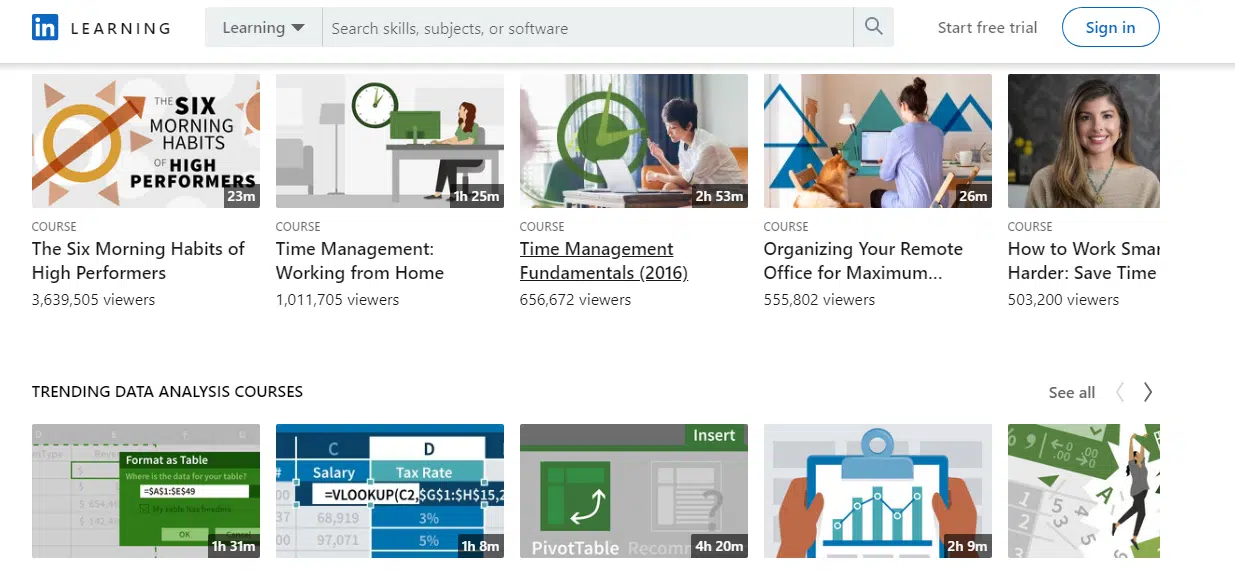 Linkedin Learning is one of the best online course platforms that have been integrated into a wildly popular and professional social media network.
Somewhat similar to Coursera, LinkedIn Learning is super selective about the instructors and educators they allow to join their platform. While they pay their instructors well, it's not that easy to get selected.
LinkedIn Learning
Create a learning portal with ease.
Access LinkedIn Learning from any device, desktop, or PC.
Add quiz questions in your courses.
Upload video content, embed links and add downloadable documents.
Get a wide range of ready-to-use templates to create your course.
Watch a bit-size video on the go, anywhere, anytime.
Browse trending topics effortlessly.
Unlimited access to various courses.
Pricing of LinkedIn Learning
1-month free trial. Paid plan starts from $15. per month when billed annually and $20. when billed monthly.
14. Udacity: Learn the Latest Tech Skills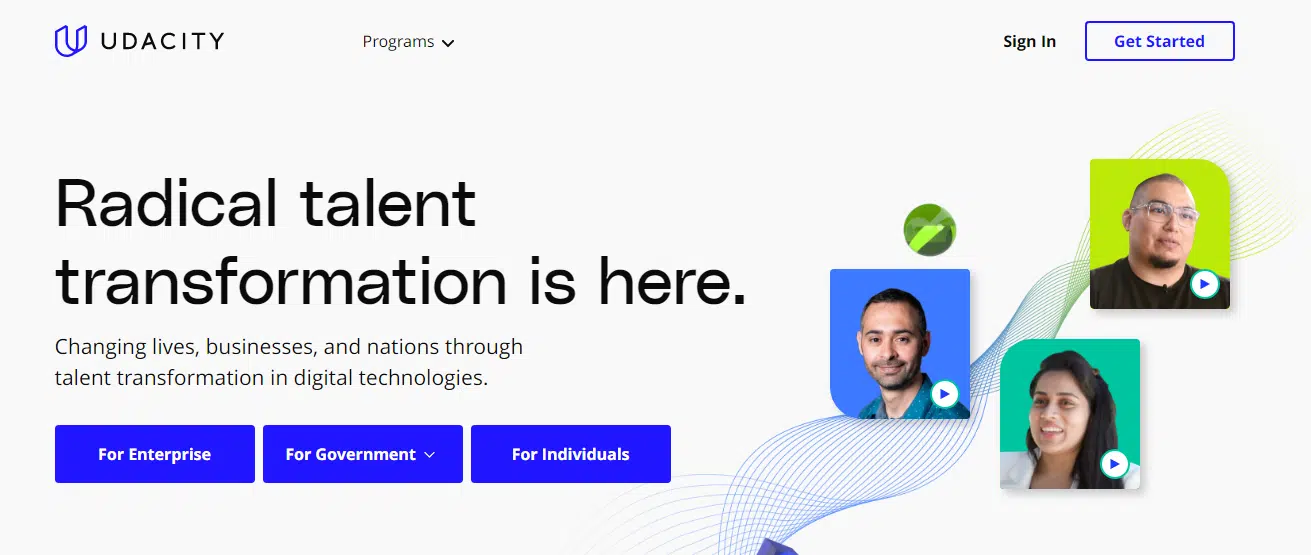 Udacity is a place for people to learn new and emerging cutting-edge skills. You can use Udacity to create High Definition instructor or tutorial video content. Udacity enables you to customize the learning plan and progress according to your individual or organization's needs.
Udacity Features
Access to the Q and A and discussion platform.
Personalized project and assignment feedback.
Award prestigious certificates to learners.
24/7 access to technical support and customer service team.
Personalized project and coursework advice from the project reviewer.
Real-world projects and tasks designed by renowned industry professionals.
Free Trial
Udacity Pricing
The price varies from course to course.
15. Coursera: Learn Without Limits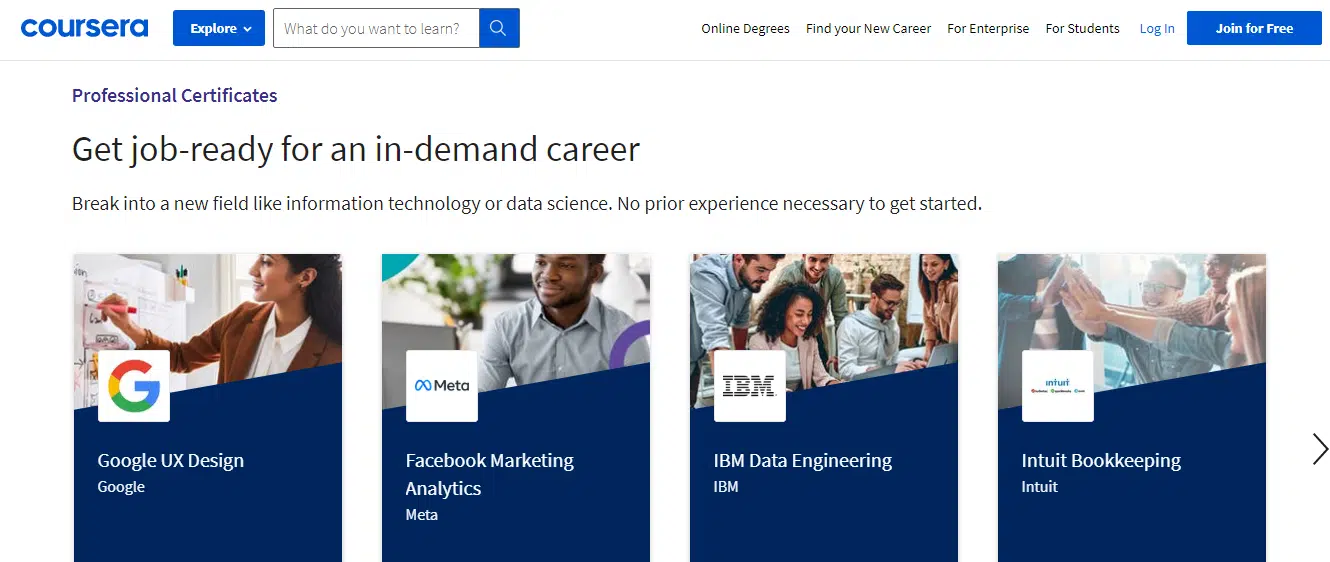 Coursera is the leading online learning platform that allows educators to teach content featured at prestigious institutions like Duke University, Google, Facebook, IBM, University of Michigan, Stanford, Oxford, and more.
While Coursera is a great marketplace, the courses created are the absolute highest quality. The platform is invite-only for instructors, teachers, and educators. Aside from just courses, Coursera even offers online degree programs for students who attend.
The instructors and educators on Coursera get 15% of the revenue generated through each course. Still, the classes are free to most students on the platform. The income is typically made when Coursera staff partners with educational institutions or companies or through individual purchases of the Coursera Plus.
Coursera Features
Many free plans and courses.
Courses from various prestigious institutions around the globe.
Top-quality advanced courses.
Degree programs.
Skill development as well as higher education programs.
Worldwide recognized certification.
Easy to understand and operate.
Pricing of Coursera
Coursera offers a free plan to join instantly by simply signing up. You must log in to check pricing information for individual courses. There are three main sets of course offerings at Coursera.
The main courses are provided on a subscription basis. The cost starts from 29 dollars to 99 dollars per month. It will take up to 6 weeks to complete one course, depending on your learning speed. You receive an electronic certificate upon completion of all the course modules.
The specialization courses are for those who want to master a specific career skill. They can cost you anywhere between $39 to $79 per month. These online courses teach you to tackle real business challenges with hands-on projects, assignments, assessments, and rigorous coursework. You have to be punctual and sincere to submit them on time.
Online degree programs are for those looking for more advanced or higher education. You even get to participate in university-recognized online degree programs. Submit regular assignments and coursework. Take standard tests and also give a final exam. These courses can take 1 to 3 years to complete. It will cost you anywhere from $15 to $25,000, just like any university or college-driven degree program.
What is an Online Course Platform?
An online learning platform is a unified set of interactive online services with various learning resources, tools, and information to support and enhance educational delivery and management. One of the online learning platforms is a learning management system (LMS).
What are Learning Management Systems?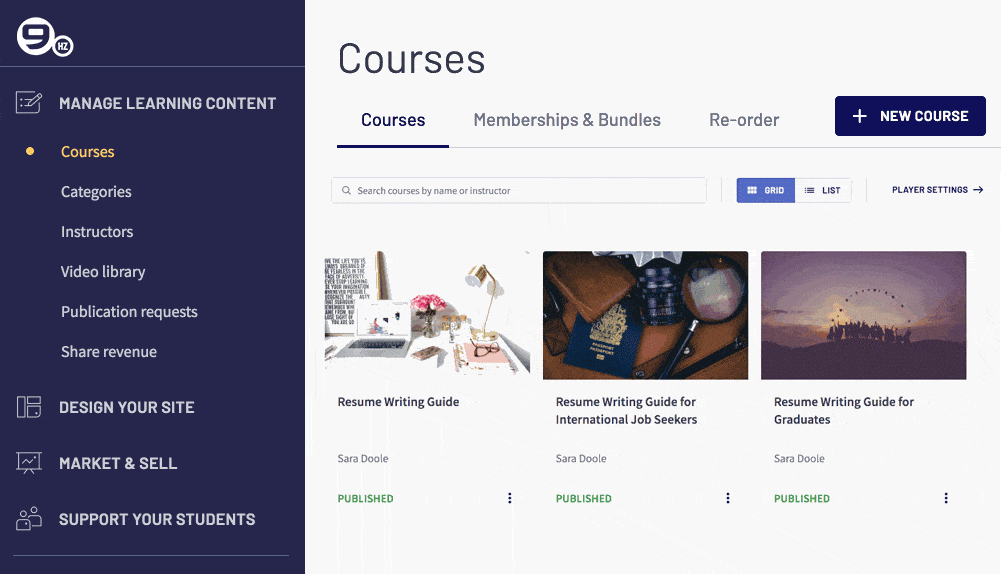 In short, a learning management system, often referred to as an LMS, is a software application that provides the framework for handling all aspects of a learning process. It's where you develop, deliver, and track your online course content or training content. An LMS is also called by the name of the training management system, learning activity management system, or even a learning experience platform.
People often confuse a learning content management system (LCMS) with an LMS. However, both the systems are complementary to one another but not considered the same. An LCMS is software used to author and manage the content for online courses. On the other hand, an LMS is designed to make lives easier for those in charge of training, online course creation, and progress checks. For example, identifying, outlining, and assessing individual and organizational learning goals. Also, tracking progress towards meeting those goals, collecting and presenting data to supervise the online course learning process in online classes.
In addition to delivering online course content, an LMS can also handle things like onboarding, compliance, and skills gap analysis. There are several online course marketplace and companies that offer online learning solutions. Some of these online learning platforms allow you to run your own online business by selling online courses. But, with a vast number of online course platforms
in the online course marketplace, how to know which of these online learning platforms is the best one for you?
To help you figure that out and differentiate between various learning management systems, we have created a shortlist of the most essential aspects to consider while selecting the right and best online course platform for you.
How to Choose the Best Online Course Platform?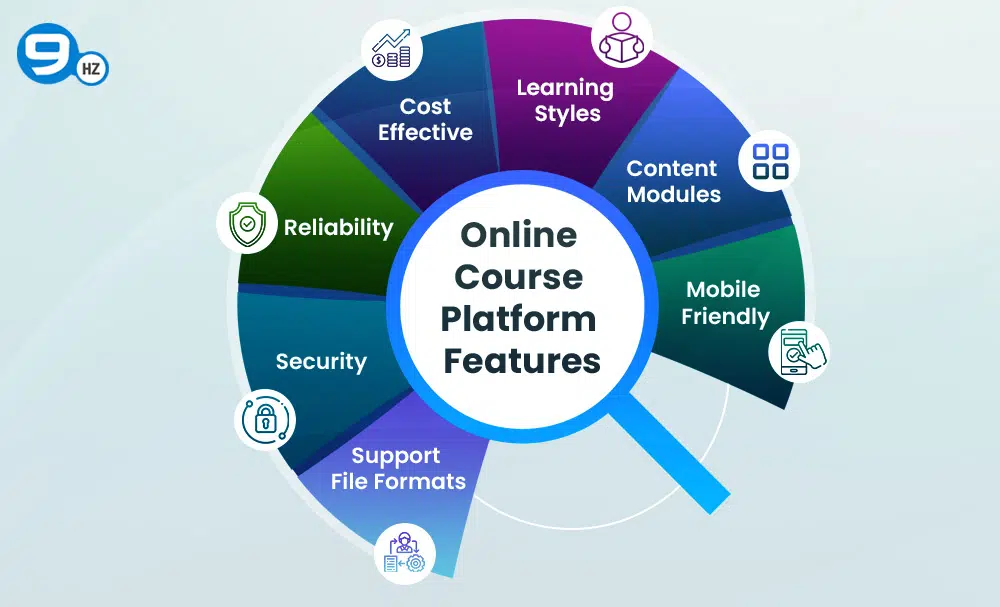 The purpose of a successful online learning platform is to create a robust learning experience for the users to give them an all-in-one online classroom-like feel and experience. It must offer traditional classroom characteristics like an instructor-student interaction, an online community for a class like real-time discussion, Q&As, video lessons for better engagement, interactive online course material, games, pop-up quizzes, collaborative projects, etc. These stimulating learning environments are achieved through an online learning platform's features, tools, and services that create the level of engagement students need. It must provide them with an online school-like environment.
Other aspects to keep in mind while selecting the online course platform are as follows:
Learning Styles of Online Learning Platform
Different people have different learning styles. So, whichever online course platform you choose must be able to host other content formats to address your learner's specific learning style. Examples of content formats include articles, webinars, flow charts, PowerPoint presentations, and video lessons. However, these are just a few examples of content formats that can be used in an online learning platform.
Content Modules of Online Learning Websites
The online learning platform you select must include various content, learning, evaluation, and communication modules. These modules allow your online learning platform to incorporate a variety of teaching styles for every learner and enable learners to boost their performance level and knowledge-retention levels.
Learners' Needs
Your learners are the central point of your online course platform. Your main goal is to understand their expectations to achieve at the end of your training program. Do they want to learn some new skills, like a coding language or graphic designing, are they willing to train in a specific business management process or are they looking for online degree programs?
Depending on your industry and business objectives, you will want an LMS that provides essential features that fulfill your learners' needs. Understanding this aspect is crucial as it helps you plan, organize and deliver information on your own course website throughout the online courses.
Mobile Friendliness
Today's generation is glued to their smartphones almost all the time. They carry their mobile phones with them everywhere and at all times! No matter what your industry is, today, learners prefer to have accessibility to your content anytime, anywhere, on the go, and prefer to have a completely flexible self-learning cycle.

Hence, you must conduct course marketplaces and online courses research to check what percentage of learners in your industry would like to have online courses available "outside" of using a laptop or desktop. If the result is above 30%, then you must ensure that the learning management system you choose is compatible with mobile phones.
All in One Online Course Platform
The online course platforms you choose must consolidate the learning experience for the user within a single portal. In that case, your online course platforms should offer an easy-to-use app or feature integrations. This will ensure that the learners don't have to repeat the same steps or access other venues within the same landing pages.
Supportive File Formats
Since learning management systems are built to create courses and sell online courses, it's super important to check while exploring different best online course platforms whether your online course platform supports various eLearning formats. Some of the formats mentioned earlier were audio and video. Still, the list also includes XML, PDFs, MP3, MP4, SCORM, AICC, certificates, etc. We suggest you research and make a list of commonly used and new advanced content formats used in your online courses and check that your preferred management systems support them.
Security and Reliability
Another one of the most important details to pay attention to when choosing an LMS is how it handles sensitive information. Is it secure enough to store your data safely? Because if it can't, a security breach could cost your organization its reputation and hamper its image. Ensuring that the LMS has the correct security protocols, firewalls and SSL is vital in protecting your content and users' personal data.
Cost-Effective
Ask yourself if you want to pay for the features you're offering in your online course platform. In other words, check whether the high-end features your online course management system provides meet the needs of your online course or program you offer. Or is it a waste of money and time for your users? Ensure that it is not loaded with too many features that make it complicated to use.
Furthermore, the major downfall of having over complex course management system is that it messes up the whole learning experience for the user, leading to frustration and confusion. So, go for one that has all the appropriate, necessary features and yet is easy to understand and operate. Then only can it be a cost-effective solution that your users are willing to pay for?
Whether you own a small business, a huge enterprise, or are willing to build your own website to create courses and start an online course business, keep these crucial points in mind while selecting an online course platform to create and sell online courses. This will ensure that you find the suitable LMS for your online courses or training programs. In addition to selecting the apt. learning platform for the online course that you want to sell, ensure your course material appeals to your audience to keep them returning to your online course platform.
How to Create and Sell Online Courses?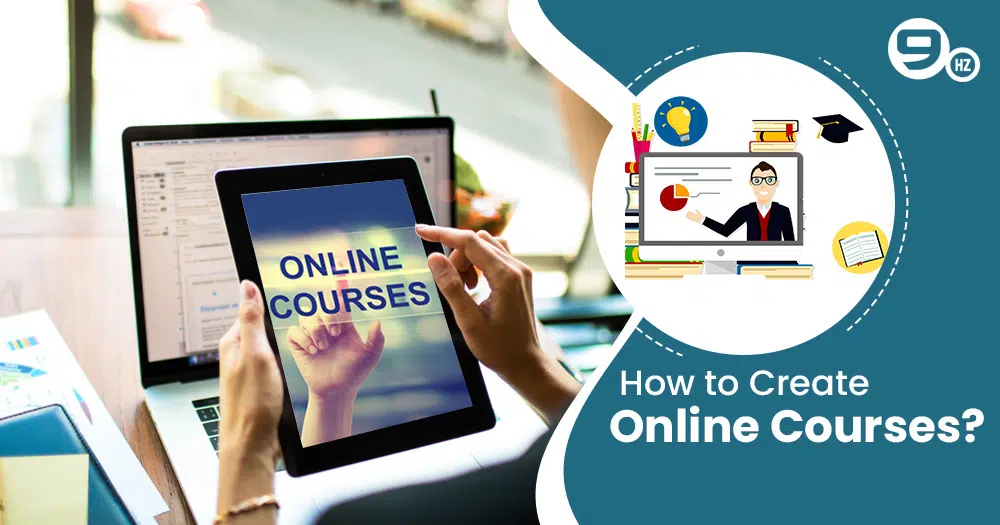 Follow the below-mentioned steps in order to create online courses and learn how to sell online courses.
Step 1: The first step is to select the topic or area of learning on which you want to make the online course.
Step 2: Before you start developing your online course, make sure to test and analyze your idea and course and take reviews from the ones who are familiar with your industry.
Step 3: Don't straight away dive into creating the course. Make sure to deeply study the topic or subject matter you choose. Without that, you won't be able to start teaching online or create the best online courses that are actually helpful for the learners. Hence, it is vital to have proper knowledge of the subject matter.
Step 4: Prepare an outline of your own course. For example, list the topics you will cover, the subtopics, and sections under each topic.
Step 5: Now, you must start creating your online course with proper audio-video lessons and including other media wherever necessary. Provide in-depth explanations, guides, and insights to provide quality content.
Step 6: Once the course content is ready and you're absolutely sure about your course content, launch it either on your own channel or any of the top online course platforms or directly sell courses or rent it to the people.
Step 7: No, it doesn't end here. Once your online course is out there, you must keep updating it from time to time, including new information, and keep up with the trends. Also, build an online community and keep resolving your learners' queries.
Conclusion: Which is Best Online Course Platform?
Now that you have a proper understanding of what are online course platforms, LMS, and learning platforms, you can now start your own online course business. With a list of the top 15 top online course platforms and the guidance to select the right one as per your needs, we are sure you will be able to pick the best fit for your online courses.