"When it comes to the creation of a powerful educational experience, eLearning apps are truly helpful. Here we're looking into everything you desire to know virtual classroom software development". Due to the constant rise in mobile, computers, and other digital resources, now everyone can shape up their lives with great ease. In this 2020 COVID-19 pandemic, we understand the actual potential of collaborative software which helps us stay connected with our loved ones and benefit from continuing our normal office work and school classes without hindering anything.
With this drastic change in the learning experiences, e-learning software development solutions influence youths and kids by providing them an extra bump with new learning content to let them explore, learn and indulge themselves every day. There are so many e-learning software appearing in this industry: Kaltura Virtual Classroom, Vedamo, BigBlueButton, and many more that truly help students to learn things with great efficiency.
Reference: https://dataintelo.com/
What Is Virtual Classroom Software?
Online Classroom Software creates a learning environment that fosters online communications and educational activities between teachers and students during online classes. Online teaching software is on trend nowadays as it lets the students learn things more effectively with amazing visual graphics. Due to Covid-19 circumstances, the online classroom software gains huge success as it is the safest learning option left in charge.
When we talk about stats, the global e-learning market was already recording significant yearly global extension even before the pandemic. According to experts, the market should reach $ 336.98 billion by 2026. As you see, the market for online education software is growing rapidly, so it's high time to turn your thoughts into a full-fledged eLearning platform.
Need Help with Software Development?
Convert Your Software idea into Reality
How will Online Classroom Software Development be Beneficial?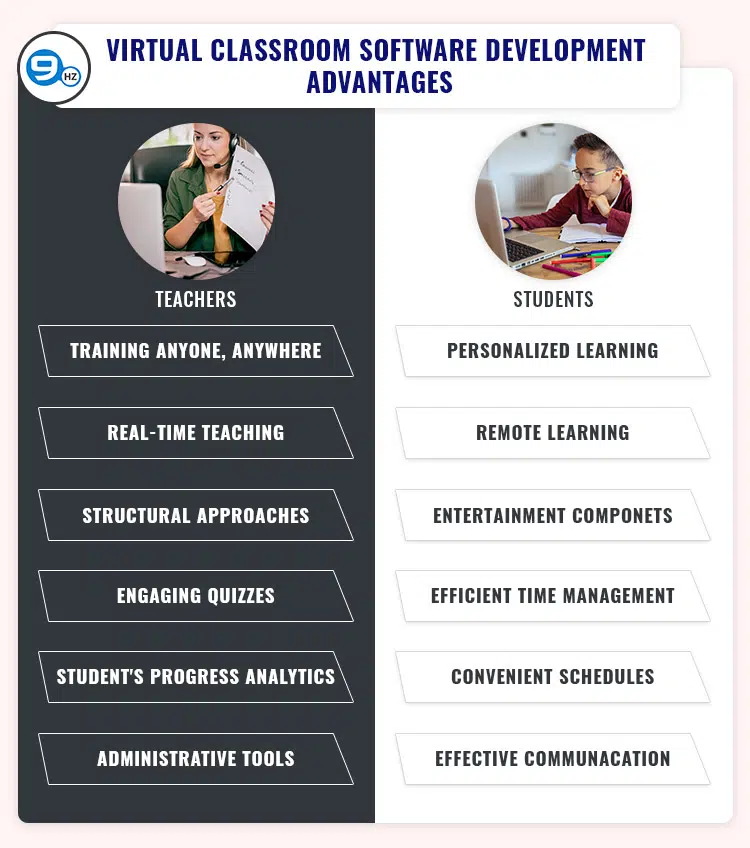 Benefits to Students
Can be Accessed Anytime, Anywhere
Access To Updated Content
Quick Delivery Of Lessons
Effective Time Management
Clear Communications
Interactive Learning Components
Benefits to Teachers
Can easily interact with parents
Real-time teaching
Student's Progress Analytics
Appealing quizzes and teaching material
Systematic Approach
Amazing Administration tools
Why Should You Go for Custom Virtual Classroom Software Development?
Hassle-Free Access
This is probably the most convenient factor that e-learning software provides. Through this benefit, the learner or the teacher can move from one place to another without avoiding their classes. All you need is a fast internet connection and a digital device to enter your classroom.
Enhanced Digital Skills
Adopting a new digital revolution is a new normal in today's lives. In this perspective, online course platforms not only support you in developing the intelligence of a course but also will encourage you to sharpen your digital skills. You get amazing digital knowledge in the form of collaboration tools, puzzles, online tests, and email-related information.
Effective Management of Time
For working professionals, it becomes quite difficult to leave their jobs and go to school or college. Here arrives the best role of virtual classroom software. Online virtual classrooms are best suited for adults who need to support their work, life, and family.
With these kinds of online software, the learner can access the classes according to their time scheduling and also help them in getting more certificates for their future growth.
Affordable for Everyone
The deduction of physical classrooms now lets everyone get the required knowledge about their course with the help of online eLearning classrooms. By having a digital device, log-in details, and a fast internet connection, everyone is able to learn things affordably.
Easy and Quick Feedback and Administration
Through online classroom software solutions, the students and teachers can give feedback on the performance of students and also administer things effectively in one place. Most eLearning software also has a separate 'drop-off box' where scholars can go through student's papers and give signed or virtual feedback.
Also Read: Educational Game Development for Kids
What Features Will Make Your Online Teaching Software Development Successful?
Features are what make the complete online teaching software development. To give the best experience to your users, you must have to include some important and attractive features that grab user attention. Here are some best and worthwhile features that you should use.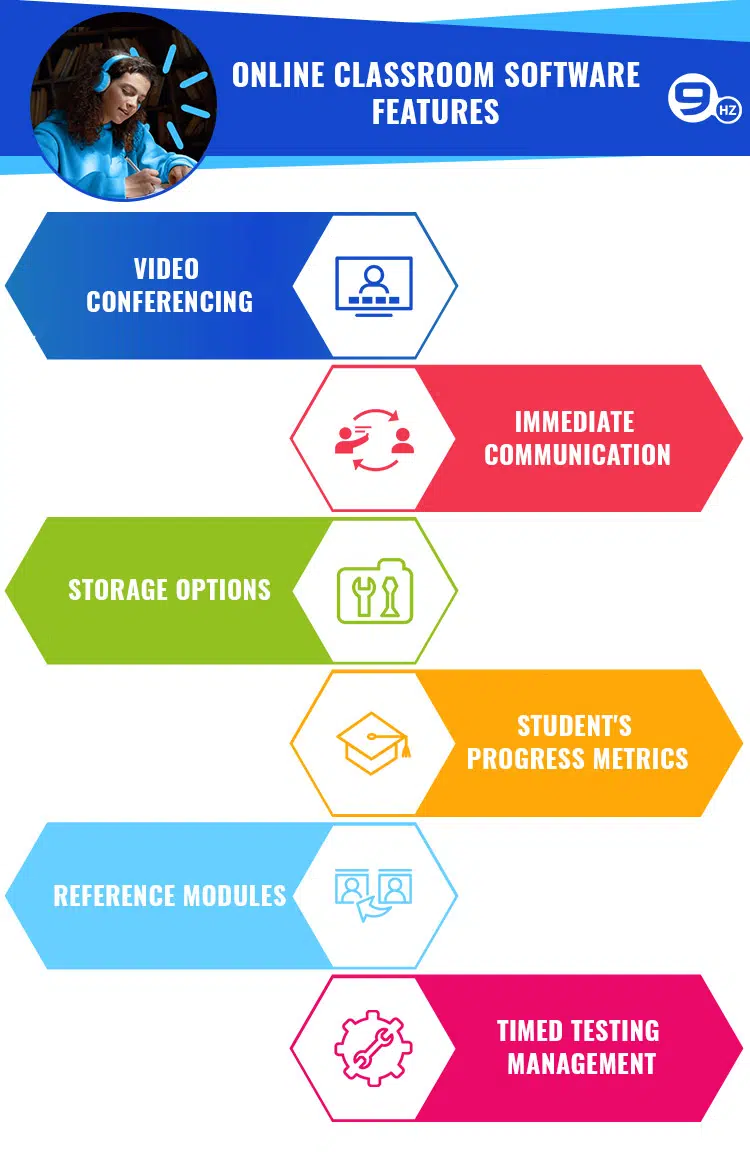 Amazing Features for Interactive Learning
There is no doubt that interactive classes help students in learning things better and get the ability to recall everything. So, it is required to include enticing features in your eLearning software development like the raise-your-hand option to ask any question or to filter issues, some exciting puzzles, ask questions, emojis conversation, and many more.
Video Conferencing Abilities
Video conferencing plays an important role in online education software development. Through this feature, the teacher and the student are able to see and understand the instructor's lecture live, just like in a face-to-face setting manner. This will make the class more interactive and worth learning.
Immediate Communication Tools
Another important feature that you must include is this interaction feature. By including the communication tool, the instructor can conduct easy and on-the-spot replies to the students. And make sure that this feature will give the facility not only for the text messages, but also support file sharing, scheduling timelines, and other factors that could promote communication.
Storage Options for Recorded Videos and Documents
Your e-learning software must-have storage options so that students can save all your data like video lectures, documents, assignments, and calendars. By downloading the learning material, your students can get access to their notes. This is the most amazing factor that is very useful for the one who is not able to take the class at that time.
Student's Progress Metrics Assessment
According to the teacher's perspective, measuring and analyzing the student's progress is the most important part which they can't skip. So, it is important to add such a feature that helps teachers to evaluate the result of students.
Reference Modules
This reference module feature is the most unique one that you can include in your distance learning software development. Through this feature, you can give some additional reference notes, links, and attachments that will urge users to use your app more. Learners also need not have to waste their time in finding further info about the particular topic and this also saves a lot of time.
Timed Testing Management Options
Testing time management is the most crucial thing when it comes to managing the time level of solving questions of every student. But this time management is quite difficult in virtual classrooms. So, to provide this facility to the users, you must include the facility to fix up time-scheduled tests that time out automatically, an auto-grading system, and on-the-spot feedback to the student with the results.
Need Help with Software Development?
Convert Your Software idea into Reality
Best Virtual Classroom Softwares for Online Teaching [Your Compititors]
Kaltura Virtual Classroom
Kaltura Virtual Classroom is the most famous e-learning software for online classes. This software provides wonderful tools like a digital whiteboard, a content supervision system to give real-time notes, lectures and videos, breakout rooms, screen sharing, live quizzes, cloud recording, and more.
LearnCube
LearnCube is also a powerful e-learning software that is browser-based allowing you to present virtual classes without downloading any 3rd party software or relying on Flash. This also provides features like an attractive whiteboard, live chat, class recording, content management system, and more.
Vedamo
Vedamo provides the most helpful online teaching software solutions for schools, colleges, and institutes. It is a web-based application that presents features like screen sharing, breakout rooms, online whiteboard, and also supports media sharing.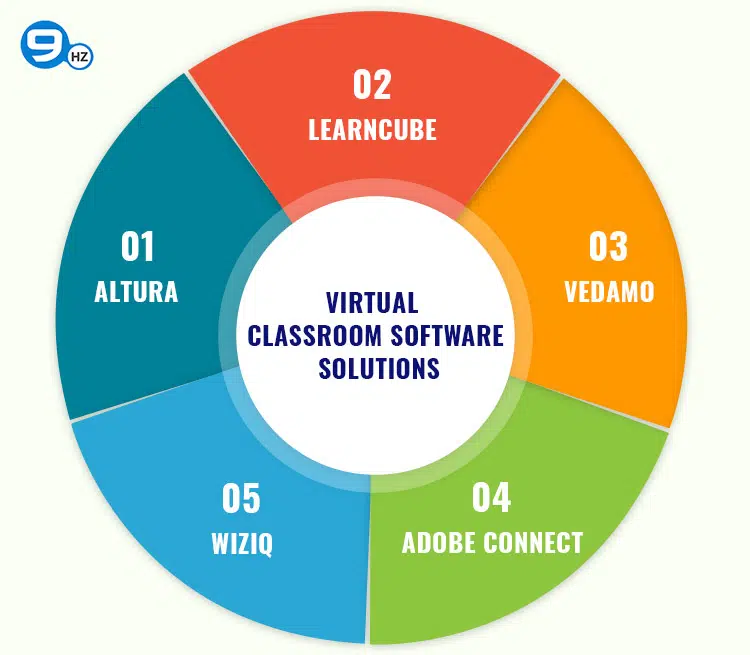 Adobe Connect
Adobe Connect is the most popular brand in the world of online eLearning software. Features involve a synergetic whiteboard, cloud recording, a content management system, puzzles, quick surveys, and different modules and designs for an extremely interactive and customizable classroom.
WizIQ
WizIQ is a browser-based virtual classroom software with both a Flash and WebRTC choice. Neither needs you to download extra software to enter into a session. Some best features that WizIQ offers are an enticing whiteboard, moderation abilities, screen sharing, polls & surveys, cloud recording, and a collaborative code editor.
Build Vs Buy: Online Education Software? Here's How To Decide
This is the most important and difficult question that comes to your mind when you plan to have your own e-learning software. Well, this decision is up to you and according to your business requirements you can make the decision regarding this. Although both have their own advantages and disadvantages, it is good to know about this first. Here are some pros and cons of building and buying your own custom virtual classroom software solutions.
Pros of Building Your Own Online Teaching Software
Full control and accessibility
Sett platforms according to your choice
Add custom features and also transform the flow
Cons of Building Your Own Online Teaching Software
Difficult and slow process to build from scratch
Contains risk measures
Development is Expensive
Pros of Buying Online Teaching Software
Implementation is fast as provide a plug-and-play solution
More budget-friendly than building
Incorporates less risk
Cons of Buying Online Teaching Software
Reduce the capability to customize the user experience
Cannot able to include additional features
Totally dependent on the software provider
How to Develop Your First Virtual Classroom Software in 6 Simple Steps?
Now, the most important part begins. If you want to start your own online teaching software development, here is an important and step-by-step guide by following which you will be able to build your cost-effective online education software.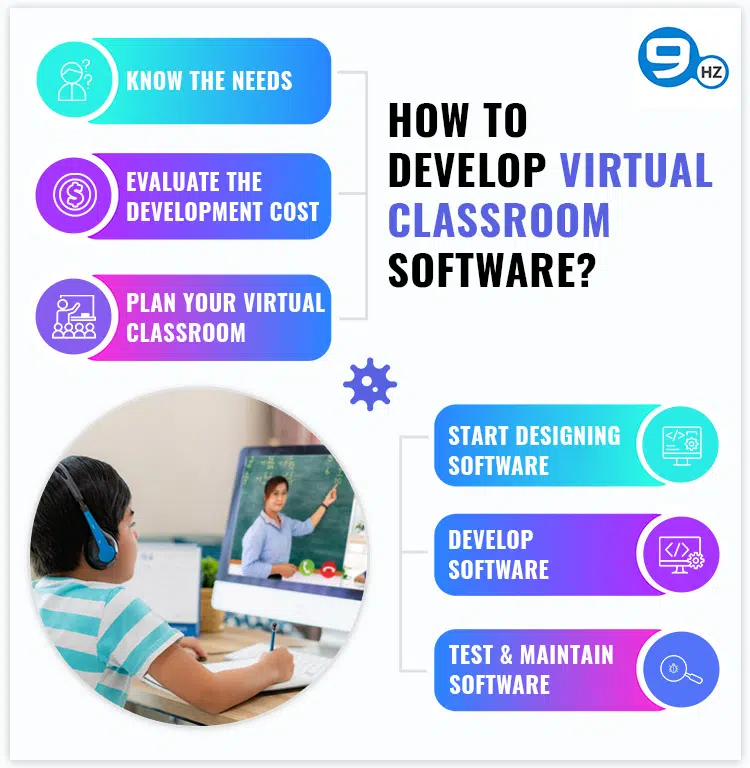 1. Know the Needs and Fulfill Them
In the first step, it is important to know the requirement for the intended online training software and know the primary infrastructure to promote it.
2. Evaluate the development cost, effort, and implications
The main purpose of this step is to get an idea about the technologies used in the app, the budget, manpower, and expertise and many more things that are required.
3. Plan your Virtual Classroom
Now, it's time to focus more on the plan of your distance learning software development according to the education perspective. Know what facilities you want to provide to your users, how you came to accomplish them, and how you deal with any kind of uncertainty.
4. Start Designing your Software
After you visualize all the things, it's time to take that plan into action. Design your software in such a way that attracts user attention. Build amazing UI and UX designs so that users love to explore your app. You can hire best UI UX designers.
5. Develop Software and Install all the Required Features
After designing, this is the most crucial part of online training software development. Install the necessary features that you desire to add to your app and develop it accordingly.
6. Test and Maintain Software
After completing the development process, it's time to examine and test your app so that you can make it bugs free. After testing, your software is ready to use. Launch your app and start maintaining it further. You might also be interested to learn how to build LMS from scratch?
Online Teaching Software Development Cost [Pricing Guide]
"What is the cost of developing virtual teaching software"? This is apparently the most tricky question to respond to.
The virtual software development cost depends on various things you want to include in your app. It varies according to the features, complexity you want to add to your software. But after doing out-and-out research, we have received that the estimated cost is around $80,000 to $1,20,000. In the following table, you can get an estimated idea about how much the virtual reality app development services will cost.
| Development Type | Duration | Total Time Required (hour basis) | Estimated Cost |
| --- | --- | --- | --- |
| Web Portal/Desktop Application Development | 4 Months | 1966 h | $25,000 to $40,000 |
| Mobile(Android/IOS) App Development | 3 Months | 1172 h | $40,000 to $60,000 |
| Web Portal+ Mobile Apps | 5 Months | 3969 h | $1,00,000 to $1,20,000 |
| Mobile Apps + AR/VR Integration | 4 Months | 1319 h | $60,000 to $80,000 |
| Web Portal+ Mobile Apps+ AR/VR Integration | 6 Months | 3000 h | $1,20,000 to $1,40,000 |
Note that in choosing one of the high complexity projects, you are required to decide what features you may require to expand in the coming future so that you can readjust educational content respectively. This will give you an advantage through which you are able to adapt to new trends in your online teaching software.
Ready To Build Your Own Online Education Software
Get your free consultation now.
Connect Now
The NineHertz: Custom Virtual Classroom Software Development Company
If you want e-learning software built with advanced tools and following up with the industry's new trends, The NineHertz is the best choice. With 12+ years of successful experience, we have completed a lot of projects and become one of the most famous online classroom software development agencies.
To transform your business dreams into reality, we have 575+ dedicated application developers who have gained lots of experience in providing mobile and web solutions in different industry verticals. When it comes to reliable virtual classroom software development, we use agile methodology, which helps our developers to make amazing and robust apps.
To meet the requirements of your business, our expert team always stays in touch with the new trends regarding your project so that your app will also have trendy features that attract user attention. Some top-notch online teaching software development services that we provide are:
Involve unique and advance features
Amazing UI and UX design
Specialized QA team for making app bugs free
NDA signed
Enhanced user experience
User-friendly navigation
Budget-friendly development process
Conclusion: Online Training Software Development
After having a deep study about online teaching software development, it's time to wind up things. The educational system is now welcoming unique learning programs and introducing a wide adoption of technology in the digital world. In short, online teaching software promotes flexibility and versatility to carry exact education for anyone, anywhere, and anytime.
So, if you also have your own online classroom software solutions idea in your mind, convey it to a virtual classroom software developer. They will help you in bringing your idea into existence with full power and success.
FAQ's on Online Education Software Development
What Is Online Classroom Software?
An online classroom software creates a learning environment that lets you take classes with the use of digital devices. It is basically a custom software with full functionality to provide distance education.
What is the Cost of Virtual Classroom Software Development?
The estimated cost of online classroom software is about $80,000 to $1,20,000. The cost depends on what features, complexity, and many more things you want to have in your app.
How do I Monetize My Online Teaching Software?
The three main monetization models of eLearning software are:
Subscription
Paid Advertisement
Paid Content
What are the Features of a Virtual Classroom?
Screen Sharing
Video Conferencing
Interacting whiteboard
Storage
Live notes
Live quiz and puzzles