In this digital era, when everything is online, how can classrooms and training sessions survive traditionally? Even in this pandemic situation when every one is bound to stay at home or work remotely.
Advancements are vital and much needed to continue students/employees' teaching and training. Modern E-Learning Management Systems (LMS) are the solutions that can offer uninterrupted learning and training experience to the respective personnel.
Well, the market is already flooded with numerous ready-to-use eLearning solutions. With the custom LMS development, you can surely quickly start working and cut down development costs to a great extent. But sometimes you get caught up with the LMS that doesn't fit your needs up to 100%. That's where custom LMS comes into the picture.
Therefore custom eLearning software development is far better if you are willing to implement an eLearning Management System in your institute or organization. To do so, you can consult a top-notch e-learning software development company that can build your own LMS from scratch.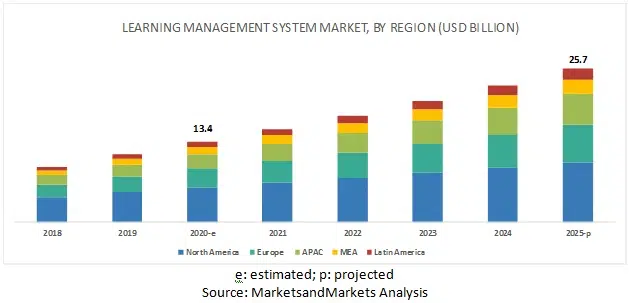 However, finding an ideal companion is not an easy task. So, to help you out, we have crafted a detailed article that will let you know about the important aspects associated with the Custom E-Learning Management Systems development. Let's know how to build LMS from scratch?
What is an E-Learning Management System?
LMS or an eLearning Management System can be understood as an online learning management system that runs on the internet. The software's connectivity with the internet lets users/students connect from across the world. Institutes can use LMS to create digital classrooms and connect teachers with students. Whereas the eLearning Management System solutions can be used in any office or organisation to train their employees regarding skills, policies, and compliance issues.
Within the last few years, significant growth has been witnessed in the implementation of LMS from institutes and organisations across the world due to the COVID-19 lockdown restrictions. And the numbers are increasing each passing day as many government and non-government organisations are thinking about installing LMS considering its numerous benefits.
According to reliable sources, the global learning management system market is likely to grow by 17 billion U.S. dollars in 2022. With these figures, it can be expected how beneficial it is to implement online Learning Management System Solutions in institutes and different scale organizations.
How will Custom LMS Development Beneficial for You?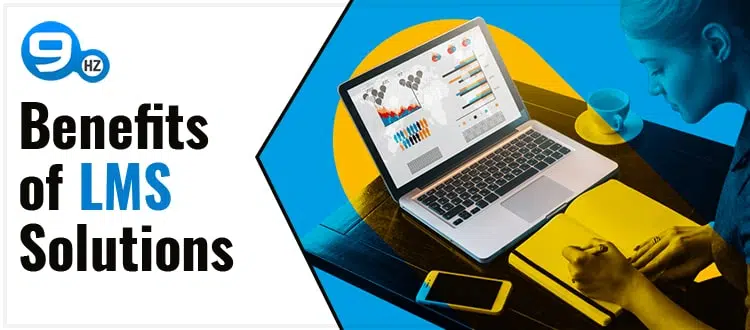 Streamlined Training Process
With the best E-Learning Management Systems, your whole training process is streamlined efficiently. Since, the e-learning solutions let you plan the training activities calendar which you can share with the learners, trainers, and co-administrators besides intimating about events separately. This helps in maintaining and improving the training process to a great extent. Not even this, with LMS, you can obtain trainer reports which in itself is a time-consuming process if done manually. Here is the complete list of online course platforms to create and sell online courses.
Delivery of Engaging and Motivating Training
LMSs enable the delivery of engaging and motivating training. Thanks to the provided facility of applying different learning approaches and a robust communication system that supports managing the whole system to offer seamless training. With the different learning approaches, it becomes easier for almost every individual to learn things efficiently. Since each person follows a unique manner to learn something new. Consequently, your success rate enhances to the next level.
Technology Leverage
Learning Management Systems are technology-focused and are way beneficial in today's working culture when most of the employees' time is spent in front of screens whether a laptop or desktop. LMSs are the future of training with which you can easily target and engage your audience.
Centralized Learning
Centralized learning is one of the best Custom LMS benefits. Those who utilize eLearning management system solutions can leverage their users with the centralized source of learning. In addition to this, it became easy for them to get access to the training, performance, and content from the same source.
Tracking and Reporting Features
Custom E-Learning Management Systems offer several tracking and reporting tools using which you can simply enhance the performance of your training program. Likewise, it allows tracking new users' progress; reviewing records, and facilitating users with registration for more than one course. Whereas learning can be done through web-based training.
On the other hand, management uses these tools to access records to evaluate which areas need improvement. The learners can also identify their weak performance areas to make needed improvements.
Evaluation Capabilities
LMSs have evaluation capabilities on offer as well. Users can utilize these capabilities to evaluate courses before joining. Whereas employers can keep a track of employees' retention levels and real-time performance by periodically scheduling assignments.
Easy Upgrades
It is quite easy to upgrade the content and information of the Learning Management System as they utilize a centralized location for information. Also, all the users will be able to access the same upgraded information at the same time.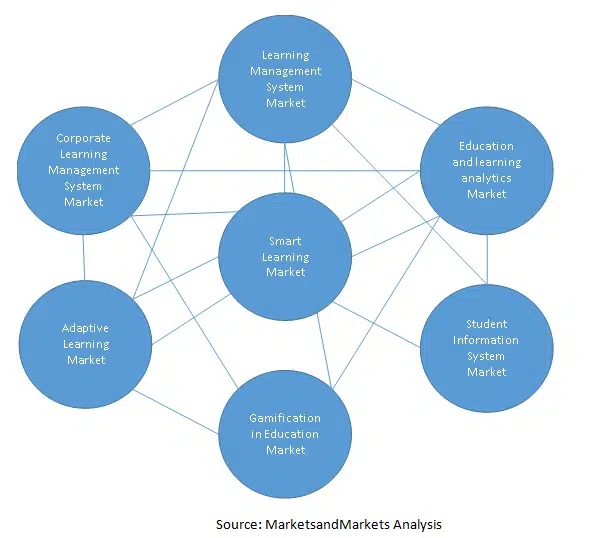 Simplified Learning Process
With LMS, the learning process is simplified to a great extent as the systems are easy to use and have well-documented help that supports users to figure out everything needed, without wasting effort.
Reduced Cost and Time Saved
Learning Management Systems are beneficial for both the trainers and learners. A right LMS can do the magic. As the trainer does not need to travel; boarding and lodging charges would not be involved in the teaching cost. Consequently, it would turn into reduced teaching costs. In addition to this, Learning Management Systems save valuable time and money for the organizations and instructors' through web-based training.
Interactive Environment
The emergence of top E-Learning Management Systems has improved the interaction and communication part involved in teaching or training to the next level. Learners now can get the answers to their queries in real-time. Even LMSs' interactive environment enhances user engagement to a greater extent as well.
Anytime, Anywhere Learning
LMSs' extraordinary features like centralized uploading and online access make users learn whenever and wherever they want to.
Which Type of Online Learning Management System (LMS) Solutions Perfect for You?
There are distinct E-learning Management Systems available in the market to serve the tech-savvy modern generation that used to spend most of its time in front of screens (mobiles, tablets, and desktops). Here we have mentioned a few of them and their benefits if you want to add these functionalities into your custom LMS development Solutions.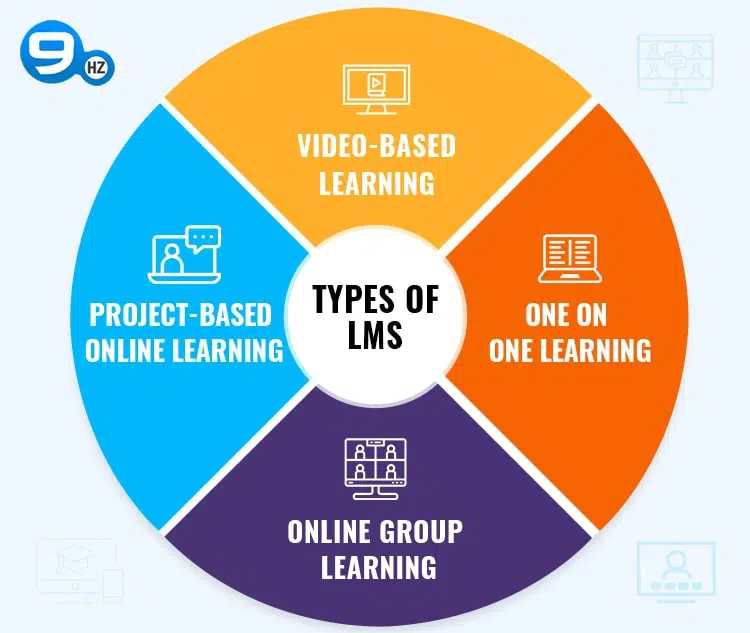 Video-Based Learning
Video-based learning is the widely accepted e-learning trend and the reason behind its growing popularity is its shorter, crispier, and engaging nature that's drastically changing the way of associated members for learning.
And, it would not be wrong to say that as compared to other mediums, videos grab hold users' attention a lot and can be available easily through e-learning management systems.
For the new-age learners, videos are essential; whether they are students or professional learners associated with any organization. Therefore, it is vital to include feature-rich videos in your traditional e-learning program to see the change.
Benefits of Video-Based Learning
Increases user engagement and participation
Improves learning experience with practicals
Comparatively, a cost-effective training approach
Adds life to the e-learning courses that make it way more effective and engaging
Maximizes user retention and reduces cognitive overload
One on One Learning
One on One learning is an arrangement where only one teacher teaches a single student. On the contrary to traditional learning where a class of students is taught by one teacher.
The concept of one-on-one training is certainly better for the students who seek extra attention and care. That is not possible with the traditional system.
One on One coaching or imparting learning is getting popular since it ensures parents that their child will get much-needed attention and care to improve his/her academic score.
Benefits of One on One Learning
Personalized class & learning
Easy communication & interaction
Adequate learning pace & attention
Low stress & fear of failure
Cost-effective and time-saving
Online Group Learning
Currently, online group learning is one of the widely accepted ways of learning globally. And a significant growth is witnessed in the adoption of online group learning during this Covid-19 pandemic since we all were bound to stay at home. Also, the benefits that online group learning offers are highly considerable which are mentioned here below.
Benefits of Online Group Learning
Develop teamwork skills
Avails with a mutually beneficial learning experience
Facilitates peer-based feedback
Helps online learners overcome limiting beliefs
Improves online learner participation and engagement
Project-based Online Learning
Project-based online learning is a completely new approach to educate students with active exploration of real-world challenges and problems. Project-based online learning can be understood as active learning and inquiry-based learning wherein students besides learning a subject keep on investigating, responding to complex questions, challenges, and problems.
Benefits of Project-based Online Learning
Students learn by doing
Students get prepared for future challenges and problems
Enhance students' problem-solving capability
Custom eLearning Software Development Key Features to Make it Successful
Every E-Learning Management System Solutions must be fabricated with the following features:
Managing users, courses, roles, and generating reports
Making a course calendar
Messaging and notifications
Assessments that can handle pre/post-testing
Certification and display employees' scores and transcripts
Instructor-led course management
Administration
Competency management
This feature enables tracking and checking the skills set of the team members and comparing them against business goals.
Features for Custom LMS Development Solutions to Stands Out in the Competition
Apart from the basic features, you must consider including these Custom LMS features in your education software development project, if you want to cater to Gen Z requirements and improve your training programs.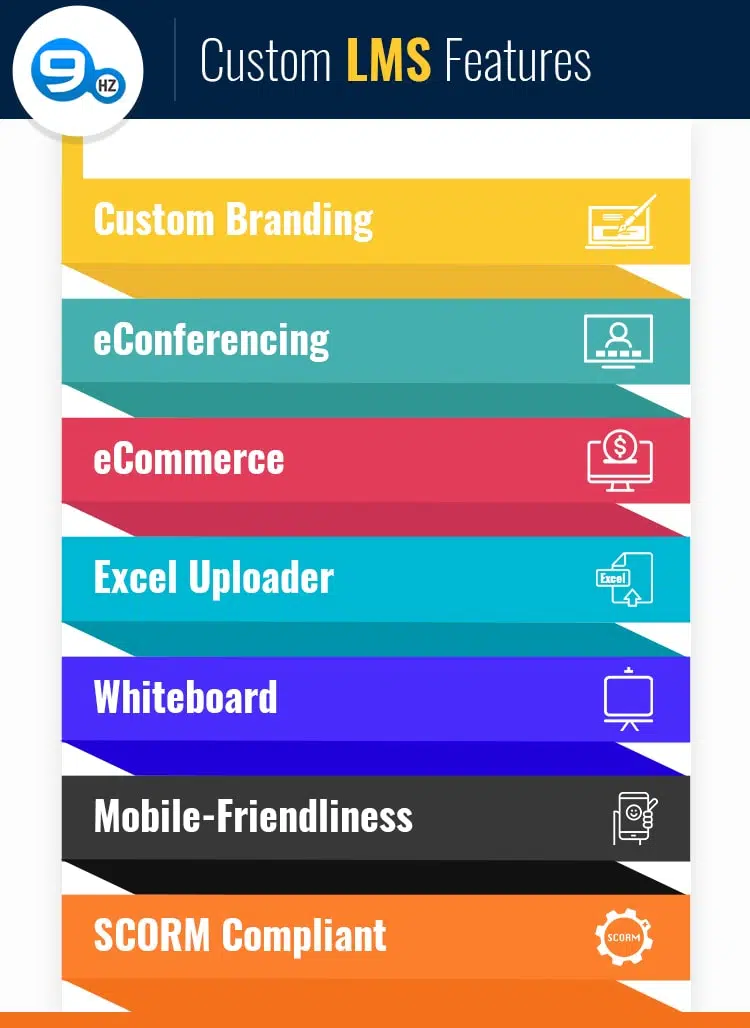 Custom Branding: It is one of the best and most advanced features, a custom E-Learning Management System can offer. This feature enables companies to use their own branding and/or give access to create custom themes for the LMS user interface.
conferencing: Video conferencing software development feature enables modern learning management systems to organize and hold e-conference sessions wherein many students can participate through audio and video.
eCommerce: Including eCommerce in your custom LMS, will let you sell courses to third parties and receive payment through payment gateways like PayPal and Stripe.
Excel Uploader: Custom LMS with excel uploader will allow administrators to easily create multiple user accounts, upload hundreds of classroom and training records along with the support of downloading training reports within minutes.
Whiteboard: The availability of an online whiteboard in e-learning solutions, will allow instructors and students to create and share writing and drawings in real-time.
Mobile-friendliness: The mobile-friendly user interface is one of the prior choices in this modern tech world as every individual has shifted to smartphones or use to spend most of their time in front of screens (smartphones, laptops, tablets, etc.). You can't miss out on this ability even in offline mode if you go with the reliable educational software development from an award-winning e-learning software development company
SCORM compliant: if you want to integrate your educational software with third-party systems and exchange data through it. It must comply with e-learning standards like SCORM and Tin-Can.
Also Read: How to Develop Online Medicine Delivery App Like 1MG?
How to Build LMS from Scratch? [Create in 6 Simple Steps]
After knowing about almost all the key aspects of online learning management systems. it's time to delve deep into the development process and get to know how to build a learning management system from scratch.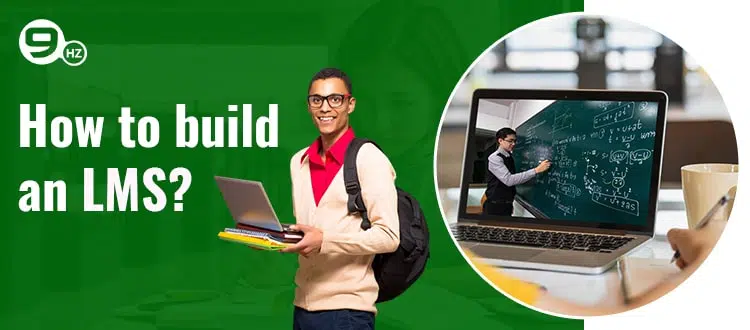 The journey starts to build LMS from Scratch with:
1. Creating an LMS Project Plan
It is the first and most important step involved in building an LMS from scratch. here you give a thought to all the related questions that prove developing a custom educational software solution is the right option. Likewise-
Why do you need an LMS and Who is Your target audience for that?
Is it beneficial to invest a good sum of money in a custom LMS development system?
Will you earn a good profit share with LMS when having more students and fewer expenses?
Will the productivity of your employees increase after training them using e-learning solutions?
What should be your must-have features for custom education software development?
To give a better idea of LMS, we recommend you think about MVP development. It will help in creating a project plan for e-learning management system development.
After successfully conducting all the needed research for your e-learning solution development. it's time to move on to the second step of choosing the right partner for custom LMS development solutions.
2. Choose the Right E-Learning Software Development Company for a Successful LMS Delivery
Choosing the right e-learning software development partner is vital for the success of your e-learning solution. Since a well-known e-learning management system company does all the heavy lifting on your behalf; from ideation, planning to design, development, testing, deployment and further maintenance. Therefore, it is good to hire a technology partner with years of experience in the domain.
Besides outsourcing your project, you can even prefer to hire full-time educational software developers who will dedicatedly work on your project as per your guidance. Well, outsourcing a project to an offshore education software development agency is way cheaper than hiring dedicated software developers. So choose wisely as everything comes with its merits and demerits.
Before making a decision, you can consider the following recommendations.
The company should have more than 10 years of experience in the relevant sector
They must have a strong team base with more than 100 developers and designers, experienced in relevant technologies.
They must offer a variety of eLearning software development services to choose the best-suited one for your project.
The education software development agency you are partnering with should offer budget-friendly e-learning solutions.
Don't forget to check the company's portfolio, their past projects, and customers' feedbacks and reviews.
They must sign an NDA to ensure security against confidential data leaks like the app idea and the concept.
The company must follow effective delivery management service guidelines to keep you updated with project progress and ensure bespoke quality product delivery.
They must follow the prevailing app designing standards.
The development should follow the agile development methodology.
They should adopt trusted QA and testing measures for the delivery of bug-free products.
They must offer needed maintenance and support post-deployment.
Once you have chosen your technology partner, now move ahead with the process involved in custom e-learning management system development.
3. Responsive App Designing with Unique UI/UX
In this step, the team of creative designers comes into the picture. They start with creating wireframes and follow the process involved to deliver a responsive app featuring unique UI/UX. So that your LMS stands out in the competition. Being responsive in nature, your LMS website can be accessed on different operating systems (Windows, Linux, Mac, Android, and iOS) and devices (mobiles, tablets, and desktops).
It's Time to Build Your Own Custom LMS
Get your free consultation now.
4. LMS Development with Custom Features
Once the design gets finalized, a team of highly-skilled, talented, and experienced learning management system developers starts writing code to offer functionality to your custom LMS features. It is a slightly time-consuming process as written code is tried and tested several times during development to check all the features and functionalities are working properly according to the project requirements.
5. App Testing
The process moved to the next step of app testing. Experienced testers run numerous test cases on dummy data. To check bugs, LMS working and performance in heavy load. App testing is one of the important phases of the development process as it finalizes that the custom LMS build is bug-free, performance-oriented, and ready for delivery.
6. Final Check
In the final check, the team of QA experts once cross-check each requirement of the client with the finished product. To ensure ready to deliver product fulfills all the promised quality standards or not. and you are done with creating a custom LMS. You might be interested learn how to develop e-learning games for kids?
How Much Does It Cost for Custom LMS Development System?
Telling the exact cost for e-Learning solutions is one of the toughest questions every e-Learning software development provider comes across with. Since the development cost is influenced by several factors. A few of the cost affecting factors are mentioned below:
Setup Fees
The setup fees incurred to develop a custom LMS is
Min: $3000-$6000
Up to: $22000
Annual Licence and Per-User Fees
The budget you need to secure for an annual license and per-user fees is something around
License Fee: $18000 per annum
Per-User Fee: $2 to $5
Hidden Costs
Hiring dedicated education software developer: $3000 per month
Self-hosted LMS fees: $25,000 (one-time investment)
Add-on Fees: $80-$1000 per month
These are the incurred costs factors for LMS only. The app designing, app complexity, custom LMS features, developers' region, development time, maintenance, and support also affect the overall e-learning solution costing. Therefore prefer to opt for an e-Learning management system development agency that offers a quality product at optimum pricing.
The NineHertz: Custom E-Learning Management System Development Company
With over 12 years of experience, The NineHertz is a well-known web and Leading mobile app development firm across the world. The company employs a vast team of highly skilled, talented, and experienced professionals who take care of all your development needs with full dedication.
For your e-learning software development, you can blindly trust The NineHertz as the company fulfills all the criteria required for choosing the right technology partner. Also, Its portfolio consists of a comprehensive range of e-Learning software development services, out of which you can choose the best-suited one for your custom LMS project.
In addition to this, the company believes in delivering cost-effective, quality products within the given time frame.
Build a Custom LMS Solution
Hire Our E-learning Development Team Build Now
Conclusion: Custom LMS Development Solutions
Having an e-Learning management system is vital if you belong to the education sector or want to train employees in your organization. Since the way of learning has completely changed from the old-school traditional classroom to online classes using LMS solution. Here in this blog, we have provided all the necessary information that will help you understand the importance of e-Learning solutions in this digital era. Also, you will get to know how to build LMS from scratch? Custom LMS development cost, custom LMS features, and its benefits as well. I hope, the provided information will help you create the best-in-class e-learning solution to cater to your target audience.