Live streaming apps have changed the way we consume and share our content. Not only it has revolutionized the entertainment industry but also the information scenario. After TV news channels, even a common user can now broadcast any happening or mishappen with billions of users in a matter of seconds with free live streaming apps.
The global video streaming market size was valued to be $455.45 billion in 2022 which is expected to achieve a valuation of $1902.6 billion by 2030 . The market is all set to show a CAGR of 19.3% during the forecasted period. With these huge stats, let's dive into the overall concept of these live-streaming platforms, the market leaders, and how you can get benefit by developing one of your own.
20 Best Live Streaming Apps
Find the list of 20 top free streaming apps in 2024.
Free Live Streaming Platforms
Let's explore each application in detail:
1. Restream: Best Free Streaming App Overall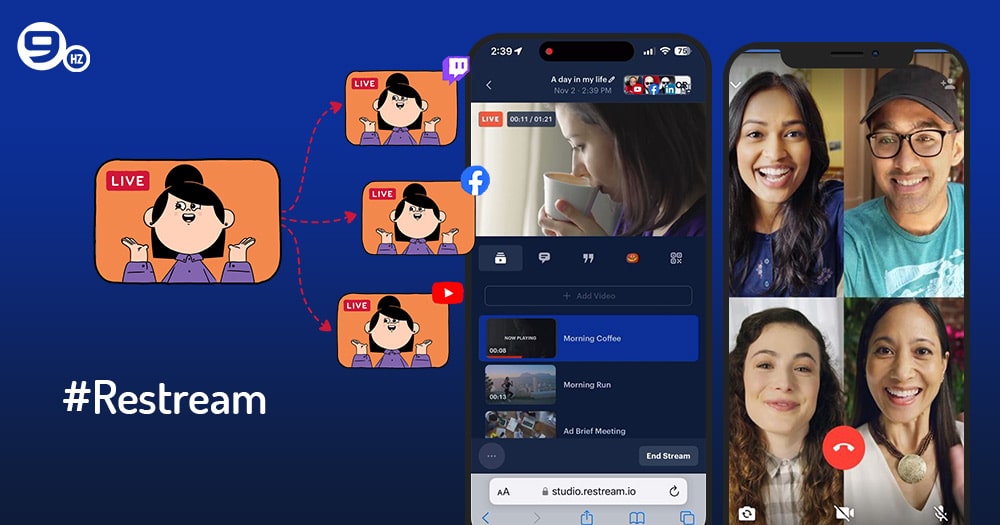 With more than 600 million active users, Restream tops our list of free live streaming apps. This is software that helps businesses of all sizes to upload videos of different quality and make them live for the target audience. At the same time, the users can also add voice-overs or translations to broadcast the content with different camera modes. The platform can also be integrated with other streaming applications like OBS Studio, Elgato, XSplit, SLOBS, and much more. Here you can find the best camera apps for android to filter photos and videos.
Key features
Users can chat with their audience
Different camera modes makes the broadcast even more engaging
Functions such as background music, screen sharing, guests, and playing local video files
2. Wirecast Go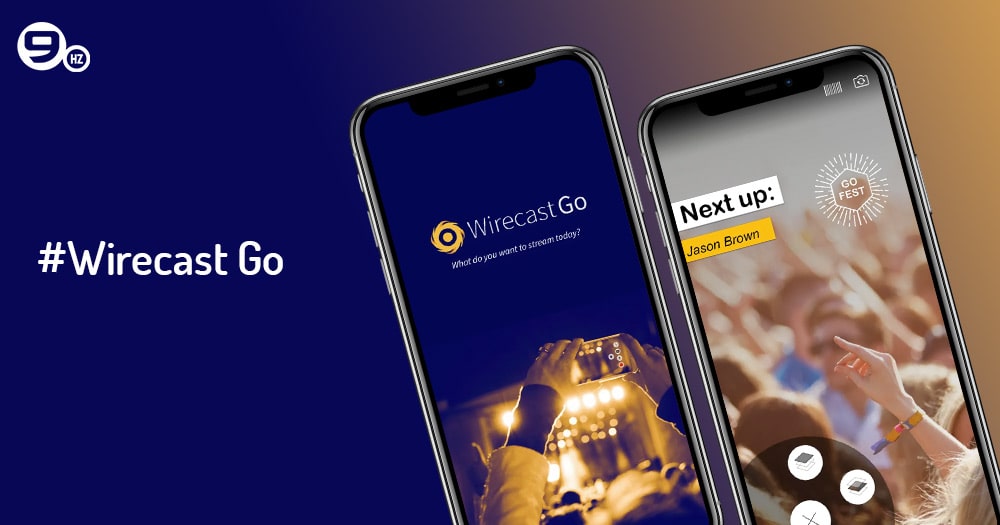 This is the video streaming app produced by Telestream that allows you to easily stream videos and content to a large audience base. One can leverage the services like live streaming, webinars, webcasts, sports, church services, training videos, education, and much more. This application and software is currently available only for iOS devices. You can even customize as well as integrate your branding with this application.
Key Features
Users can broadcast in landscape as well as portrait mode
One can switch between different prepared shots
Users can stream to YouTube Live and RTMP servers
Capture and replay the highlights of the live broadcast
3. YouNow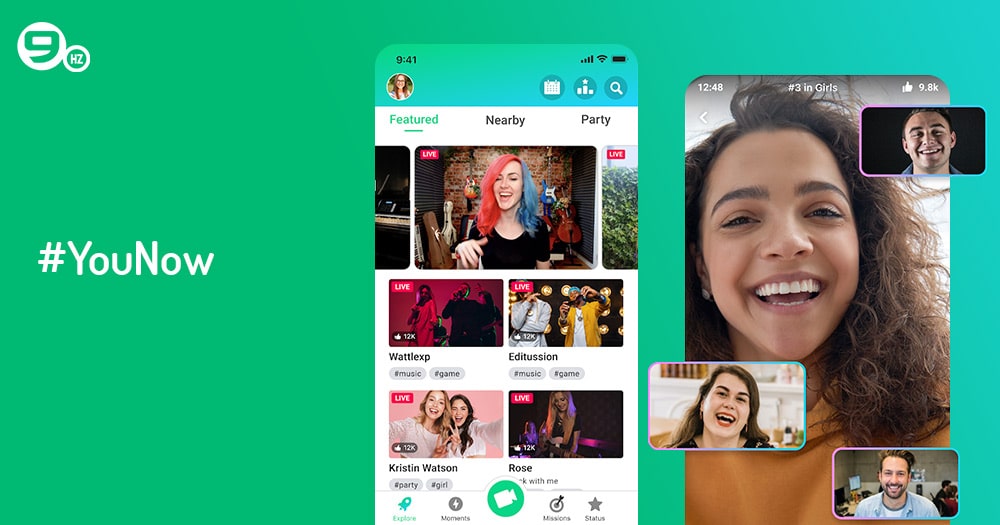 This is one of the social media top free streaming apps, delivering its services for more than a decade. One can use the app on iOS as well as Android devices to broadcast the content and connect to their target audience. The app is being used by millions of people to interact with fans and followers, chat with friends, meet new people, share music, games, cooking, and many other skills.
Key Features
Browse through vtube Avatar selection to stream for your live streams
Find new friends, followers, and fans and share the talent
Receive support from fans in the form of gold bars, chat stickers, and pearls.
4. Twitch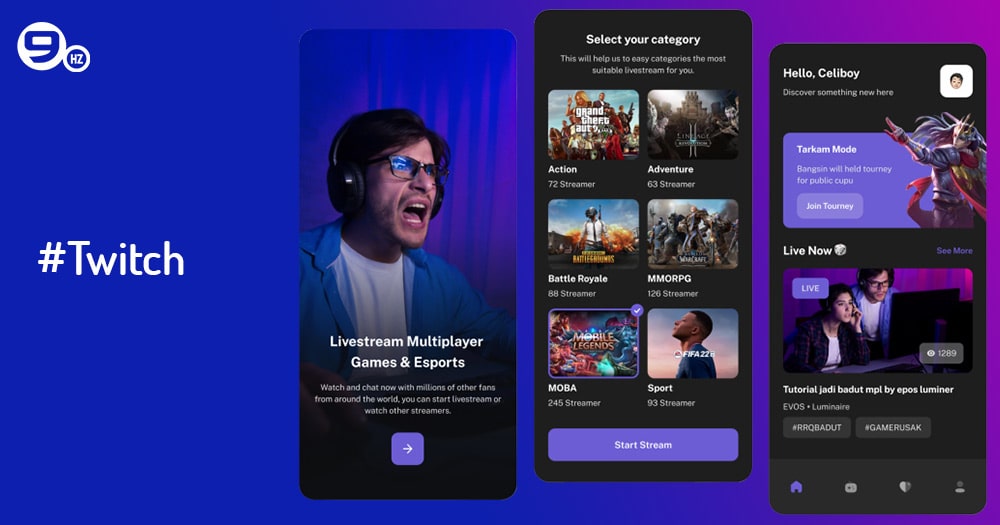 Twitch is owned by Amazon which is also one of the best free live streaming apps. This software is used mainly by gamers to live stream their gaming sessions and show their skills by streaming live videos. Streamers with more than 1000 subscribers get access to mobile live-streaming features. Other users can subscribe to their favorite channels where they like to see the streaming content.
Key Features
One can earn money through streaming and receiving donations, subscriptions, and ads
The easy-to-use platform for desktop as well as mobile devices
The subscription model offers long-term earning potential
Multiple subscriptions programs
5. YouTube Live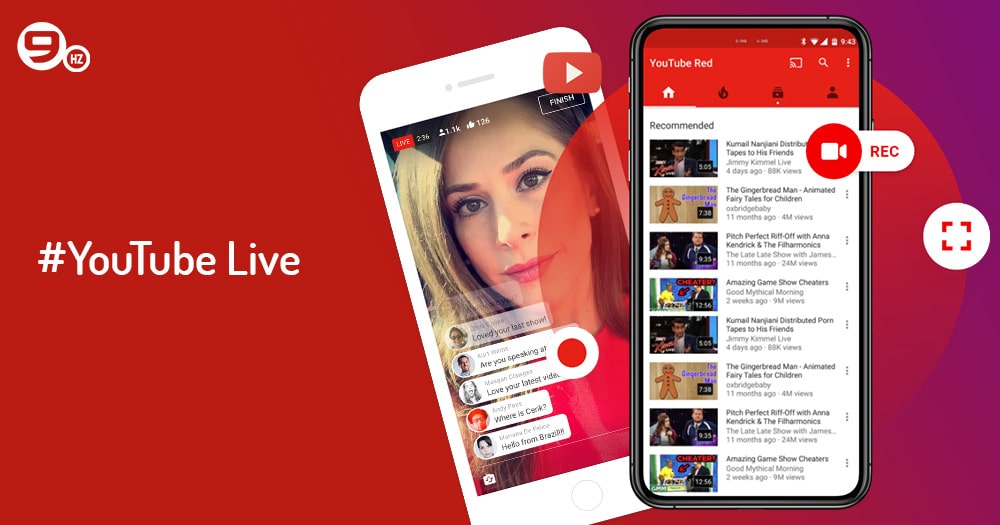 YouTube Live is a feature of YouTube only that supports free live streaming content and pre-recorded video hosting for the creators. With quality content, one can connect to billions of viewers on a daily basis. YouTube has been the industry leader in the mobile streaming application industry for a long time and thus gives exposure to a really huge user base. Similar to the previous one, a user with atleast 1000 subscribers gets mobile live streaming access from the platform.
Key Features
Mobile live streaming availability
Scheduling the live stream as well as creating truly live content
Monetize the skills by attracting more and more subscribers
Options for live chat, age restrictions, etc.
6. Facebook Live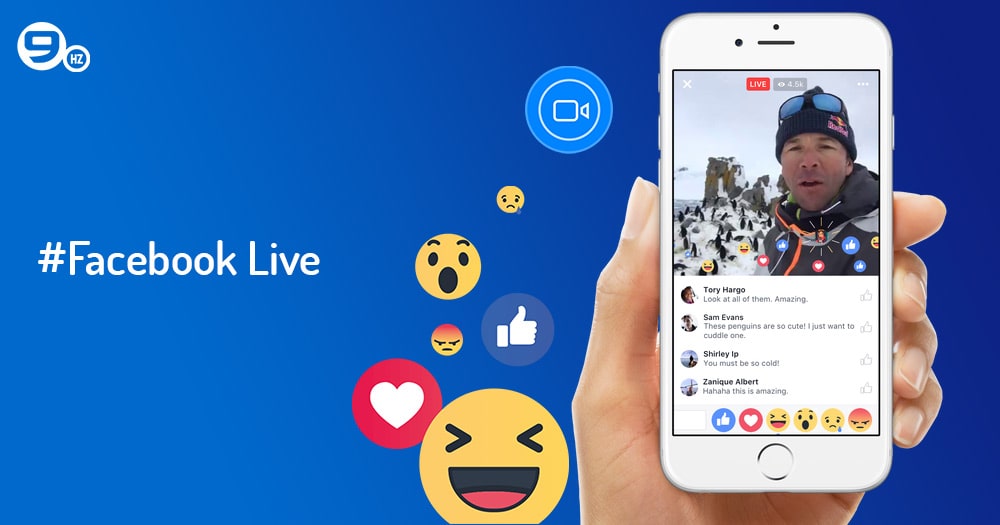 The largest social media platform in the world has also launched its own Live feature where you can connect instantly to your friends to share any moment. The platform allows individuals and brands to share content in real time. With Facebook Live, one can broadcast video and audio from a mobile device, streaming software, or computer. This feature is mostly used to share conversations, interactions, performances, etc.
Key Features
Access to shoot and share the videos instantly in real-time
Followers get notifications whenever you are life
Followers can comment and give feedback on your content in real-time
Leverage the existing audience of your current page's followers
7. Twitter Live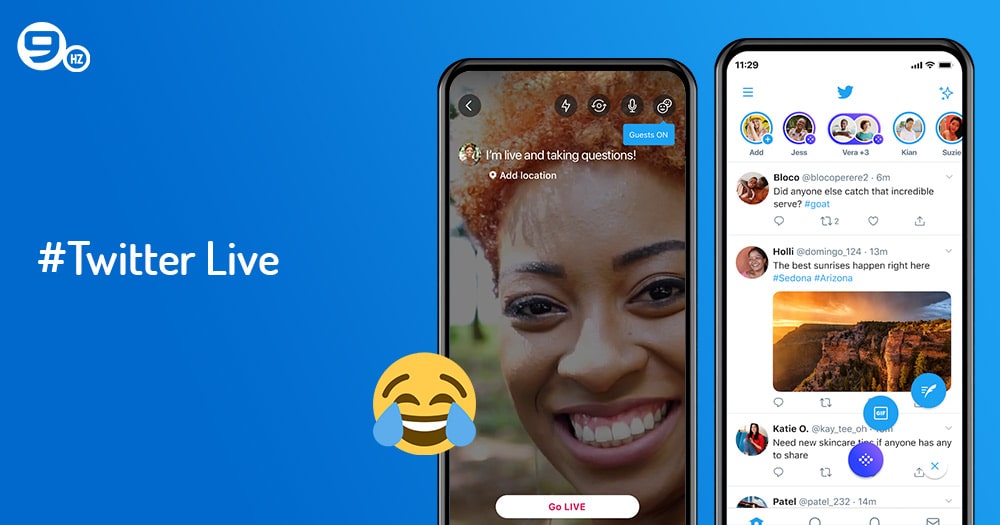 Just like Facebook, Twitter Live is the new feature provided by social media giant Twitter. However, you can access this feature only on the mobile app of Twitter and not on the desktop site. While Twitter assists you share pics, messages, videos, etc. on its feed, Twitter Live is meant to connect to your audience in real-time to share any information more efficiently.
Key Features
Follow, like, and retweet options for better user engagement
Direct mentioning
Easy to use for live streams
Existing audience base of account followers
8. Livestream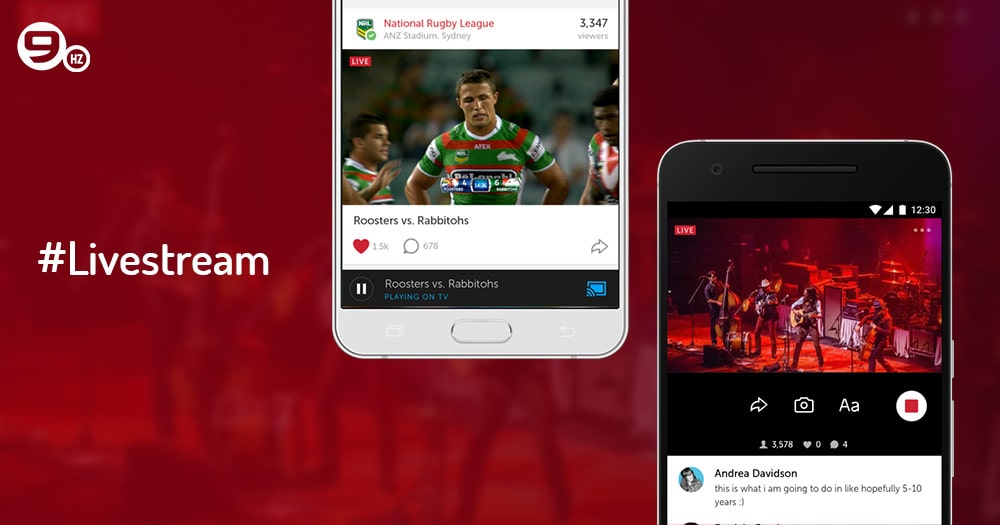 Livestream is also a free streaming app owned by Vimeo. The software has both desktop and mobile versions to help users efficiently share their content. Livestream even assists users to stream content via other platforms as well which include YouTube Live, and Facebook Live, all with a single application. The core competency of Livestream is that it is very easy to use for the people with the least technological exposure.
Key Features
Streaming to multiple platforms simultaneously
Automatic aspect ratio adjustment
Easy integration with other social media live-streaming platforms
9. Larix Broadcaster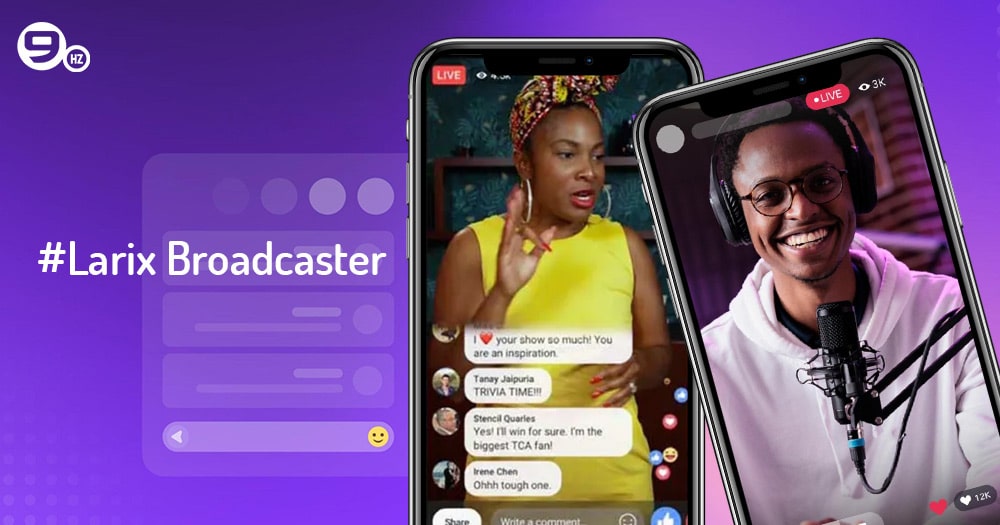 With over 100K+ downloads on the Google Play Store, Larix Broadcaster is one of the free live streaming apps. Users can live stream the audio and video content via the app to connect to their target audience. This software carries a range of features that makes it suitable for beginners as well as advanced broadcasters. The easy-to-use interface of the application makes it accessible to all.
Key Features
RTSP and RTMP publishing
Stream to multiple platforms at the same time
Free live streams services
Different modes to enhance the video quality
10. Switcher Studio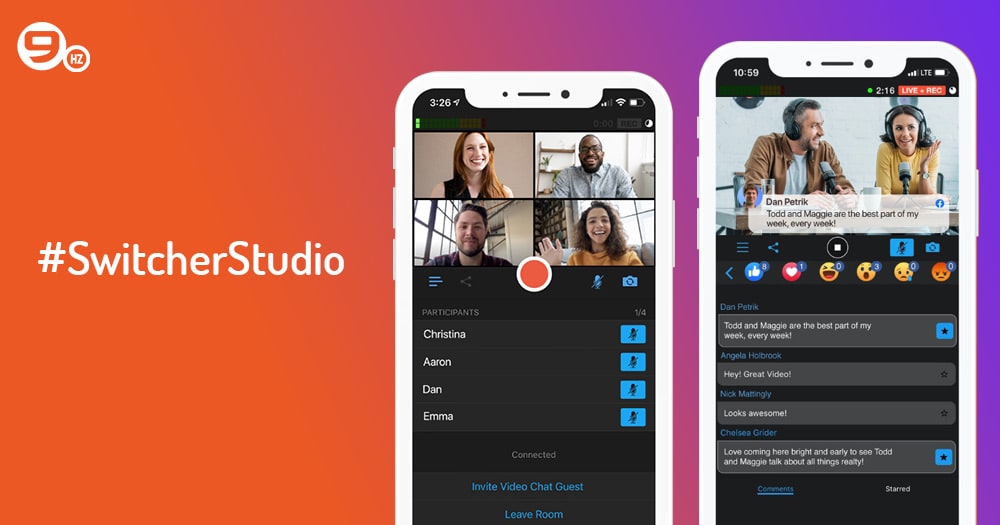 SwitcherStudio works in the three principles viz. Create great videos, share it with the world, and monetize your content. This best free live streaming app is mainly available for iOS users where users can choose the streaming destination, switch the camera angle, add livestream graphics, screeshare with others, and much more. You can live stream your content to a range of platforms with Switcherstudio. The platforms include Facebook, YouTube, LinkedIn, etc.
Key Features
Mobile streaming doesn't need any external equipment
Customization of live streaming with titles, graphics, and texts
Switcher Cloud for easy and consistent branding
11. Club House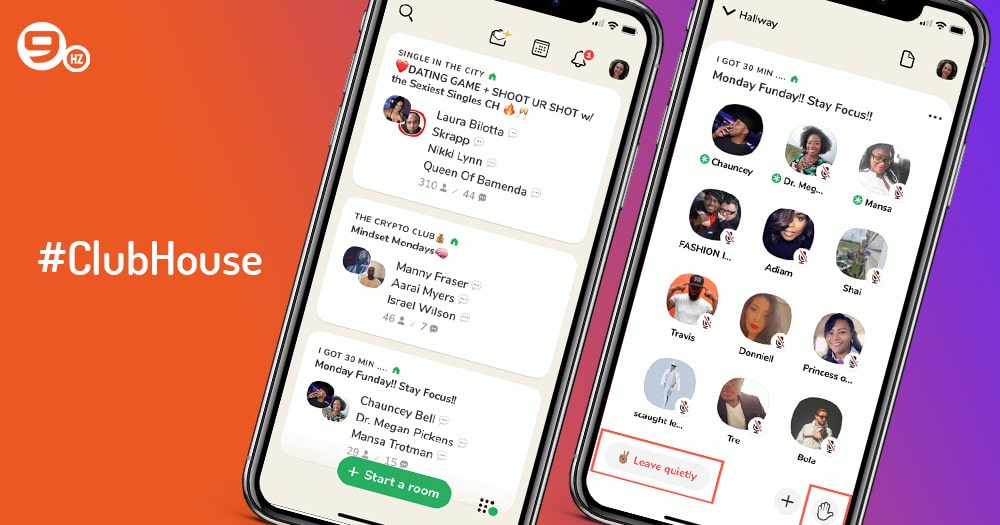 ClubHouse is also the best free streaming app but different from all the other apps in the list. This software only supports audio streaming and is available for Android as well as iOS. This competency of the ClubHouse app changes the use case of this app as it is more widely used for storytelling, podcast, debates, and book citing. Moreover, this application is also used by brands and professionals to connect with others and build a network.
Key Features
Private chat rooms
Different tools to encourage user engagement
Tools for customization in stream permissions
Free to use for live streams
12. GagaHi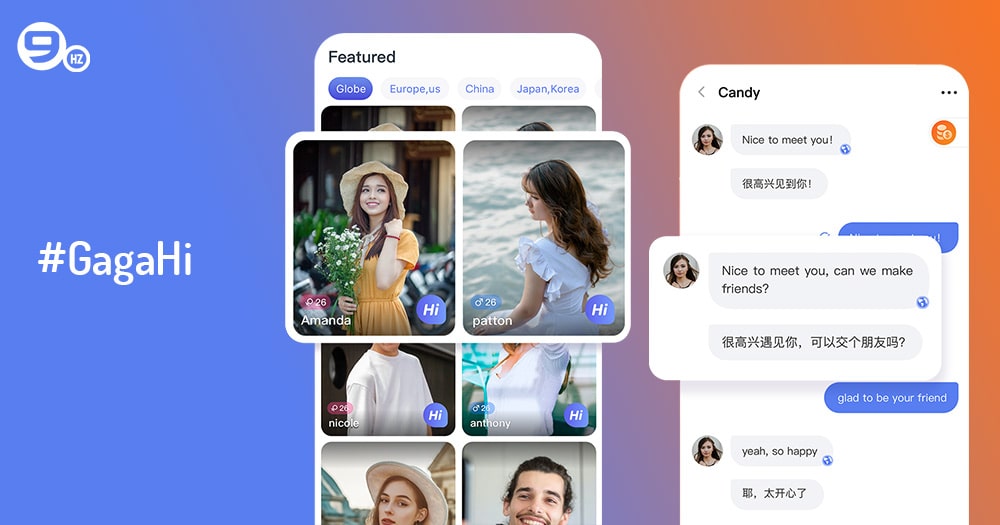 GagaHi is also one of the best free live streaming apps and was originally founded as a dating site but has evolved to be a more famous live-streaming platform. It helps the creators and viewers to connect from different corners of the world. This application has more than 10M downloads on the Google Play Store helping the content creators to connect to a large pool of audience instantly.
Key Features
Audio as well as video streaming
Live streaming support in 100+ countries
Complete Privacy Control for live streams
Multilingual translations
13. Be.Live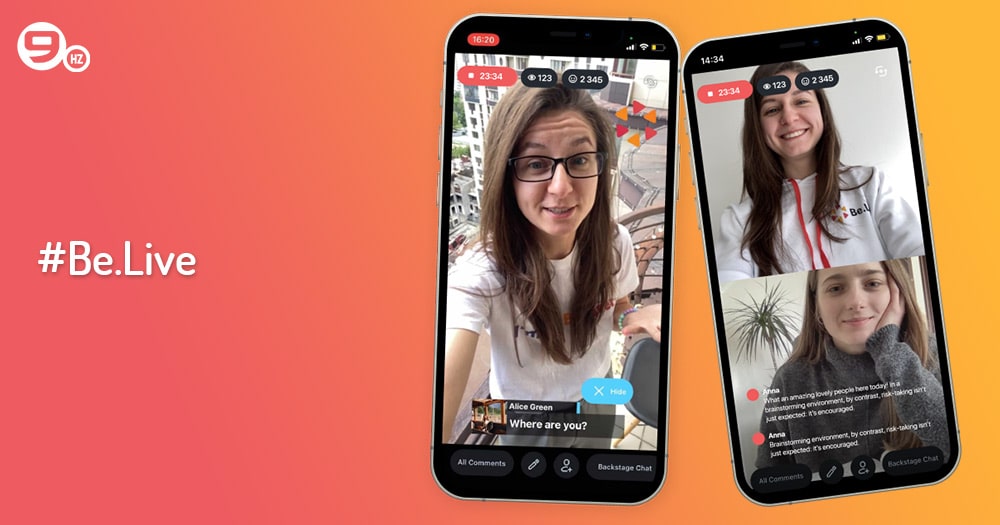 Be.Live is a top free streaming app that helps you run professional-looking streams across different social networks from any browser. This doesn't even require you to make any installation on your device. Also, Be.Live allows you to stand out from the crowd with features like logos, overlays, lower thirds, background, widgets, and much more features. You can even opt for 14 days free trial to test the functionalities of the platform.
Key Features
RTMP Publishing
Gain competitive advantages with different features like logo, background, widgets, etc.
Integration with different social media platforms like Facebook, and YouTube
Access the comments on your screen
14. TikTok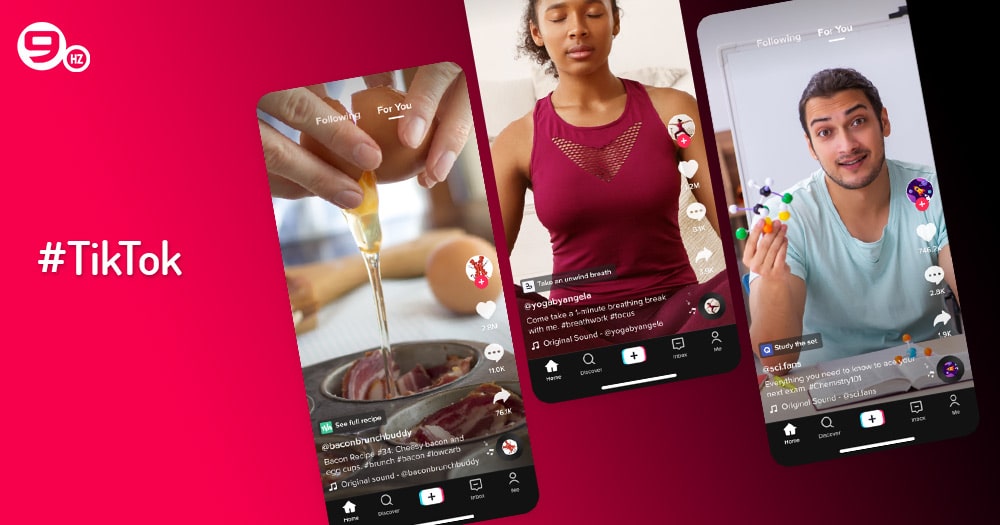 Just like Facebook and Twitter, TikTok is also one of the largest social media platforms with over a billion downloads. With this platform, you can create short video content, establish a strong audience and then even talk to them in real-time with its live feature. This is a China-based company founded in 2016. The application is available in more than 40 languages with a presence in a wide range of countries.
Key Features
Option to receive and send give during the live stream
Algorithm to distribute your content to existing as well as new audience
Easy to use app
Convert your gifts in real cash
15. UStream

This is also a best live streaming app created by IBM. Other than its live streaming capabilities, the platform provides cloud storage for your video content. You can also access the features like instant polling and live chat to increase engagement and more entertainment for your target audience. However, you need to pay the monthly subscription plans starting from $99, going up to $999.
Key Features
Easy integration with Facebook and Twitter feeds
Live as well as store videos for future broadcasts
Promote live streams event via targeted emails
16. Streamlabs Mobile App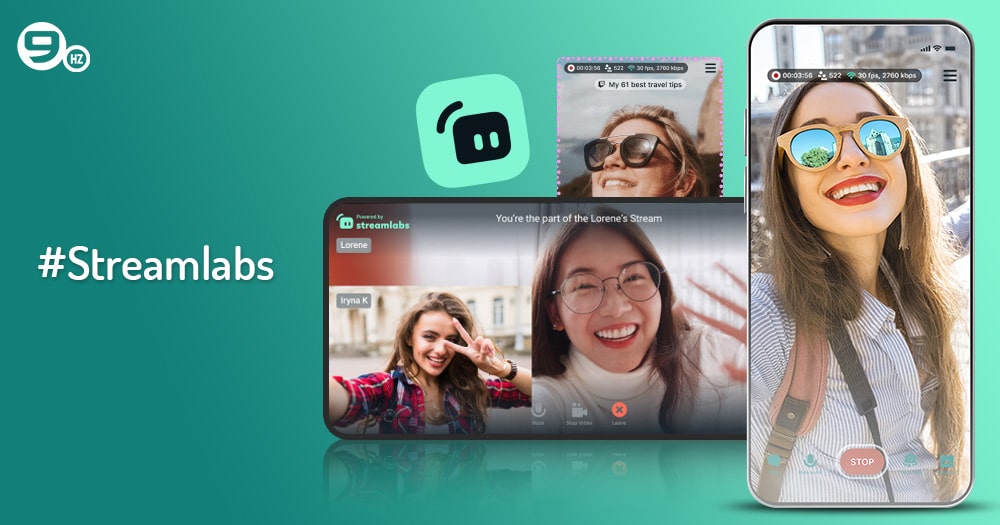 Whether you got your audience on Facebook, Tiktok, Twitch, YouTube, Trovo, or any other platform, Streamlabs is all that you need to connect to them. This app helps you live stream the session that can be related to gaming, announcements, information sharing, entertainment, education, or anything else. For its broad use case, the application has received over 10M downloads on the Google Play Store alone.
Key Features
Stream on multiple platforms, all at once
Multiple widgets to add to your live stream screen
Custom RTMP destination
Switch between different camera views
17. Airmix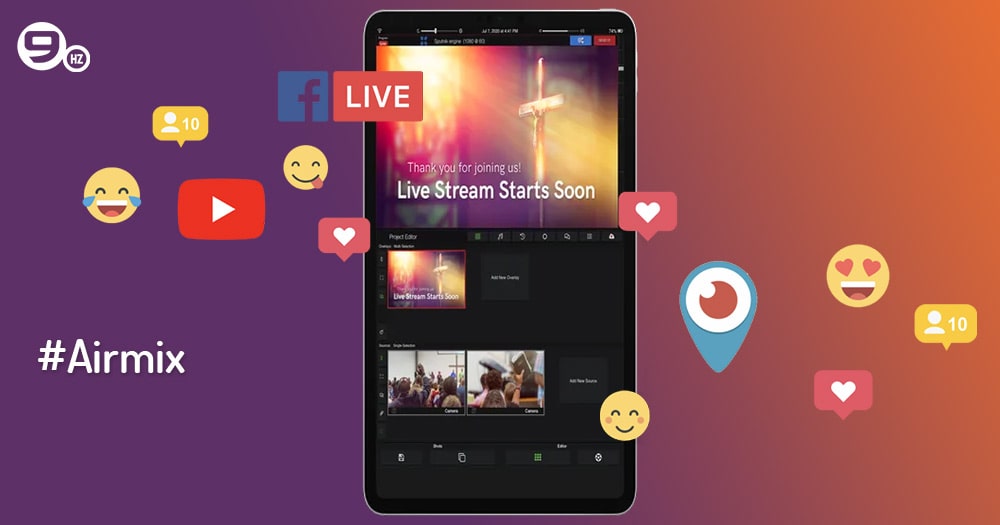 With a range of features like Custom graphics, animations, and scoreboards, Airmix can be the perfect choice for live streaming of your content. With this platform, you can stream to Facebook, YouTube, and more. At the same time, you can also replay the broadcast and turn it into slow motion for better effect. This application is available for Android as well as iOS users. The following features bring it to the list of free live streaming apps.
Key Features
Custom graphics, text, and more
Replay and slow motion for live streams
Integration with different platforms
18. Tango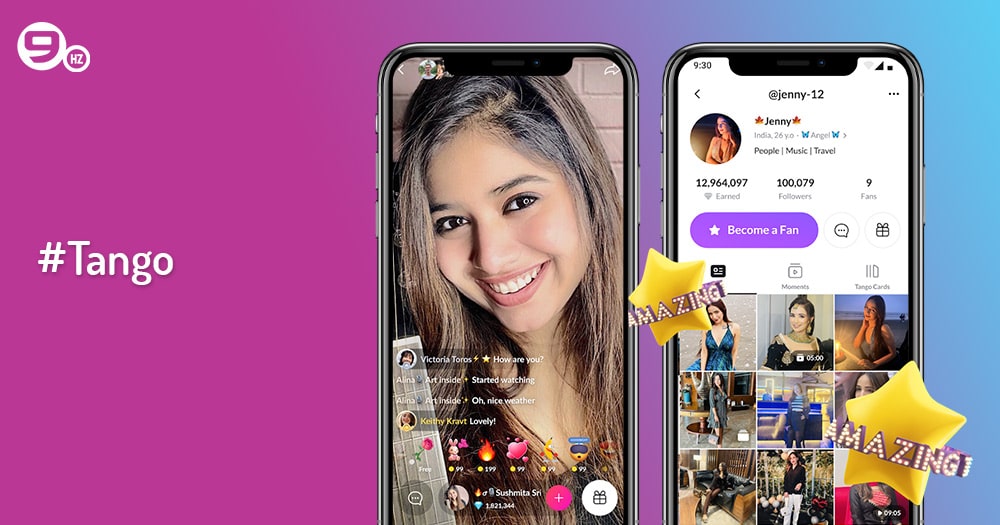 With over 100M downloads on Google Play Store and Apple App Store, Tango is one of the best free live streaming apps. The platform allows you to make friends with different features like video chat, watch, chat, and go live. This application was founded in 2009 to support gaming, messaging, and the internet while the live streaming feature was added in 2017.
Key Features
Monetization options
Video chatting support
Collaborative streaming
Tools for engagement and community building
19. Dacast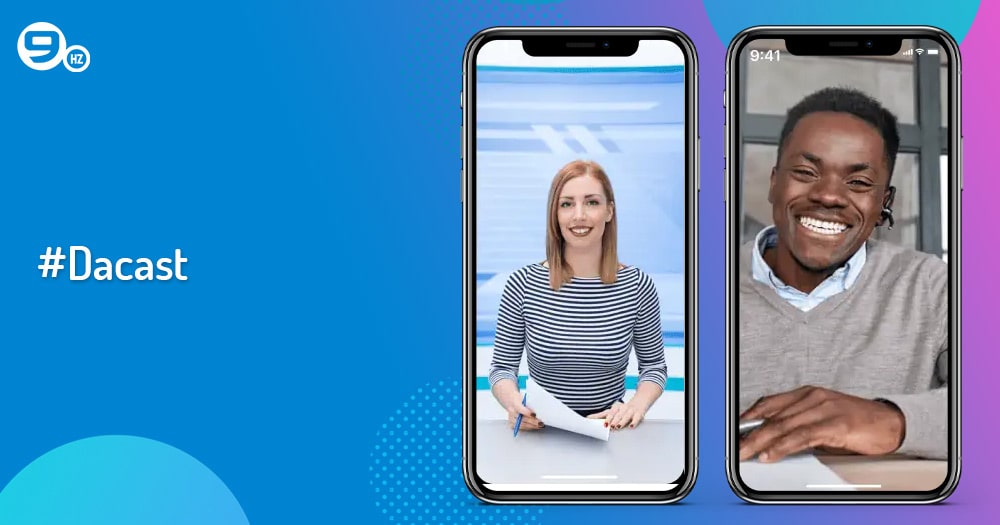 Dacast is also a top free streaming app that helps users to host, monetize, and end-to-end broadcast of your content. You can take a 14-day trial to try all the features of this platform before becoming a paid user of the app. Dacast was launched in 2010 as a live streaming and video hosting platform and now it has been more than a decade, and the platform is serving its target audience. More than 300,000 professional broadcasters and businesses trust Dacast to distribute their content.
Key Features
Secure video hosting
Video monetization
Stream live events
24*7 customer support
20. Nanostream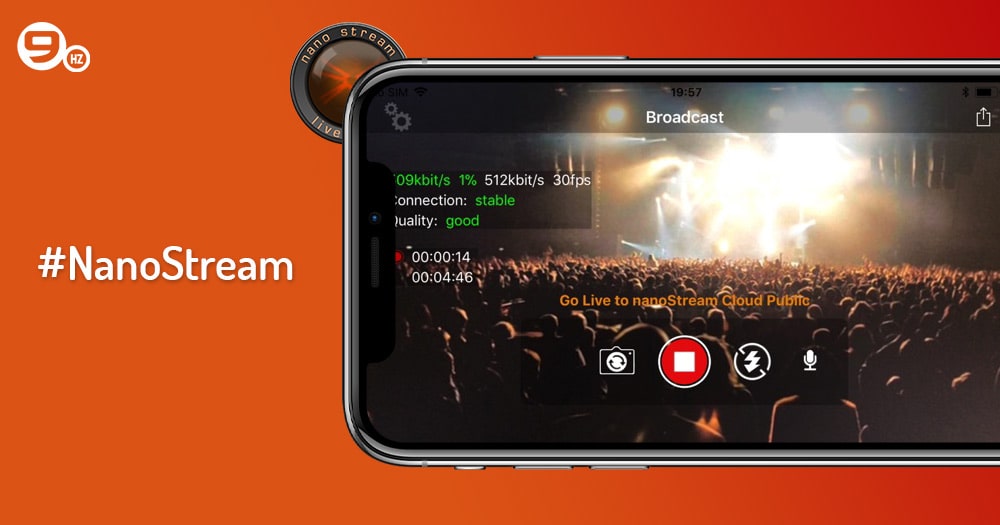 Nanostream is also a top free streaming app that allows you to connect with your audience in real-time with ultra-low latency. With this app, you can record videos in high quality to stream them to the internet. The platform has been named as one of Europe's most innovative companies in live video streaming platforms. You can use the services on Android as well as iOS devices.
Key Features
Accessibility from app as well as browser
Unlimited number of live streams
Cross-platform use
Integration with existing infrastructure
What is Live Streaming App?
Interpreting in the simplest words, a software that helps the users to broadcast their content which can be both audio and video over the internet is called a Live Streaming app. Free Live streaming apps mostly use a peer-to-peer network to share content with viewers. The core competency of this app is that it enables high-quality streaming even with a low bandwidth connection. However, you can witness some differences in the functionalities of different live-streaming apps according to the tools and technologies used to build them.
Benefits of Developing a Live Streaming App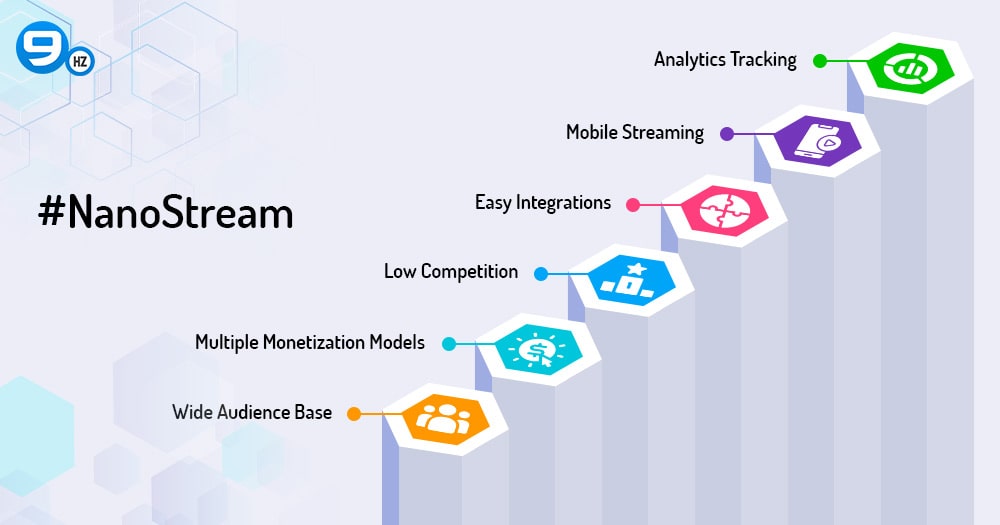 You might wonder about the benefit of putting an investment for building a live streaming app. So, here are some advantages that will bring a good ROI to you-
1. Wide Audience Base
Emergence of social media has increased the audience base for live streaming apps. Be it the popular figure, social media stars, or big personalities, mobile live streaming apps and platforms have become the go-to place for everyone to connect to their fans. For the same reason, the general audience is also vastly present on these platforms. So, the trend automatically creates a huge audience base for a good live-streaming app.
2. Multiple Monetization Models
By developing a free streaming app, you can implement a range of monetization models to ensure ROI. It can include advertisement revenue, subscription-based model, registration fee, freemium model, and much more. These monetization models will bring good revenue to your pocket.
3. Low Competition
While you might witness tough competition in any other application category, mobile live streaming apps are still a bit away from that exhausting competition. By providing good features and maintaining the efficient performance of the platform, your application can do wonders.
4. Easy Integrations
Free Live streaming app development supports easy integration with third-party apps and services. Be it social media platforms or any API, you can integrate it easily into your platform and enhance the usability of your app multiple times.
5. Mobile Streaming
While most of the live streaming platforms and tools require the support of external tools and devices, developing a mobile streaming app can secure a huge competitive advantage for you. With the same, you can attract a huge audience base to your platform in no time.
6. Analytics Tracking
By owning a free live streaming app, you have access to complete analytics and data of the application. It allows you to record the performance of the app, feedback from customers, the user engagement. With this data, you can take measured and smart decisions to further improve the popularity of your application.
Steps to Develop a Best Live-Streaming App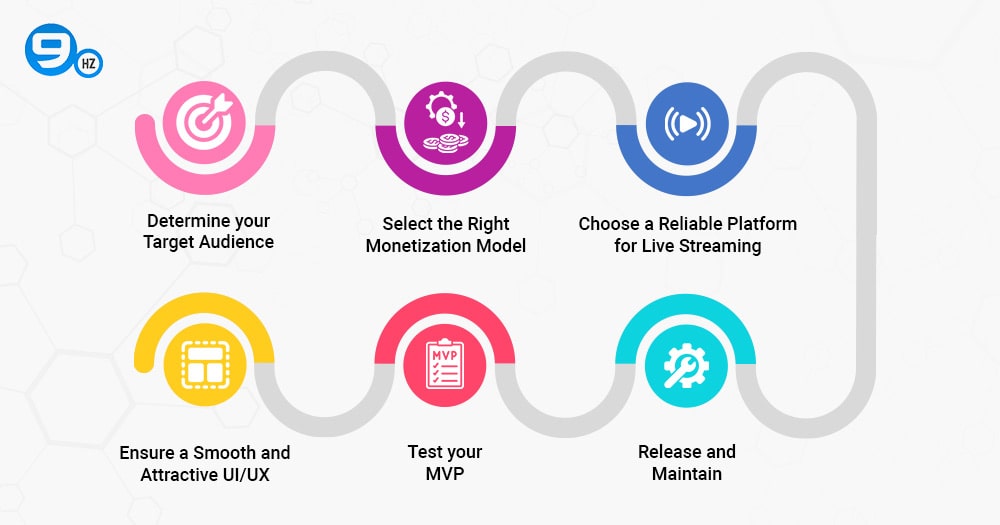 Here are the simple steps that will help you develop a good Live Streaming app-
1. Determine your Target Audience
First and foremost, you must determine your target audience. The reason behind the statement is that the features, functionalities, and all the major decisions for building a top live streaming app will depend on the audience you are targeting. Identify the needs of users, feature gaps among the existing free live streaming app, and brainstorm the new features that you can provide in your live streaming application.
2. Select the Right Monetization Model
Live streaming app development requires a good investment and it becomes necessary to plan for income sources. In this step, you finalize the monetization models that you want to implement in your application. There can be one or more monetization models. However, it is important that you choose the monetization model according to the particular service provided by your application. The apps listed in the above best free live streaming apps have also been integrated with the right monetization models.
3. Choose a Reliable Platform for Live Streaming
To develop a top free live streaming app, it is important to select a viable platform for streaming, hosting, and strong content. Ensure that you consider multiple factors for choosing the platform and not only place the cost at the top of the list. Doing so might lead you to compromise the performance of your application when traffic increase.
4. Ensure a Smooth and Attractive UI/UX
User interface says a lot about the user engagement on your platform. Make sure you create a smooth and seamless UI where users can easily navigate through the features and functionalities. Your buttons, content, and features should not be overlapping and must be clearly visible to users to access them.
5. Test your MVP
MVP (Minimum Viable Product) is going to be the first deliverable from your development partner. This will be a prototype that will give an overall idea about the features, functionalities, design, theme, and working of the application. Test this MVP efficiently and recommend the necessary changes.
6. Release and Maintain
Now it is time to release your application on the respective app market. However, you can cover more than 90% of the smartphone audience base just by releasing your application on the Google Play Store and Apple App Store. Once released, don't forget to continuously maintain the performance of your application. Provide frequent updates, instill new features, remove bugs as identified, etc.
Cost to Develop a Live Streaming App
The cost of free streaming apps for Android, iOS, or any kind of platform is determined by a range of factors and thus a fixed amount can never be committed for the same. While such an application can be developed for a few thousand dollars and it might also go up to a hundred thousand dollars. So, lets a have a basic understanding of some of the factors that will determine the cost of your live streaming app development–
Wrapping Up: Best Live Streaming Apps
Above listed the best free live streaming apps and their downloads showcases the popularity of such platforms efficiently. There is no doubt that the increasing use case of free live streaming apps makes it one of the best investment ideas for live streaming app development company. Not only it allows you to explore a wide audience base but different monetization models also bring a good revenue to your pocket.
FAQs: Top Live Streaming Apps
Q.1 What is the Best Live Streaming App?
Twitch, Restream, Instagram Live, and Twitter Live are considered some of the best live streaming apps due to their huge audience connectivity.
Q.2 Are Live Streaming Apps Free to Use?
There are various live streaming platforms that are free to use. However, you might also have to pay to stream live videos for some other apps which are based on certain monetization model.
Q3. What is the Cost of Building a Live Streaming App?
There is no constant fee or cost to develop live streaming apps for Android or iOS. A range of factors including app complexity, features, and location of the development team determines the overall cost of building a live-streaming app.