Montreal has been getting a lot of attention in the tech world these days because of its burgeoning startup scene, which has helped keep the city at the forefront of the tech world. There are several leading software development companies in Montreal and the third-largest number of software developers worldwide.
In fact, since the demand for technology workers has started significantly, a significant portion of Montreal's largest companies are associated with the software sector, making it one of the leading countries for software development.
Based on recent estimates, the Software Market in Canada is projected to generate sales of US$17.38bn by the end of 2022, which makes it one of the fastest-growing markets globally.
The city has also become a hub of artificial intelligence, which attracts companies such as Google, Alphabet Inc.'s companies, and many others.
Therefore, Montreal has a lot of IT companies and it can be challenging to choose the best software developers in Montreal from a vast range of options.
That's why here we have handpicked the top 10 Software Companies in Montreal Canada. Take a quick look!
Top 10 Software Development Companies in Montreal
Listed below are the leading software companies in Montreal, Canada that won't let you down. These companies specialize in custom software development services including custom applications, mobile apps, IoT, and AR/VR. Check it out-
| Name of the Company | Year Founded | Number of Employees |
| --- | --- | --- |
| The NineHertz | 2008 | 300+ |
| WebiSoft | 2016 | 50+ |
| Sigma Software Group | 2002 | 1000+ |
| Spiria | 2003 | 150+ |
| nventive | 2008 | 150+ |
| Cyper | 2016 | 200+ |
| Famic Technologies | 1986 | 150+ |
| Sidekick Interactive | 2011 | 50+ |
| Beslogic Inc. | 2008 | 50+ |
| Noesis Digital | 2007 | 80+ |
Best Software Developers in Montreal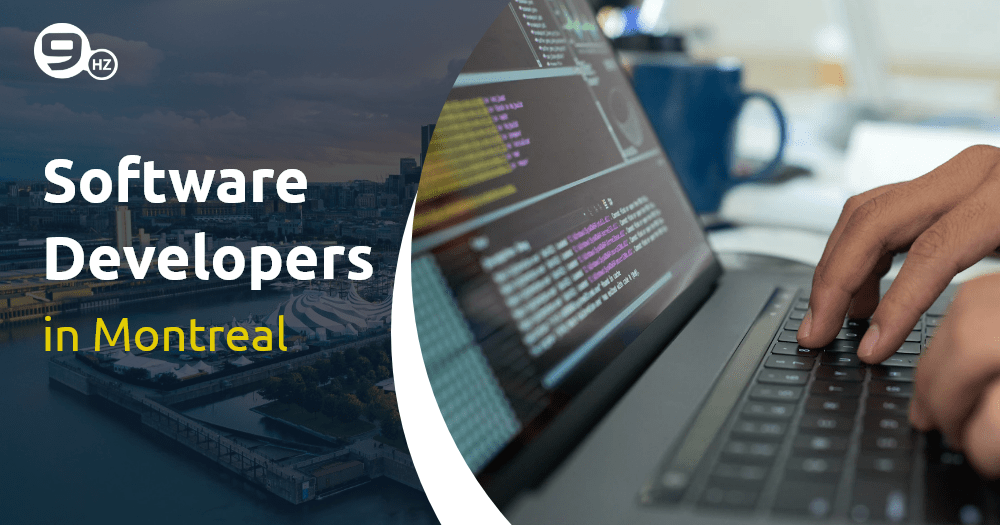 Let's explore each software development company in detail:
1. The NineHertz: Best Software Development Company in Montreal
The NineHertz is the leading software development company that provides secure and scalable software solutions to help you improve your technology infrastructure.
By combining deep industry expertise with the latest technological advancements, they deliver customized solutions and products that perfectly fit their users' needs.
They have extensive expertise in mobile app development, web development, mobile game development, salesforce development, industry solutions, cloud computing, and marketing strategy.
Despite being ahead of its competitors, the company always works with the highest levels of integrity when delivering reliable applications for its customers.
The NineHertz is an IT partner for many clients in a wide variety of businesses around the world and has successfully served more than 5000 projects in different industries in complex mobile application development; thus helping to achieve a 100% client satisfaction rate.
Hire Software Developers from The NineHertz
Request A Free Quote
2. WebiSoft
WebiSoft tops in software companies in Montreal Canada that offers full-service technology and custom development solutions.
Having years of experience in developing cross-platform applications and software products for large businesses, startups, and e-commerce stores, they are experts at building the best apps leveraging different technologies that boost your business growth.
Founded: 2016
Company size: 50-100
Min. project size: $10,000
Avg. hourly rate: $100–$149/hr
Offices: Canada
Find List: Software Development Companies in USA
3. Sigma Software Group
Sigma Software provides custom software development from concept to release and post-production for your whole project lifecycle. Whether your project requires a complete overhaul or a rapid start-up, they can provide solutions at any stage.
It is among the pioneer software development companies in Montreal Canada that offers software products and develops custom-made web solutions, digital transformation, VR development, IoT, and web & app development services to clients ranging from startups to Fortune 500 brands.
In 2016, the company acquired over 50 employees to provide a complete range of services, including web, custom software, mobile apps, UX/UI design, and IoT development.
In general, they are a product-driven venture-development company that collaborates with a variety of startups and established companies to deliver solid results.
Founded: 2002
Company size: 1000+
Min. project size: $1,000
Avg. hourly rate: $30 – $100/hr
Offices: New York, Ukraine, Canada
4. Spiria
Incorporated in 2003, Spiria is among the top software companies in Montreal Canada specializing in the development of custom software solutions for a variety of platforms.
The company offers a range of solutions that span the entire supply chain management process, from developing engaging customer-facing apps to complex supply chain management systems.
Whether you are looking for some product ideas or a launch strategy, Spiria's proven methods and rich industry experience help you make your vision a reality.
Founded: 2003
Company size: 150+
Min. project size: $50,000
Avg. hourly rate: $100-$149/hr
Offices: Canada
5. Nventive
Nventive is Montreal's top independent software development company. Through practical solutions, they assist and guide clients in transforming their businesses into digital ones.
The company believes that digital experiences must empower employees and engage customers to build businesses.
With nearly 200 talented, dedicated employees, the company specializes in bridging the gap between the digital and human worlds to provide solutions to everyday problems since 2008.
Founded: 2008
Company size: 150-200
Min. project size: $250,000+
Avg. hourly rate: $100-$149/hr
Offices: Canada
Want to Launch Your Own Software?
Request A Free Quote
6. Cyper
In order to guarantee maximum business value, Cyper provides software development, customization, integration, and advisory services. It is a way to ensure that your IT investments and your business transformation are generating high ROI.
Throughout their business model, they provide a complete range of services to retailers, healthcare providers, and cosmetic brands on a B2B and B2C basis.
In the past few years, they have worked with a large number of global companies, including New Look Vision Group, New Look Eyewear, IRIS, Panda Shoes, Recall Max, and others.
Founded: 2016
Company size: 200+
Min. project size: $25,000
Avg. hourly rate: $50-$99/hr
Offices: Canada( Montreal, Vancouver)
7. Famic Technologies
In 1986, Famic Technologies was founded to offer a range of high-end products and services in the fields of industrial automation and software engineering to customers all over the world.
Their team of experts assists in anticipating future problems as well as developing mechanisms for optimizing the efficiency of the project by providing solutions to them.
They not only provide software solutions but also plan and document the implementation process to ensure their contribution is as valuable as possible. Not only this but to better serve its clients, this company also offers system integration and big data consulting services.
Founded: 1986
Company size: 150-200
Min. project size: $1,000
Avg. hourly rate: <$25 /hr
Offices: India, Germany, Canada
8. Sidekick Interactive
As a mobile apps development company, SideKick is comprised of a highly qualified team of professionals who build custom apps for various business niches.
Since this is one of the best software development companies in Montreal Canada has been on the market for more than 10 years, it has served hundreds of large projects, including ABB, Daimler, and many others.
It has developed a wide range of software products that can be applied to almost any industry. Aside from local businesses, the company also assists companies located miles away from Montreal. You might be interested to know the cost of software development.
Founded: 2011
Company size: 50+
Min. project size: $25,000
Avg. hourly rate: $100-$149/hr
Offices: Canada
9. Beslogic Inc.
Having been in business since 2008, Beslogic has been able to provide a range of digital solutions, customized software solutions, artificial intelligence and other services to businesses of all sizes across Canada.
Beslogic's open-door policy encourages ideas to flow freely, sparking innovation and creativity.
This software development company model is built on unique expertise and collaboration, both of which have been significant contributors to its rapid growth over the last few years.
There are over fifty dedicated developers who contribute daily to the deployment and success of several major projects across the organization.
Founded: 2008
Company size: 50-250
Min. project size: $25,000
Avg. hourly rate: $200-$300/hr
Offices: Canada
10. Noesis Digital
Noesis Digital is a custom software development company that aims to provide sophisticated systems that address the most essential matters in your business with the help of the latest developments in Web services, mobile devices, wireless technology, cloud computing, artificial intelligence, and the Internet of Things.
A unique feature of Noesis Digital is that it also provides a variety of digital solutions based on a holistic approach and comprehensive strategic guidance in order to help its clients face challenges with greater confidence.
They use the latest advancements in these technologies to make a genuine contribution to your organization's overall performance.
Founded: 2007
Company size: 80+
Min. project size: $25,000
Avg. hourly rate: $100-$149/hr
Offices: Canada
Want to Discuss Your Project Idea?
Request A Free Quote
The Bottom Line on Software Companies Montreal
Thus, we may conclude that Montreal is home to some of the world's top technologists, a friendly corporate environment, and a localized innovation ecosystem with a broad impact. Montreal is a major source of opportunities for the tech sector.
These above-mentioned top 10 software companies in Montreal possess a strong technical background. As a result, they will be able to provide your business with effective digital solutions.
In the end, the choice of what software development vendor to choose is entirely up to you. The right approach, however, is to choose a firm technology partner who follows your requirements and can fit within your budget.
Still, having trouble choosing the most reputable custom software development companies in Montreal Canada?
Well, no worries! Count on The NineHertz for reliable service. Our team of professional software developers and app developers will guide you through the process to ensure your business is successful.
Our company has been in this industry for over 14 years and provides services, such as mobile application development, blockchain development, e-commerce development, and many more.
FAQs on Software Companies in Montreal Canada
1. What is the Biggest Company in Montreal Canada?
Montreal is one of the biggest centers in Canada, with many large software companies having their headquarters there.
A few of the most well-known names in the Montreal technology industry are Nventive, Webisoft, Noesis, etc. Among these companies, there are top-class developers who can offer some of the most effective services in order to help you achieve your business goals.
2. Are there Any IT Companies in Canada?
Yes, there are 1754 companies in Canada that provide a wide range of services including web development, mobile app development, custom software development, digital marketing, branding, and many others.
Some of the world's largest technology corporations, including IBM, invest regularly in Canada's talented, highly educated, and growing IT workforce.
As a nation that fosters talent development and attracts talent, supports innovation and has low business costs, Canadian tech businesses are well-positioned to make money.
3. Which are the Best IT Companies in Canada
As of right now, there are five of the largest Canadian software companies, namely Constellation Software Inc., Open Text Corporation, CGI Inc., Descartes Systems Group Inc., and Shopify.
The fact that Shopify is the largest software company in Canada is another testament to its importance. It is also the most valuable publicly traded company in the country due to its strong sales and impressive growth.
4. Is Montreal a Good Place for IT Jobs?
The tech industry is booming in Montreal, where there are plenty of jobs available. Despite being a growing city, it has a large and thriving tech community, so entry-level professionals and experienced professionals can both find plenty of opportunities here.
Moreover, the cost of living is relatively affordable in Montreal, and the city provides a wide range of very appealing lifestyle options.
Overall, we can say it is a fantastic choice for those seeking to enter the technology job market and seek out jobs in the field.
5. Is Montreal a Tech Hub?
Montreal is regaining its position as a global hub for technology. There's no doubt that Montreal's reputation for affordable education, bilingualism, multiculturalism, and creativity has something to do with a high concentration of tech talent.
Also, the cost of labor and overhead in Montreal is about half that of Silicon Valley, which makes it an attractive city for tech startups.