If you question "What is Search Engine Optimization", the answer will change with every individual. The concept might be the same but the words will definitely differ. If you are here to find out the answer, this guide will provide you with all the fundamental knowledge about SEO.
After all, it is important to be familiar with a concept where you can organically attract a long-term audience to your platform without spending the dollars.
Having a good knowledge of SEO can benefit you significantly, as 68% of online experiences begin with a search engine. At the same time, 53.3% of the total website traffic comes from organic search only.
What is SEO (Search Engine Optimization)?
Interpreting in the simplest words, SEO is the series of tasks that helps a website or any online piece of content to rank higher on any Search Engine. However, each task in this series requires much effort and patience, its authenticity is beyond everything. While you can make your rank highlight on the top of the search engines result pages by showering dollars, it can not increase your authority in the niche.
For example, over 200K people around the world search for the keyword "Software Development". If you are a software development company, ranking on this term can bring you a lot of business. That's where SEO walks in to bring your name to the forefront of SERP to achieve competitive advantages.
What is On-Page SEO?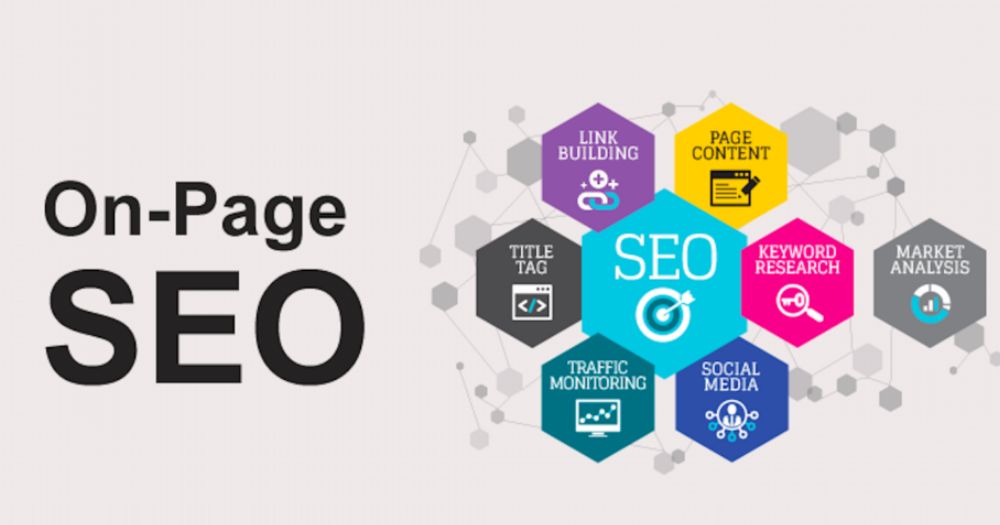 As the name sounds, every SEO activity that we make on our particular page to highlight it on the search engine result page- when the relevant query is generated- is known as On-Page SEO. It includes the different processes to optimize the backend and front-end components of the website so that it can be noticed by respective search engines and can be represented to users when they search for any similar information. The components include content elements, site architecture elements, and HTML elements.
Your On-Page SEO game has to be stronger as it tells search engines about your website, content, niche, brand, business, and overall digital existence. For the same, consistency is the key. If you plan to open and optimize your website once or twice a month, it is not gonna work as there are other people working 24*7 on their site just to impress the search engines algorithm.
The reason behind why we call it On-Page SEO is that whatever changes or efforts we make in the practice can be observed by the readers and visitors and thus are visible to everyone. It all depends on you how well you perform the On-Page SEO for your content as it requires a lot of effort and carries a lot of practice.
To have a better understanding of this key term, we have mentioned the key activities that bring results to the content.
How to do On-Page SEO? (Checklist)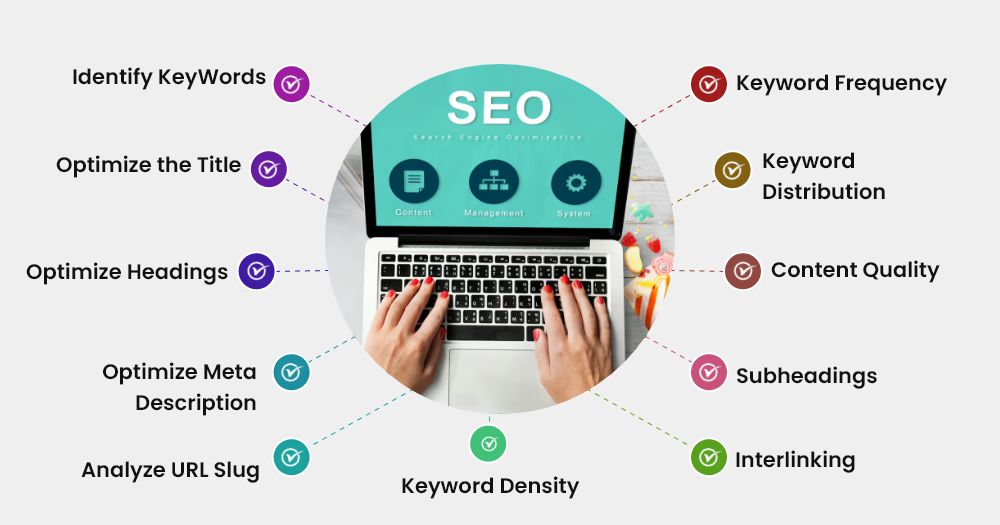 Having an idea about the key tasks that are executed under On-page SEO is a good idea to determine if you are making efforts in the right direction. So, here is the checklist of an On-Page SEO, and make sure you tick each of these when engaged in making content rank higher-
1. Identify the Target KeyWords
The foremost factor is target keywords. The only way we can attract organic search traffic is when people are searching for the information or content on the search engines that we are providing. Here, keywords play all the roles. Make sure your content carries the target keywords that users mostly search for on Google.
For example, you might own a big software development company providing services to develop and install all kinds of software. If the user is searching for "custom software development services", you will have to make sure that you use that particular keyword in your content to attract the customer.
2. Optimize the Title Tag
Title Tag is the first thing that users come across whenever the content make it to the top pages of search engine. It is also one of the foremost things that search engines read about your content. Make sure it talks about the whole content at once so that search engines can have an idea with just the title only. Also, your title has to be relevant to users' search and only then you can expect them to click on your page and contribute to the traffic.
Consider it mandatory to use the primary keyword while crafting the Title of the content.
3. Title as your Heading 1
This is an important practice of On-Page SEO that a blog, or any kind of content should carry atleast a Heading 1 and that should be the Title of the blog. The task might seem simple but is very crucial to ensure while drafting the information. At the same time, while writing this title, you have to mind the character or word limit so that the complete headline can fit into the mobile and desktop screen to ensure an efficient user experience.
4. Write an informative meta description
After the title, the meta description is the very next thing that the user will see about your content on search engine results. The meta description is the feature that allows you to talk shortly about what your content is all about, what questions it answers, or what are the content sections defined in the blog. However, it is often used to put eye-catching and interesting content to make the users click on the link.
5. Analyze URL Slug for SEO-Friendliness
URL Slug is part of a URL that bestows a unique identity to every page. While Google can automatically craft it for your page, better is that you do it yourself. By optimizing this part of the URL, you can use your target keyword to build the URL which is more understandable for search engines to understand, find and rank your blog.
6. Ensure keyword density, keyword frequency, and keyword distribution
While all three terms sound similar to each other, these help to place the right quantity of keywords in a measured way. Talking about the keyword density, it is the number of times you use a particular keyword in your content. Generally, generally the keyword density of 1-2% is considered accurate.
Moving forward, keyword frequency is the use of repetitive use of keywords in any part of content. For example, how often you are using keywords while writing the content is called keyword frequency. Keyword distribution is the overall segregation of the keyword throughout the content. Ensure to take care of all these terms while working with On-page SEO.
7. Review the content quality
Your content should meet the user's expectation by providing the right information. For example, one can answer a specific query in mere 100 words while another might be stuffing the unworthy content for over 1000 words. Here, the chances of those 100 words ranking higher are much more than that fluff.
So, ensure to maintain the quality of your content. For the same, it is important to check that your information is answering the respective query of the user, is not using worthless words, not using contradictory statements, language is not confusing, etc.
8. Use the right subheadings
Just like the headings, subheadings are equally important to attain the Search Engine attention toward your content. You get the options like Heading 2, Heading 3, and Heading 4 to give the right hierarchy of information to your users. It not only makes the content looks good but makes it easy to understand by the users. As people spend more time reading your content, the higher the chances of getting your content ranked.
9. Foster efficient interlinking
Internal is part of an effective on-page SEO strategy where you can use internal links among blogs to drive traffic from one content to another. For example, if you are writing an article on On-Page SEO, link it to another article that talks about the tips for executing On-page SEO. Internal links in content enhances its searchability, and also drives your audience to multiple pages of your website.
10. Use different formats in the content
While reading the paragraphs might bore the reader, using different formats like images, visuals, videos, tables, graphs, charts, bullet points, and quantitative data can enhance engagement. Using these components with the right frequency also elevates the overall appearance of the content. Moreover, the use of these formats provides the bulk of information in one sight to the customers.
What is Off-Page SEO?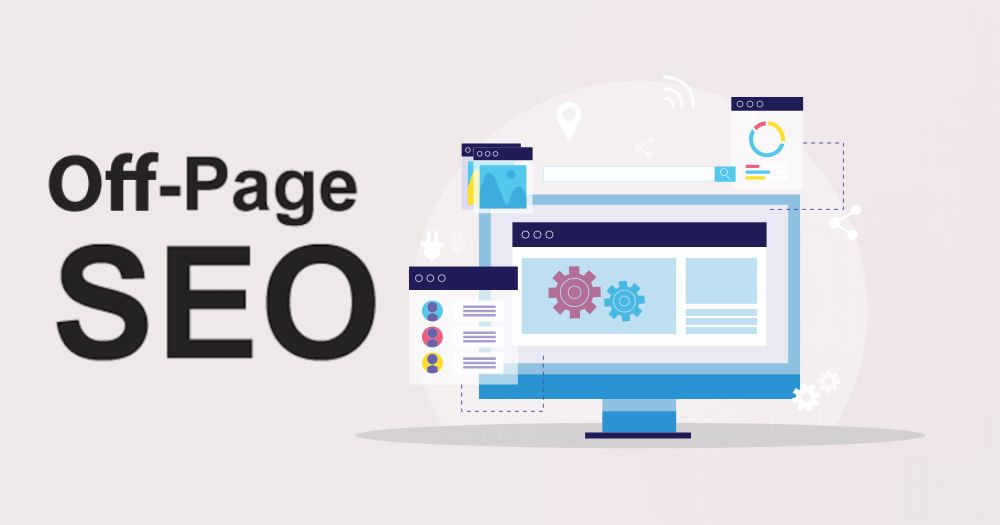 Off-Page SEO is the series of activities done off the website to make the search rankings higher on the Search Engine Result Page. Just like on-page SEO, the off-page SEO fosters the back support to the content to help it be noticed by search engines in the least time. While ensuring the off-page SEO for your website, you don't implement any changes in the original content but build the strong pillars that assist the words to stand out from their peers.
More than your own particular page or website, off-page SEO makes you work on other sources and portals to back-support your original content. The same is achieved by building the backlinks, and references, and taking support of secondary platforms.
10 Off-Page SEO Techniques To Drive Organic Traffic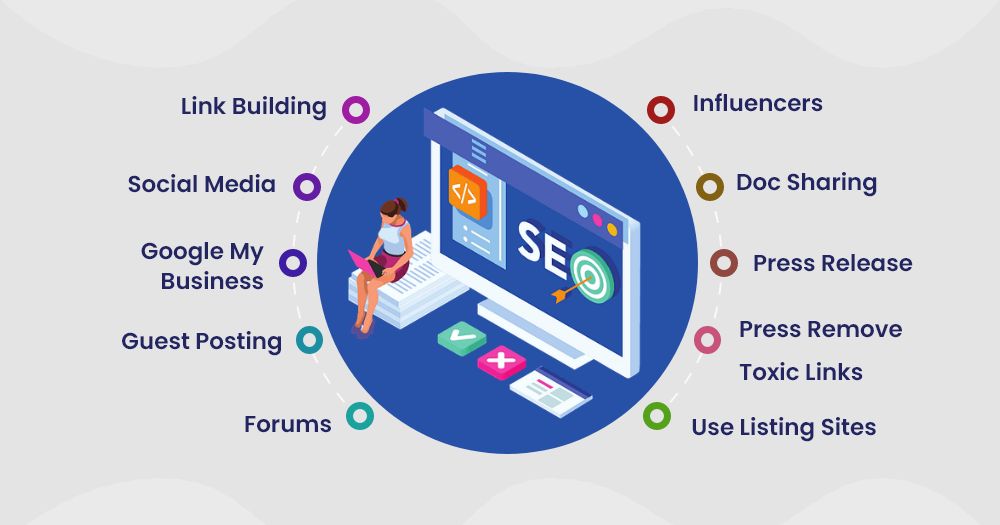 There are numerous practices that make off-page SEO effective. While one might outperform another, when combined together, you are set to see the results. Off-page SEO definitely requires more effort than the former, however, it provides long-term advantages to your content.
Here are the 10 off-page SEO techniques that can help you drive organic traffic-
1. Link Building
When talking about Off-page SEO, link building is the first thing that you will come across. Even Google claims that there are more than 200 factors that determine the ranking of webpages on search engines and link building is the most important factor among them. Be it natural links, manual links, or self-created links, getting cited on a third-party platform works significantly to increase your page authority, value, and rankings. You can rely on guest posts, quora, influencers, and much more for link-building to your content.
2. Social media
With a user base of around 4.5 billion– more than half of the world's population- Social media can do wonders to support your webpage content. More than 90% of digital consumers have social media accounts and thus even Google admits the worth of social media presence.
You can find people searching for products, services, and brands on social media and then navigating to the original web presence. So, supporting your website or store on social media can help you a lot to rank on search engines. Here is ultimate guide on social media marketing.
3. Google My Business or Local SEO
According to statistics, around 46% of Google Searches are about local information while 80% of the customers use Google Maps to seek local information. If you own a business website, offering any product or service, local SEO and listing your name on "Google My Business" can do wonders.
Not only traffic, but this practice can even help you attract leads. Suppose you own a big bakery outlet in a city, ensuring local SEO will bring traffic to your website. At the same time, people searching for bakery outlets in your area can become your potential customers.
4. Guest Posting
When you publish your content on third-party websites and give it a navigation link to your official website, it is called guest posting. Choosing a prestigious website to put your content and getting their audience's attention can be a great idea to explore new visitors for your website. You should remember that the site you choose for your guest posting is comparable to your website and entertains a target audience that can be your potential leads.
5. Forums
Answering questions on forums and search engines like Yahoo, Quora, and Reddit relevant to your particular niche is a great method to create strong links. If you provide satisfactory answers to the queries of people on these platforms and leave a link to read more that navigates users to your content, it can be a great way to invite users. Similarly, giving a brief answer to the query and inviting them to your website for an in-depth explanation can be another strategy.
6. Influencers
This is more similar to advertising where you approach industry influencers with a worldwide following to talk about your brand. You can ask them to post a video with your name, give a link to your website in their social media post, share your blog article, retweet on Twitter, or anything. This is one of the Off-page strategies that can bring huge traffic in the least time to your website.
7. Doc Sharing
Just like guest posting and Quora, doc sharing is also an effective way to get noticed by a wider audience and pull them to your website. The platforms like Slide Share, Academia, Scribed, etc. allow you to upload presentations, files, documents, images, infographics, and much more, talking about different topics in your niche. Include the tags, titles, names, and transcripts in your file. By placing a CTA button, you can redirect visitors to your website.
8. Press Release
Building public relations with a press release is also one of the off-page strategies that bring a lot of traffic to your website. For the same, you will have to find a source in the journalism and publication field where you can post your content, product, or services.
Along with bringing traffic, it plays a big role in enhancing your brand image as well. If you succeed in placing the link with a known publication, it can even multiply the overall visitor traffic and search numbers on Google.
9. Remove Toxic Links
Just like adding links, removing some links is also important for your website ranking. Toxic links are the ones that are negatively impacting the performance of your webpage. Some of the toxic links are the ones which your bought, generated via automated programs, belonging to low-quality directories or bookmarks, or over-optimized links. Search engines knows about the platforms which provide links to low-quality content and if your link is also present on those platforms, it ultimately impacts your digital presence.
10. Use Listing Sites
There are a number of listing sites, that entertain a monthly traffic of millions. You can list your name or brand under the right category, leaving a link to your official website on these platforms to navigate that huge audience to your webpage. At the same time, there are hundreds of listing websites that will allow you to talk about your business for free. So, this is not only effective but a cost-effective effort for off-page SEO.
What is Technical SEO?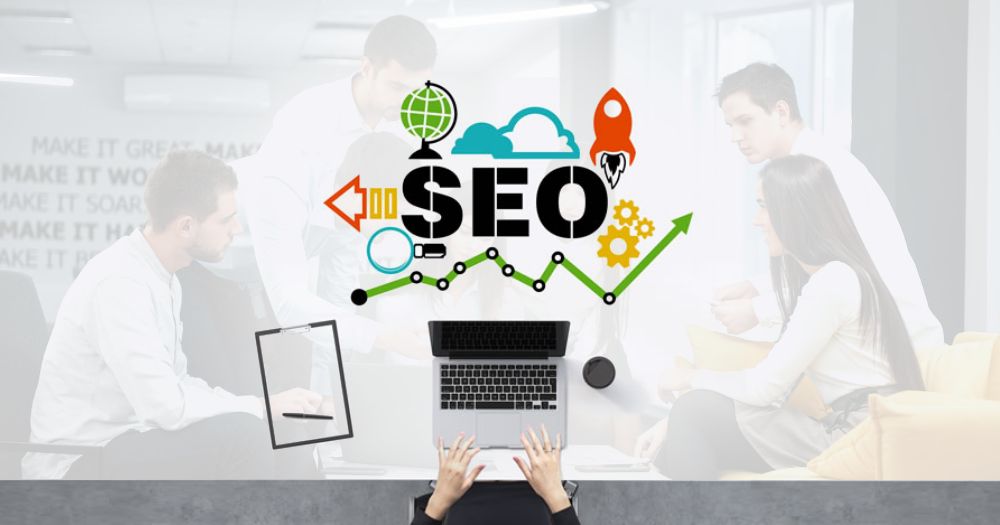 Unlike on-page and off-page Search Engine Optimization where you majorly play with the content, Technical SEO is a little complex and time taking. As long as your webpage or website is not accessible to the search engines, it will not be indexed, nor ranked by the search engines.
Similarly, if the load speed of your website is too slow, users will not be waiting for eternity as there are many other websites providing the same services and information. So, your risk of substitution increases instantly.
So, Technical SEO- as the name suggests- is the process of improving the technical aspects of a website. It helps make a website faster, understandable for the search engines, easier to crawl and improves the internal elements of a website to enhance the overall performance of your web pages.
5 Best SEO Tools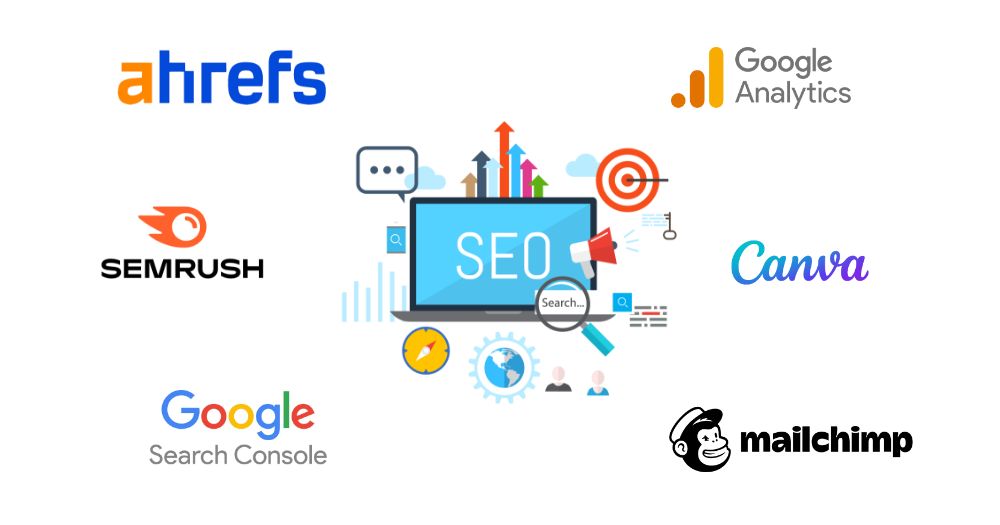 A proficient SEO person uses several Search Engine Optimization tools to know about the website, connect with the people, execute the strategies, increase the quality of content, know about competitors, design the publishings, and much more. These tools make sure that efforts are being made in the right direction. Let's glance over the most useful tools in the SEO world-
Rank 
Name of the Tool 
Functionalities 
Pricing 
Number of Users 
1.
Google  Analytics

Fake traffic overview
Traffic sources on a website
Site content report to generate engagement metrics
Complete user journey
Multi-Channel Reports

Basic version-

Free

Enterprise premium version-

$12,500 per month

$150,000 per year

37.9 Million
2.
Google  Search Console

Keyword research
Identify crawl errors
Mobile compatibility of website
Google  Indexing analysis

Free
NA
3.
Ahrefs

Analyse performance of particular web page
Different content performing well on a keyword
Monthly search volume on keywords
Site auditing to identify technical issues

Lite Version- $99/month

Standard Version- $199/month

Advanced Version- $399/month

Enterprise Version- $999/month

37.5K+
4.
Ubersuggest

Keyword ranking performance over time
Identify errors in website
Keyword overview, keyword ideas, keyword visualization, traffic by keywords
Presents backlink opportunity and backlink overview

Individual Version- $12/month

Business Version- $20/month

Enterprise Version- $40/month

50K+
5.
Semrush

Suggests improvement in backlinks
Recommend keywords for better SEO strategy
Recommends strategy for higher traffic
Provides an overview of PPC ads and Ad copies

Pro Version- $129/month

Guru Version- $249/month

Business Version- $499/month

6 Million+
1. Google Analytics
The foremost, fundamental, and most necessary tool for an SEO person is Google Analytics. The tool compiles all your website data in one place and presents it to you in numerical form so that you can take the right decisions for the growth of your website. Both the paid and unpaid versions of Google Analytics are available, differing in capabilities and features. Here are some of the functionalities delivered by Google Analytics-
Google Analytics enables filtering the fake traffic which can potentially ruin your website SEO reports and credibility.
It gives you a complete overview of the sources where your traffic is coming from. You can easily find your top web pages, content, and third-party platforms to boost it. Similarly, you can work on your low-performing sources with this tool.
Site Content Reports help to generate engagement metrics for your different web pages, engagement on your directories, page exit metrics, the behavior of users, bounce rate, time spent by users on the website, the complete user journey on your website, and much more.
Using the Multi-Channel Report's Assisted Conversion Feature, you can identify which of your channels brings the most leads and performs the best.
2. Google Search Console
If you own a website, it will be offered to you for free of cost from Google. This tool helps you monitor the website of your presence on Google Search Engine Result Page. To set up your Google Search Console, it will require you to verify your website by adding the code to your website and you are set to submit your sitemap for indexing. Talking about the core functionalities, Google Search Console allows you to monitor, optimize and debug your website while you need no coding expertise for the same.
It helps the Search Engine Optimization person to know about the keywords that are ranking the website.
It helps recognize the crawl error on the website to take necessary measures.
One of the best advantages that Google Search Console delivers is that you can check the mobile compatibility of your website. It helps you to enhance the mobile user experience of your website.
It helps you to access the list of web pages that are on Google's Index. Similarly, you can use the tool to submit the pages for indexing
3. Ahrefs- SEO Keyword Tool
This is one of the most advanced tools for Search Engine Optimization of your website. While you have no free option to use this tool, spending in Ahrefs is nothing less than an investment if you want your website to grow. It helps you to examine your website property and thus produce the keyword links, and ranking profiles so that you can take better decisions. Some functionalities of Ahref are-
It shows you the performance of a specific webpage of your website
You can see the high-performing content on a particular keyword on search engine results.
Provide you insight into the monthly search volume and click-through rates for specific keywords on search engineshelping you in keyword research.
Site auditing that helps to remove the various technical issues at your website to make the improvements.
4. Ubersuggest
Ubersuggest is a top-notch SEO tool, introduced by Neil Patel, a well-known name in the digital marketing industry. This is also a paid tool that helps you learn about your website as well as your competitor's performance. There are a range of features given with the tool that will help you make smart decisions, decide the flow of content, and make the information easier to find by search engines. Core competencies of Ubersuggest are-
Keyword ranking performance over time on search engines along with their performance history.
The errors in the website, unindexed pages, broken links and backlinks, etc. can easily be identified with this tool.
Keyword overview, keyword ideas, keyword research, keyword visualization, traffic by keywords, similar websites, and content ideas is part of its capabilities.
Complete traffic overview and top pages by traffic on your website can be accessed with Ubersuggest.
It also carries features like backlink overview and backlink opportunities to perform better off-page so that search engines discover you easily.
5. SemRush
Assisting in various vertices of Search Engine Optimization, Semrush is a complete suite of tools that helps in SEO analysis, keyword research, content marketing, campaign management, and many more. There are more than 6 million people using SemRush to enhance their position on the Google Results page, getting good results as well.
The tool allows you to analyze backlinks on different sources to make necessary improvements.
It helps you identify the keywords that you can utilize to tailor the SEO strategy according to search engine algorithms.
You can access the entire overview of PPC Ads and Ad copies of your competitors.
It optimizes your content and gives recommendations on how you can increase the traffic on your website.
Wrapping Up
SEO is the key to securing competitive advantages in the online market where millions of peer businesses are ready to steal your clients. Not only it boosts your ranking on the search engines but brings your name to the forefront of your niche to get noticed by people. While On-Page SEO makes sure you are presenting yourself in a good manner to your audience, Off-Page SEO brings different sources where you can find the leads. So, the overall Search Engine Optimizationfences a lot of advantages to your business without any significant investment.
FAQs
1. What is SEO in Simple Words?
SEO stands for Search Engine Optimization which consists of multiple practices to bring your web pages, website, and content to the top position of Search Engine Results Pages. It helps you get noticed by a wider range of audience.
2. What are the Four Types of SEO?
Four main types of SEO are On-page SEO, Off-page SEO, Technical SEO, and Local SEO. On-Page SEO consists of the activities where content improvement takes place on the site. Off-page consists of building backlinks, relying on third-party sources, etc. to support the content. Technical SEO refers to enhancing the site architecture while local SEO is generally meant to enhance the presence of local businesses with the help of Google My Business.
3. How Does SEO Work?
Search Engine Optimization consists of various activities like keyword volume analysis, using the right words, building backlinks, ensuring efficient content structure, the right architecture of the website, and crawl speed, which helps to boost the findability for search engines and highlight the result.
4. Is SEO Paid or Free?
SEO is a combination of paid and free tasks. Organic traffic retention is referred to as free SEO which builds authority and helps the content rank. On the other hand, paid SEO like PPC, helps you bring leads by spending money, which is again a good option for a limited time.