The popularity of card games goes back centuries. We can find references in history books when Kings, Queens, and common people have played card games for entertainment purposes. So how do card games fare in today's digital age?
Well, the answer they have multiplied in popularity. Thanks to the popularity of smartphones, game apps like rummy have gained a huge audience base within a short time. And people are asking for more.
If you want to build an on-demand card game like rummy, you have come to the right place. In this blog, we will share all the information you need about rummy card game app development.
What is Card Game App Rummy?
Rummy app is a popular skill-based card game played between 2 to 6 players. Every player is dealt 13 cards(if 4 are playing). The player who is first to arrange all the 13 cards in a sequence and/or sets of the same rank is the winner. Rummy is also the most popular family card game. More than 1 Lakh people are playing the game online at any given instance.
Skill-Based Card Game Development Market Stats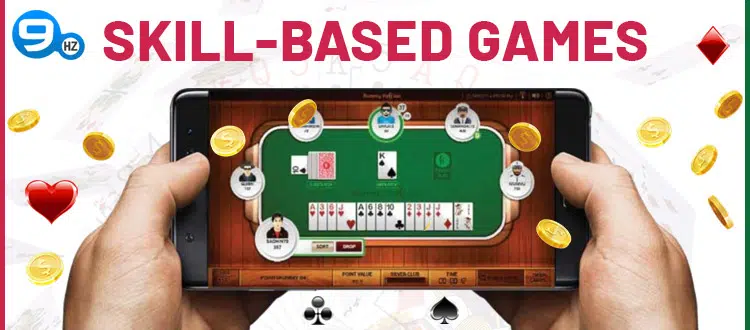 Before we move over to the finer details of mobile game development, let's take a look at the numbers that define the skill-based card game development market.
$3.6 billion: Expected value of Skill-based game market in India by 2022
67.58%: The CAGR of card-based games
730 crores: The Total revenue generated by online card-games
1180 crores: Expected revenue by 2023
What Makes Card Game App Development So Popular?
Of Course, the entertainment factor is a key factor driving the popularity of skill-based card game app development in India. However, other factors like a sense of dominance, the thrill of winning, and the fun part of playing with friends, family, and strangers online also play a crucial role in the popularity of skill-based card games.
Another factor that remains least highlighted is familiarity. Most people have either played card games before or have seen friends and family play them. So there is a huge online audience that is already familiar with the rules. Plus, the playing time is very short. It doesn't take hours to finish a game of cards. And, for most people, the reason is good enough to play the game during free hours.
What is the Future of Online Multiplayer Card Game Development?
If you look at the numbers, the future looks very promising for an online multiplayer card game development. The online rummy market has the potential to reach USD 22.2 billion in market value over the next few years. In 2020 alone, the online gaming market attracted an investment of $131.1 million. It is the highest in the last six years.
Keeping all this in mind, it's fair to say that the online skill-based gaming market will witness unprecedented growth over the next decade.
How Real Money Game App Like Rummy Make Money?
In-App Advertisement: This is tried and tested for a real money game app like Rummy to generate consistent revenue. By running different ads on the platform, game developers can monetize the app. App owners can make use of data and advanced analytics to target the maximum number of app users accurately, ensuring maximum ROI for advertisers.
In-App Purchase: You can use in-app purchases to create a whole variety of revenue streams. Game apps like Rummy offer in-app purchases for coins, stickers, etc.
Tournaments: Tournaments are a great source of revenue for card-based games. There is a whole pool of tournaments with different entry tickets. Winners win attractive prizes and the game owners generate greater revenue in the process.
More Games: No rule says that you have to stick to only one game. As your users increase, you can add more exciting skill-based games. This will keep your users engaged and generate more revenue in return.
Difficulty Levels: App similar to Rummy is as much about luck as it is about strategy. Talking about strategy, there are going to be some gamers who are experts at playing the game. Hence it would be unfair to stack them against those who are fairly new to the game. A good way to strike balance is by allowing users to choose between difficulty levels.
Beginners can decide to play for free with other similar players and as they improve they can decide to play in tournaments based on skill levels such as amateur, beginner, expert, etc.
How To Design App Similar to Rummy Card Game?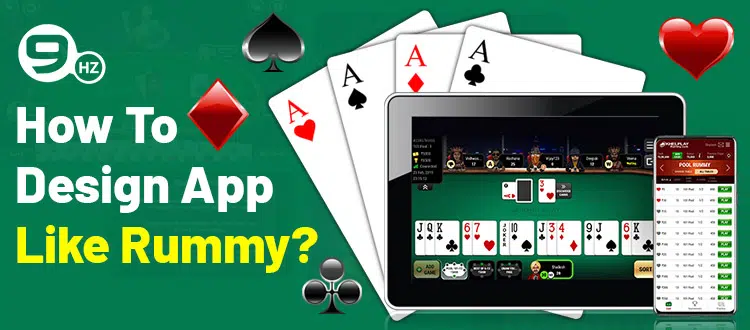 Design is a primary aspect of any app development project. But the stakes are even higher in game development & Casino game development. For a rummy game app clone, the user interface can be a major factor in driving the app's popularity among your target audience. Here are the things you should do for a kickass rummy game app clone design:
Competitor Research
There are already so many online rummy games out there. Make a list of the most popular ones and have a close look at their design before your own multiplayer card game development.
What are the features that are driving user engagement? What features need improvement? Is the gameplay smooth? Is the design of the card attractive or not? Can you make them better?
Research and find answers to the above questions, and then start working on your design.
Create, Analyze, Repeat
Start with creating a wireframe for your rummy clone app development. We understand that you are not going to strike gold in your first attempt. But that's exactly how designs evolve. Once you have your first wireframe ready, analyze it, discuss it with your team, and identify the elements that can be further improved. Repeat these steps until you have found the design that meets all your expectations.
Create Realistic Mockups
Now that you have created a good wireframe for a real money game app development, it's time to create a realistic mockup. Hiring an expert designer for the job would be a wise thing to do. You will be able to see exactly how your app will look as all the design elements are put into place. There is always scope for improvement and if you feel that a tweak here and there makes the overall design more user-friendly, feel free to implement it.
Want to Validate Your App Idea?
Talk to Our Card Game Development Expert. Get your free quote.
Rummy Game App Development: The Building Blocks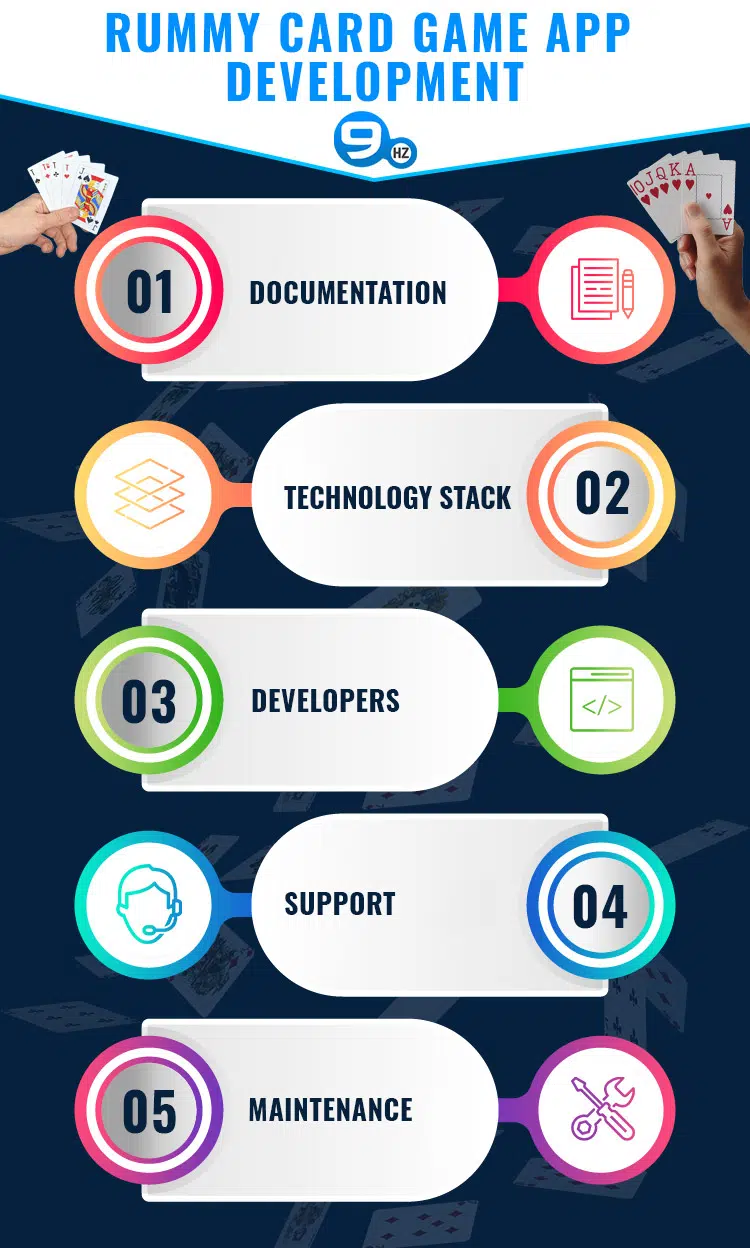 With the final design in place, the next part is coding your Rummy game app development. To do so, you need to first have the building blocks ready. Here's what you need to do:
1. Documentation for App Similar to Rummy
Proper documentation helps across multiple fronts during application development. First and foremost it helps you keep track of the pace of development. But most importantly it helps you maintain quality of work through effective knowledge transfer among the different teams part of the project.
2. Technology Stack for App Like Rummy
The technology stack for developing the rummy game development will depend on whether you chose to build your app for specific platforms or you choose to build it once and deploy it everywhere using a cross-platform mobile app development framework. In either case, identifying the technology stack will help you hire the right people as well as build the app within a set budget.
3. Developers for Card Game Development
Developers are the brain behind any application development project like Rummy or ludo king clone app development. Hiring skilled and experienced developers will ease your development headaches considerably. If you have no prior experience in coding or managing application development, consider outsourcing your needs to mobile game development. Third-party app development companies have the right blend of experience and technical resources to deliver high-quality software applications on demand. This Guide may help you to learn how to make a mobile game.
4. Support And Maintenance
Last but not least, have a strategy in place for app support and maintenance. Android and iOS introduce system updates throughout the year. While most of these are minor updates, your app must navigate major updates seamlessly. You would want to lose your users because your app doesn't support the latest feature updates or would you?
Online Multiplayer Card Game Development: Things To Keep In Mind
We have so far covered the basics of rummy clone app development. Lets' dive deeper into the finer details and the inner workings of a card-based game.
1. Real Money App Like Rummy Features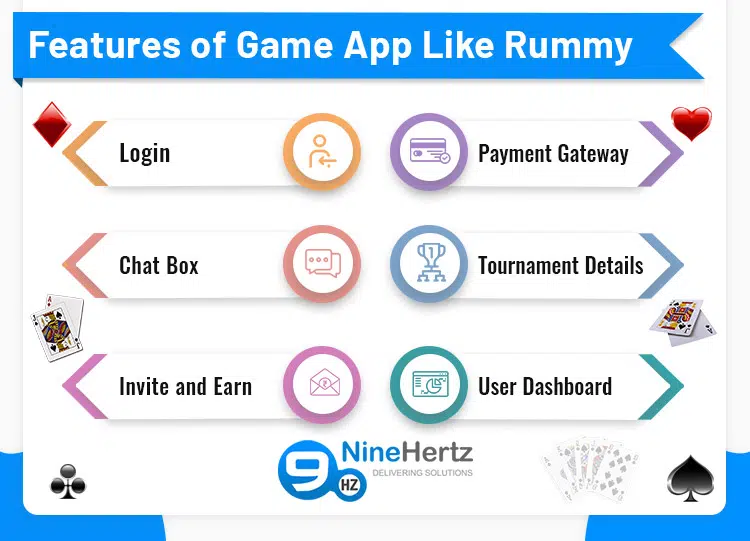 Here are some of the key features that a game app similar to rummy must-have:
Login: User authentication using simple login forms or Gmail, Social platform integration.
Payment Gateway: Safe and secure payment integration for in-app purchases, joining tournaments, buying coins, etc.
Chat Box: Make the game experience more interactive and fun for participants using the chat box feature.
Tournament Details: Learn about the different tournaments, the rules, the prize money, etc.
Invite and Earn: Cons or game passes for inviting friends and family members.
User Dashboard: A single place to see previous game history, earnings, and tons of other analytics to learn and improve.
2. Card Game Mechanics
It's very crucial that the game mechanics feel real. Selecting a car from the deck or arranging them in the sequence should feel as real as possible. Compromising on game mechanics is something that you should never do.
3. Artwork
Creating any mobile game is an art. Pay attention to the minutest of detail. The shape of the face cards, the back cover, and everything else should be planned well in advance. It will save a lot of development time as well as significantly the quality of the end product.
4. It's Not All About Aesthetics
A grave mistake that most game designers make is paying all the attention to the aesthetics and missing out on the fun part. Your app may look very appealing but if users have no fun playing then they will not stay for long.
To ensure that the fun part matches the aesthetics, start your game testing as early as possible. Choose different age groups, get their feedback and change and look for ways to make the game more interesting and engaging.
Also Read: How to Develop Online Medicine Delivery App Like 1MG?
How Much Does it Cost to Card Game App Development?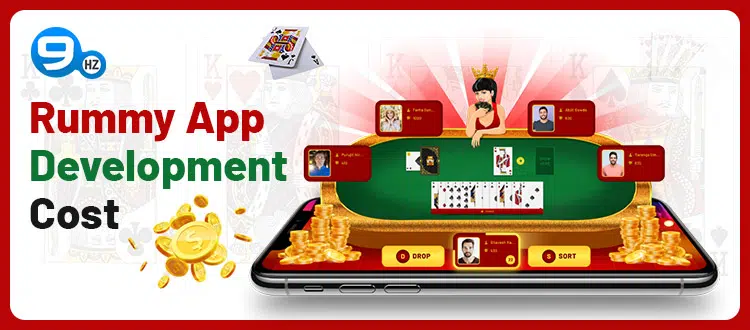 We are finally moving towards the business end of things. App development is costly and takes time. Expect anything between 4-5 months for bundling a game app like rummy.
As far as rummy app development cost is concerned, it depends primarily on your decision to build a platform-specific app or a platform-independent app.
Building a platform-specific app is more costly as you have to build different apps for different platforms. This means hiring separate teams of developers, project managers, and using different technology stacks.
Cross-platform apps take less time and are also less costly. You only have to write the code once and it's ready to run across multiple platforms simultaneously.
However, cross-platform apps do lag in performance and speed when compared to their native counterparts.
What Factors Affect Card Game Development Cost?
Cloud storage
Hosting charges
Feature complexity
Number of UI
To give an estimate, the average cost of developing a moderate complexity Android-only app is $40,000 and $80,000. If you are outsourcing your app development needs, then most probably you will be charged on an hourly basis. Expect the development time for platform-specific apps to be between 500-800 hours.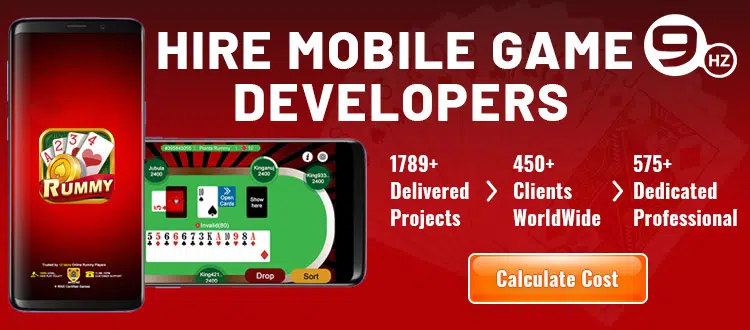 Outsourcing Vs In-House: Which One Should You Choose?
You can either choose to build your app in-house or hire a rummy card game app development company to do the work on your behalf.
Both arrangements have their pros and cons. Let's see them in details below:
In-House Card App Development Pros
More control
Efficient communication
More Agility
No friction related to work cutie
In-House Card App Development Cons
More costly
Extensive hiring needs
Difficult to retain quality developers
Shifts focus away from core business activities
Hard to keep pace with scalability and upgrade needs
Unlike in-house where you have to be in charge of every aspect of the app development, outsourcing takes most of the load away from your shoulders. You, however, are still in charge and command of everything from start to finish.
Outsourcing Pros
Lower costs
Access to a huge talent pool
More flexibility
Accelerated time to market
Easy to scale and update applications on demand
Outsourcing Cons
Lack of sync with company culture
Time zone challenges
Transparency concerns
Outsource app development needs is an important business decision. That's why you need to make a thoughtful and intelligent decision by choosing the best. The NineHertz has been the preferred outsourcing partner for startups, entrepreneurs, and enterprises worldwide. We're completely transparent and we always put a lid on your ideas. Whatever you share with us, you can stay assured it is always safe. To learn more you can go through this guide to outsource app development to local or offshore companies?
How to Choose Card Game Development Company?
Here are the things to look for in your potential card game development company:
Technical Expertise: Judge your potential card game development company on its technology stack. A top mobile game development company will have a strong team of very skilled and experienced developers. Try to arrange a meeting with the team and learn more about the projects they have handled, the coding standard they practice, and the overall project development approach they follow.
Client Feedback: Get in touch with startups, entrepreneurs, and companies that have previously worked with potential application development partners. Inquire about their experience of working with the company, understand their work culture, communication system, customer service, post-development services, and more.
Cost Estimates: Most game app development service providers offer free cost estimates. Contact as many companies as you can and ask them for cost estimates. Compare them and understand the areas of work where the estimates differ from one another. Seek reasons for the same and choose the company that best fits your budget and needs.
Don't Ignore App Marketing: Your potential partner will most likely be offering app branding and marketing services. Understand the strategies that they would most likely use to reach out and engage with your target audience. What is the expected ROI against the spend? Is it in line with your expected revenue? If it isn't then don't press the green button unless and until you have a plan that perfectly meets all your expectations.
The Ninehertz: Best Rummy Game Development Company
If you are searching for the best rummy game development company that can build a super cool game app like rummy from scratch, you have come to the right place. At The NineHertz, we have 575+ dedicated professionals who have the skills and experience of developing the most complex and feature-rich mobile applications. We serve 450+ clients worldwide and have so far delivered 1789+ projects.
Our people-first approach and agile development methodology ensure that our clients get exactly what they want in the fastest possible time. Whether you are looking for a simple rummy app or a more complex rummy game that keeps evolving with time, we are forever dedicated to helping you succeed. With The NineHertz, you can expect the following services.
UX strategy and product prototyping
Usability testing & validation
Rummy App Strategy and Optimizing
Agile product development approach
Data analytics, visualization, and strategy & insights for enhanced user experience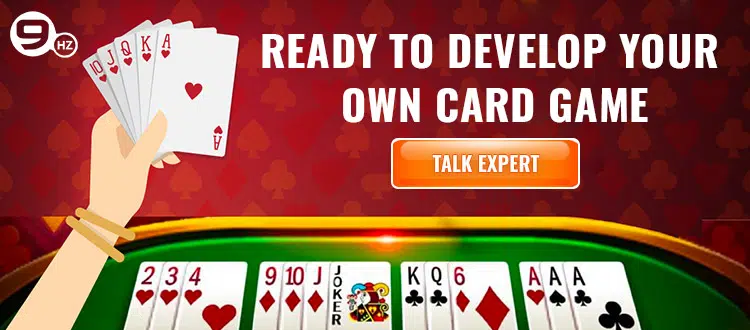 Conclusion: Rummy Card Game App Development
The potential for skill-based card games is huge. Rummy is only one among the plethora of card games that people love to play online. However, along with great developers and designers, gaming apps also require a good dose of creativity to engage a wide pool of audiences.
At the NineHertz we have the right pool of talented developers, designers, and creative storytellers to turn your app idea into a successful mobile game. We hope that the information we shared in this blog would be helpful to you. And in case there is anything more that you would like to know about, we are always happy to answer all your queries.
And before we wrap, a timely reminder that you can request a quote by simply filling the form in this link.
FAQs on Multiplayer Rummy Game Development
Will You Provide the Source Code of the Rummy App Clone?
Yes, you will get the source code for the app. You will enjoy complete control and ownership over the app. However, please keep in mind that the source code will be shared once there are no payments due from your end.
Is Post-Development Maintenance and Support Costly?
Post-development maintenance and support can be up to 30% of the development cost. Our fees are at par with industry standards. App maintenance and support vary from one app to another.
How Much Does it Cost to Develop a Free Card Game Like Rummy?
The game development cost for any app is influenced by many factors. In the case of a game app similar to Rummy, the complexity increases manifold as the app has to handle a huge amount of users at any given point in time. The back end has to be robust and the app data security needs to be of the highest standard. Considering all these factors, expect the app to cost anything between $50k to $100k.
Is the Rummy Game App Clone White-labeled?
Yes, the apps we build will carry your logo and your name. Nowhere do we put our name or brand. You are always in control as far as app branding and ownership is concerned. We only work behind the curtains and the spotlight is always on you and your product.
Do You offer App Marketing and Branding Services?
Yes, the Ninehertz is a one-stop solution for all your app development and marketing needs. We help you with social media marketing strategies, app store & play store optimization, influencer marketing, and more. We have experienced digital marketers who will look after your every need from brand building to creating customer loyalty.
How Can I Get More Details?
You have our ears all the time. Get in touch with our support team over a call or simply mail us your requirements on our official id [email protected]. You can find the contact details here on our website too – www.theninehertz.com