Develop Game app like Candy Crush and Candy Crush Saga can display the most inclusive presentation in the whole compact gaming market today. These games are the most preferable and most enjoyable games played by every person.
Candy Crush Saga is an incredible puzzle game appreciated by many players beyond the globe. With over a million levels played, this delightful 3 riddle game is one of the most successful games ever. These games have a specialty that is greatly protective from a business point of view. Many game app developers are now intent on a mobile game app development services like Candy Crush to make their business a success story.
In this blog, we are going to know more about the Candy Crush game and also guide you on how to make a game app like candy crush.
Mobile Game App Candy Crush At a Glance
Launch date: 12 April 2012 (iOS: 14 November 2012)
Headquarters: St. Julian's, Malta
Key Persons: Humam Sakhnini (President), Tjodolf Sommestad (CDO), Sebastian Knutsson (CCO)
Business Type: Subsidiary
Owner: Activision Blizzard
Industry: Mobile games
Mode: Single-player
One Step Away From Your Game App
Get your free consultation now.
Interesting Facts About Candy Crush Mobile Gaming App
Candy Crush is the sixth most leading grossing mobile game of all time around the world.
It made $857 million in 2020, a 15 percent rise is year-on-year.
Overall Candy Crush has been downloaded by people more than 2.7 billion times.
Candy Crush produced $1.19 billion in 2020, presenting it as the third biggest grossing mobile game outside of China.
273 million people use Candy Crush once a month. MAUs rose in 2015 with 327 million users.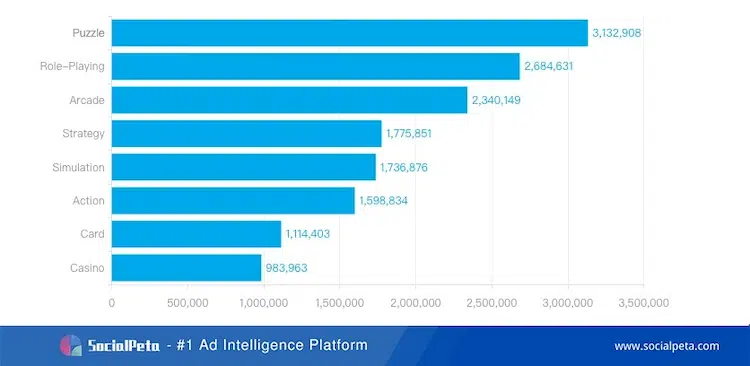 Source: https://www.socialpeta.com/
How Can You Make Money with develop Game App Like Candy Crush?
Knowing the business model of Candy Crush helps you in getting an idea about how you can also build your online games like Candy Crush monetization strategy. Must read how to make money with ludo game development?
The game is essentially monetized by in-app purchases (through a credit card, iTunes credits, or Google Play credits). Players start the game with five "lives" and fail whenever a level is failed. This strategy of gaming applies to all of King's games.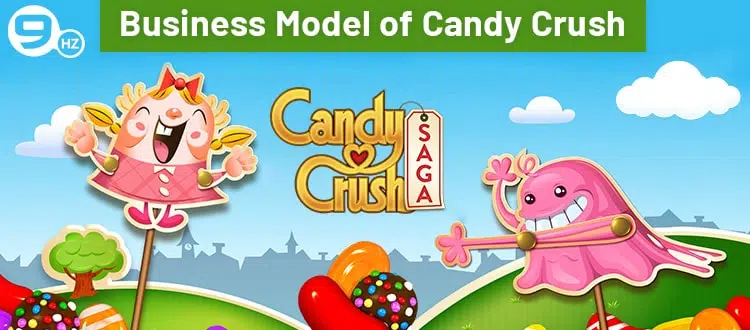 Once all the lives are exhausted by the player, users can either send invitations to their Facebook buddies for more lives, pause for them to renew themselves (a life is renewed every half-hour), or have to purchase them. By purchasing they got the 5 new lives or a specific dollar amount.
In a current update, when a player makes a purchase for extra lives, they win gold bars. The number of gold bars depends on how much cash they consume. Gold bars can be utilized for gaining new lives, more moves, boosters or to open a new episode.
At some points, originally at the start of new "episodes", players must have to purchase or accept an invitation from at least three friends before they may enter into the next set of levels. An update waits for players only for 3 days to unhitch the next episode.
How to Make a Mobile Game App Like Candy Crush? [Step by Step Guide]
This is the main point when it comes to Candy Crush clone app development. Making your app error-free and amazing, it is important to follow a step-by-step process while your mobile game development. So, here we mention some important and must-follow steps so that you can make your app without any mistakes. You might be interested to know how to develop an app like rummy.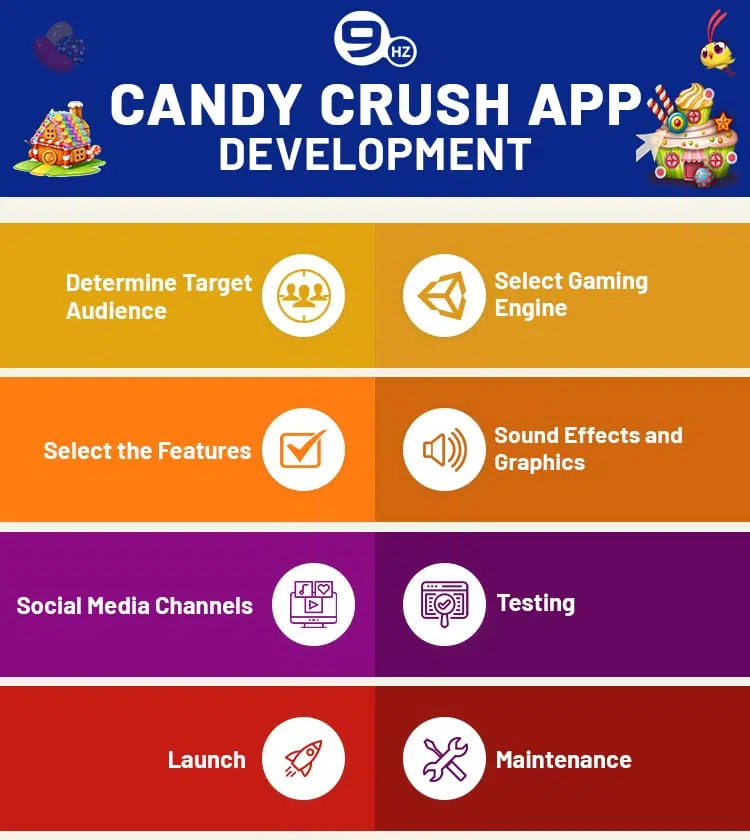 1. Determine Target Audience and Game Theme
It is the most initial and important step in which you have to select the target audience according to your app. When it comes to choosing the target audience of the candy crush clone app, you can target the age group of 7 to 10 as children are more fond of the gaming applications. Also, choose an appealing and fascinating game theme for your game that attracts your target user's attention.
2. Select Gaming Engine for your Game
A game engine is software that gives game app developers a collection of necessary tools and functionalities to efficiently build a gaming app. They further add quality as well as productivity. Choosing the right gaming engine for your candy crush clone app development will perform as a backbone for your app.
Furthermore, as contrasted to native development centers, game engines help clarify the development manner and they also present an added list of visuals and side effects.
3. Select the Features for your App
Adding engaging features in your app will decide how long your users use your app. If you desire to make sure that your mobile game app like Candy Crush's users comes again and again and communicates with your app more than once then you will have to make sure that you give them more benefits and features to improve their gaming activity.
Get an idea from your competition and tell your mobile game app development company to add some unique features so that your app will occur differently in comparison with other ones.
4. Pick your Preferred Monetization Strategy
If you invest in a mobile game app development like candy crush, I think you definitely want to earn from it. It is worth mentioning here that you have an idea that just because you operate your app as a free app, it doesn't certainly indicate that you won't be able to earn money out of it.
There are so many monetization strategies present by implementing which you can earn money even if you are presenting your app for free. For instance, Candy Crush, Candy Crush Saga, and other games present their players with paid lives, extra transits, and delicious boosters.
5. Involve Fascinating Sound Effects and Graphics
The success of the candy crush clone app is related to its animation, sound, effects, and graphics. They will hold the user's attention in your app and encourage them to come more and more time to your app. Pick and install amazing sounds, animations in your app so that it will create an amazing good image in the player's mind.
6. Integrate Social Media Channels
While making a mobile game app integrating social media channels will increase the reach of your app. There is no one who is not familiar with social media, and this will let the users know about your app through their social media apps. This will also create confidence in the mind of users as they see the app in a reputed platform.
7. Testing, Launch, Maintenance
After developing and designing your app correctly, it's time to check your app if it has any kind of problem. After rectifying all the bugs and errors, your app is now ready to get launched. Always keep in mind that after launching, keeping your app updated is the most important factor to maintain its popularity. People love to use fresh and innovative games that are updated from time to time.
Also Read: How to Develop E-Learning Mobile Game?
How to Create Mobile Game App with Candy Crush Features?
Discussions
With this feature, the Candy Crush game will let you know about its new levels, events, news, features, and also community feedback about the game. This is an interesting feature that lets you know about anything regarding the game in one place.
Support
This is the must-have feature that you should include in your online games like candy crush. With this feature, Candy Crush will help you with any problems that you have regarding the game. Also, provide related articles by which you can solve your problem.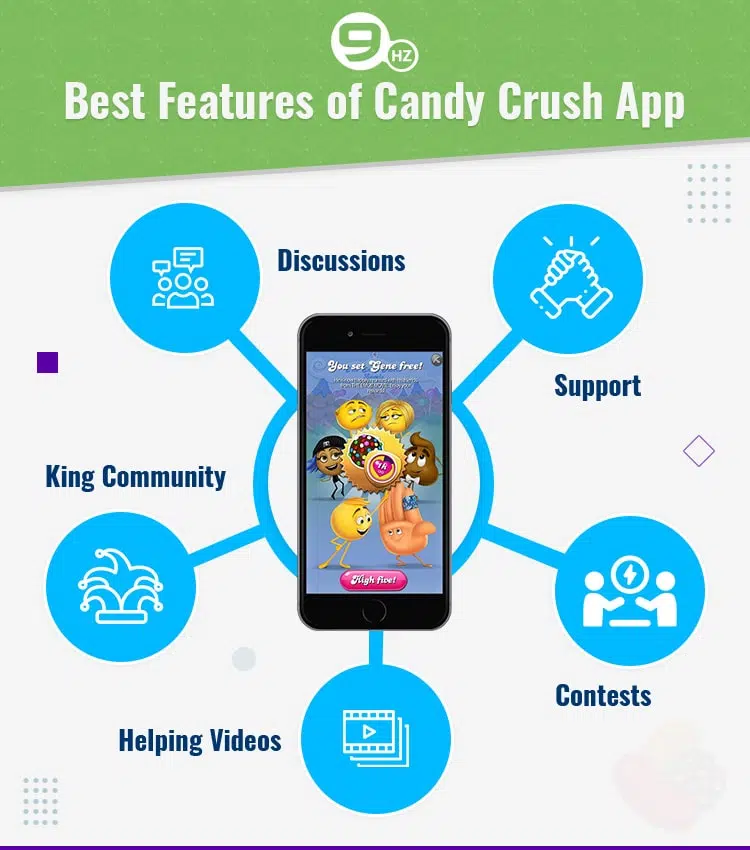 Contests
This is the feature that creates excitement in the player's mind. By providing this feature, the player has to have to play some contests by which they can get the chance to win gold bars, community badges, and more surprises.
Helping Videos
By using this feature, the player will get instant help in completing any level of the game by watching the video. You can also include this feature in your candy crush clone app development for helping your users when they are stuck in any level of the game.
King Community
This is the most amazing feature that Candy Crush presents to its users. By implementing this feature, you can meet or stay in touch with another player who plays other King games. You can communicate with them directly through this feature.
Also Read: Want to Develop a 2D Game? Reasons You will Always Want to Choose Unity Game Development!
Top 4 Candy Crush Alternatives that you will love
If you also want to know about other puzzle games like candy crush saga, here we mention some top alternatives for the same. By knowing about all these apps you are able to make an amazing app that is different from others and also satisfies the needs of the players.
| S.No | Candy Crush Alternatives | Downloads | File Size | License |
| --- | --- | --- | --- | --- |
| 1. | Bejeweled New3 | 9497 | 0.00MB | Free Trial |
| 2. | Ancient Gems | 242 | 20.36MB | Free |
| 3. | PrismaPix | 332 | 4.27MB | Free Trial |
| 4. | Bubble Blitz | 133 | 2.70MB | Free Trial |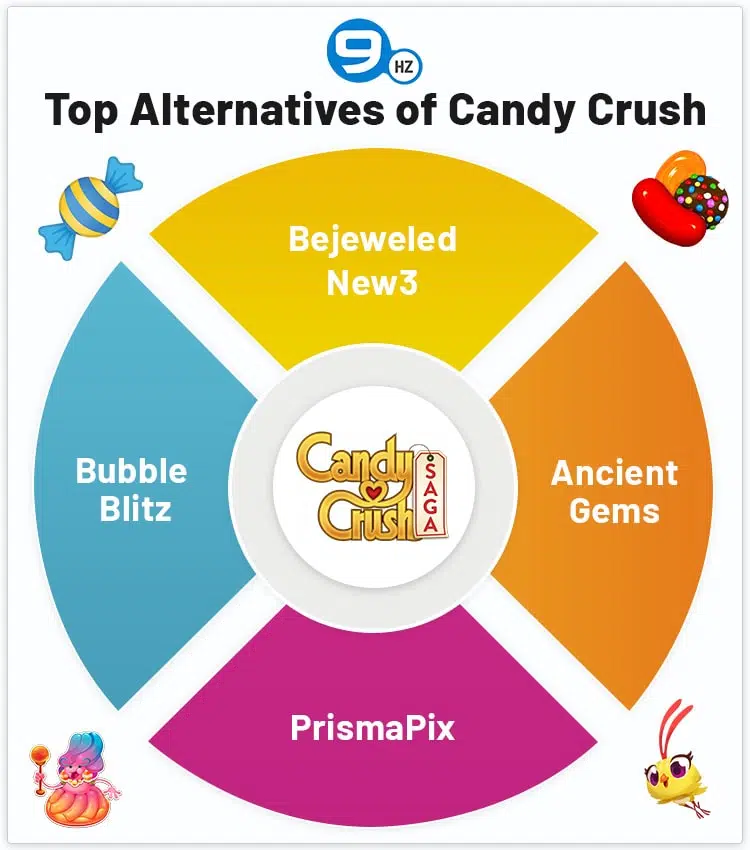 Bejeweled New3
The Bejeweled app is one that's owned us addicted for years. With groups of different methods to play and accomplishments to be won, it will make your time good and enjoyable.
Ancient Gems
It is the most amazing mini puzzle game that has amazing background scenes that fascinate players and urge them to play more. If you want to create mobile game app like Candy Crush, check out this as your competitor.
PrismaPix
It is a popular puzzle game in which you have to make puzzles in a very simple way. All you have to do is run your brain and solve interesting puzzles.
Bubble Blitz
It is the most challenging bubble shooter game that helps your mind to run faster. It's basically like a real pinball machine where you have to fully concentrate on it.
Candy Crush Game Development Cost
Now, the main question that comes to your mind is what is the candy crush clone app development cost?
Although, one can not tell you the exact price of mobile game development as it totally depends on what and how you want your app. There are so many things that are worth considering when it comes to the estimation of mobile game development cost. The app complexity, app features, advanced features, targeted platforms, mobile app development team location, and other crucial things are related to your app development.
When you ask about the cost with any game app development company, they will give the estimation of around $10K to $40k. This is also based on your app requirements. So, it's good to know your app requirements first so that you can tell all the app-related things to the mobile game development agency. After that, they will give you the estimated cost for your app creation.
Hire Game App Developers
Our Team is Your Team
Final Words: Game App Development
Now it's time to wind up. All the necessary things that you need to develop your puzzle games like Candy Crush Saga. The above-mentioned information will help you in generating the good data that you need when you develop your app.
It is good to mention here that if you want to bring advancements in your app, hire a professional game app development company for it.
They will help you in building an amazing app that your users will love to play and use. They will create your game like Candy Crush in unity, and other frameworks that will also bring other improvements to your app. So, get the best services for your app and bring a new time pass for the users.
Also Read: How to Hire Mobile Game Developer?
FAQs on Puzzle Game Development
Q 1. Which Programming Language is Used in Candy Crush?
Ans. The Candy Crush game is mainly developed in the JAVA language.
Q 2. How Much Does it Cost to Make a Mobile Game Like Candy Crush?
Ans. The Candy Crush game development cost cost mainly depends on your app requirements. Whatever you want to add to your app will lead its cost accordingly. But the estimated price of an app like Candy Crush is $10K to $40k.
Q. 3 If Uninstalling the Game, Will I lose My Progress?
Ans. If you play the game when it is connected to Facebook, then you will not miss the progress of the game.
Q. 4 How do I Make Money with Candy Crush Saga Like Games?
Ans: There are many methods to monetize the gaming app like candy crush such as In-app purchases, unlock features, Mobile Advertising, etc.
Q. 5 What is the Approximate Time in Which a Gaming App Like Candy Crush is Developed?
Ans: The time needed to generate the clone game may diversify according to its specifications. The time is based on your app complexity, app features, and other related things.