"Does any Progressive web app development company cost higher than any similar working firm? What affects the cost to hire dedicated PWA developers? Is the cost remains constant or varies? If it's constant, then how is it possible? And if it varies, then what are the factors? Let's find everything about the PWA."
The concept of a progressive web app agency was originally proposed by Google in 2015. Over the years, it has garnered a lot of attention given its relative ease of development and ability to deliver a top-notch user experience. A leading progressive web app development company banks on the latest technologies to deliver a unique blend of mobile and web apps. These websites are built on the skeleton of web technologies but still feels as hassle-free as using an application. The progressive web apps developers rely on the web ecosystem, community, and plugins along with the relative ease of maintaining and deploying a website in the respective app stores.
Why Progressive Web App Development are Different from Other Technology?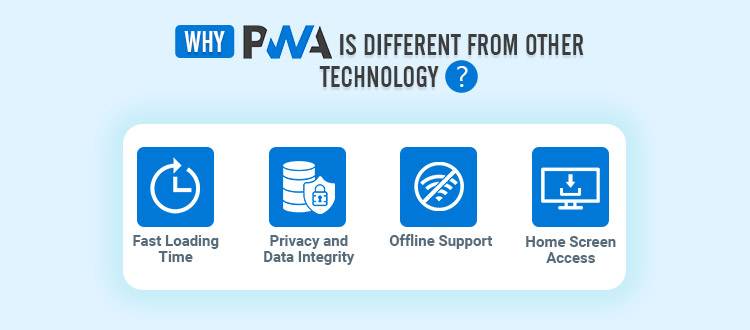 Studies have revealed that 20% of users are lost on an average between the first time when the user comes in contact with the app and the time when the users start actually using the same. The main reason behind this is the multiple steps that are involved in this process ranging from searching for the app, downloading and installing it to the launching of the same. A progressive web app, on the other hand, allows users to start using it immediately. In this way, it eliminates all unnecessary installation and downloads which can consume your valuable time and system resources. Once the user returns to the app, they shall be prompted to install and upgrade it for enjoying a full-screen experience. A progressive web application banks on the inherent characteristics of a mobile app to improve its performance and user retention statistics without having to deal with the complications associated with maintaining a mobile application.
Progressive Web App Development Companies help in delivering solutions where the users are expected to return to on a frequent interval. Flipkart relies on a progressive web app – Flipkart Lite for its e-commerce platform. Before deciding on whether you require a progressive web app, native mobile application, or website, businesses need to primarily analyze their target audience and their most important actions. In stark contrast to its peers, a progressive web app development is compatible with all browsers. The ultimate experience delivered to users gets enhanced whenever the user's browser gets updated with brand new APIs and features.
Also Read: Native App Vs (PWA) Progressive Web App
The concepts of progressive web app development cost can further enhance the functionality of your website if it already has an application-like interface. It can work on any device and even enhance the same progressively. This is done by taking advantage of the available features present in the browser and the user's device. Being a website, the progressive web app development services can be easily found out through search engines. This comes in as a major advantage over native applications which do not have proper web searchability.
Pros and Cons of Progressive Web App Development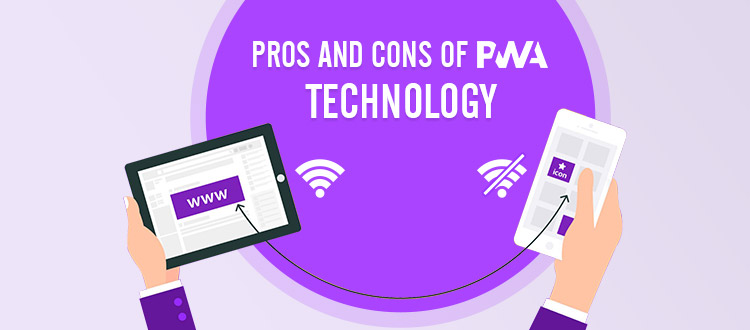 | | Native apps | Web apps | Hybrid Apps | PWAs |
| --- | --- | --- | --- | --- |
| Development Cost | High | Low | High | Low |
| Maintenance | Low | Low | High | Low |
| UI | High Quality | Average | Average | Average |
| Platform independence | No | Yes | Yes | Yes |
| AppStore distribution | Supported | No | Supported | No |
| Offline functionality | Enabled | Disabled | Disabled | Enabled |
| Push notifications | Yes | No | No | Yes |
Advantages of Progressive Web Apps
Progressive web apps serve as a unique blend of both web and native apps. They can be accessed online in a way similar to their native counterparts. It relies on data cached by the app on its last interaction with the internet. This makes progressive web apps accessible even in the face of limited or zero connectivity. Businesses which sale products or services via catalogues are particularly benefitted from the progressive web apps as in this case the user doesn't need to load the page again for viewing the same. At the end of the day, this delivers a robust user experience and also helps in user retention.
A dedicated web developer comes up with a progressive web app that can run on multiple platforms. This helps to bring down the developmental cost when compared to its native counterparts. It is pretty easy to come across JavaScript, CSS, and HTML developers which helps in getting competitive rates in the market.
While installing progressive web apps, users are not redirected towards the app store. They can be downloaded on mobile devices pretty quickly and this makes it a popular choice amongst users who do not feel comfortable working on time-taking native applications.
Progressive web apps have website-like URLs making them both linkable and indexable. SEO techniques can also be applied to progressive web apps just like a website. This provides

search engines

with ready access to data concerning user behaviour. The same cannot be obtained for a native app making it difficult for developers to gain data for analysis.
The data update process offered by its service workers makes the information available over progressive web app costs extremely up-to-date.
The progressive web apps are exposed over HTTPS protocol which prevents the connection from altering the contents or displaying confidential information. This also makes them secure from hacking attempts and viruses.
Users can easily save the apps which they feel are beneficial along with their corresponding icon on the home screen without having to deal with all the complexities of installing an app from the app store.
A progressive web app helps both the application and website of a business follow consistent principles in terms of its content and marketing. Since both of them are developed by relying on similar coding platforms, this also brings down their cost and helps with maintenance over the long run.
Last but not least, progressive web apps allow the sending of push notifications to your website which can benefit you exponentially.
Disadvantages of Progressive Web Apps
Progressive web apps do not have the lengthy download process as that of the native ones. But this also causes them to miss out on a lions' share of users who normally browse app stores in search of a potential application.
When compared to native apps, the progressive ones are more battery-consuming. They are written using high-level web code making it difficult for phones to interpret the same. Users who wish to prolong the battery life of their smartphones usually refrain from using these types of applications.
A progressive web app is not always able to access every feature of a device making native apps the clear winner of this category. For example, the progressive web apps cannot access the near-field communication or NFC, proximity sensors, Bluetooth, advanced camera controls, ambient light, contacts, wake lock, geofencing, etc.
It is impossible to log into other applications like Instagram or Facebook using progressive web apps since the same is not supported by this technology.
Also Read: How to Hire the Best Web Developer in India?
Factors Affecting Cost Of Progressive Web Apps Development
Several factors contribute to the cost of progressive web app development. Every project is unique in terms of the complexity of its website. Variations also exist in terms of technologies used, approaches, and domain knowledge of the progressive web app development company. Irrespective of all these factors, the price of a progressive web app will hold a positive relationship with the amount of time taken in building the same. You can calculate the project cost once you have determined the key factors defining the cumulative spending on the creation of the progressive web application.
Features and functionality of a progressive web app are a vital driver of its developmental cost. The complexity of an app is determined to a great extent by its UI/UX buttons, fields, and amount of logic. Implementing certain features might seem complex whereas others are comparatively simple. Both developer's effort and the ultimate development cost increases coupled with the requirement to use a third-party API code right from scratch.




Next comes the requirement of customizing the visual design of the progressive web application. Everyone wants to deliver a unique web interface holding the potential of attracting more customers. However, this is a highly complex deed and can hike up your project cost. While standard elements seem like a cost-effective solution, the usage of graphics, icons, features, and multiple screens can add up to the expense meter.




Location of the development team can also significantly impact the cost of a progressive web application. A development team usually comprises of the Project manager, Business analyst, QA engineer, Mobile app engineer, and UI/UX designer whose geographical location and experience might determine the rates. For example, the average hourly rate distribution of a senior front-end developer is lower in eastern European countries compared to North America.




Lastly, you need to take note of the number of HTML web pages that require caching. You will have to shell out more money if your platform has a greater number of pages.

Take Away
Progressive web apps are being termed as the future of the web given their profound reliability, rapid installation, fast loading, network independence and push notifications. All of these features help businesses in boosting up conversion rates by improving user engagement. Big names like Pinterest, Twitter, Flipboard and Lancôme are banking on this cutting-edge technology for delivering a high-end experience to their users. Companies wishing to deliver a fast, reliable and engaging mobile experience to end users also need to invest wholeheartedly in progressive web application development.