The pandemic has strived the Education sector strongly. In this, e-learning app like Udemy is in demand for students and teachers or independent tutors. Learning has no age limit, which has encouraged every millennial to use various e-Learning websites & apps for knowledge gaining. It's a great demand for educational platforms globally, and so is its development. Let's learn the algorithm, techniques, and tactics for the  Learning  Management System development like Udemy.
What is the e-Learning App or Website?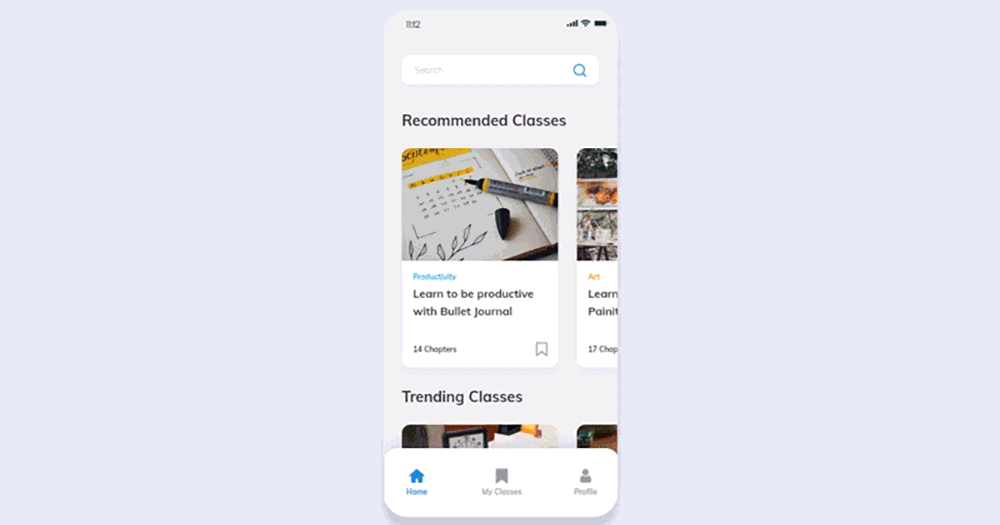 In everyone's life, education is important. But for many, it's not possible to acquire knowledge. They become very limited or have no resource availability.
Going to school or college for higher education is still a dream for many students. High tuition fees in school or college education have given rise to the eLearning app where one can opt for any desired course with pocket-friendly fees. With a motive of free education as well, e-Learning websites like Udemy are in high demand.
When we talk about education, then it doesn't always mean asynchronous learning or a traditional education system. But it means that multiple courses are available without limiting the old subjects.
However, millennials can choose any free or paid courses that they want to learn in any preferable knowledge domain. It can be computer to Cloud computing, machine learning courses,  Science to Biotech courses, moral values to psychology, and all sorts of new courses and subjects are available on these e-Learning platforms. 
So, who doesn't want to be educated when everything is available on one online course platform. The e-Learning or mobile learning concept is getting popular day by day and becoming the way to profitable business as well. Various entrepreneurs are searching for a prominent and trustworthy eLearning app development company that can work on their eLearning websites and app development ideas and provide their input for meeting success in both vision and business.
E-learning Market Overview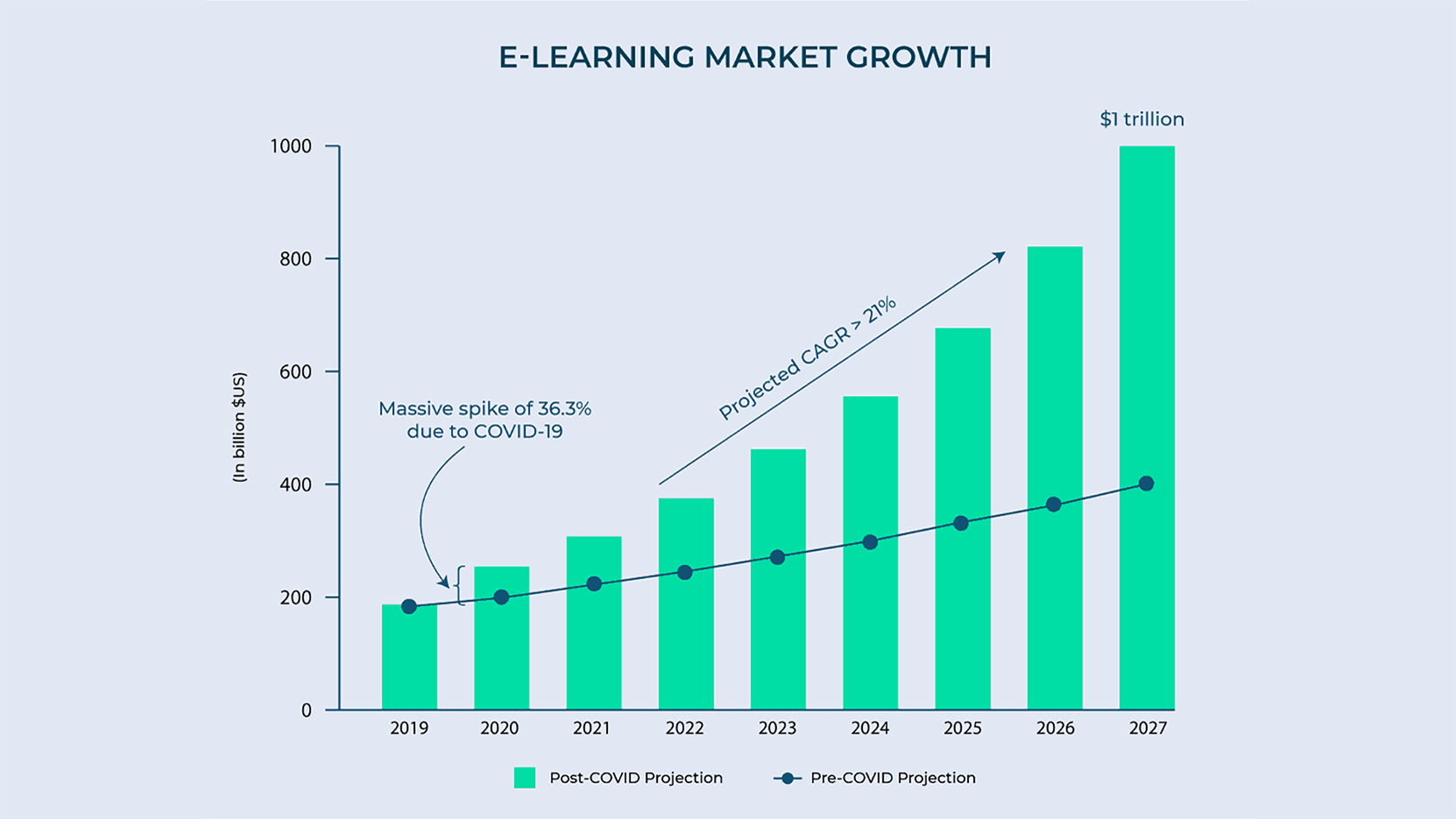 Source: https://learningnews.com
The online or e-learning market has unexpectedly become a reality and a necessity due to COVID-19. More than 168 billion children shut their classroom doors for the entire year. And around 214 children globally have missed three-quarters of in-person learning.
In this case, only e-learning is the only medium to keep them studying. Nowadays, e-Learning has become the major practice for higher education and corporate training as well. Till 2020, e-Learning was at an emerging stage, but after that, it has become the default mode for learning.
When we talk about eLearning, the graph says that by 2025, the revenue generation will be $300 billion US dollars from the entire eLearning-Market. North America single-handedly will generate 120 billion dollars from the e-learning marketplace.
When we talk about India, the Indian e-learning market in 2020 was valued at 750 million dollars, and by 2025 it will reach up to 4 billion dollars at a CAGR of 39.77%. The K-12 segment has more potential for growth. However, gamification has driven the speed of the eLearning website and application where according to a study, 70% enrolled in the gaming course and are more motivated than the other conventional courses.
Nevertheless, the app developers and Entrepreneurs keep wondering how to plan and execute the development of the eLearning website like Udemy?
How to Create an eLearning App/Website Like Udemy?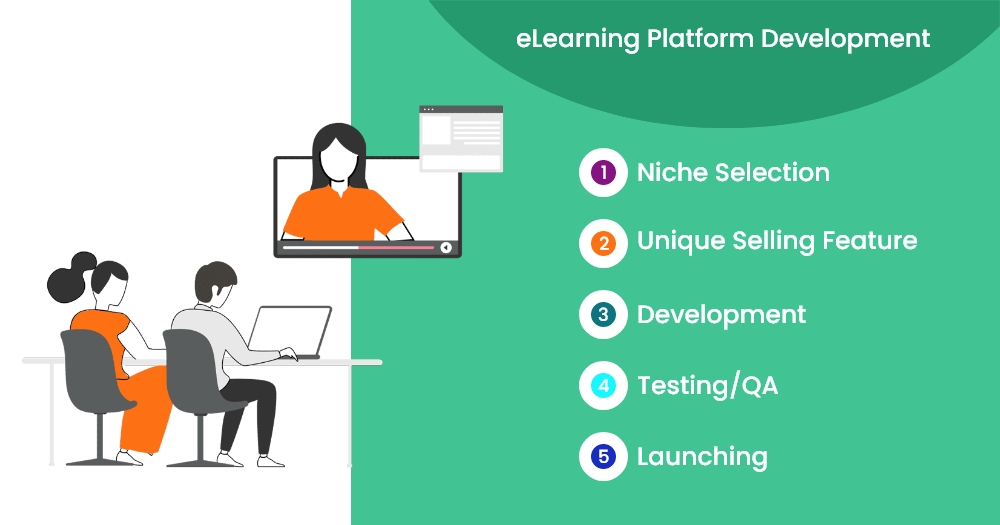 Creating an e-learning website doesn't mean only development, there are various steps involved in the production cycle of the eLearning mobile apps & websites like Udemy. Let's focus seriously on its groundwork to the business creation level. 
1. Define Your Niche
Target region:
Have you analyzed the market where you will launch the e-learning website? If not, then start it now. Select a state, country, or neighborhood where online learning platforms are not present. Its never been a matter of online courses but also related to the tuition fees as well.
Having an e-learning website with less subscription fee then definitely everyone will opt for your e-Learning website only. If you find to work locally very well then going to an urban region can become a future plan.
Target audience:
Researching the online education marketplace, then you should be particular about the audience to whom you are going to target. It's always not the students but can be employees, freshers, teachers, or enthusiastic learners who can opt for paid and free courses. Now, answer the questions which are mentioned below to match your audience.
Who can all use your online learning platform?
What is your main focus? Students, teachers, employees, or enthusiastic learners?
The user age opting for online courses?
What is your user's goal? Using an e-Learning website for upgrading skills or exchanging subjective skills?
Which type of business model are you looking for? Vertical or Horizontal growth?
What is your target audience's language?
What pain points can you address with your eLearning website & app?
How interactive is your e-Learning website for the user?
There are various such small questions that can be pointed in a single frame to know your audience in a better way before launching the e-learning website on the online education marketplace.
Target course:
After analyzing your user persona, now it's time to focus accurately on the online courses which you want to launch at an initial stage and create it as a USP.
Will you be using this website like Udemy for providing machine learning courses?
Are you providing online education related to pharmacology, astrology, and psychology?
Creating courses that can refresh the learner's mind?
Usage of gamification in all the courses for motivation?
Online learning For the sports lover, to gain knowledge in sports technologies and digital transformation.
Always remember how a website like Udemy started? Udemy was officially launched in 2010 with very limited courses, but within a few months, almost 2,000 Udemy courses were created by the 1,000 instructors with a base user of 10,000 in number.
Launch Your Own E-learning Platform
Request A Free Quote
1200+ Projects Delivered 12+ Industry Experience 450+ Clients Worldwide 200+ Certified & Expert Programmers
2. Unique selling feature
There are various types of online learning platforms that work on different models. Moreover, when we talk about websites like Udemy, then its USP is absolute size. Currently, they have 100,000 courses covering all basic topics for easy understanding to learners.
Their courses are very reasonable with one-time payment only. Similarly, choosing a USP can lead to unlimited success, but at the same time, a wrong USP can be the reason for failure. Now, you can also have a unique concept for your website like Udemy.
MOOCs:
The massive online open course is a free online course that is available for everyone without any regular attendance or limited access. Here a person can enroll for both the students and the teachers. Therefore, a person can have unlimited access to online courses on online learning websites.
Virtual Learning environment:
VLE is a kind of shared environment that is created for conference sessions, discussion with classmates, and measuring progress. It provides a feeling of a physical classroom where learning, questioning, homework, and conversation all work in a very well-organized way. Both teacher and the student's progress are tracked here, which concludes with progressive growth in the academics or knowledge-gaining process.
Video Streaming online learning:
Talking about video streaming doesn't mean having video calls for the learning purpose, but here it means teaching the student through the medium of video courses. It has been proven that the human brain retains more knowledge when transmitted through visual media. So the presence of video streaming in the eLearning website allows the tutors for uploading and delivering courses in their best teaching ways, the students can enroll to watch the videos for a better way of grabbing knowledge.
Gamification:
Theoretically, when we talk about online classes then sometimes it becomes boring without any entertainment or puzzling task. Here comes gamification, which not only tests your skills but also motivates you with enjoyment.
The enrollment for these courses is more than the conventional courses. Implementing such features inclusive of various advanced technologies such as VR, AI, and data science will definitely boost your idea for an eLearning website and app.
3. Implementation of development
Once the planning is done, then come to the web and mobile apps development process. In this, it is very important to know about the development partner, budget(flexibility has to be maintained), timeline, and complexity. If you are a developer or entrepreneur, this will definitely help you out to understand the cycle of e-learning app development from scratch.
UI/UX Designing
The most appealing user interface and experience of the web and mobile apps attract the users that hold them to stay on your app and explore further. UI is all about color combinations, icons, direct text, animations, and other elements.
In contrast, the UX of the eLearning websites & apps provides interaction with the user through navigation. In this way, UI and UX are very much important for the application and website. There are various tools such as Figma, Adobe XD, Illustrators, Axure, and others for designing purposes. 
e-Learning Website/Application Development
After UI and UX designing, now it's time for the application developers to turn it into real working functionalities. For this particular reason, the basic knowledge of technology will seriously not work. In fact, if you are an intermediate in technical languages, then it's advised to have a course from Udemy for the best knowledge from not becoming disastrous for you while coding. So let's begin.
Step 1.
The user interfaces part of the website is deployed using the technology of HTML, CSS, Bootstrap, javascript, and frameworks such as React.js, Angular, or Vue.js. This is known as the front-end part of the website, where the user directly interacts with its interface.
Step 2.
For app development, it can be a native or a hybrid App. For both types, there is a different tech stack that is used in the development process. For a native Android App, you deploy it using Android Studio, whereas, for the native iOS app, you can deploy it on swift code.
Hybrid app development saves your time and effort by doing the coding once, which is compatible to run on both platforms. The latest technology stack for the hybrid apps is flutter, followed by react native, PhoneGap, and Xamarin.
Step 3.
Server-side development means the back-end development of the website and the application where only a coder can standard the coding. He creates the necessary features which make the web app functional from the server-side. He focuses mainly on the database, scripts, and website architecture. The tech stack used for back-end development such as Core PHP, Laravel, Ruby, Java, Python, etc.
Step 4.
To collect the data, database integration is required. In this section, one can use MongoDB, MYSQL, Oracle, and NoSQL. Whether it's video, personal information, courses, or images, and furthermore, all can be stored in the database.
Step 5.
For such an application, it is important to have cloud services, mainly SAAS. If you use the physical server, then it will be very difficult for maintenance and support. This can also lead to extra money investment, which won't be fruitful in the future. In this scenario, set up a cloud server where you pay for how much it's utilized.
Step 6.
Lastly, integrate the payment gateway and various other third-party tools. Always provide all the services at your application only. Never allow a user to switch on any other platform for payment. This will lose your user base. Having a payment gateway in your own application will provide users with a secure feeling and enjoy the courses with successful payment.  A similar way there are various third-party tools that can be interesting for the best user experience.
Involving a software team will help you to focus more on the business perspective. Also, hiring someone who has experience in the same field is a plus point for you. This is so because the developer knows what all are required to develop an eLearning website & app along with the new features which are in market demand. Have a best-suited team for the development with all transparency on the document.
Want to Create Your Own E-learning App?
Request A Free Quote
1200+ Projects Delivered 12+ Industry Experience 450+ Clients Worldwide 200+ Certified & Expert Programmers
4. Testing/QA
When a user downloads the mobile apps, then he or she expects it to work flawlessly when accessed and serve the motive for which it's been used. If they are not satisfied, slow response, difficult to operate, the user will definitely switch to the new application within no time, and here you lose one customer, which directly impacts your business.
For this purpose, once the website and app are ready, it should always proceed for the quality analysts. Both manual and automation tests have to be performed so that not a single bug or glitch should be left in the application before its launch.
5. Launching
From here, the business model comes to the scene. Once the website is live and launches the app in the stores, then the real business begins. You already have done the market analysis in the previous steps. Now it's time to execute one by one. Set a launch date, and marketing has to be done for the target audience to let them know about your learning platform. 
6. Generating Revenue
Selecting the right monetization model will help you to generate revenue through your app. The most popular monetization models are mentioned below.
Subscription
Make the app download free of cost for the users. They can log in with limited access to use the app, which can round them a tour of the app usage. For unlimited access, they can opt for the subscription model monthly or yearly basis. Those who actually find your application helpful will go with the subscription model and allow you to have valuable users.
In-App purchase
This is a vertical method to attract your customer to use this app frequently. Most mobile games have in-app purchases to increase customers. In the same way, this model can be used in EdTech in the form of a reward system that will maintain an interest in the user's mind to visit frequently over this app.
In-App Ads
Creating an ad section in the application where you allow different brands to run their ads in your app can become a popular revenue generation source for you. There are various types of ad revenue model, which includes Pay Per Click(PPC), Cost Per Click(CPC), and Cost Per Action(CPA)
Features for eLearning Website Development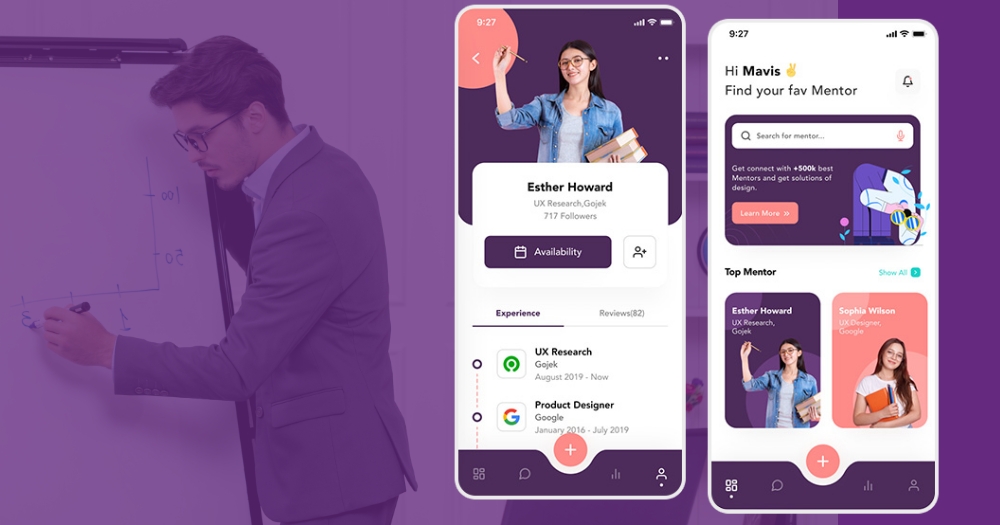 For an application, it's important to have knowledge about its core features. To create an MVP of an eLearning App, here is the list of to know about.
Learner: web and app
This is the user app that one can download as a guest or a learner to gain knowledge.
Sign up/ Registration for students, professional
Course recommendation
Categories course to allow easy search
Review rating and feedback
Student/ Professional dashboard
Add your query option
Simple and Advanced search option with autocomplete
Course page with easy navigation to each module in the course
Notification setting
Help section
Payment systems
Tutors: web and app
This application is applicable if you are providing the live streaming courses
Instructor Sign up/ registration
Log in
Manage your schedule
Create courses
Track disciplinaries
Manage profile
Connect classroom
Track students progress report
Admin: web app
Admin panel is the central control of the application which keeps track of all the activities of the App.
learner's account(student/ professionals)
web page content(blogs, web page content, and courses)
track transactions
add a new course
view and analyze content performance.
UI/UX Role in e-Learning App Development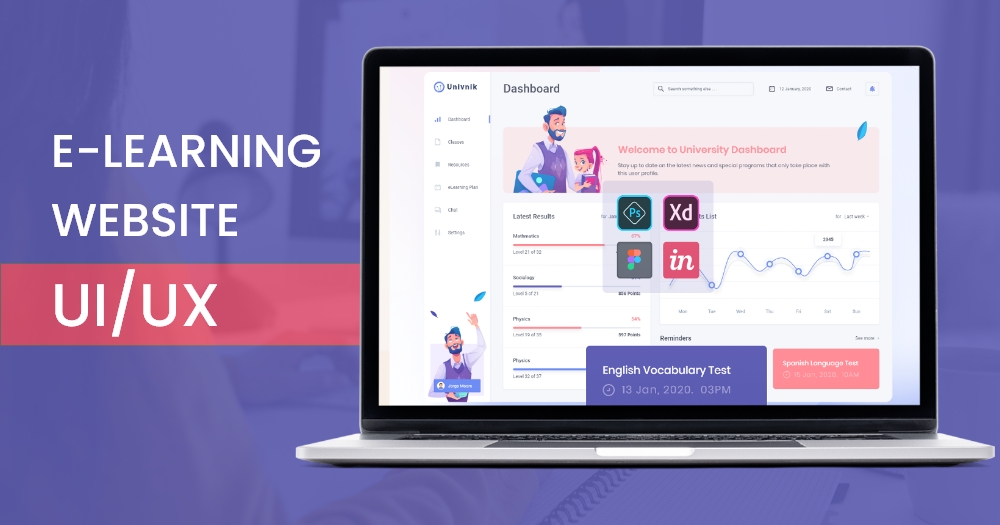 From the above description, everyone has come to know about the UI and UX for an application or website. Now, here the eLearning platform is open for all the millennials who want to get an education or learn to gain knowledge.
They can belong to any age group starting from 3 yrs of a child. Therefore, it's very important to understand the UI and UX role in EdTech because this is the front-most interactive part of the website or app which decides whether your user will proceed further to switch to another one.
This app should be flawless in functional and accurately defining every element into an action.
The main reason for the App like Udemy to be a growing Edtech product is mainly because of its ease to access every course, function, and feature. So keep the below points in prior while designing and developing.
User-friendly & consistent
The primary part to keep in mind while developing an app like Udemy should be user-friendly. When a user visits the app and the website, then it should be unbroken and easy to understand.
A complicated design or without appropriate alt text for the images or icons will create confusion and make it difficult for the user to move further.
Use the easy navigational pointers to assist the user that will generate interest to spend more time in the app.
Another point that comes to the scene is consistency. Choose the vise colors, logo, theme, and font, which is crystal clear to understand the flow, and hence, the user can sense the continuity of exploration. 
Visual design
Make your app full of fun and enticing to the user through animations, illustrations, and images which makes your APp and website different from others.  eLearning platforms don't mean to be a monotony or traditional website look. Today the era is of visualization and VR. Definitely, an attractive design is required to have an app similar to Udemy.
Functions of Udemy App or Website
The functions over which Udemy works are mentioned below.
1. Discover your skills
On the Udemy platform, there are various courses available that are uploaded by professionals across the globe. Your choices may differ from technical skills to the coder, sports player to coach, or any other interest which you want to pursue.
2. Learn at your convenient time
It's a hassle-free App where the rush for attendance is not required. Choose the time at which you want to study, take the virtual notes, attempt and finish the exercise, save or download the necessary notes, and explore the learning materials with your tutors when required.
3. Minimum budget online courses
Here the courses are very pocket friendly with various discounts and offers on them. One could also get a course at a very cheap rate of $10. So this fundamental feature holds the users to be permanent learners from Udemy.
4. Get your certification immediately
It becomes hard to find the best certification course online and offline. Udemy has collaborated with various educational institutions and organizations which provide certification courses to learners with practical knowledge. 
Business Models of Udemy Website or App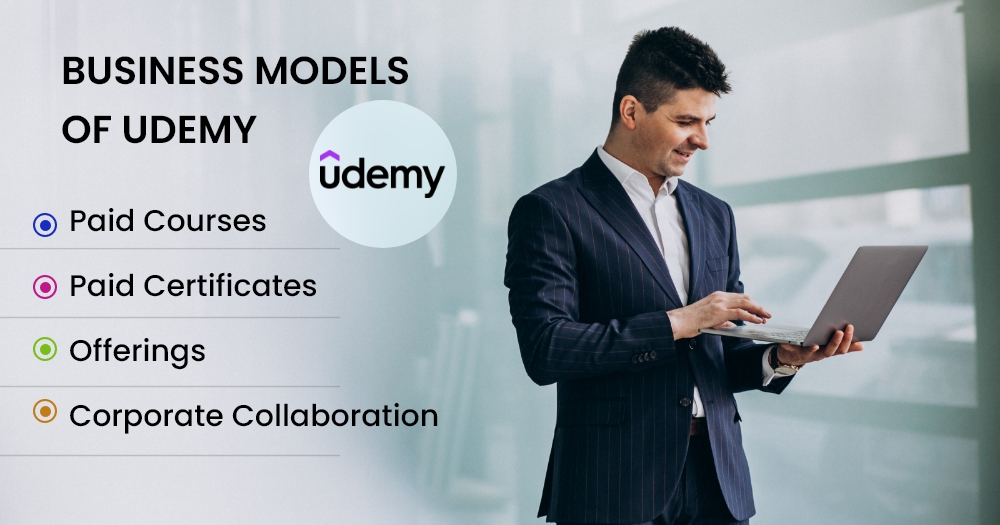 Udemy doesn't work on one single model but has vertical as well as horizontal growth which is listed below.
1. Paid course model
Udemy provides a free and premium courses model to the learners which are designed by the tutors. Whosoever purchases paid courses, then a part of earning is received by the tutor and the rest is credited to the admin account as revenue. The simplest way to generate revenue is where both tutor and the student are at profit. Udemy courses are very affordable which never allow the learner to think 100 times before spending it. You might be interested to learn about tutor booking app development.
2. Paid certificates
In earlier days we used to hunt for the best institutes for the vocational courses. Udemy has resolved those physical visits and provided a single platform for all the certifications on their platform only. The learners can enroll for paid certificates and receive the certificate after the successful completion of the course. Udemy already has tie-ups with various institutes, universities, and organizations that are serving the certification courses.
3. Offerings
There are offerings of 6 different incentives such as customization, worth, accessibility, cost-effectiveness, and brand creation. Udemy provides courses to the learner which are too costly on other channels. Apart from this, there are 80 languages integrated into the app, which have given the ease to understand the courses. Also, the tutors have the full right to course creation, which can lead to the maximum output for the learners. Regular discounts and offers are provided to the learners, which encourages them to stay on the app to get some more courses at discontent rates. Last but not least, there are various tools and outlines for the tutors which are free of cost for course creation.
4. Corporate collaboration model
Through the title, only one can guess the exact meaning. The tie-up with various companies, brands, and organizations is done with a motive to have a few specific courses that belong to their operation only. Through this path, companies provide skill training and workshops to the employees and trainees. This also opens a way for revenue generation.
What is the Development Cost of an App Like Udemy?
An online learning platform like Udemy has different factors over which the cost differs.
Which platform is selected for the development?
How complex is the project feature-wise and development-wise?
From which location you are hiring the development team, and what is its size?
When you hire a development team, then it consists of front-end developers, back-end developers, testers, business analysts, and a project manager. They all are perfectionists in their own field; however, they are required to direct the app to flow in the correct path and launch it on time. When we calculate, the hourly rates of the development of online education websites differ from region to region.
Hiring a developer in the US/US states will cost you $150-$250 hourly. On the other side, the Indian developers cost you approx $20-$70 per hour, which is the best as ever considered. From European countries, the developer cost is around $ 80 to $180 per hour for the app development. 
Additionally, the general cost of the eLearning website development can be close to between $10,000 to $30,000. Always remember, the more advanced you go with the e-learning website features, the more the budget will be increased. This is also reflected in the timeline extension.
Hire Certified Developers
Request A Free Quote
1200+ Projects Delivered 12+ Industry Experience 450+ Clients Worldwide 200+ Certified & Expert Programmers
Conclusion
Getting a general idea about how to create an e-Learning website and app like Udemy might have cleared more of your confusion related to the online learning platform. There are various app developers and app development technologies, such as Machine Learning, Artificial Intelligence, and Virtual reality, which can definitely change the angle of eLearning. So when you want to develop a website like Udemy then definitely this article will be helpful for you.