The smartphone market has opened up a new horizon for startups by providing the platform for conducting business at competitive investment. Enthusiastic entrepreneurs are all set to capitalize on the rich mobile technology enriched with mobile application development for transforming and remodeling business at a global scale.
The figures are there to shoot up as this is the new era of startups and with the increasing accessibility of mobile phones. As per the reports, every year millions of startups are emerging to prove their potential. And that's not all, there are decent numbers of rebound entrepreneurs who are re-entering the market with a streak of mobile-commerce businesses.
The most eye-catching thing in the mobile segment is mobile application development for business enterprises. This is done in order to offer a creative solution to the prevalent problem or challenge. Businesses are now also moving towards affordable outsourcing application development as it is broadened the pathways of business functionality.
Cost-Effective Solution for Startups by Outsourcing Mobile App Development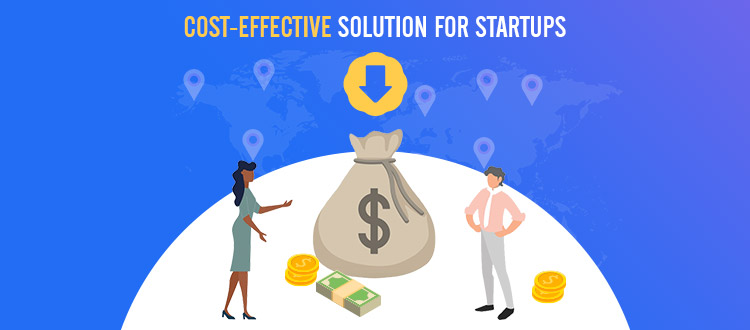 Startups can avail of cost-effective business solutions by outsourcing mobile app development. This helps in expanding the horizon of business reach with the help of technology. If you too are a startup and want to make the most out of your limited funds, then you can outsource the mobile application development to the developers elsewhere.
Developing a mobile application in Europe and America is quite expensive. Hence, people prefer Asian countries to do this job due to their cost-effectiveness. The best scenario is to hire a Mobile App Developer who can identify your business needs and cost-effectively implement the solutions.
Many countries around the globe are offering app development services at comparatively cheaper hourly rates. Outsourcing mobile app development is a good option when you have limited resources and want to save a decent chunk of money including the opportunity cost.
Making The Experience Count
The majority of the tech startups are new in the business and they have vibrant best app ideas. At such a vulnerable stage all they need is appropriate guidance supported by relevant experience. By outsourcing mobile app developers, the startups get the services from experienced developers with relevant expertise.
Hence, the startups can leverage upon the developer's experience to capitalize the most of it. For startups, it must be their first and last mobile application. But, for the developers, it is not new as they have created/developed many such apps in the past and they know the nitty-gritty of mobile app development.
You not only get reliable professional results but also good advice along the way with hiring an experienced team of app developers for startups. You get a lot of perks and advantages like lots of brainstorming sessions, regular updates with the latest industry standards, seamless support, and assistance, etc.
Hence, this is the best option for startups if they want to make a mark with limited resources.
One more important point of discussion is the debate between hiring an app development company vs. hiring a freelancer.
It is highly recommended that you must go with hiring an app development company rather than choosing a freelancer to do your job. This is because unlike a freelancer, app development companies have a repertoire of experts with them.
In case you want to build a scalable mobile app with a long-term vision then choosing a reliable app development company is the best option as you can get expertise in terms of designing, development, and marketing under one roof. Read these 7 tips to hire a dedicated developer for outsourcing.
Avail of the Initial Boost at a Comparatively Cheaper Price
As far as the initial push for any startup is concerned, it is always creating an ideal MVP (Minimum Viable Product). This is achieved if you plan to outsource your app development project to offshore companies as developing MVP through that medium is comparatively cheaper.
This involves fixing wireframes at the initial stage in order to know how the application would ideally appear and navigate. One more advantage that you can have while outsourcing an app development project is called idea validation. You get experienced people in an outsourced company to provide you with desired guidance so you can validate your startup idea.
Hence, outsourcing app development is cheaper for startups. Also, it helps the business in getting the initial boost in the correct direction with the help of outsourced resources. The reason why it's recommended is that the services are not just confined to app development but you get the precise picture of your business at the initial level itself.
For startups, the most important thing at the initial stage is to get the desired push, and outsourcing app developers can certainly push the startup in the right direction at the initial stage itself. Therefore, in the long run, the chances to get success are maximum.
One important thing to remember is that startups often make mistakes while choosing the developer. In order to save a little, they compromise highly over quality and hire some cheap development company or random freelancers. It is like dismantling your project before it is even started. Therefore, it is very important to make sure that the developers or the development team follow certain standards.
Also Read: Should You Outsource App Development to Local Or Offshore Companies?
Completely Safe and Secure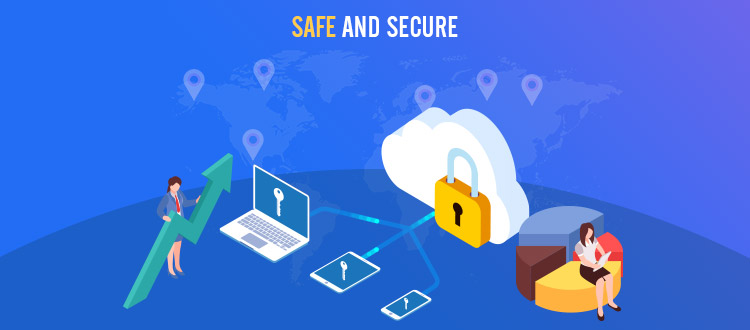 Entrepreneurs go through several myths and misconceptions regarding outsourcing. Some believe that outsourcing their project to the outsourcing company might result in losing the project.
On the other hand, the company has a misconception that the authority of the company over the app will get lost if they outsource the project to some mobile application development company.
So now it's high time to bust this myth at once for all. Before initializing the project and giving any services a proper contract is signed by the company that is a written document that bounds them to all your conditions. Hence, it becomes impossible and illegal for them to copy or resell your product or service elsewhere.
Despite all of this, if there is still some issue, then there is always room for rectification.
Support and Maintenance of Outsourcing App Development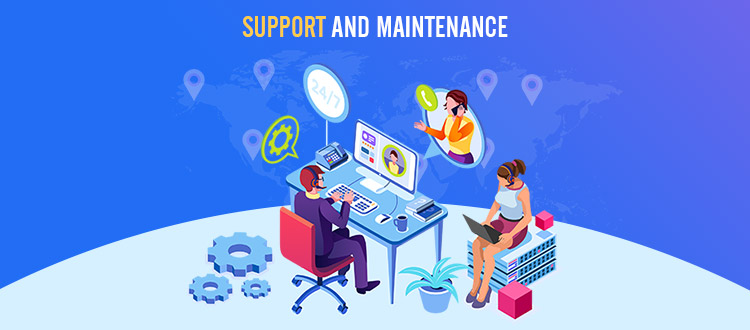 It is correct to say that mobile application development is an ongoing process and it is not just confined to creating an application. There is a chain of things that are to be taken into consideration like platform selection, security measures, deployment testing, promotion, analytics, designing, and many more.
The story still not ends here, you need to keep your app updated regularly even when people have started to use your application. The most important thing is a user engagement and it won't last long if your app is not updated regularly. Also, you will never want a decreased amount of traffic towards your application.
Hence, if you are on the same page and want your app to look and function the same, then you must choose a reputed mobile application development company. The NineHertz is an Indian based mobile application development company working for so many years in this domain.
The Ninehertz will provide you with an Enterprise mobility solution and keeps you updated and informed on everything.
Also Read: 6 Steps That Can Help You Understand How to Outsource Your App Development Without Failing
Faster Delivery
Every day new startups are coming to make a mark in the industry and that's the reason there is cut-throat competition among startups. In such a critical and dynamic scenario, the speed of delivery matters the most. If your application doesn't come up within the set deadline then your application is prone to losing a lot of potential customers. Also, all your efforts to cater to customers will go in vain.
In case, if your application was created with an intention to multiply your company's productivity, then there are high chances of shooting up your overall cost of app development. Your all worries can simply vanish if you choose to outsource a reputed application development company like The Ninehertz. Know the reasons why tech companies and startups hire developers from India?
The professionals working in the company will make sure that the given task is completed within the deadline. When you hire companies from the region where per hour development cost is low, you can save more time and money. This will not only help in bringing down your project cost but also provide you more time so that you can focus on other important things like marketing.
One thing is highly recommended that you must check the history and background of the app developers. It is to check the projects the app developers have successfully completed and delivered in the past. You can also compare the developers before finalizing. All these points are very important because, for startups, it's a very critical decision to make when it comes to outsourcing an app.
By outsourcing an app one can easily poke all the aspects related to designing before the final launch. It is always good to formulate concrete research and analysis of your application to figure out all the strengths, weaknesses, threats, and opportunities of your application. This is all done to ensure that your startup is fully proofed before the launch.

Conclusion
In the end, we can say that outsourcing mobile app development is good and cost-effective. But you need to be very careful while choosing your partner and it can be done by proper research and analysis. When we talk about startups, there has been an explosion of app-based startups all around the world. Hence mobile app development is the new big thing. It is so revolutionizing to see the huge potential of a mobile application to provide comprehensive global solutions over a single platform. The startups are highly benefitted by this as they can explore the highest possibility of their project. Many of the successful startups in the current scenario are already following the strategy of 'app only' so that they can integrate the entire business under one roof in the form of an application for the audience. You can also capitalize on this and can become the next big thing.