Upgrades – It is equally important to upgrade your application with time. The technology around us is evolving at an incredible speed, and it's essential to cope with it in order to stay in the industry. Upgrading the application is vital for smooth functioning, introducing new features, and keeping up with industry standards.
Convert Your Hotel App Idea into Reality
Request A Free Quote
Hotel App Development Features
The popularity and demand of an application partially depend upon its features. A hotel booking application with multiple features will outrank its competitors for sure. Hence, it is mandatory to have quality features in your platform. A brief of the same is mentioned below; prefer including these features in your application to outperform your competition.
| Feature | User Panel | Hotel Owner Panel | Admin Panel |
| --- | --- | --- | --- |
| Account Creation | ✓ | ✓ | ✓ |
| Search and Display hotels | ✓ | | ✓ |
| Hotel Detail Information | ✓ | ✓ | ✓ |
| Room Quotation | ✓ | ✓ | ✓ |
| Online Reservation | ✓ | ✓ | – |
| Payment Gateway Integration | ✓ | ✓ | ✓ |
| Cancellation Policy | ✓ | ✓ | ✓ |
| Guest Review and Feedback | ✓ | ✓ | ✓ |
| Social Media Integration | ✓ | ✓ | ✓ |
| Support/Help Desk | ✓ | ✓ | ✓ |
| Push Notifications | ✓ | ✓ | ✓ |
| Analytics | ✓ | ✓ | – |
| Multi-Language Support | ✓ | | ✓ |
| Check-in and Check-out | – | ✓ | – |
| Room Inventory Management | – | ✓ | – |
| Rate and Inventory Management | – | ✓ | ✓ |
| Reservation Reports | – | ✓ | ✓ |
| Hotel Performance Report | – | ✓ | ✓ |
1. Comparison – An individual checks the hotel online to reserve the best option available under their budget. Hence, it is better to introduce a comparison feature so that any user can easily compare two properties and choose the right one according to their requirements.
2. Search – It is one of the most crucial features that every hotel booking app should have. Using it, the individual can quickly look out for a specific property in a locality. The search box helps cut down the hustle of scrolling all the way up or down to look for a property.
3. Secure Payment Gateway – The majority of travelers tend to pay online for their hotel booking as it helps save a lot of time and is convenient. Therefore, it is important to have a secure payment gateway through which the customer can easily and securely pay for the booking.
4. Cancellation & Refund – There are times when a traveler needs to cancel their bookings due to sudden changes in plans or medical conditions. In such situations, they should be able to cancel their bookings and get a partial refund of their booking amount.
5. Push Notifications – It is seen that travelers appreciate constant notifications about the latest offers, deals, booking details, etc. This feature can also help to create a brand image in the user's mind.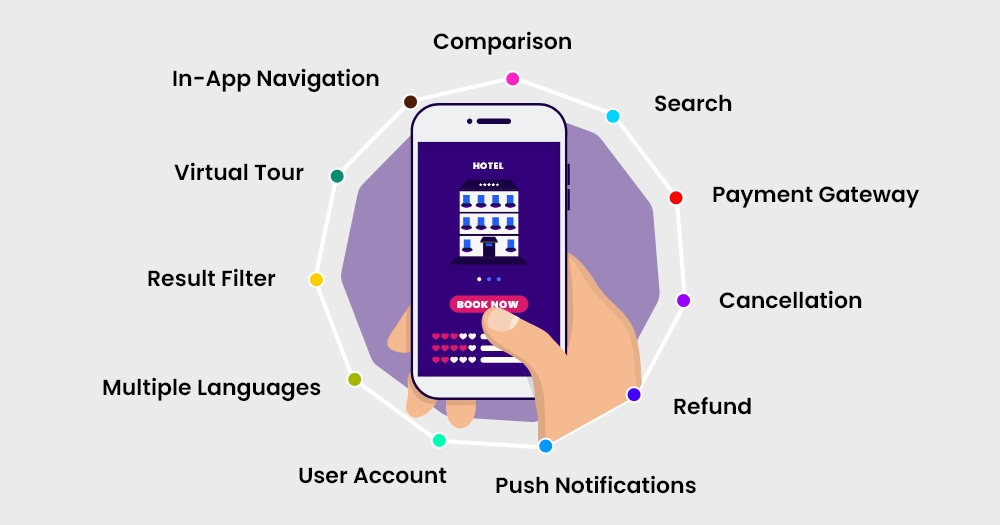 6. User Account – Every user who reserves a hotel room through your application should have an account. Basically, it would like a personalized dashboard for them where they can check their previous, current, and future booking along with payment status.
7. Multiple Language Support – It's a fact that every country has its own language. In order to make your application worldwide successful, it is important to launch it with multiple language support so that every person can easily access the application.
8. Result Filter – This feature works to ease the customer's search even more. The search can be filtered according to the ratings, reviews, pricing, etc.; it helps the users find an ideal hotel quickly.
9. Virtual Tour – Using this feature, the users can have a virtual tour of the property they are looking forward to booking in the upcoming days. It gives a better idea of the property and helps in decision-making.
10. In-App Navigation – Travelers do face a lot of issues in reaching their booked hotel as they are new to the place. The in-app navigation feature can help travelers to reach their hotel conveniently and save a lot of time as well.
Tech Stack to Make a Hotel Booking App
Leveraging the latest technology is the best option available to create a hotel booking app that outperforms the competition. Therefore, it is necessary to make sure that your hotel app development service provider has access to Twilio for push notifications, HBase for Database technology, etc. Here is the list of tech stacks required for building an outstanding Tech Stack application.
| Application | Techstack |
| --- | --- |
| Cloud App Development | Dataproc, Google Cloud |
| Mandrill | Emails |
| Real-time Data Management | Kafka Software |
| Database Technology | Mail Chimp, Cassandra, MongoDB |
| Data Storage | Amazon S3, Google Cloud, Zadara, Backblaze |
| Cloud Environment | Amazon Web Services |
| Desktop Website UI | Chromium embedded framework, Bootstrap, Electron |
| Real-time Analytics | BigData, IBM, Cisco, Apache Flink, Hadoop |
| HTTP and Proxy server | Nginx, HAProxy, Varnish, Lighttpd |
| Streaming Media System | Nimble Streamer, Helix Universal Server, Wowza Streaming Engine, Adobe Media Server |
| Push Notifications | Push.io, Twilio |
| Weather Forecasts | OpenWeatherMap API |
| Phone Verification | Twilio, Nexmo |
| Maps | Google Maps, LocationIQ, Openlayers |
| Payment Getaways | Stripe, Google Pay, E-wallets, Braintree, Paypal |
| GDS Access | Travelport, Sabre, Amadeus |
| Hotel Metasearch Data | Skyscanner Affiliate API, Expedia Affiliate Network |
Hotel Booking App Development Cost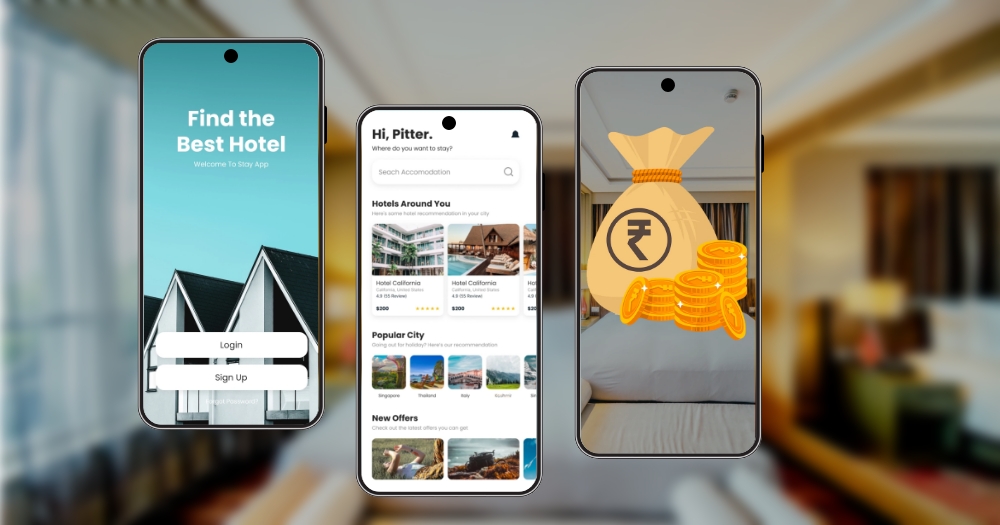 The development cost of an application is dependent upon various factors. On average, the hotel booking app development cost starts from $20,000 and can go up to $90,000. The main factors affecting the development cost are developers' nationality, complexity, development platform, tech stack, etc. However, it is seen that getting the app developed by an Indian app development company is quite affordable when compared to others. Check out the table mentioned below for a better understanding.
| Country | Price/Hour |
| --- | --- |
| U.S.A. | $150-$200 |
| U.K. | $50-$100 |
| Ukraine | $25-$50 |
| India | $25-$40 |
How Hotel Booking App Makes Money?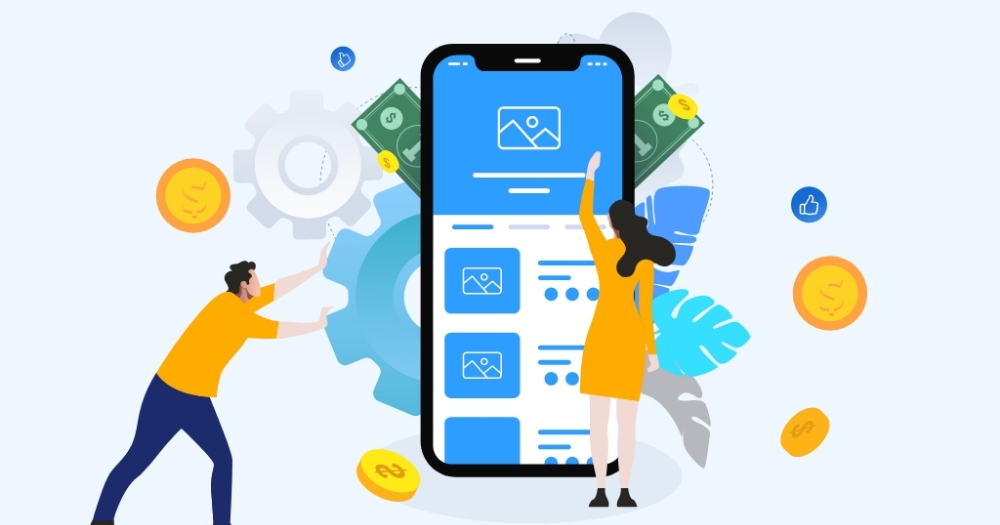 There are hundreds of applications that let you book hotels online. Anyhow, these applications are built around different business models to generate revenue. A quick glimpse of the same is below.
1. Merchant Model
Here, the successful hotel booking application partners with a particular hotel, resort, etc. and obtains the booking right of specific rooms. Later they rent out those rooms using their application. The applications book multiple rooms at a lower price and later rent them for a higher value. Expedia is currently dominating this business model with its presence in over 200 countries.
2. Aggregator Model
It is one of the most popular and competitive business models. Here the application ties up with numerous hotels and resorts in a locality and lists all of them on their application. A user can choose any hotel meeting their requirements and budget. Booking.com is a prime example of this segment.
3. Advertising Model
It is yet another popular business model in the hospitality industry. Here the application generates its revenue through advertising, as the name suggests. The applications monetize their apps and generate revenue from it. It is the least profitable business model in the industry, but there are not many risks associated with it. Trip Advisor is currently leading this business model.
4. Dedicated Model
Last but not least, this business model is highly preferred by hotel chains. Here the hotel directly connects to the customers through their application. All the reputed hotel chains like Grand Hyatt and Marriott are building their business around this model.
Which is the Best Hotel Booking App Development Company?
The NineHertz is one of the top hotel booking app development company. With over a decade of experience, it has a team of the best designers, developers, programmers, etc. It has successfully delivered best-in-class IT solutions to many companies till now and has taken them a step closer to their goals. They also understand the importance of the latest technology and innovations. Therefore, they work around it to deliver outperforming results to their clients. Moreover, with a development center in India, their service charges are quite affordable compared to competitors.
Hire Certified App Developers
Request A Free Quote
Conclusion on Hotel App Development
In the end, the profitability behind Hotel Booking app development is crystal clear. Therefore, if you have an interest in getting your hands on massive profits, then hurry and get your hotel booking app developed as soon as possible by the best developers in the industry. Make Sure to check out the portfolio of the developer's team before hiring and ensure their capability of delivering the result you want.
FAQ's: Creating a Hotel Booking App
1. What are the Advantages of a Hotel Booking App?
The Hotel booking app benefits both the owner and its consumers. The owners are generating massive profits from these mobile apps depending upon the business model. Where else the consumers getting unbeatable deals on hotel bookings. Even booking a hotel online is much more convenient for travelers.
2. How Does a Hotel Booking App Work?
All the hotel booking applications have a tie-up with hotel owners, resorts, Airbnbs, etc. They list the hotel's room on their application. Once any traveler makes any reservation through the application, the information is shared with the hotel. The hotel's room rent is further divided between the app and the hotel as per their Terms and Conditions.
3. How Much Does it Cost to Create a Hotel Booking App?
There are no fixed numbers associated with the cost of building a hotel booking mobile app. Anyhow, the average cost to develop such an app starts from $20,000 and can go up to $90,000. It is also witnessed that getting an application developed in India is much more affordable when compared to other countries.
4. How to Monetize a Hotel Booking App?
A hotel reservation app can be monetized in several ways. Trivago is an application that generates revenue by displaying ads to the users on their application. On the other hand, an application like booking.com is monetized by partnering with numerous hotels. In short, there are several ways to monetize the app; a quick glimpse of the same is as below –
Partnering with Hotels
In-app purchases
Advertisement
Subscription and paid app
5. Is it the Right Time to Develop a Hotel Booking App?
The travel industry got a big pullback in 2020 due to a corona outbreak worldwide. Anyhow, the industry is recovering at a great pace, and an 85% recovery is expected by the end of 2022. The speedy recovery signifies that it's the right time to launch a successful hotel booking app as soon as possible and grow your hotel mobile app as the industry recovers.