The Internet has made lives easier for everyone, especially those who plan to book a hotel for their comfortable stay in another city/state/country. Long lost is the culture when one used to call for reservations in the hotels and were kept on waiting for days or so. Nowadays, more than 70% of smartphone users search for hotels over their compact gadgets, out of which 60% successfully convert their deals online without wasting much time from their busy schedules.
Evidently, you can hire on demand app development services for launching your own app like Trivago, hotels.com, booking.com, TripAdvisor, trip.com, KAYAK to rule in the market.
The most sought-after name in the league is Trivago. This app lets you book your stay in a hotel, anywhere in the world by just clicking a few tabs on the phone/PC sitting in the comfort of your home. Applications like Trivago work on people's expectations from hotel price comparison app and then deliver the same which is the reason for their success.
Want to Launch Your Own App?
Convert Your App idea into Reality
Market Scope of Hotel Price Comparison App like Trivago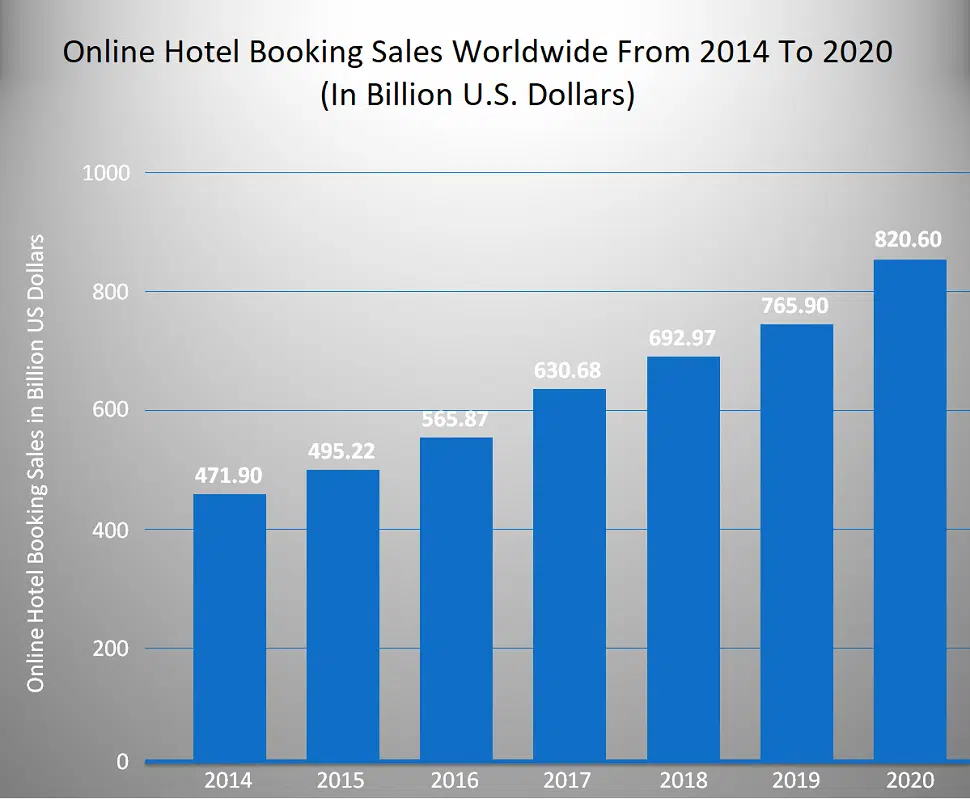 70% of users worldwide search for their hotel stay via their smartphones. Out of which 50% use metasearch sites like Trivago to book their Hotel deals.
85% of USA's Millenials prefer to book their trips online (source: Stratos)
Today, the travel industry is worth $1.2 trillion, out of which 63% of conversions are made online (source: Stratos)
Though 2020 was a rough year for hotel booking agencies as the sale dropped by 93%. These companies are now seeing 2021 as the year to regain their sales. (source: Statista)
With Trivago being your inspiration, if you wish to own a robust fully-featured application for your business to grow, you have just landed on the right page.
Trivago App- A Metasearch Utility for Hotel Booking
Trivago is the metasearch utility that fetches the data from the web showing us the best-suited results on their portal. A marketplace for more than 100 hotel booking websites, Trivago shows you the perfect solution for your hotel search in a matter of seconds by comparing the data from several associated sources.
Apart from the basic version of Trivago, there is also 'Trivago Hotel Manager Pro' through which hoteliers can manage their hotel profiles, make changes/updates and attract as many clients as they can.
15 Facts About Hotel Aggregator App Trivago
Trivago is the finest German hotel aggregator that was started in 2005 to facilitate hotel/accommodation bookings. The owners converted their garage into their office.
Trivago being the best startup idea of its time got 1 million Euros of investment from the investors.
The owners of Trivago went from 7star hotels to small accommodations to list each and every living space in the country over their newly built site. Which business does not want a free listing?
3 years from its launch (i.e. in 2008), the company touched the sky with its profits going just double. There was no going back after then.
In 2007, Trivago got its B phase funding of $1.14 Million from HOWZAT Media LLP.
In 2010, Trivago sold half its stakes to a US Investment fund for a shedload of $52.86 Million. The company started with just a million Euros. Remember?
In 2012, Expedia (American Travel Agency) took Trivago's 61% stake for a plentitude of $632 million.
In 2015, Trivago's annual revenue reached $500 million.
In 2016, Trivago went to own Base7Booking (a cloud PMS). The same year it Trivago accommodated 1000 employees under its roof.
2016 ended on a great note with Trivago getting listed in NASDAQ (the American stock exchange company).
At present, Trivago is active in 190 countries of the world.
The company's annual turnover rose to $941 by the end of 2019.
2020 came with a global pandemic (COVID-19), which was a tsunami for the world as well as Trivago, the company lost its sales by 95% due to worldwide lockdown.
2021 is the time to look ahead and revive. As the sector booms again, the company is again hopeful to elevate its sales again.
2021 is a competitive market with a lot of scope for a business to touch the heights again. With the world going digital, a full-fledged hotel price comparison app like Trivago that does the best in the interest of its clients and is unique in its features will always earn in bulk.
How Does an Online Reservation App Like Trivago Works?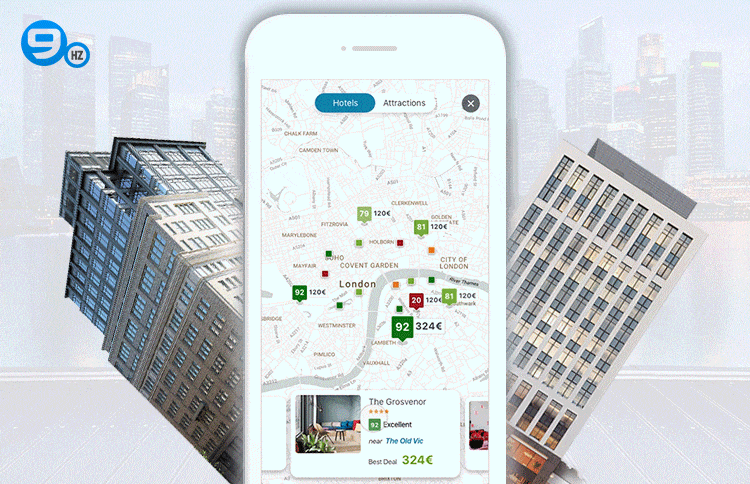 Out of many players in the international hotel booking market, Trivago is a big name, and so, it is our inspiration on how a fully-featured and user-friendly hotel price comparison app should work?
The Portal
Trivago is a full-fledged ecosystem involving Customers, Hotels, and Booking ventures to act and react on the portal. Trivago is known as the deal aggregator more than a hotel booking website as it lists the best deals by fetching data from other hotel booking websites or hotels themselves.
An app is a middleman, is not liable for the quality of the hotel/accommodation. The quality and best customer experience is the responsibility of the registered Hotels and the booking websites.
Here is how the portal works:
Customer End
Customers land on Trivago to:
Make a profile for security and customized hotel search.
Search for the best deals on hotels in any city/state/country they are going to visit.
Compare the deals and land on the best based on the amenities and budget.
Make an online reservation beforehand to avoid last-minute hassles.
To save time & effort on web browsers (as best deals are under a single roof.
Hotel End
Hotels approach Trivago to:
Occupy a listing and promote their services.
Get more leads from such portals.
Facilitate their clients with online booking services through the Trivago portal.
Advertise their season's best deals.
Hotel Booking Ventures
Hotel Booking Websites are on Trivago:
To display their services over online hotel booking marketplaces.
To showcase the most profitable deals and guide the target audience to their website.
Let's Discuss the Revenue Model of Trivago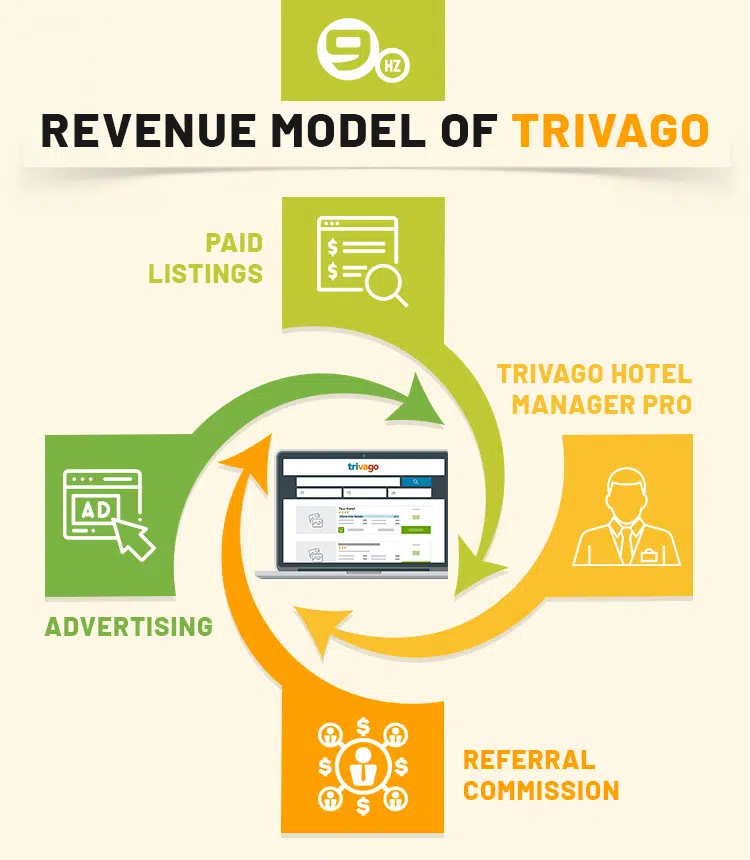 Trivago fetches millions every year through its top-notch services and international client base. Currently active in more than 190 countries of the world with the traffic of 5 million customers every month, here is the revenue model it follows in its monetary interest:
Paid Listings: Trivago is a giant service with networks in various corners of the world. Hotels will want to reserve a place on such a platform, and therefore they pay an amount to Trivago for getting listed on the portal.
Trivago Hotel Manager Pro – Hotels can modify their profiles with the best deals and offers to attract the users of Trivago. To enable this service for hotels, Trivago asks for a subscription from them.
Referral Commission – Apart from subscription and listings, Trivago earns commissions from hotels based on CPC and/or CPA models. Cost Per Click or Cost Per Action is the two best revenue models for any hotel booking app.
Advertising – Though Trivago is not up to this revenue model, what harm is it if an application is earning through paid advertisements on their portals? Any hotel can advertise its season offers and deals on the app's main page by paying an amount to the portal.
Trivago bid farewell to 2019 with its personal turnover of 838.60 million euros, says Statista. Now, this keeps up the motivation of owning a fully-featured online reservation app for your business to touch heights.
It is clear from the above table that Trivago gained heights in 2016 as the company shifted its business models to full-fledged online applications in 2015. Being the most convenient utility for a smartphone user, a fully-featured mobile app opened doors to success for the brand.
Also Read: How to Develop an On-Demand Handyman App Like Uber?
How to Develop App Like Trivago? Here is your Roadmap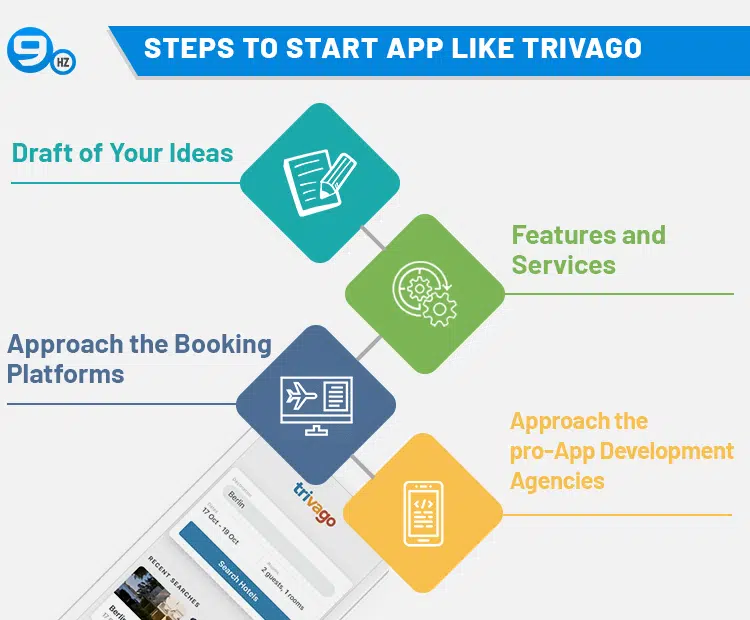 No big venture is a product of a day or two. Trivago was started in 2005 as a small initiative, and today it is where it is because of constant upgrades and adopting modern approaches. As we focus on this online gateway, we have a lot to learn from here and decide how we want to start an online reservation app like Trivago.
Make A Draft of Your Ideas
It is necessary to know what facilities you will give to your users that will retain them to your services forever. You plan to own a Trivago app clone though, you need to introduce a differentiating factor to give your application an individual identity. Why you and why not others? The unique and the best catches the eyes of everyone.
Decide the Features and Services
The next step is to get to the features and services you want to provide to your target audience. The hotel search being the essence of your application, make sure to add some complementary features like hot deals, short notice booking, apartment/sharing room, COD, free cancellation, custom results (based on previous searches), multiple language options, currency converter, and a lot more.
Approach The Booking Platforms/Target Dealers
If you aim for a hotel price comparison app like Trivago, your collaboration will be with the best booking sites (where you will redirect your clients for final bookings). Side by side, you will target some premium hotels or hotel chains that can separately enlist on your application to get direct leads. Keep the proposal clear in front of your target groups and impress them with your ideas and approach.
Approach The Pro-App Development Agencies
Now that you are done with the draft of your application and the list of features & services, you can easily explain your ideas to the hotel booking app development firms that will give your thoughts a shape of a fully-featured and user-centric hotel booking app.
There is a great opportunity in on-demand application development. below are some most popular categories for you:
A) Home service app development
B) Music streaming app development
C) Video streaming app development
Trivago App Clone: Must-Have Features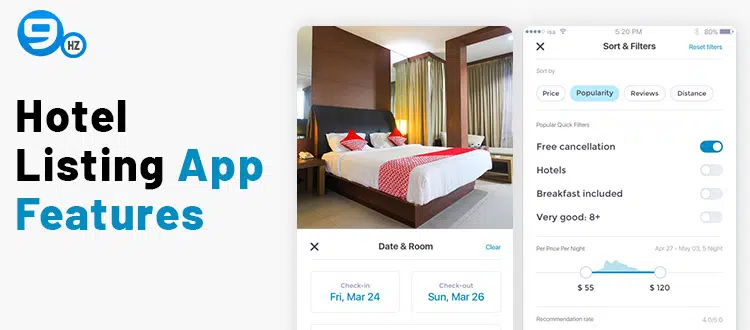 An online reservation app has two segments – one is the User segment, and the other is Admin Segment. The purpose of both the segments is different.
The user side always shows all the services you are giving through your hotel booking app like Trivago. On the other hand, the owner side is responsible for managing listings, data, and making updates in the app.
User's End
SignUp and log in – This password-protected gateway helps the user to land on his profile and start searching for hotels and accommodations.
User Account – The user needs to make an account when signing up on the portal by entering necessary details like name, address, contact number, and email id.
Hotel Listings with Star Ratings – The list of hotels should be made available to the user after filling in the necessary information like destination, check-in, checkout, no. of rooms, and dates.
Search Bar – Needless to say, this feature is essential in case the user is looking for the availability of rooms in a particular hotel. He will directly enter the name and search.
Search History – If the user is satisfied with his previous stay and is planning to make a second trip to the same city, he will search history to re-book the same hotel.
Recommended Stays – Communicate with your client base. Show them what they will like based on their previous searches. Give them recommendations of similar hotels in their nearby budget.
Payment Page – If you give your clients the facility to book their stay online, you have to accompany that facility with a payment gateway. Add all electronic payment modes like PayPal, Paytm, GPay also non-electronic mode like COA (Cash on Arrival)
Cancellation Feature – The trip might get canceled, or the number of people may decrease. In that case, the user may want to cancel the reservation.
Push Notifications – The feature can deliver any update regarding the reservation process or any season deal on hotels to the users via a push notification feature. This way you communicate with your user.
Maps and Navigations – Make sure to facilitate your users with a navigation feature to not struggle with the roads and the destination.
Owner's End
Admin Panel – The utility lets you manage the data, update, and make back-end changes visible to the user on the app.
Password encrypted login – The Admin end of such apps is usually authorized and protected with the encrypted password login given only to the owner/manager.
User Management Panel – Users enter their necessary details to make an account on your application, and they update their details as and when needed. Make sure to protect such information and manage such updates via the user management panel.
Hotel listing Management – If you own a fully-fledged hotel booking app be prepared to have a plethora of hotel data and manage them on your end.
Travel Agent Management – The updates and the information on those websites will be synced to your platform, which calls for the need to own a separate segment for managing such travel agents' profiles.
Updates and Promotion management – Being an owner, you can access a promotion management segment regarding seasonal/hot deals. Whatever changes are made here will be visible to the user end accordingly.
Dashboard for monetary management – The feature lets you manage and track your sales and profits from any revenue model you select to earn from your hotel booking business.
Want to Launch Your Own App?
Convert Your App idea into Reality
Hotel Price Comparison App Development Advanced Features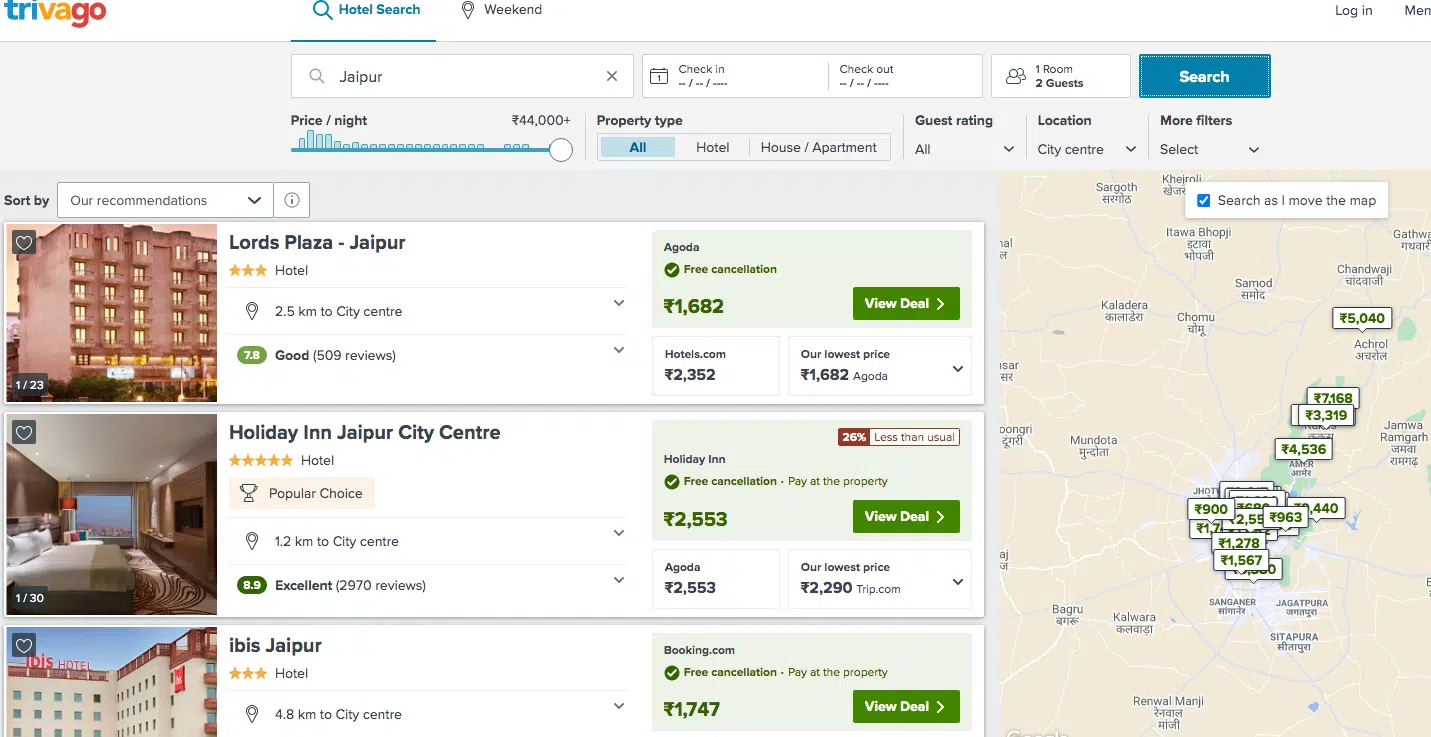 Owning a hotel booking app like trivago is no big deal unless you have some advanced features integrated into your application to stand out from the crowd. Consider the below suggestions for your application:
Chatbots – Invite your user to chat with you using the chatbots. The clients' most common queries can be sorted by this tool in the bottom left corner of your application.
Artificial Intelligence – More than just a travel booking app, make an intelligent travel booking application by introducing Artificial Intelligence elements like Google Assistance, voice-activated services, automatic processing and filtering of data, concierge hotels, etc.
Currency Converter – A person traveling from one country to another with any purpose will want to exchange their currencies. Help them out with this essential service and see your application flourish.
iBeacon Technology – Yet another tool to successfully communicate with your clients. The technology greets the users and sends them a welcome message when they are near the hotel premises.
Tour Guide – Create remarkable goodwill of your application by giving your user more than just the hotel booking facility. You can provide them with the benefit of a tour guide
Live Chat With Vendors – The feature can be the entire facility you give on a paid subscription. Hotel booking agents chat with you regarding any update, promotion, or seasonal deals via this feature.
Taxi Booking – Family or friends on holiday will have no access to their personal vehicles and will have to hire taxis or cabs based on their traveling requirements. You can provide them with the taxi booking services and automatically see your sales elevating.
Tracking Nearby Places – Now that we are talking about providing more than just the hotel booking services, why not help your clients by telling them about nearby amenities like cafes, shopping malls, theatres, and other amusements.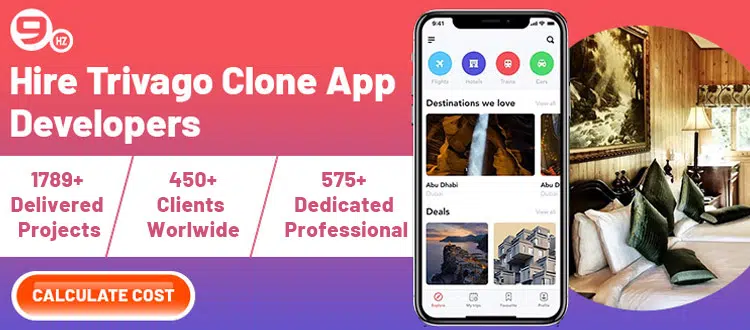 Online Reservation App Development – Technical Overview
Owning an online reservation app like Trivago is a big deal. It will consume days with the correct technique to fabricate the app and go live on the Playstore/Appstore with your services.
Here is an insight into the making of the Trivago app clone:
Scripting (Custom or Readymade)
Your budget defines whether you can own a custom application (for people with less budget to spend on the app) or go for the readymade scripts for your application (requires less budget than a custom app).
There are ready-made scripts for building online reservation app like Trivago. It is an open-source script used as the core script to introduce your custom features and UI components.
Clones are usually budget-friendly, but custom applications are known to give the end-user an exclusive user experience.
Languages and Technologies
One needs to be well-versed with the languages to build the feature integrated and high-performance OTA.
If you aim to get an OTA like Trivago, make sure you find the right resources who know the below mentioned computer languages and technologies:
.PHP
jOuery
Javascript
JSON framework
No matter if it's a custom application or an app clone, make sure to hold the upper hand by introducing the best UI, features, and functionality in your app. Why not hire help from the best app developing agency that will give you top-class solutions for your aspiration of owning a fully-fledged online reservation app like Trivago.
App Like Trivago Development Cost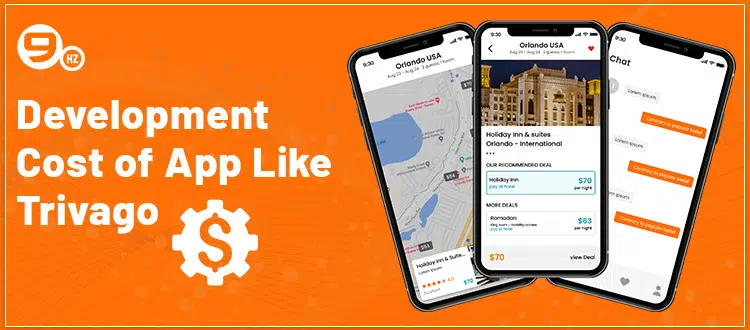 However, in order to achieve a robust and feature-rich hotel listing app, you might want to invest around $18,000 to $22,000 for Both Android and iOS.
Although, the cost for hotel price comparison app development may fluctuate a bit based on its customizations, UI components, technologies used, development time, size, and features. Therefore, no one can predict the exact budget of the project. However, based on history with online reservation app development, and as a app building company, we are here with the approx budget estimation for developing such apps. Stay Tuned…!!
An app like Trivago development cost (per hour basis).
| Country | Development Cost (Per Hour) |
| --- | --- |
| United States | $100 – $250 |
| Europe | $80 – $180 |
| India | $25 – $50 |
Takeaway
The travel and leisure segment is said to reach the same pre-COVID level by the end of 2025. And with online hotel bookings being the new normal, the OTA and Hotel Aggregators are believed to boom. The idea of owning a hotel listing application is a step up the ladder as the travel sector is now touching heights again.
Trivago's scope, cost, revenue, and work discussed above is a roadmap for you to walk on if you wish to own a similar application but with a unique add-on in your application.
FAQs for Hotel Listing App Enthusiasts
Which Type of Hotel Booking App Are You Looking For?
Ans: The type of application is the base of your services.
There are two types of hotel booking apps that might interest you:
(a). OTAs – Online Travel Agents aka OTAs are the one-stop solution to your trip needs. Such applications take care of your stay along with suggestions to you the best airfares and car rentals as well. Well-known names are trip.com, KAYAK, Hopper, TripAdvisor, etc.
(b). Hotel Aggregators – Such sites are exclusively for hotel searches. Hotel Aggregators are limited to having a list of hotels from which you can choose your best stay. Saying no to complimentary facilities like airfares, taxi booking, tour guidance, etc. The famous names here are Trivago, hotels.com, booking.com, etc.
(c) Hotel Chains – The name says it all. Hotel Chains like Marriott, Radisson, and Hilton own apps to provide exclusive booking services to their client base worldwide.
What Do You Have to Offer Your Clients?
Ans: As soon as you are clear with your answer to what type of application you will own, the list of services is easier to make. Give it a thought to what you can offer best to your clients to retain them to your services. And while you decide your services do remember that your user's reviews are the best publicity for your brand.
For a better outlook on services, the list of features will come up in the later section of this article. Stay tuned.
What Will be Your Service Premises?
Ans: Knowing your reach is a must. No doubt, it is fruitful to own an application with national and international booking facilities. Owning a local app means you are restricting your reach to a limited number of users. A domestic app might be a better kickstart for your business, but you need to ultimately add international bookings to upscale your business through the app.
What is The Use of An Admin Panel?
Ans: You own a dynamic application means you will have to manage and update the application frequently – Admin Panel is your rescue here. Admin Panel is the essential part of any application that lets the owner/manager control the app's operations like bookings, rate updates, profile management, new entries, marketing, and promotions.