Outsystems Vs Microsoft Powerapps | The mobile app industry will generate more than $189 billion by 2024. The Apple App Store and Google Play have more than 5 million apps available to smartphone users. The industry is rapidly expanding, and the demand for app development is outstripping what the IT industry can handle. A low code development platform was created in response to the need to make app development easier and faster.
Rapid application development software enables IT tools that make app creation and creation simple as ordering food from McDonald's. Using Low code development platform, users can create apps without coding or programming knowledge. Users only need to have an idea of what they want and then click specific tools and attributes to make it happen. Business professionals and large enterprises also use rapid application development to fully customize and automate unique workflow processes without the need to hire developers or an entire IT department.
Microsoft PowerApps and OutSystems are two of today's most Low-code platforms. If you want t to create your own app and are looking for the right tool that does not require accurate coding experience and programming, then this Microsoft PowerApps Vs OutSystems comparison article is for you. We will highlight the key differences between Outsystems and PowerApps to assist you in determining which of the two rapid application development software platforms is best for you.
Quick Look to Rapid Application Development Software
To create the low-code applications of your dreams, you'll need a good platform. It's time to compare two popular low code development platforms: OutSystems and Microsoft Power Apps.
What is OutSystems?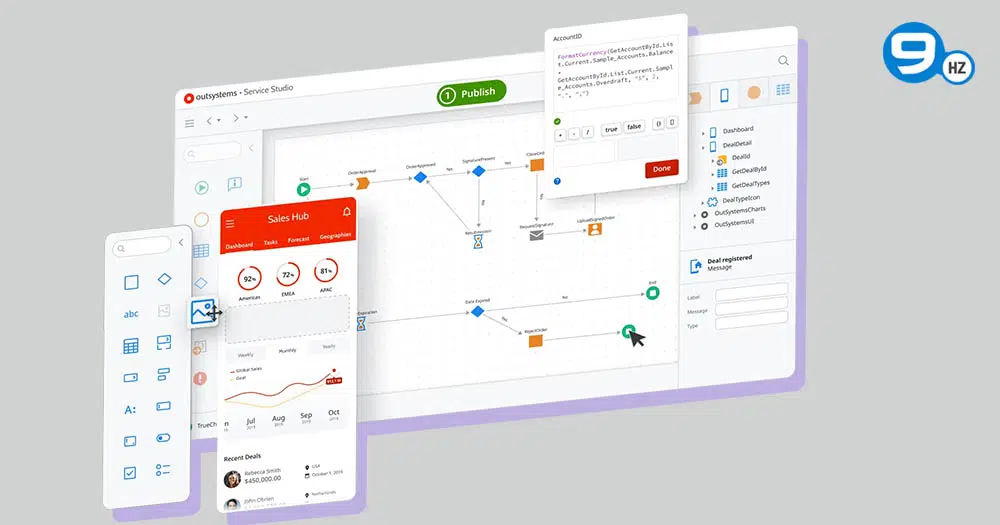 OutSystems is among one of the best low-code development platforms that provide tools for developing, deploying, and managing omnichannel and enterprise applications. OutSystems is still the most widely used low-code platform on a global scale today. OutSystems allows you to connect existing data and build new applications without radically altering your IT environment.
What are Microsoft Power Apps?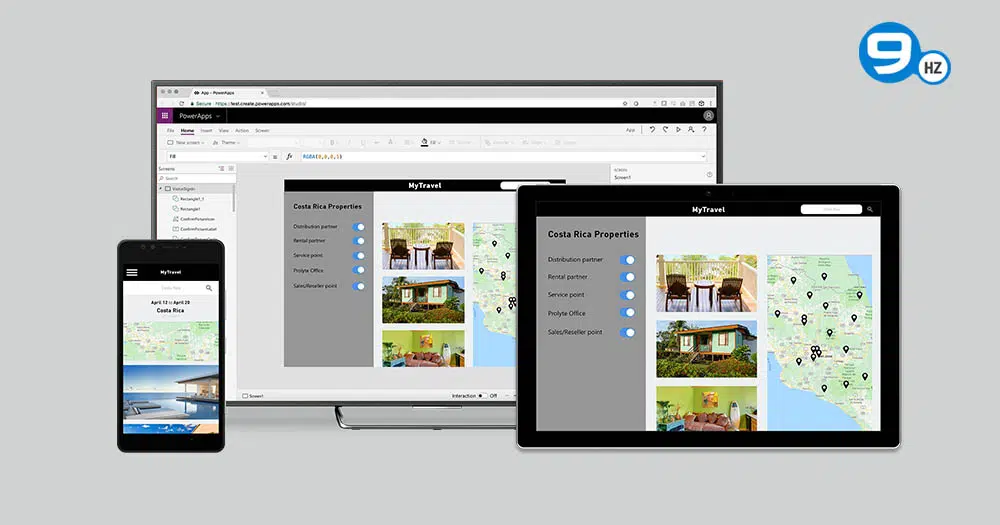 Microsoft PowerApps is a collection of apps, services, and connectors created by Microsoft to assist you in developing custom apps for specific business needs. Consider apps that connect to business data stored on the underlying data platform (Dataverse) or various online and physical data sources in seconds (e.g., SharePoint, Microsoft 365, or Dynamics). is best suited for simple applications like retrieving internal communication calendars.
Do you want to get into it to know more about OutSystems and Microsoft power apps? If so, then scroll below and get acquainted with everything.
OutSystems Vs Microsoft Power Apps: Difference Between Outsystems and PowerApps
|   | OUTSYSTEMS | Microsoft Power Apps |
| --- | --- | --- |
| Primary use case | Modernization and automation | Build custom business apps |
| Code generation | Mix of code generation and metadata derived from model | Microsoft Power Fx |
| App Extensibility | Extensibility of application mainly enabled by model and process designer | Extensibility of application mainly enabled by model and process designer |
| App Deployment | OutSystems cloud, on-prem, Select clouds | Office 365 domain |
| Lock-in | Tied to Outsystems runtime | Tied to office 365 |
| Pricing model | Number of: apps / environments / end users | Based on Quotas/monthly |
Outsystems Vs PowerApps: Features Comparision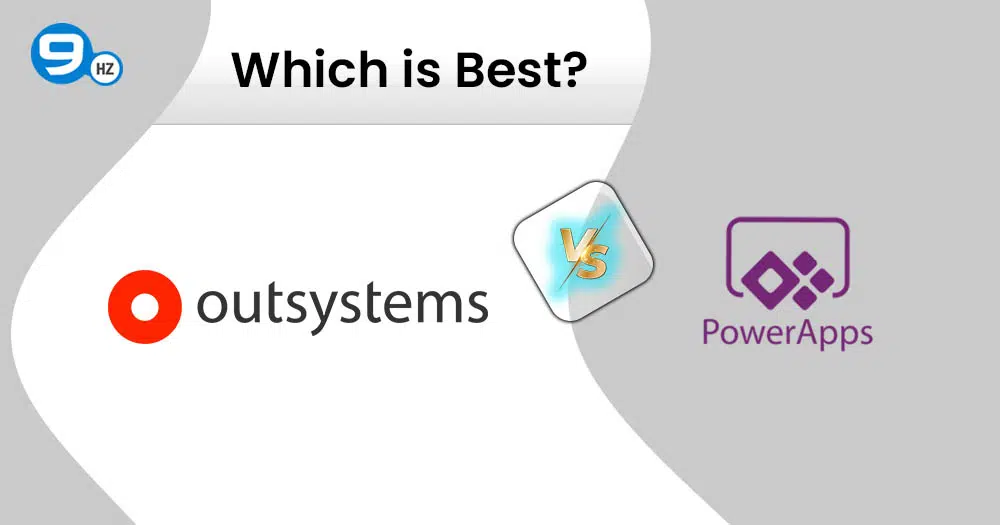 After knowing about OutSystems and Microsoft Powerapps, you're probably curious about the differences between the two platforms. How do they relate to one another, and what distinguishes each platform? We compare the platforms based on a variety of assessment criteria.
1. TECHNIC
OutSystems is primarily intended for real IT professionals and experienced programmers who want to 'tweak' a lot. The data retrieval options are more customizable than Microsoft Power Apps. You can, for example, control the visibility of attributes entirely on your own.
In terms of AI and IoT integration, OutSystems has come a long way. Consider the OutSystems Machine Learning Builder, which enables interaction with various ML models and converts them into fast production models.
Whereas Microsoft Power Apps is an excellent platform for developing business app ideas that are relatively simple and specific. Consider an application that allows you to reserve rooms during a corona. For more complex challenges, the platform relies heavily on formulas. For area on, Microsoft Power Apps is sometimes referred to as "Excel on steroids."
If you already have a large number of Microsoft applications, Power Apps is ideal. In comparison to Outsystems, Microsoft Power Apps is not a full-fledged low-code platform. Monitoring and logging, for example, are not included out of the box. When developing complex applications, it is easy to run into limitations. You must then purchase additional Microsoft products.
2. Usability Difference Between Outsystems and PowerApps
Both platforms are commendable because they enable users to create apps and customized software without the need for straining, time-consuming, and taxing code work. Both apps enable non-IT professionals to build custom apps and complex digital workflows without the need to hire developers.
Hire Dedicated Outsystems Developers
Request A Free Quote
1200+ Projects Delivered 12+ Industry Experience 450+ Clients Worldwide 200+ Certified & Expert Programmers
However, when it comes to overall usability, Microsoft PowerApps is far better. Microsoft PowerApps is better in terms of usability because it requires no coding from users. OutSystems is simple to use and navigate, but some factors and aspects will still require users to input codes and technical support.
3. Outsystems Vs PowerApps: Visual Support
Visualization tools are at the heart of all software. Coding can be eliminated entirely using it. Both platforms provide solid visualization tools with simple and user-friendly interfaces. All app tributes on both platforms can be customized and designed with a drag-and-drop interface. Edits can be done quickly, and all aspects are automatically adjusted along the way.
OutSystems visualization tools can process a user's data model, business logic, operational workflow, and user interface in real-time by integrating common data services from multiple sources. OutSystems tools, like Microsoft PowerApps, can be accessed while offline. As a result, users can explore and design even if they are not connected to the internet. OutSystems has an advantage over Microsoft PowerApps in that easily integrates visualization tools with real-time evaluation of client functionality. OutSystems can also run batch processes with ease.
Microsoft PowerApps visualize data using CDS and premium integration connectors. It has a unique advantage that allows users to enter environment parameters and user policy settings. Such attributes are automatically applied to and affected by a developed app. Special d tools for collaboration are available.
Both platforms provide users with access to an open API that allows for further customization of developer tools.
4. Business Intelligence
Both platforms provide powerful business intelligence tools. However, OutSystems is better.
OutSystems' business intelligence toolkits are superior because they provide real-time data, feedback, and evaluation at every business processes stage. It also p provides real-time monitoring of app usage and performance.
Hire Certified PowerApps Developers
Request A Free Quote
1200+ Projects Delivered 12+ Industry Experience 450+ Clients Worldwide 200+ Certified & Expert Programmers
Whereas Microsoft PowerApps supports AI in apps, such a toolset is sold separately. It does n t notify users of relevant data, reports, and summaries during and after development, unlike OutSystems. However, ts AI tools are more in-depth because users have complete control over the type of AI they want. A business with dedicated developers who can fully customize and program AI use will benefit from Microsoft PowerApps' separate AI toolset.
5. Outsystems Vs Microsoft PowerApps: Integrations
App development is data-intensive. When new developers start building apps, they quickly realize that an enterprise can only go as far as its data allows. App development is a complex task requiring extensive integration with other apps to streamline and simplify work.
OutSystems has more built-in integrations with third-party apps, such as PayPal, ZenDesk, and Okta than the other. Microsoft PowerApps has fewer built-in integrations, but it has the advantage of being fully compatible with all Microsoft products.
Users who require complex integrations should not be concerned because both platforms have an open API. Microsoft PowerApps and OutSystems both have open APIs that allow them to integrate with any third-party app.
6. Licenses and Support
The OutSystems community is a "mixed bag": excellent at times but not always useful. The licensing cost of the OutSystems Forge varies more than on the Marketplace. Microsoft Power Apps can be purchased as a subscription per user or app. Power App is heavily reliant on the Microsoft ecosystem.
7. Pricing Difference Between Outsystems and PowerApps
The Microsoft PowerApps Vs OutSystems comparison will be incomplete unless we discuss pricing. The tools offered by the two platforms are essentially the same, but their plans and packages are vastly different. OutSystems has a perpetually free version for start rs, whereas Microsoft PowerApps does not.
Microsoft PowerApps does not have a free version, but it does offer two basic plans: one for running single apps and another for running unlimited apps. It charges $10 per user per app per month for its Run Single Apps plan and $40 per month for its Run Unlimited Apps plan. Custom portals and business intelligence tools are available for a fee.
OutSystems has four pricing tiers: free, basic, standard, and enterprise. Its forever-free version is powerful enough to handle unlimited applications, and all four plans allow for an unlimited number of apps. Its Enter rise plan is quote-based, whereas its Basic and Standard plans require at least $4,000 and $10,000 per month. Both Microsoft PowerApps and OutSystems offer free trial periods to users.
What is the Most Suitable Low Code Development Platform for you?
It may not always be enough to compare Microsoft PowerApps and OutSystems. Although specific functionalities, cost, and user experience are important factors to consider when making a final decision.
Do you want to determine everything yourself from a technical standpoint and have the most comprehensive and diverse range of features, options, and functionalities possible? Then OutS stems is most likely 'the way to go.'
Microsoft PowerApps is a good choice for custom business apps, and it's an intriguing platform for organizations whose IT infrastructure is heavily reliant on Microsoft technology. Microsoft s Power Platform consists of applications that make it simple to extract data from various source systems (such as CRM or ERP) and use it to create no-code or low-code ways. Think of business analytics dashboards with PowerBI, automation with Power Automate, chatbots with Power Virtual Agents, and mobile apps and web applications with business Apps. If you like this comparison guide you may be interested to know the difference between Outsystems and Mendix.
Now it's up to you to decide which platform is best for your company. If you require assistance, reach out to us; we will gladly assist you!