Magento Vs Salesforce | Are you seeking a scalable eCommerce platform that can adapt to your changing needs as your business grows? With so many options out there, you're right to be reading about comparisons between the top players to figure out the best solution for your unique situation.
Magento and Salesforce Commerce Cloud are two of the most widely used business eCommerce solutions. Both eCommerce platforms allow SMEs as well as large corporations to promote and highlight their products on beautiful websites with tons of customization.
In this blog, we'll go through some of the major differences between the two platforms to help you figure out which one would work better for you. Here is my another comparison guide on Magento Vs Shopify.
Before diving into the detailed difference between Salesforce and Magento, let's have a look at Magento and Salesforce commerce cloud fundamentals.
What is Salesforce Commerce Cloud?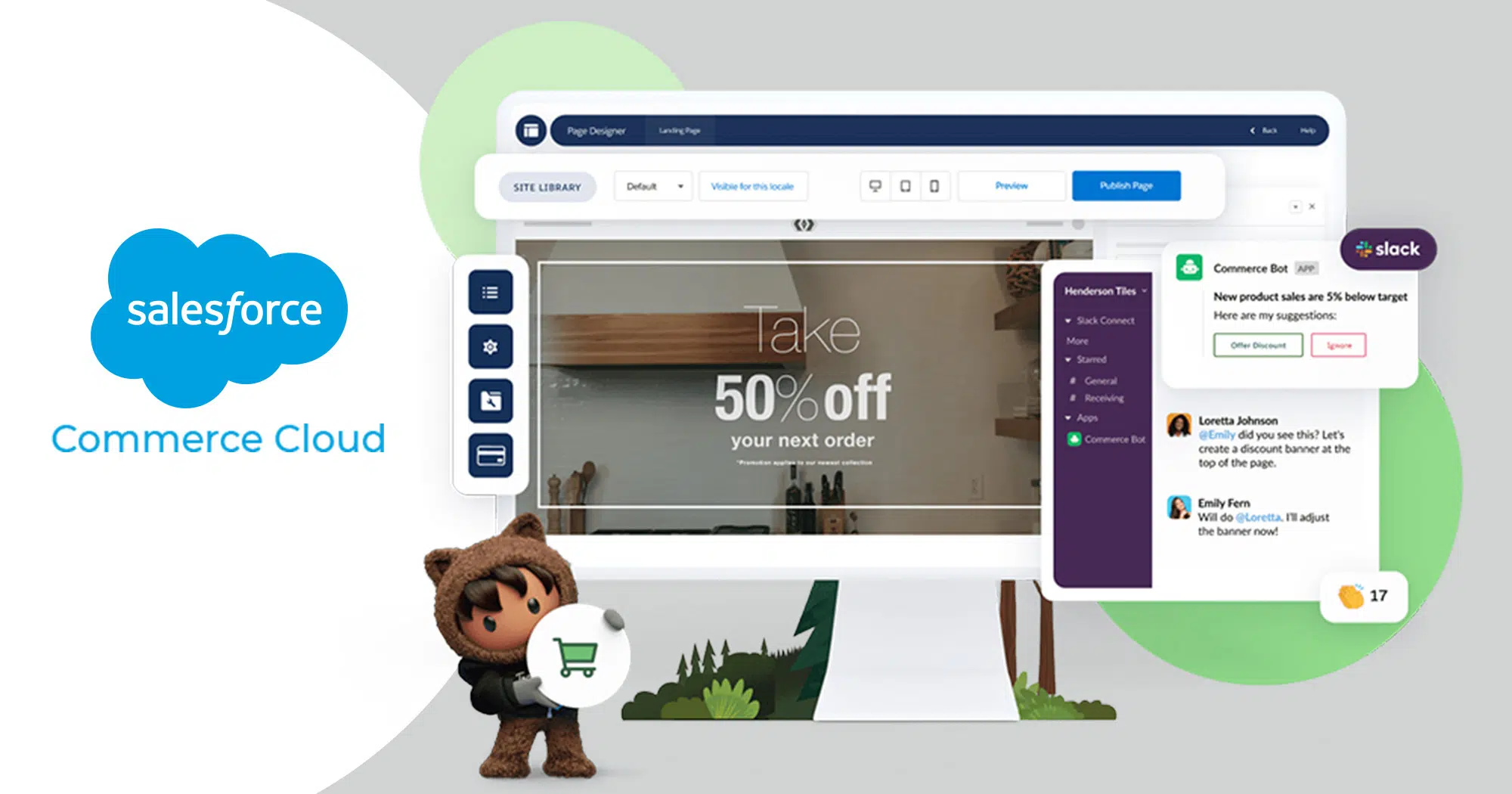 Salesforce Commerce Cloud is a cloud-based SaaS platform that is extremely scalable. This cloud-based tool helps businesses find, manage, and enhance relationships with current and potential customers. It's a highly customizable platform that combines a simple user interface with strong scripting languages to allow customers to create a solution in salesforce that's tailored to their requirements.
Salesforce platform has risen to become the world's largest Software as a Service CRM platform since its inception in 1999. Every day, millions of users log on, and many of the world's biggest businesses rely on the top eCommerce platforms to manage their sales, marketing, and other internal tasks.
The platform's main attraction is that providing eCommerce as a SaaS solution relieves your company of the burden of maintaining a technical roadmap. It also aids organizations in determining how to stay ahead of the curve when it comes to eCommerce best practices.
In terms of core functionality, salesforce commerce cloud has a range of market-leading features – too many to detail here. However, it's worth highlighting some of the key elements of the platform that make it a good fit for your business.
1. Smooth upgrades
Being a SaaS platform, Salesforce is always adding new features in the background. The administrative panel gives you access to these functions. Besides, there is little or no technical assistance required on your part. Here you can find a list of top SaaS products.
2. Scalability
Salesforce Commerce Cloud can handle high demand and traffic spikes without requiring you to plan ahead of time. If demand spikes unexpectedly, the platform scales discreetly in the background, requiring no interaction.
Need Help in Magento Development
Convert Your Project into Reality
3. A suite of cloud services
As a part of the Salesforce family, salesforce cloud offers a range of related CRM and marketing SaaS services that can integrate into your solution set.
4. A product roadmap defined by Salesforce
Salesforce's Commerce Cloud roadmap frees you up to focus on how to use the solution's features and capabilities to boost your site's sales and growth.
What is Magento Commerce Cloud?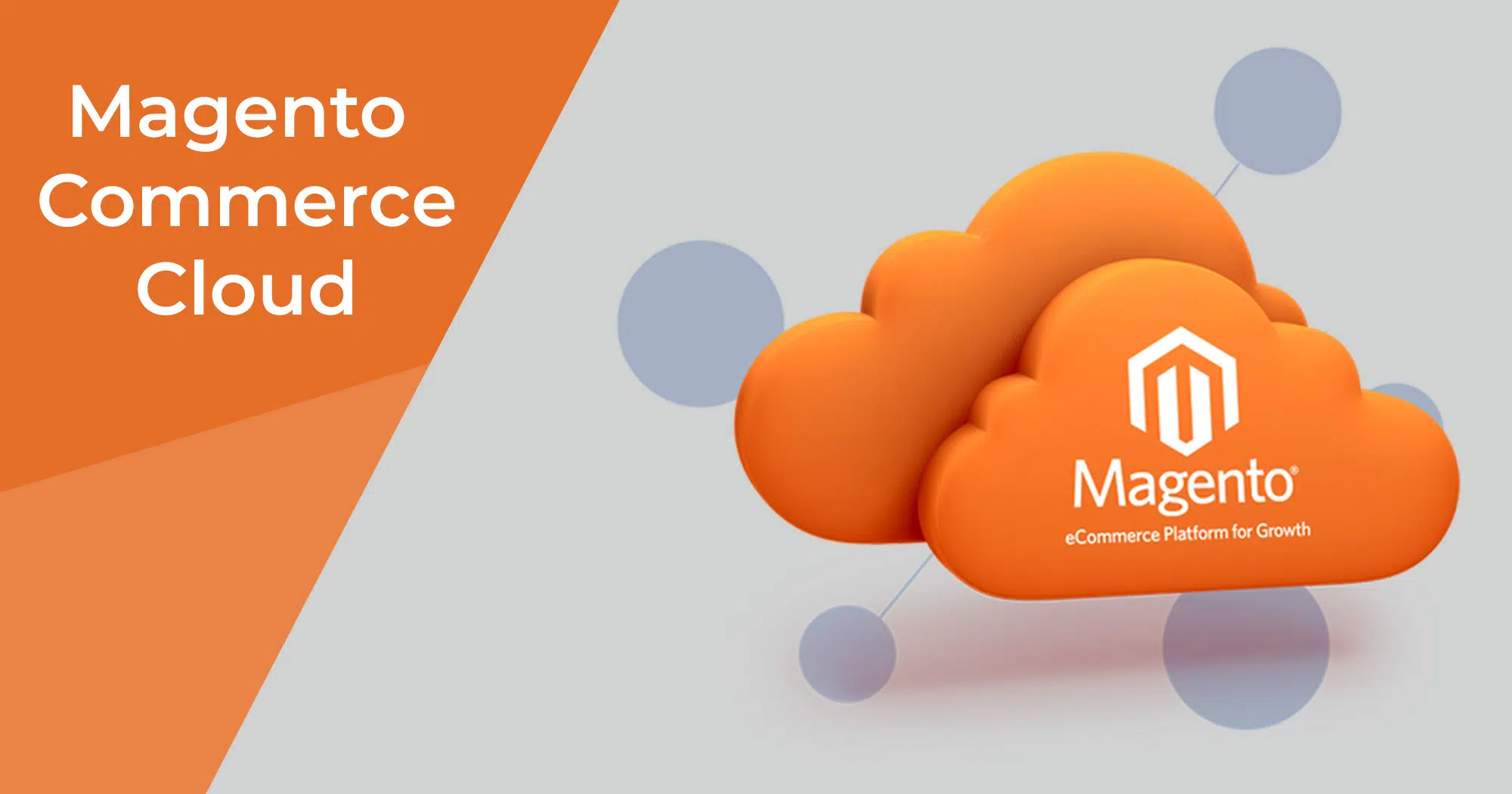 Top Magento developers have noticed that a growing number of businesses require comprehensive services. Businesses require cloud hosting to make the entire process much easier, and even non-technical individuals may operate without assistance. As a result, the Magento Commerce Cloud service was released in 2016.
Magento Commerce Cloud is an Amazon Web Services based PaaS (Platform-as-a-Service) solution created by Varien Inc. It is one of the most widely used PaaS systems and is well-known for its capabilities. It is a fully automated Magento Commerce hosting platform aimed at all merchants, even those with huge sales volumes.
The platform has established itself as one of the most powerful e-commerce platforms available on the market today. Numerous world-famous companies have entrusted their faith in it.
Magento Cloud has powerful features that can be used to implement complex eCommerce strategies. Here are a few features that come standard with Magento Commerce Cloud.
1. Ece-Tool Package
Magento released the Ece-tool package to provide merchants with a scalable deployment solution that is tailored to their needs. The Ece-tools package contains scripts and instructions that allow retailers to deploy eCommerce projects automatically. You can use the Ece-tools package to handle database backups, apply custom patches, and check environment configuration.
2. Hosted on the Cloud
Magento Commerce Cloud is hosted by a dedicated team of developers on AWS (or Microsoft Azure for Pro projects) and runs on AWS (or Microsoft Azure for Pro projects). This ensures that your eCommerce store functions as efficiently as possible. Magento is aware of the large traffic spikes that can affect online retailers and are equipped to handle any issues that arise.
3. Rich Administrative Suite
Magento Commerce Cloud is an extension of Magento Commerce's administrative suite, allowing you to manage even the most complex projects with ease.
Hire Certified Magento Developers from The NineHertz
Convert Your Project into Reality
Magento Vs Salesforce: Similarities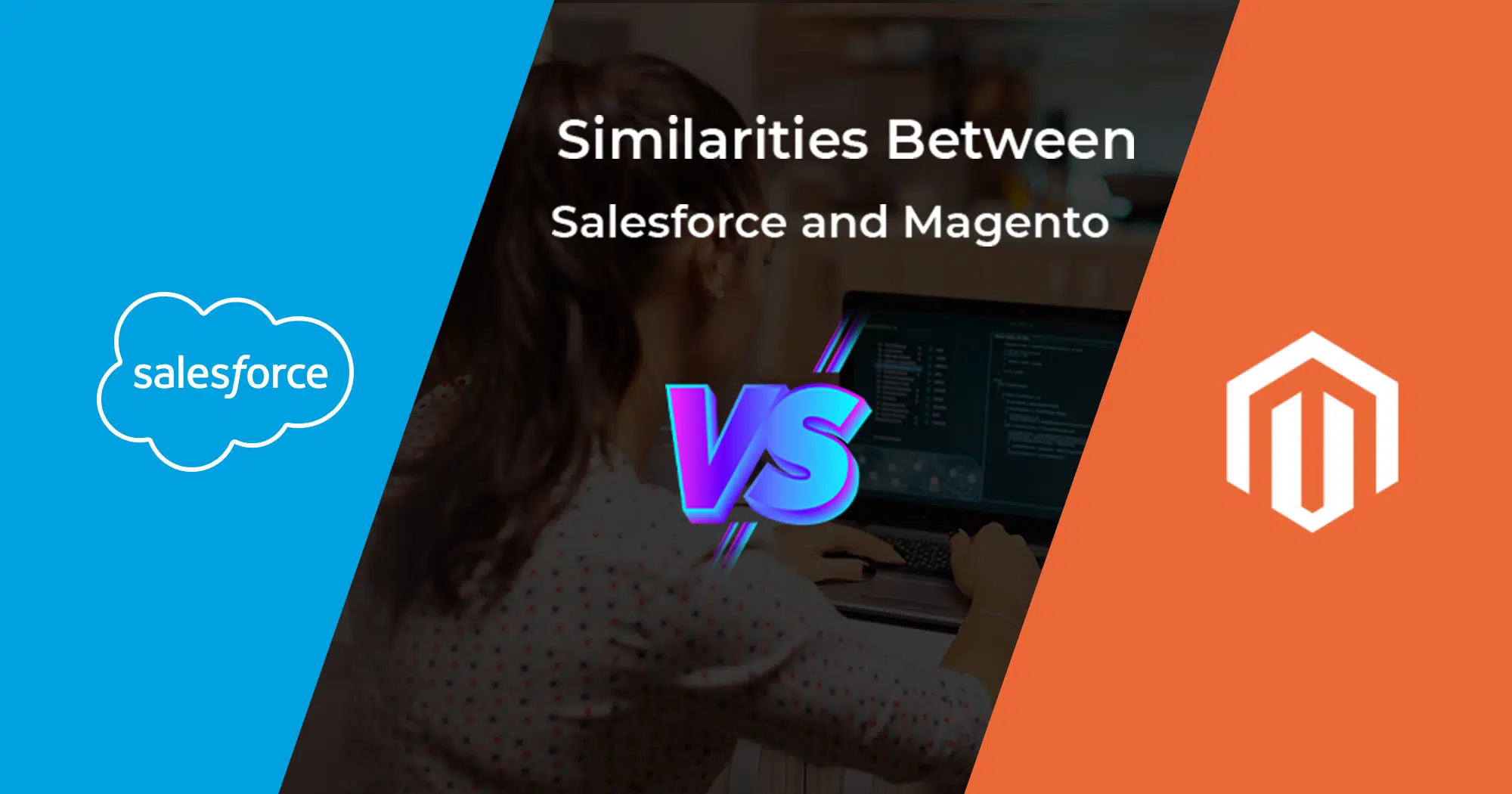 As both are widely-used eCommerce platforms, there are many similarities between Magento vs Salesforce commerce cloud.
Firstly, both the platforms are sophisticated software solutions that drastically improve the effectiveness of their online interactions with clients and customers.
Both rely on cloud technology to store data.
Magento and Salesforce both include items that can help organizations upgrade significantly if they are utilizing more basic eCommerce or CRM (Customer Relationship Management) solutions.
When it comes to dealing with online clients, both Magento and Salesforce can help organizations achieve a considerably greater degree of professionalism and efficacy.
Both are solid U.S.-based solutions that provide training and unique estimates, as well as high acclaim from the numerous businesses that use them.
Magento Vs Salesforce Commerce Cloud: Differences

Below is a comparison of Magento Commerce Cloud and Salesforce Commerce Cloud. We look at ten key factors that matter most for businesses choosing an enterprise-grade platform. Let's dive in.
| Magento | Salesforce |
| --- | --- |
| Quick checkout option | Chatter |
| Multilingual and multi-currency support | Mobile Salesforce options |
| Cross-browser support | Branded email templates |
| Specialized for eCommerce | Email syncing |
| Search engine optimized | Dashboards |
| Magento app development | Appexchange |
| Catalog management | Web to lead |
| Mobile friendly commerce | Salesforce for Microsoft Outlook |
| Shipping and payment options | |
| Full Site Management | |
1. Nature of Platform
The most significant difference between Magento and Salesforce is that Magento at its core is an eCommerce platform. However, Salesforce is primarily a CRM platform. They essentially specialize in two distinct areas, so your experience will be different based on why you chose one over the other.
Magento is a platform that allows you to build an eCommerce site or improve the appearance, feel, functionality, and user interface of an existing one. However, Salesforce focuses on helping you manage clients, funnels, and more to help you create the greatest possible relationships with your consumers.
2. Open Architecture
Open architecture is used to make it easy to upgrade, integrate, and change software components. Magento is a platform-as-a-service (PaaS) provider, whereas Salesforce Commerce Cloud is a software-as-a-service provider (SaaS).
Magento is a PaaS that provides flexibility, extensibility, and customizability. It allows developers to make changes directly in the cloud without affecting the underlying infrastructure. However, Salesforce is significantly more limited than a SaaS and is a closed book when it comes to making these modifications.
3. Search Engine Optimization and Marketing
Another noteworthy feature to consider when comparing Magento and Salesforce is the capacity to help organizations with SEO and marketing. Content is one of the most essential factors in attracting and retaining online visitors. Unfortunately, many business owners do not know how to leverage content to persuade clients to buy their products/services.
So, if you're a beginner with little or no expertise in the field, how can you solve this problem? Magento recognises this need and has recently added the Page Builder. Simply said, a page builder is a drag-and-drop tool that allows you to create and update CMS pages, as well as static and dynamic blocks. It aims to improve the look and feel of your website.
Let's take a look at Salesforce, a competitor. If you read a lot of Salesforce reviews, you'll discover that content is one of the software's greatest weaknesses. Previously, it lacked the built-in ability to organize and maintain content-rich pages, forcing store owners to rely on plugins.
4. Features and Functionalities
Magento and Salesforce also greatly differ when it comes to the functionalities of their products. Let us refer to the table below to understand the features of each platform.
5. B2B and B2C Operations
When it comes to eCommerce and the capabilities available to manage both types of operations, business to business (B2B) and business to customer (B2C) activities are significantly different and unique. Magento Commerce comes with a built-in B2B platform, so you can start selling to businesses right away.
There isn't anything like that in Salesforce Commerce Cloud. Meaning you'll have to buy another B2B-specific eCommerce system and spend time and money trying to connect it to have both B2B and B2C capabilities.
6. Cost
According to the Magento review, you have two options when it comes to choosing this software: Magento Open Source and Magento Commerce. The main difference between them is that the first is a free version, but the latter requires a significant amount of money to use.
Let's look at the second category because pricing is the most important issue. Starting a platform with less than $1 million in total sales will usually cost you approximately $22,000 each year. Later on, the more expansion your platforms want (due to favorable clients), the more you'll have to pay to get more relevant features. For example, website creation or design services might cost anywhere from $150 to $1 million.
Unlike Magento, Salesforce is usually a far more expensive option. However, there is no definitive answer to the question "How much does Salesforce cost?". This is so because Salesforce uses a unique pricing model. The pricing varies depending on the quote, the size of the company, and the level of customization required.
To be more specific, each business is a one-of-a-kind situation that will be priced accordingly. Nonetheless, in general, Salesforce charges between $300,000 and $75,0000 to a retailer with a $20 million annual revenue.
7. Developer Community
The world of eCommerce has evolved rapidly in recent years. Two of the most notable community platforms in this arena are Magento and Salesforce Commerce Cloud. Both cater to a large developer community but Magento has the largest developer community of any other platform, with more tech partners, solution partners, and a community of 350,000 Magento developers.
While the Salesforce eCommerce Cloud has been making headlines recently, offering features like AI powered recommendations, the Magento website development community has been involved in fostering an open-source ecosystem around the platform. With its ever-growing repository of extensions and add-ons, Magento ensures that there is never a shortage of development opportunities.
The supporters of both communities are committed to providing ongoing support, training and resources for developers to continuously explore and innovate in eCommerce. It is an exciting arena for technology enthusiasts, and the competitiveness between the platforms will only result in more avenues for growth and development.
8. Scalability
In the past, Salesforce Commerce Cloud was thought to be the more scalable of the two platforms (and one of the most scalable and stable on the market). However, this is not the case. Developing Higher-profile Magento websites have been known to suffer from peaks, although it is due to the Magento platform's open nature, which allows for unlimited customization.
Since Magento is a giant in this niche, it realized this weakness and made a lot of efforts to overcome it. The company has made a lot of developments to make the platform more scalable.
So, even if you are a startup, you can be confident that Magento will be able to scale with you regardless of changing demands, growing traffic, and the growth of complexity of your eCommerce ecosystem.
9. Safety and Security
Salesforce has earned a stellar reputation for its secure capabilities, aided by the sturdy and secure Salesforce cloud environment. Salesforce hasn't had any concerns with PCI compliance, according to its developers.
Magento Commerce, on the other hand, is extremely secure because it is hosted and controlled by Adobe, one of the most reputable companies. In other words, you can gain access to your company's and customers' world-class security data. You may also use PCI compliance certifications from Magento and Adobe to simplify the process of guaranteeing PCI compliance in your eCommerce solution.
10. Ease of Use
When comparing the ease of learning between Magento and Salesforce commerce cloud, Salesforce comes out on top. When looking for the top reasons to use Salesforce, you'll notice that its usability is at the top of the list. Selling agents can use Salesforce to present their accounts, contacts, tasks, and other information logically.
Furthermore, this software provides organizations with a 360-degree perspective of clients, allowing them to give a superior experience by giving the most precise and complete customer information. It's also simple to transfer between modules, and you can collaborate with your peers. You might be interested to read difference between Magento and Wocommerce.
What Makes Salesforce Stand Out Against Magento?
Salesforce is a comprehensive platform that unites eCommerce, offline store operations, and order management in one place. This software as a service (SaaS) model is great for businesses that operate both physical and online stores.
Here are a few reasons showing how Salesforce is a better option than Magento.
1. Einstein
Salesforce Einstein is an artificial intelligence (AI) platform for the Salesforce Customer Success Platform. Einstein enables you to become an AI-first organization, allowing you to learn more about your consumers and make better predictions.
2. Merchandising and Catalog Management
Salesforce truly is successful in this area, which is one of the reasons it's so popular, especially among fashion companies. The platform supports several functionalities like
Advanced promotions to apply at any stage of the process.
Task scheduling that allows products to be queued ahead of time.
Complicated products like subscriptions, grouped products, or bundles.
3. 24/7 Support
Salesforce delivers sophisticated customer support as part of its SaaS service, which extends far beyond fundamental coding concerns. Their team is in charge of all upgrades and fixes, guaranteeing that your store is always safe. Although, because this service is so comprehensive, the high price tag Salesforce carries is understandable.
What Makes Magento Better Than Salesforce?
Magento Commerce is a powerful open-source platform. It can be customized to meet the demands of both B2B and B2C enterprises, with full access to its Magento extensions marketplace.
Here are a few reasons why Magento is a better option than Salesforce.
1. Content Management
The Page Builder feature of Magento makes adding new sections to pages a breeze. Salesforce currently has a considerably more sophisticated approach that necessitates expert training or assistance rather than your non-technical marketing or administrative staff. You may make your new pages look exactly how you want them using Magento by dragging and dropping custom or preset blocks.
2. Magento Business Intelligence (BI)
Magento's incredible business intelligence tool collects data from a variety of sources (social media, CRM, sales history, and so on). It also organizes it all in one place for simple access and offers numerous pre-built report templates. If your alternative is many spreadsheets, this is a tremendous time saver!
3. Adaptability
Magento's key selling point, and the reason it's so popular among developers and business owners, is that it scales with your company. Even if your firm is still in the early stages of growth, you can rest assured that Magento will be able to scale with you as your needs evolve. As a result, having a competent eCommerce partner on your side who can advise you on how to improve your flows and work with you to develop your online storefront is beneficial.
The Correct eCommerce Platform For You
Now that you have a deep understanding of Magento vs. Salesforce Commerce Cloud, let's use the information to help you conclude. The primary step to concluding is to ask yourself a few questions.
Is your eCommerce store in good working condition?
Do the customers find the layout of your store appealing?
Is your eCommerce site easy to use?
So, if you answered "Yes" to all of these questions, you're all set. You may now improve your business by building a strong relationship with your clients. Salesforce Commerce Cloud is helpful in this regard. Salesforce can also assist if your organization has a consistent stream of revenue.
If you answered "No" to all of the above questions, a Magento eCommerce Platform is the appropriate choice for you. It will help you optimize your website with appealing layouts, style upgrades, easy Content Management Systems, and SEO because it is simple and easy to use.
Furthermore, some businesses benefit from both Salesforce and Magento Commerce Cloud. This is especially true when a firm has a high volume of sales on its eCommerce website and requires a Retail CRM to maintain a healthy relationship with its clients. Therefore, Before coming to a final decision, you must carefully assess your company's requirements.
Are You Looking for Business Ecommerce Solutions?
Request A Free Quote
1200+ Projects Delivered 12+ Industry Experience 450+ Clients Worldwide 200+ Certified & Expert Programmers
Summing-Up
Considering all the aforementioned factors, there is no specific, one-fits-all answer when you're comparing these two eCommerce platforms. Instead, you should take into account the circumstances of your business to select the best choice.
The "right" decision on whether to go with Magento Commerce or Salesforce Commerce Cloud hinges on numerous factors. These include — the nature of your business, your priorities, and probably most importantly, your budget. Moreover, a big factor in your decision lies in the amount of freedom and customization you need and how agile you want to be
When it comes to flexibility and comprehensive functionality, Magento has consistently been the dominant player. Yet, Salesforce has recently made inroads in the industry by being much more user-friendly and catering to new online businesses.
We hope that after reading our detailed description of "Magento vs salesforce commerce cloud", you can easily make an informed decision.
FAQ's
1. Which is better Salesforce or Magento?
Companies who are looking for comprehensive customer relationship management software should absolutely go with Salesforce. On the other hand, Magento provides a great eCommerce platform that has features like product flexibility and advanced pricing capabilities. Ultimately, the decision comes down to what a company needs its software to do – while Salesforce is better at handling customer relationships, Magento is ideal for powerful online retail solutions.
2. What is Magento best for?
Magento is the go-to platform for businesses that need powerful and comprehensive eCommerce solutions. It supports a wide range of customer segments and geo-locations, product types, payment methods, and order management systems – perfect for large companies with complex catalogs and extensive international operations. On top of its in-depth features, Magento is customizable and fairly easy to use.
3. Is Magento similar to Salesforce?
The basic functions of these two platforms are quite similar. Both provide an array of services to help businesses automate their processes, optimize efficiency, and keep customers engaged.