Create your own trending mobile app like TikTok. Readymade, customized application for video recording, video sharing, and music streaming.
The social video sharing app, TikTok has emerged as a trendsetter among the entertainment applications nowadays. The application enjoys a huge audience base with millions of users across the world. They use to spend hours watching videos and creating their content.
Considering the huge success of TikTok, a rise in demand for developing an app like TikTok is noticed and people are looking for the best mobile app developers to hire. So that they can bring their idea of developing video sharing apps like TikTok into reality. Other than this, there is a demand for native app developers i.e. top iOS app developers and Android app developers for creating applications for the dedicated iOS and Android platforms. One can choose for app development from the scratch or can use TikTok app clone or TikTok app clone script that not only remains cost-friendly but also provides you with all the features of the parent app. The decision is all yours choose wisely.
In this article, we will discuss the features, the business model application used to make money and development cost of the app like TikTok.
What is TikTok App? Why to Create Mobile App like TikTok
TikTok is a widely popular application used for creating and sharing videos with trending music following categories like singing, dancing, comedy, lip-syncing, and talent videos. China-based tech giant, Byte Dance introduced TikTok in 2018 and within two years of its launch, the application garnered a huge sum of 800 million monthly active users.
Reasons Behind TikTok popularity
Using TikTok, users can create engaging videos with the help of available filters, animation effects and music
TikTok offers users to create content from lip-syncing to dancing to songs and creating original ideas and challenges to the users.
Ease of choosing a track from a music library filled with trending songs
The high-speed image capturing potential
Freedom of sharing videos on other social media platforms.
Also Read: How to Make an Online Doctor Appointment Web Portal and App like ZocDoc, Practo
Factors Responsible for the Success of TikTok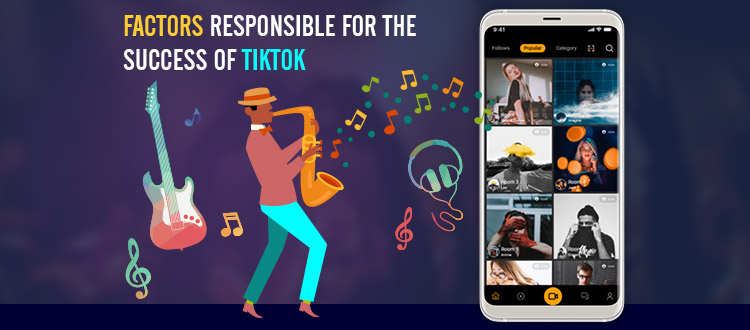 Easy to create Short-Form Content:
Rather than creating videos of long duration, TikTok allows the creation of short-form content with just a 15 seconds video clip. Not even this, it allows easy creation of videos through mobile-oriented editing tools and a large selection of prompting ideas like sounds, clips, memes, challenges, collections, etc.
Right Target Audience:
Different social media platforms have different audience bases based on age-group. TikTok is aimed at the young generation aged between 15-24 years. Because this age-group is believed to express themselves more on social media and are addicted to smartphones. As per a study the users of this age group tend to check their phones every 8.6 minutes and spend an average time of 4 hours of mobile use in a day.
Brands And Celebrities:
Many popular brands like Guess, Micheal Kors, Coca Cola and others are using the platform as a powerful tool to run their marketing campaigns and influencing millions of users to connect with.
Also, the brand's partnership with renowned Instagram influencers to connect audiences and give them a view of style and community. In the list of celebrity TikTok users, you can find Jimmy Fallon, Ariana Grande and Khole Kardashian and others.
Money Earning Potential for Individual Users:
TikTok users get a chance of earning money through the app.
Using the live-streaming feature that is available only for those who have more than 1000 followers. The user can get virtual gifts from its viewers as a sign of appreciation. These gifts are stored in the user account as diamonds that can be encashed further once the total reaches US$100.
How to Monetize Your Social Video Sharing App Like TikTok?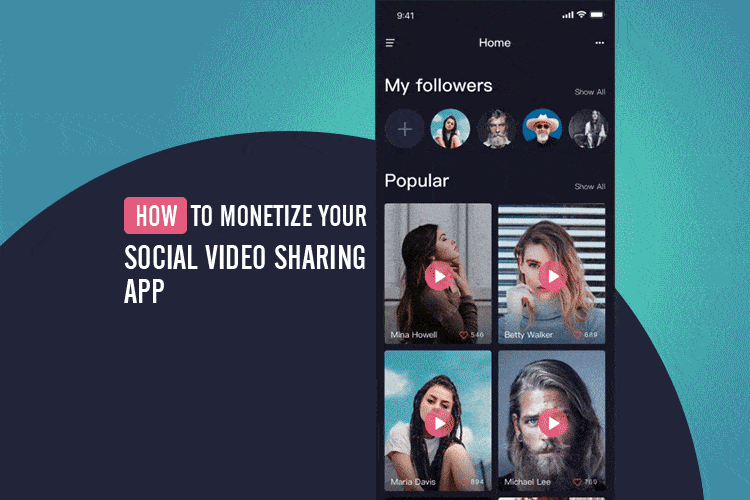 It doesn't matter what kind of app you are going to develop, the ultimate goal is revenue generation. So which way you are going to make money from the app like TikTok. However, there are several ways one can make money from a social video sharing app like TikTok. Though, we are mentioning only the result-oriented monetizing strategies which are:
In-App Purchase:
It is one of the best ways to make money from an application. Through in-app purchase, application providers are free to charge an additional amount for offering premium features to the users. However, as of now, TikTok is providing all the content for free of cost.
Paid Version:
An advanced version of the application which requires signing up fees to access its features and functionalities. It is a straightforward monetizing strategy from an application.
Freemium:
This business model allows users to download apps for free. However, if they want to upgrade their account or demand access for premium features. They have to upgrade to a paid version by paying a premium amount.
Mobile App Advertising:
Other than the above-mentioned options, you can choose for mobile app advertising to monetize your social video sharing app like TikTok. You can do so by targeting your audience based on location, age group, liking and disliking. You choose any way for advertising either Cost Per Click, Cost Per Install or others.
Still, you are not sure which is the best way to monetize your app, it would be good to consult the team of best mobile app developers including top iOS app developers and Android app developers, you hire for your app development project.
Essential Features to Include While Developing App Like TikTok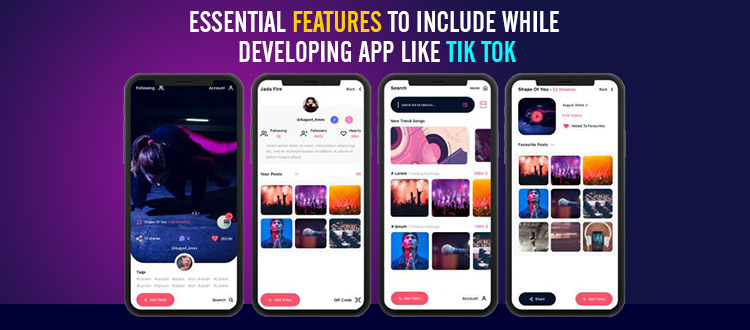 Features and functionalities are one of the factors behind the success of an application. So to make an app like TikTok, initially, you need to focus on integrating a few basic features. Later on, you can raise the level with the advanced features soon, considering app performance and users' feedback.
Here we constructed a list of features analysing the TikTok Clone. It consists of basic and advanced features. Have a look at individual features and their development cost.
Basic Must-Have Features
Log in and Sign Up:
To access the application, users need to sign up. It is good to offer several ways to sign up likewise through email, phone number, and social network.
Edit Profile:
This feature allows users to edit their profiles like they can change profile pictures or username, add a bio and more.
Upload Videos:
if you want to make your TikTok like app successful, the application must offer an easy and fast way of posting videos.
Filters and Effects:
using TikTok, you can add several filters and effects to a video. So if you want to make your app successful, it is a must-have feature that will attract more users through unique filters.
Video Editing:
The application should have video editing facilities using different options like flipping, speeding up the video, and others. In case, it is possible to add a 'beauty' mode option. It will be like icing on the cake for the application.
Hearts and Commenting:
The options like hearts and commenting available on Instagram and TikTok as well must be in your application. It allows users to like and comment on your video. Not even this, users can check out the liked posts as well on a specific tab.
Sharing:
There must be a sharing option since it allows reaching more users. If the application provides the facility of sharing your publications on other social media networks like Facebook, Twitter, etc. The users of the application will be able to connect to the users' of other social media platforms.
Notifications:
The application should have a push notification feature. It helps in keeping users posted daily through notifications for likes, comments on their videos or any other updates. Google Cloud Messaging (Android) or Apple Push Notification Service (iOS) offers the facility of push-notification applications.
Admin Panel:
Through the admin panel, users can perform multiple functions like they can manage their account performing activities like edit, delete, or block users. Besides this, they can count their posts, see-through new users' accounts and more.
Let's have a look at how much development time and cost will be required for the development of basic features for both the Android and iOS platforms.
| Feature | iOS development | Android development | Back-end development | Approximate cost |
| --- | --- | --- | --- | --- |
| Log in & sign in | 25 hours | 25 hours | 21 hours | 3,550 |
| Edit profile | 21 hours | 21 hours | 12 hours | $2,700 |
| Upload video | 9 hours | 9 hours | 5 hours | $1,150 |
| Filters & effects | 82 hours | 82 hours | 4 hours | $8,400 |
| Video editing | 47 hours | 47 hours | 4 hours | $4,900 |
| Likes & comments | 33 hours | 33 hours | 18 hours | $4,200 |
| Sharing | 3 hours | 3 hours | – | $300 |
| Notifications | 12 hours | 12 hours | 12 hours | $1,800 |
| Admin panel | | | 39 hours | $1,950 |
Advanced/ Premium Features
At the time, when you are going to launch the application, if it does not have advanced or premium features, it's fine. Though, when the application gained more users then there should be advanced and unique features so it became easy to distribute users and handle app easily. Following are a few advanced features, you can implement to your app like TikTok.
Video Preview Before the Registration:
TikTok offers the facility of watching popular videos before sign up. Consequently, new users can go through the video content available there. However, if they are wishing to like or comment on the video post, they need to sign up first.
Location Based-Content:
Enabling this feature to locate the device. Using this feature, one can find the content posted by the users in the same location. In addition to this, they can share their current whereabouts to the video.
Real-time Analytics:
This feature provides data of live viewers and broadcasters using graphs. Other than this, users can check the number of hearts and comments on a particular post.
Live Video Streaming:
It is one of the most demanded features among different social media platforms. However, TikTok does not offer this feature but you can consider it while developing an app similar to TikTok.
AR Filters:
AR filters are in trend nowadays. You may have noticed these features in the form of objects over the head like dog's ears, flowers and more. In addition to this, changing the colour of hair or eyes become possible with these Augmented Reality filters. So don't forget to implement this technology in your project developing an app like TikTok.
Let's have a look at the development time and cost for adding advanced features to both the iOS and Android platforms.
| Feature | iOS development | Android development | Back-end development | Approximate cost |
| --- | --- | --- | --- | --- |
| Video preview before the registration | 7 hours | 7 hours | – | $700 |
| Location-based content | 12 hours | 12 hours | 10 hours | $1,700 |
| Real-time analytics | 6 hours | 6 hours | 4 hours | $800 |
| Filters & effects | 82 hours | 82 hours | 4 hours | $8,400 |
| Live video streaming | 56 hours | 56 hours | 25 hours | $6,850 |
| AR filters | 74 hours | 74 hours | – | $7,400 |
How to Create Mobile App like TikTok?
If you want to develop a highly popular and successful app like TikTok then it's important to integrate the following technologies and hire a dedicated development team concerning professionals like
Business Analyst
Project Manager
UI/UX designer
Back-end developers
Android developer
iOS developer
QA engineer
While the technologies required to integrate to make app like TikTok includes
Android app development: Kotlin
iOS app development: Swift
back-end development: Node.js
Database management: SQL, MongoDB or Cassandra
Cloud architecture: Azure and Amazon Web Services
Notifications: Apple Push Notification and Google Cloud Messaging
| Region | Average iOS developer rate | Average Android developer rate |
| --- | --- | --- |
| Eastern Europe | $23 – 80 | $35 – $50 |
| Western Europe | $37 – $175 | $70 |
| North America | $110 – $250 | $150 – $170 |
| Australia | $35 – 150 | $110 |
Factors that Affects the Final Cost of Development of Mobile App like TikTok
If you are developing an app like TikTok, there are several factors which influence the cost of app development. But here we are considering the most essential of them such as platform, design, application features and development team. Let's shed some light on the mentioned factors and know how they affect the final cost of app development like TikTok.
Platforms
No matters what kind of application you are going to develop, it's significant to decide on the platform you are going to target for that particular application- iOS or Android. But for the app like TikTok, it's better to target both the platforms.
Since TikTok stats suggest more than 53.3 % users on smartphones (iOS+Android). So considering cross-platform app development over native app development is way worthy. It allows application access over different platforms like iOS, Android and Windows using a single code base. For cross-platform, you can adopt any of these modern technologies like React, Flutter, Vue, Angular and more. There are several prominent mobile app development companies which provide cross-platform app development. You can hire a budget-friendly partner according to your project requirement.
On the other hand, if you are short in budget developing the application for a single platform considering your target audience is the best choice ever. For example, Instagram initially launched the application for the iOS platform whereas its Android version made its way to the app market one year after the launch of the iOS version.
UI/UX Design
App design is one of the key factors that ensure the success of an application. It played a vital role in making TikTok a huge success. The application's user-friendly and intuitive UI/UX design not only helps in pulling a large number of new users but also builds trust and loyalty among them towards the application.
Features
That many and unique features your application will have, its cost will automatically rise in proportion. So it is important to make a list of features before starting the development of an app like TikTok. In case you are going to add advanced features to the application, it will affect the pricing since developers require more time for such development of features.
Development Team
Last but not the least, this factor has a great impact on deciding the final cost of your app development. To make an app like TikTok, you can outsource projects to a mobile app development company with best mobile app developers (top iOS app developer or Android app developers) or hire in-house developers. Both options have their advantages and disadvantages.
Hiring an in-house team of developers will cost you more. You have to spend on hardware and software purchases, licence fees, taxes, recruitment expenses and more. However, there will be communication ease regarding development strategies and resolving issues that occurred during the time of development.
However, in case you outsourced the project with a team of developers. The costing will be estimated based on hourly rates and location of the developers. The developers from Eastern Europe are highly qualified yet ask for low hourly rates.
Here you can find the hourly rate list of developers as per their location.
Also Read: How Much Does it Cost for a Grocery App like BigBasket and InstaCart?
8. Final Cost to Make an App Like TikTok
Considering all the factors mentioned in this article that help in determining the final cost of developing an app like TikTok. The pricing may vary in between $46,350 and $92,700 for one or two platforms respectively.
Let's have a look at details which cumulatively estimates the development time and cost for app development like TikTok includes
| Feature | Time including back-end | Cost |
| --- | --- | --- |
| Basic features | 347 hours | $17,350 |
| Advanced features | 194 hours | $9,700 |
| Collaboration of frameworks and libraries for back-end | 30 hours | $1,500 |
| Collaboration of frameworks and libraries for Android/iOS | 49 hours / 47 hours | $2,450 / $2,350 |
| UI/UX design for Android / iOS | 102 / 102 hours | $5,100 / $5,100 |
| Quality assurance (for one app) | 135 hours | $6,750 |
| Project management (for one app) | 70 hours | $3,500 |
| Total for one app (Android or iOS) | ~927 hours | ~$46,350 |
| Total for two app (Android and iOS) | ~1854 hours | ~$92,700 |

Conclusion
If you are willing to develop a successful social media video-sharing app like TikTok, this blog will help you in considering the cost of each segment of the app development. You can hire a team of best mobile app developers including top iOS app developers and Android app developers. Along with other professionals, not only the team will frame the development of your application but also will resolve issues and bugs during app development.
---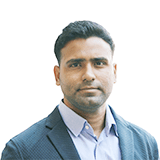 My name is Hemendra Singh. I am a Director and Co-founder of The NineHertz, IT Consulting Company. I am having a keen interest in the latest trends and technologies that are emerging in different domains. Being an entrepreneur in the field of the IT sector, it becomes my responsibility to aid my audience with the knowledge of the latest trends in the market.